I think I'm confused.
With triple digits in this week's forecast, it's not exactly the season for soup, and yet it's sort of all I can think about these days. It's so simple. And it makes such stellar use of those CSA veggies that are threatening slime in the crisper drawer. I always have the best intentions. Really, I do.
Last night we sat down to piping bowls of this favorite chowder, light on the milk and bulked up with a few handfuls of sweet, leafy spigarello. Before that, it was a fuschia-hued dream of beets whirled with Indian spices and cool yogurt. (That's coming soon. Get excited.)
And then there's this broccoli number. It's everything you love about that characteristically autumnal amalgamation from The Sizzler — and can we all agree that there is something decidedly endearing about said amalgamation? — but it's freshened up. Lightened up. Dressed up. For spring.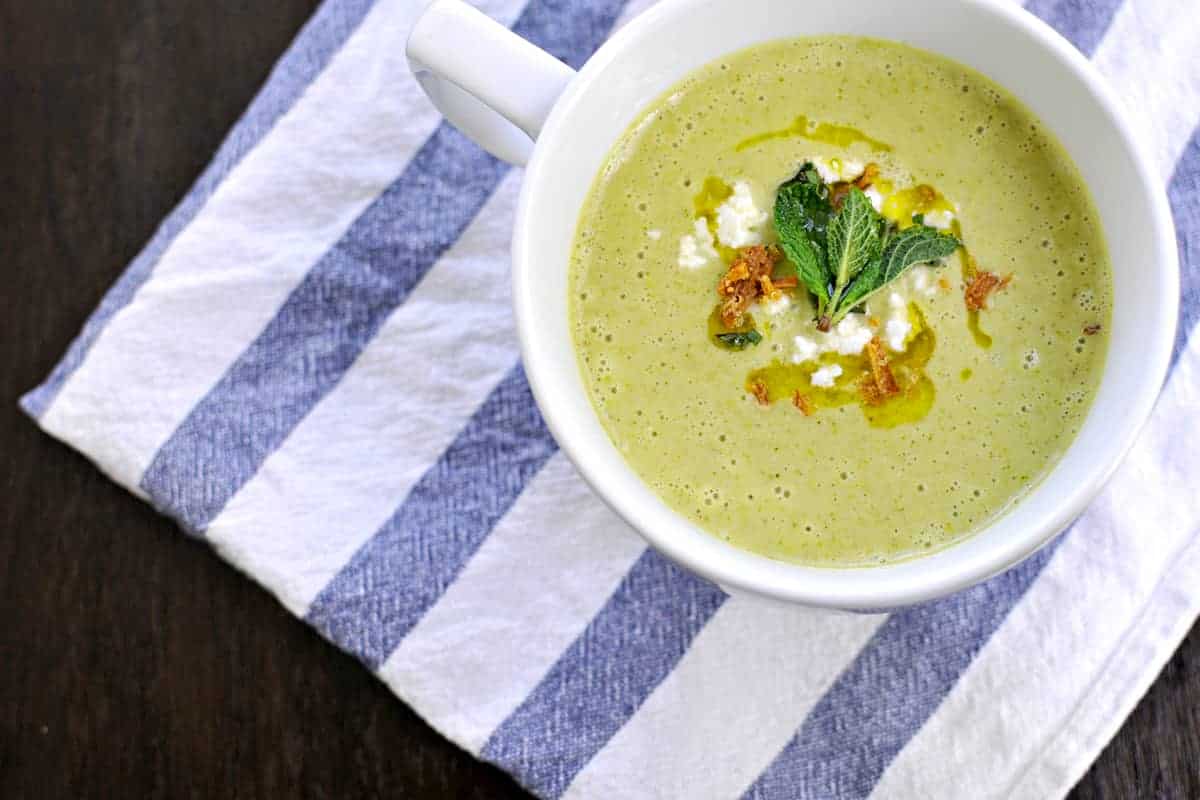 It all starts with a bouquet of bright, sharp scallions, ever so briefly caramelized in a bath of nutty butter.
Plus broccoli. A lot of it, because it's the very fact that broccoli is the driver (to cheese's passenger) that makes this soup so bright and lovely. Or perhaps it's the burst of springy peas. The crisp, boozy wine.
Or, ok, the cheese. Dammit.
In this case feta — salty and tangy. Enough so, happily, that a mere few ounces gets the job done without weighing things down. So when spring turns to summer, you can feel good about the whole bikini bod, if you're into things like that. Or you can pile on, like, three times the toppings and praise Haysoos that one-pieces are having their moment.
Springtime soup.
Spoons up!
Springtime Broccoli Cheese Soup with Peas & Scallions (gluten-free, vegetarian)
By Emily Stoffel
Cook time: 25 mins | Serves: 4-6
Notes: With a salad or a couple of handmade biscuits, this soup quickly transforms into a light and lovely spring meal elegant enough for guests. Use whatever stock you'd like here. Chicken, veggie and even beef are all tasty.
Ingredients:
1 T olive oil, plus more for serving
1 T unsalted butter
1 bunch (about 6 whole) scallions
sea salt
pepper
crushed red pepper flakes, to taste
7 cups (about 2 small heads) broccoli (florets and stem, if available)
3 cups stock (chicken, veggie or even beef — I've used them all)
1 cup dry white wine
1 cup frozen peas
4 oz feta cheese, plus extra for topping
mint, fried onions or other nommy soup toppings, optional
Instructions
Heat olive oil and butter in a large Dutch oven or soup pot over medium-high heat. Cut scallions (both white and green parts) crosswise into about 1/2″ pieces. Add to butter/oil mix and season with salt, pepper and a pinch of crushed red pepper flakes. Sauté onions, stirring occasionally, until they smell sweet and nutty and just begin to brown in places, about 5 mins.
Meanwhile, prep broccoli. If you're using whole heads of broccoli, separate the florets from the stem. Peel and dice the stem into about 1/2″ pieces.
When onions are nutty and beginning to brown, add broccoli stem pieces, toss to coat in oil, and saute an additional 3 mins or until crisp-tender. (If using only florets, skip this step.) Add florets, wine and stock, stirring to combine. Bring to a boil; then reduce heat to low, cover and simmer for 10 mins.
Turn off flame; briefly stir through peas and feta.
Working in batches, transfer soup to blender and process until smooth and creamy, loosely covering the blender lid vent with a rag or dish towel to allow steam to escape. (You do not want a boiling soupsplosion on your hands — or your kitchen ceiling!)
Serve pureed soup topped with a drizzle of olive oil and your fave soup toppings with crusty bread or biscuits alongside for dunking.
Enjoy!