Whoa. Check out them lookers.
(Also, check out my mom's vintage sewing table-turned-sideboard.)
(And the rih-dic light in her dining room.)
(And my clear lack of something to filter all that pretty light.)
(But it is oh so pretty.)
(K, I'm done now.)
Let's talk about beets, bay. bee. Sweet, nutty and blitzed with licorice-y fennel, warm, worldy spices, piquant salsa and just a dribble of sunshiny honey. AND NUTS. Can we also talk about how there are so many toasty little nut bits going on in here? There are. And it (they?) makes for a patty that is damn near textural paradise. I know that sounds fiercely inappropriate, but I'm not sure there's another way to describe it. I'm positively addicted to pretty much every aspect of these beet burgers. Not least of which is the fact that I feel oh-so-justified in eating two in one sitting. (Three in one standing!) They're just veggies and nuts, after all.
(OK, super detour: Josh Jackson's hair + goatee combo thing in Season 6 of the ol' DC is really working for him. Diane Kruger definitely has herself a nice little national treasure there.)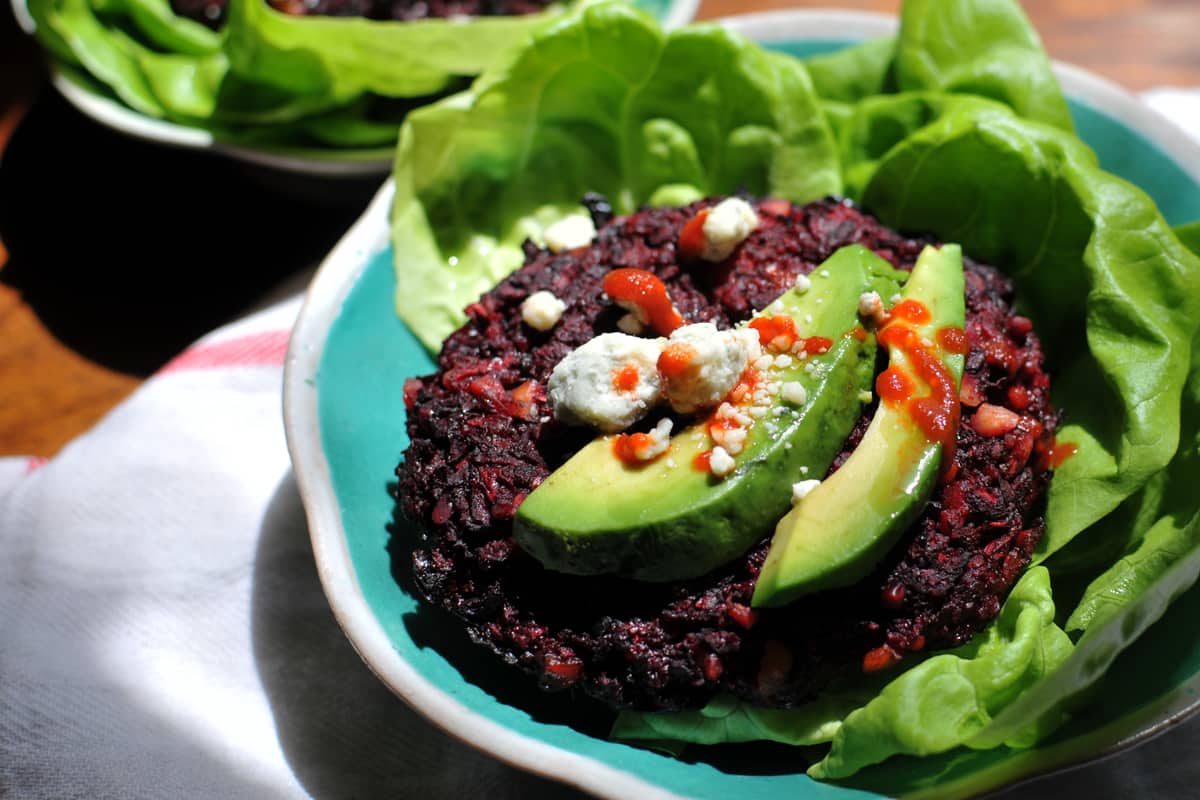 I also kind of love this veggie burger for all the stuff that's not in it, like oats and wheat and rice and other grainy stuff. And it's not because I'm against all those items getting in on the fun — they definitely have a place in burgers, including my fave black bean and sweet potato patties — but it's nice to sink your teeth into something fresher and lighter. That's held together only by its own delicious conviction.
And, like, four eggs.
That'll do it, too.
I highly recommend topping these little buggers off with a few buttery slices of avo, a coupl'a punchy gorgonzola crumbles and a squiggle of hot sauce. For those that dig ranch dressing, I bet it'd be right at home here. (I'm kind of in the eh camp, but I totally understand the appeal.)
…andandAND! Ialmostforgottomention!
These are totally freezer friendly! So bake off a tray or two, cool them down, tuck them into a zip-top bag (separated with a few strips of waxed or parchment paper) and then just nuke them in microwave or reheat them on the grill.
Supes simps. So deerish. Perf for summer.
Ok, bye bye.
Roasted Beet and Fennel Burgers (veg, gluten-free, grain-free, paleo)
By Emily Stoffel
Cook time: 45 mins | Makes about 8 burgers
Note: There's one quirk in this recipe, and that's the triple use of the food processor. The first pass through the shredder blade makes the veggies small enough to process; the second pass, with the standard processing attachment, actually processes them into a coarse grind so they're the optimal texture for forming into patties and cooking through in the oven. The third use grinds the almonds. I would NOT recommend using prepared almond meal or flour here — the discernibly nutty taste and texture is a highlight of the burger. Ok. That's all. Get after it.
Ingredients:
1 bulb fennel, fronds removed
3 large beets, washed and unpeeled
1 cup raw almonds
4 eggs
1/2 cup salsa (we used this guy; if you're using a saltier salsa, you may want to reduce the sea salt by half)
1 T honey
1 tsp salt
1 tsp cumin
1 tsp paprika
olive oil
avocado, gorgonzola, sriracha and/or other tasty toppings of your choice
bibb lettuce (or buns) for serving
Instructions
Preheat oven to 400F. Drizzle a large, rimmed baking sheet with olive oil.
Cut beets and fennel into small enough hunks to fit down the chute of your food processor. Process veggies, in batches, if necessary, with the shredder attachment. Empty shredded veggies into large bowl and re-fit food processor with standard metal blade. Now, again, working in batches — and yes, that means you'll probably need a second large bowl to empty the veggies into — pulse veggies about 10 times until coarsely ground into pieces a little larger than a grain of rice.
Remove veggies to one of the large bowls. Add almonds to food processor and pulse until coarsely ground, about 15 times. Add to veggies.
Wipe your brow – the hard part's over.
In the other (now empty) large bowl, whisk together eggs, salsa, honey, salt, cumin and paprika. Pour over veggie mixture and stir until just combined.
Using a 1/2 cup measure or ice cream scoop, scoop veggie mixture from bowl, drain lightly, and release into mounds on prepared baking sheet. (My oven can only fit half-sheet pans, so I can get six to a pan in one batch. In ovens that accommodate larger pans, you'll be able to bake them all off at once.) Using your palm or a saucer, lightly press each mound into a patty shape. Lightly drizzle the tops with olive oil.
Roast burgers on center rack for 25 minutes; then flip burgers and finish for an additional 10 minutes. Burgers should be browned on the first side and just golden-brown on the second. (If you're doing your burgers in batches, like me, repeat scooping/baking remaining burgers.)
Let burgers cool slightly before removing to a bed of greens or your bun of choice and accessorizing with your fave toppings. (Like avocadooo! Duh.)
Enjoy!
————————————————–
Like whatcha see here — or have a question, feedback, or recipe hack to share? Join The Pig & Quill convo by commenting below (I love, luv, lurve comments) and hang out with me on Facebook, Twitter, Instagram and Pinterest. And don't forget to subscribe to P&Q emails (see that nifty box up there in the right sidebar?) so you never miss a post. x's & o's!