You're so lucky, guys. I've got a snap-ton of snazzy stuff headed your way in the weeks to come, like more infused, fruity drinks (since you were kinda bananas for the last one), a pair of pretty, spring soups that will make quick work of all those CSA veggies, and even a CAKE. Yeah, cake stuffs happened and I lived to tell about it. And I totally didn't drop my favorite ceramic measuring spoon down the running garbage disposal in the process.
(No really, I didn't. But that's a very real fear of mine. Like, I imagine it happening nearly every time the two — the running disposal and the spoon, that is — get within 10 inches of each other. I guess it's really the spoon that gets all up nears the disposal, since the latter is kind of in a fixed position, but please believe me when I say that I literally imagine this poor spoon's inopportune death all. the. time. It's kind of sick. Send help now. And tell them to bring along some metal measuring spoons so I can put this fear to rest for once and for all. KTHX.)
Wow, maybe I should have saved that for the actual cake post. Or spared you altogether.
Returning ever so eloquently to the topic at hand, I should give you fair warning that this dish is the eggquivlalent (holla) of a cozy sofa awash in morning light. A warm, wooden breakfast table and the bohemian daydream that is this season's Anthro catalog. A beach towel drying in the summer sun.
It beckons. It comforts. It's breathtakingly simple.
And as such, it's a bit of a rare treat. Particularly in this day, when life is so easily upturned by things like , oh, I don't know, an irrational anxiety re: ill-fated kitchen implements.
Comfortingly, this is hardly a recipe — more a happy joining of many tasty and attractive things on one plate. And while each of those tasty and attractive things could, I suppose, be worthy of a recipe in their own right, I prefer them clustered informally together in one kind of loosely assembled mass.
I think you will, too.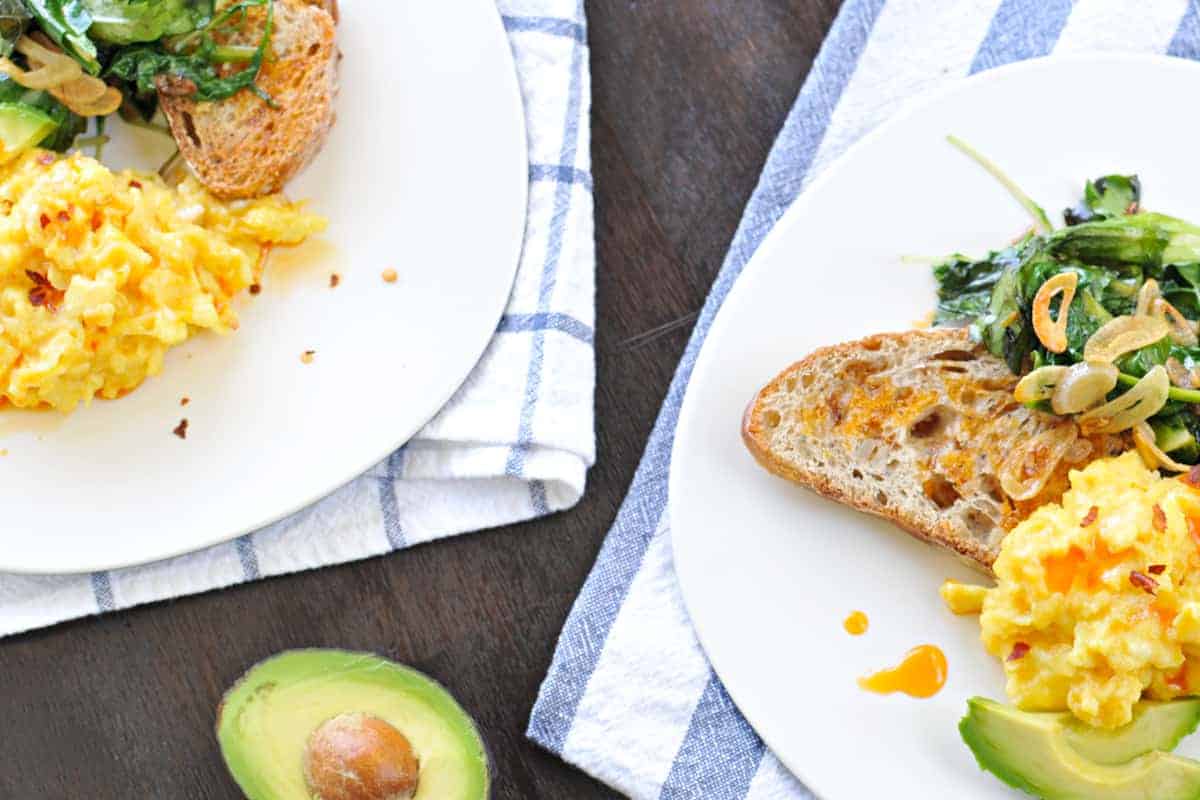 Creamy Eggs with Garlicky Greens, Avocado & Chili Oil
By Emily Stoffel
Cook time: 15 mins | Serves: 2
Notes: As mentioned above, this is a rather loose recipe. More of an inspiration for a meal of misfits, really — and you could hardly go wrong by making any of a hundred alterations. I don't mind at all that the greens are room temp by the time the eggs are done, but if that's bothersome, you could always dirty a second pan and cook the two side-by-side.
Ingredients:
2 T unsalted butter, divided
2 large cloves garlic, peeled and very thinly sliced
2 very generous handfuls small greens, such as baby lettuces, kale, spinach, spring mix, frisée, etc.
4 eggs
few slices good, crusty, seeded or whole grain bread, about 1/2″ thick
chili oil (I used this one)
sliced avocado
crushed red pepper flakes
sea salt
Instructions (if you can call them that…)
Add 1 T butter and sliced garlic to a nonstick skillet and heat over medium flame. Saute until garlic is golden and butter smells slightly nutty, about a min or two. Turn off heat and add greens, tossing with butter until just wilted, 30 secs. Remove greens and garlic to serving plates. Return skillet to stove.
Add second tablespoon butter to the pan and set over medium-low heat. While butter melts, whisk eggs with a pinch of sea salt. When butter just stops foaming, add eggs and cook slowly, stirring gently and frequently with a silicone spatula, until just set. They should be on the custardy side with small curds and a deep yellow hue. This could take up to 10 minutes. (If eggs show signs of setting too quickly when you first add them to the pan, back heat down to low.)
While eggs scramble, drizzle bread lightly with chili oil and broil until golden brown. A toaster oven works charmingly here.
Plate toast and eggs alongside greens with sliced avocado. Season plate with additional drizzle of chili oil, sea salt (paying particular attention to the avocado) and crushed red pepper flakes.
I like to create the perfect bite by lightly crushing the avocado onto a piece of toast and topping it with eggs and greens. But I'm sure it'd be perfectly lovely eaten as-is right off the plate. Enjoy!
————————————————–
Like whatcha see here — or have a question, feedback, or recipe hack to share? Join The Pig & Quill convo by commenting below (I love, luv, lurve comments) and hang out with me on Facebook, Twitter, Instagram and Pinterest. And don't forget to subscribe to P&Q emails (see that nifty box up there in the right sidebar?) so you never miss a post. x's & o's!