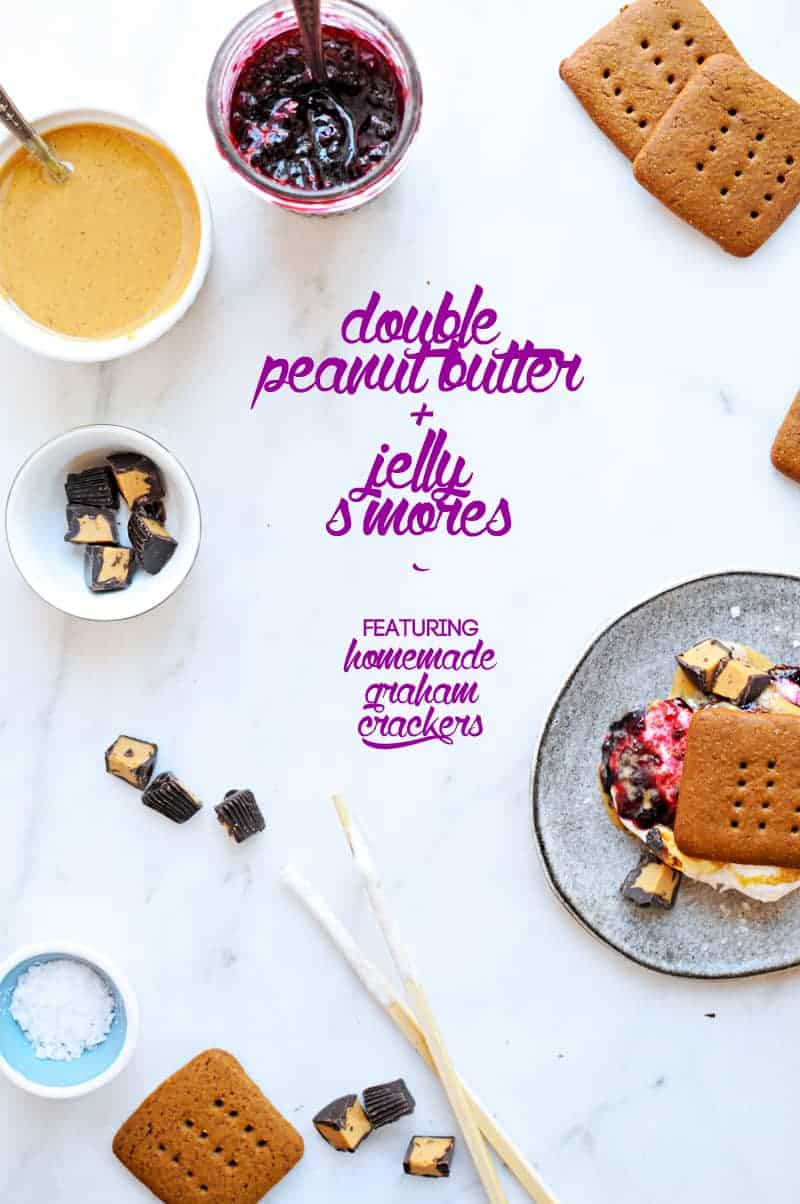 Haii gaiiz!
It's National S'mores Day. Can you even freaking believe it? There's a day for FUGGING EVERYYYTHANG. It's also National Watch All the Gymnastics Day, National Your Kid Only Napped 40 Minutes Day and National Company is Coming Time to Swiffer the Hair in the Bathroom Day.
Ok, I made that last one up. But I'm still celebrating, because I'm one classy-ass hostess. You're welcome, playdates.
But back to National S'mores Day. Let's do it up proper, k?
I kinda wanted to say "prah-puhh" all British-like, but I didn't know if you would get it. Do Brits like s'mores? They'd be right prah-puhh with a spot o' tea, so probably yeah. Yeh. Yehhhhh. I'm still doing the accent. You knew that.
Ok. I promise this time.
S'mores.
Yehhhhhhhhh.
Ok.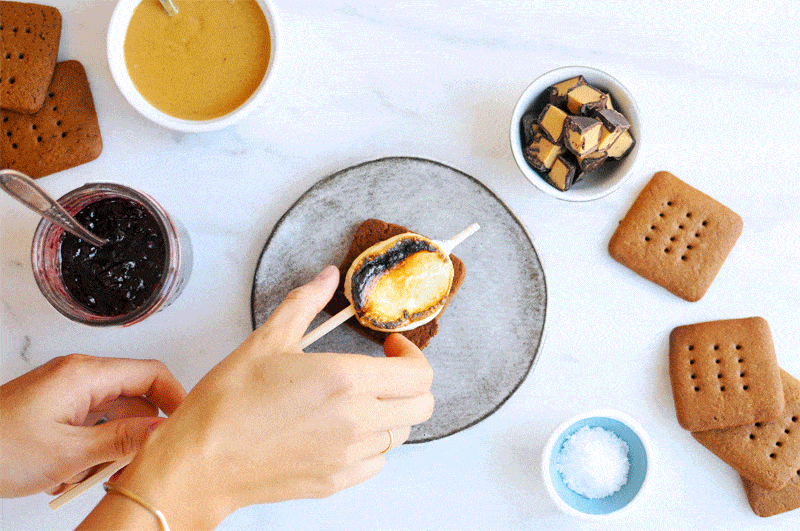 A few weeks ago, I saw Christina making homemade graham crackers on snapchat, and my mind did a mini-splode. If you know me at all, you know I don't bake for shit, but when I checked out the recipe, they seemed really, surprisingly simple — and I loved that she made them naturally sweetened so they'd be a (somewhat) guiltless treat for a teething babe. So later that week, I whipped up a batch, and they've been on repeat ever since. Because Lana loves them, yes — the first week we introduced them, I had to hide the container because she was getting all Chucky-baby about it — but mostly because I can't stop stuffing them with roasted marshmallows, peanut butter cups and spoonfuls of blackberry jam. And more peanut butter. And sea salt. And then stuffing THAT.
In my faaaaaaace.
I can't.
It's like.
I mean.
You know how I feel about pb & j things.
PB+J Thangz.
Pee-Bee-En-Jay-Fangles.
I know. I have no idea, either.
National I Digress Day.
Yehhhhhhhh.
Happy S'moresing!
xo,
Em
p.s. in case you missed it, I was featured on Food52 this week – squeeeee! 🙂
p.p.s. last week's chili-lime coconut mango pops!
p.p.p.s. pretty sure it goes without saying, but you could absolutely make these with store-bought graham crackers, too, and they won't suck at all. But it's worth it to try your hand at the homemade version. Plus you get to use cookie cutters and poke little holes in things with a fork, which is always kinda therapeutic. I should probably not be a parent.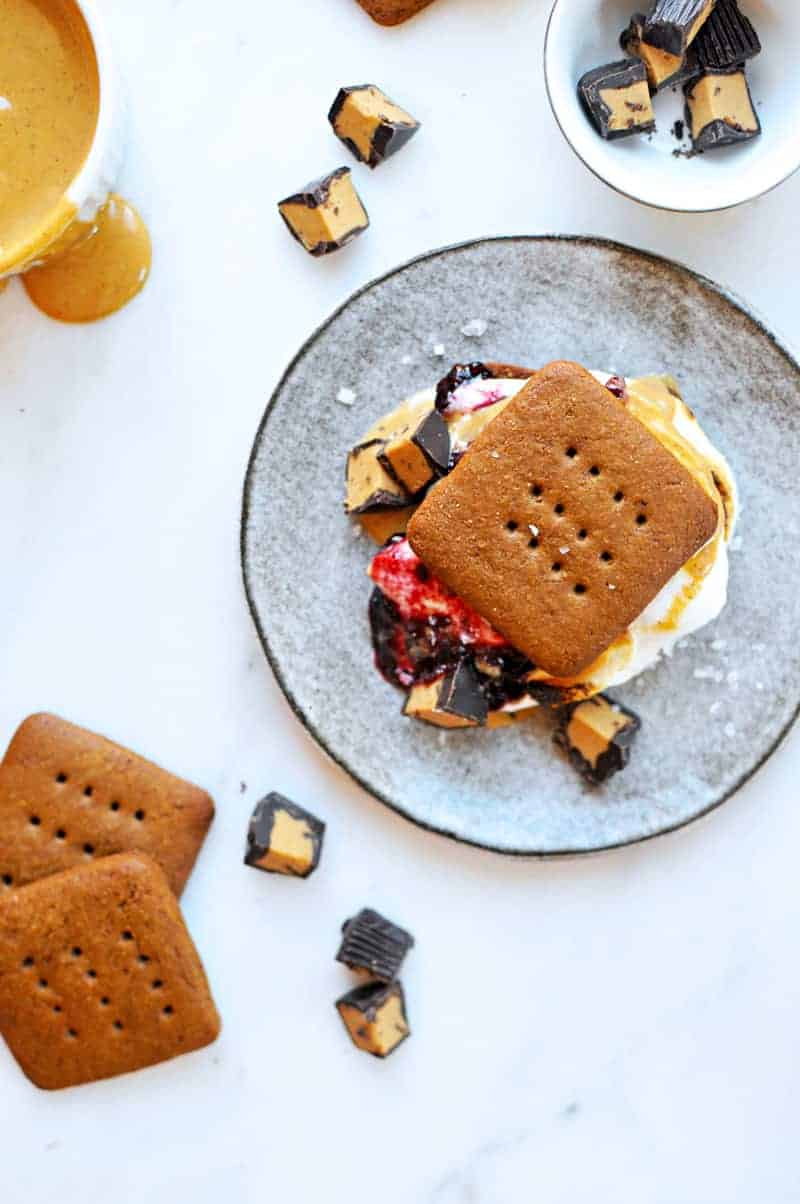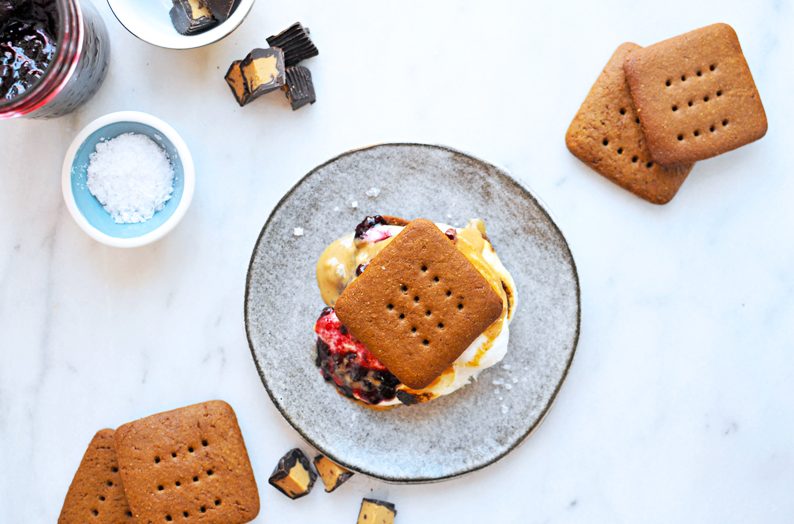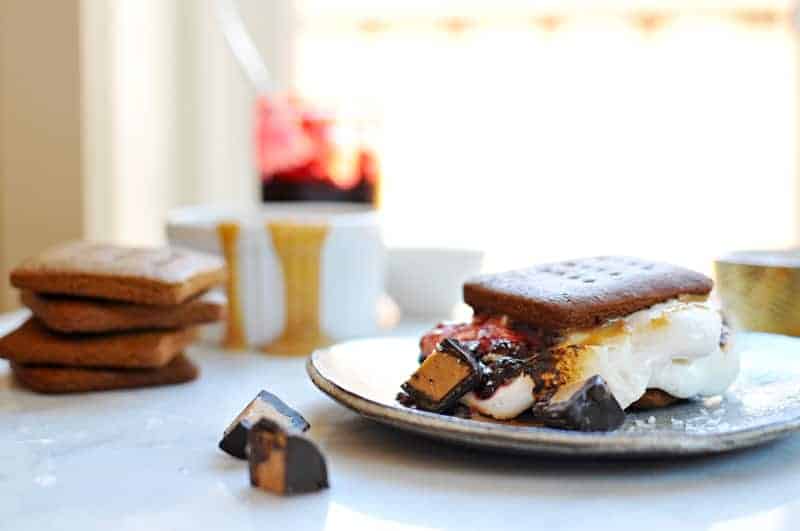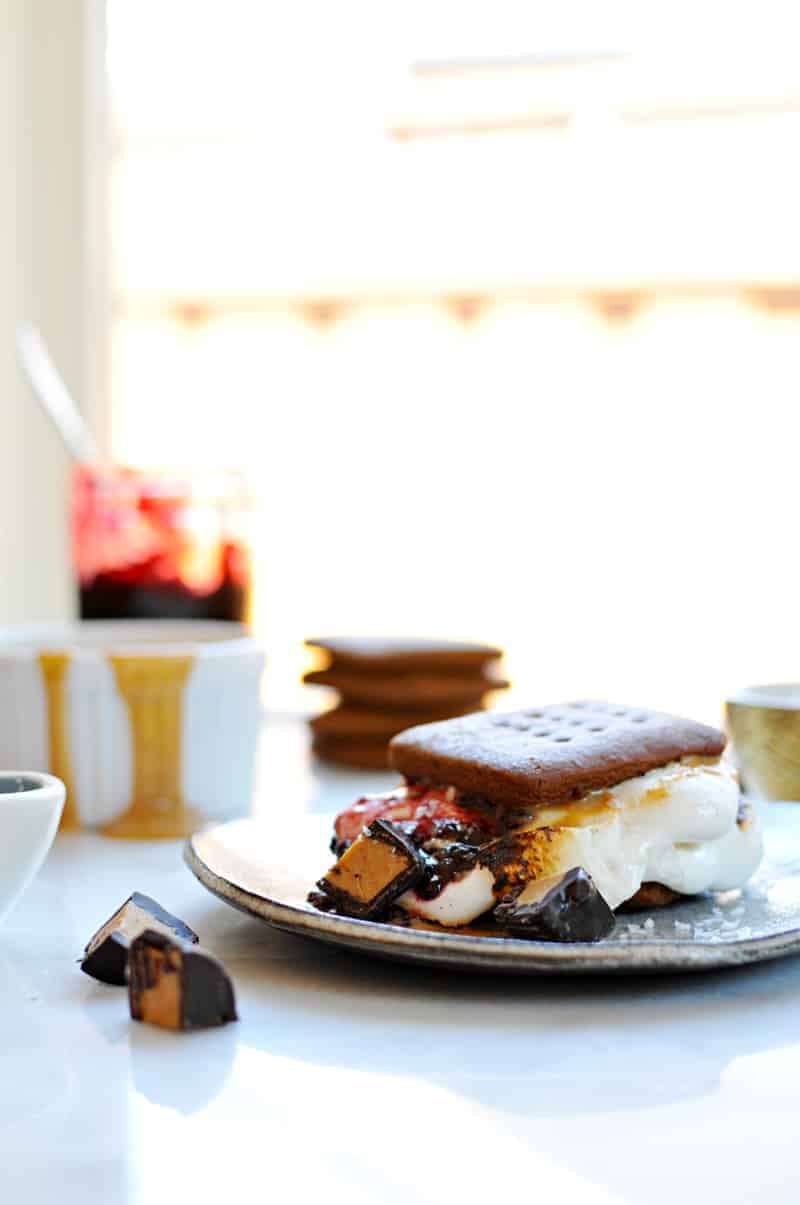 Double PB&J S'mores (w/ Homemade Graham Crackers!)
Makes:
as many as you like!
Instructions
Cut jumbo marshmallows in half crosswise and roast to desired doneness. (If doing this inside, I like to skewer the mallows with wood chopsticks that have been soaked in water for an hour or so and roast them over a low gas flame.)
Assemble! It's pretty obvious you can do this any way you like, but I prefer to top one graham cracker with half a roasted mallow; a pile of PB cup quarters; the second roasted mallow half, blackberry jam; peanut butter; plenty of sea salt and the second graham cracker. Enjoy!
Notes
Regarding the Homemade Graham Crackers:
1) I follow
Christina's recipe
exactly except I reduce the molasses by 1 tablespoon and increase the honey by 1 tablespoon.
2) Using a 2" square cutter (I actually have
this exact set
) and re-rolling the scraps, I can get about 30 cookies from each recipe.
3) And for some reason -- maybe because I just don't roll these quite thin enough -- these always take 22-25 mins in my oven.
4) Finally, of course you can use store-bought grahammies, too! I'll still be your frannnd.
Regarding the marshmallows:
I love cutting these gigantic
jumbo marshmallows
in half -- for some reason I think they just toast up more evenly on my stove -- and sandwiching the chocolate in between the two layers, but you could absolutely do two standard mallows per s'more. 🙂
————————————————–
OH! before you go…
Like whatcha see here — or have a question, feedback, or recipe hack to share? Join The Pig & Quill convo by commenting below (I love, luv, lurve comments) and hang out with me on Facebook, Twitter, Instagram and Pinterest. And don't forget to subscribe to P&Q emails or add me to your RSS reader with Feedly or Bloglovin' so you never miss a post. x's & o's!