There are weeks where you feel like you just suck at life. And I'm having one. In a big, fat, cure-me-with-carbs kinda way.
So let's talk waffles. I like waffles. They taste good. They make my insides feel good. And the they're a guilty pleasure for my OCD side. I maybe eat my waffles along the gridlines. WHAT.
I'm not going to insist that these waffles are life changing, but I will tell you that the more I use the word waffles in this post, the better I feel. Try it for yourself. I mean, you don't have to type it out if you don't want, but just say it a few times with me: Waffles. (Are you saying it? Are you saying Waffles Make the World Go Round, Whee-Waffle-Whee-Waffle-Woo…? Maybe not, but damn if that ain't catchy.)
So waffles. You guys, these are so good. They're smooshed full of nutrient-rich sweet potatoes, sweetened up with brown sugar, savoried up with thyme and cheddar and then topped with plenty of cool sour cream and smoky, amber maple syrup. They're, like, the perfect any time of day, any time of year food.
Oh hey, Holiday Brunch, what's up.
Yo, Bakesale. Let's get fancy.
You want in on this, Weeknight Supper? YEAH YOU DO.
The method for the cheese factor in these guys comes from a good family friend, Debbie, who, after much trial and error, determined that the best way to cram loads of crispy, cheesy flavor into waffle foods is to just smash it directly on top. None of this mixing it into the batter nonsense. Just grab a handful of that there cheddar and apply it directly to the batter. Yes, this means it will come into contact with the griddle. And it will sizzle and threaten to stick and when you open your waffle iron, the waffle will try to adhere to the top of the iron and you'll be like ARE YOU SERIOUS, EMILY? THIS IS NOT WORKING.
But as long as you lightly grease that baby with some buttah or cooking spray, it will come off — and cleanly, at that. Just give it a couple light tugs. And then you'll be like LADY, THASS WHAT I'M TALKING ABOUT.
Let's eat some waffles.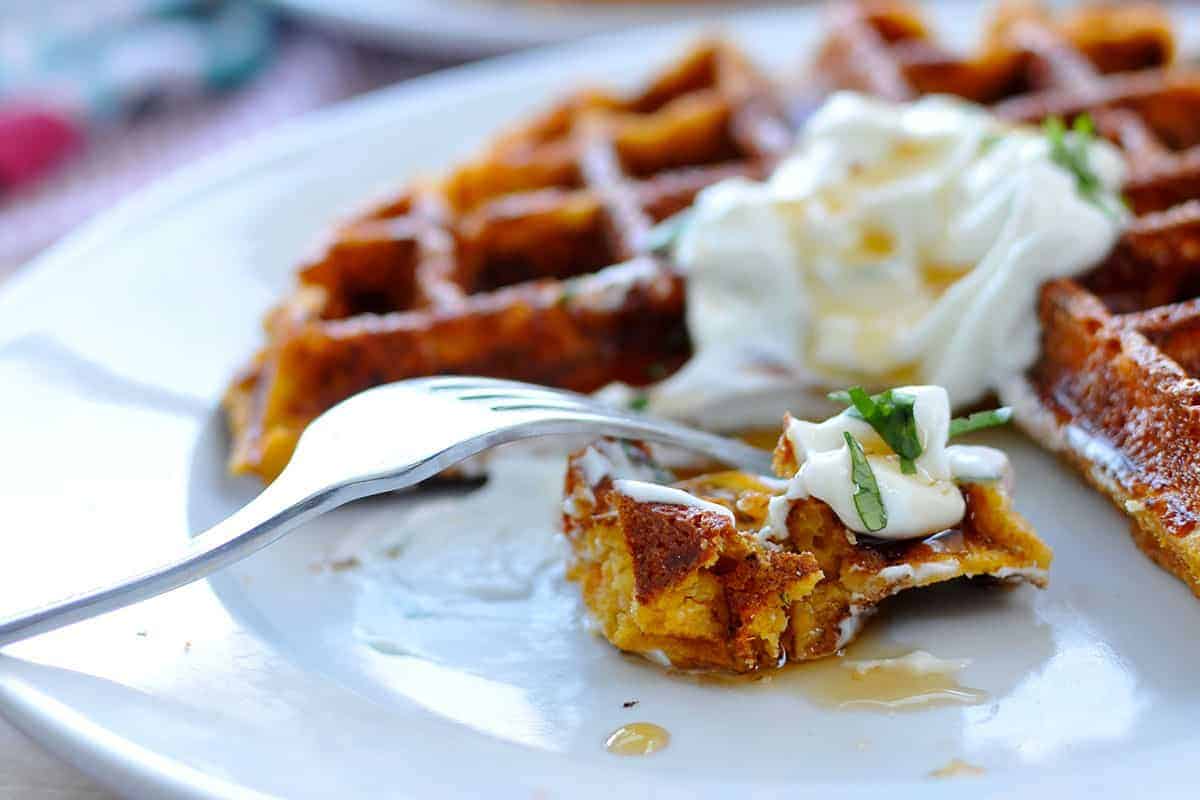 Cheesy Sweet Potato Waffles w/ Sour Cream & Maple
By Emily Stoffel
Cook time: 25 mins | Makes 4 big waffles
UPDATE: The original recipe said to top the waffles with 1/4″ of cheese, whatever that means. Quarter cup, peoples, quarter cup. Sorry!
Note: Skizzzoooore! These are fridge and freezer-friendly. Just heat 'em up in a toaster before serving. Oh helllooooooo weekday breakfast.
Ingredients:
2.5 small baked sweet potatoes (I'll say it again: I love Amy's method)
2 large egg whites
3/4 cup water
1/2 cup sour cream (I used nonfat)
1/4 cup light brown sugar
3 T olive oil
1 tsp dried thyme
1 tsp salt
2 cups multi-grain baking mix
1 heaping cup shredded cheddar cheese
oil, butter or nonstick cooking spray
sour cream and maple syrup (the real stuff!), for serving
Instructions
Preheat waffle iron to med-high heat. Remove peels from sweet potatoes and add to a large bowl. Mash with a fork until smooth(ish); then add egg whites, sour cream, water, brown sugar, olive oil, thyme and salt. Stir until well-combined. Stir in baking mix until incorporated. Let batter sit for about 5 minutes. Mixture will be somewhat thick.
Grease waffle iron with oil, butter, or nonstick spray. Pour about 3/4 cup of batter on iron, quickly spreading mixture with a spatula, if necessary, leaving a 1″ border. Top waffle evenly with 1/4″ shredded cheese. Close iron and cook until your little waffle gadget beeps or about 4 minutes. Waffle should be a deep golden brown.
Carefully open waffle iron and use a fork to gently pry the cheesy side of the waffle off the griddle. If your iron was greased, it'll come off — it'll just need some help. Repeat with remaining waffles, greasing griddle each time. (Place cooked waffles directly on the rack of a low oven, about 200F, to keep warm while you work.)
Top generously with sour cream and maple syrup. Feeling fancy? Mix the two together!
Enjoy. 🙂
————————————————–
Like whatcha see here — or have a question, feedback, or recipe hack to share? Join The Pig & Quill convo by commenting below (I love, luv, lurve comments) and hang out with me on Facebook, Twitter, Instagram and Pinterest. And don't forget to subscribe to P&Q emails (see that nifty box up there in the right sidebar?) so you never miss a post. x's & o's!