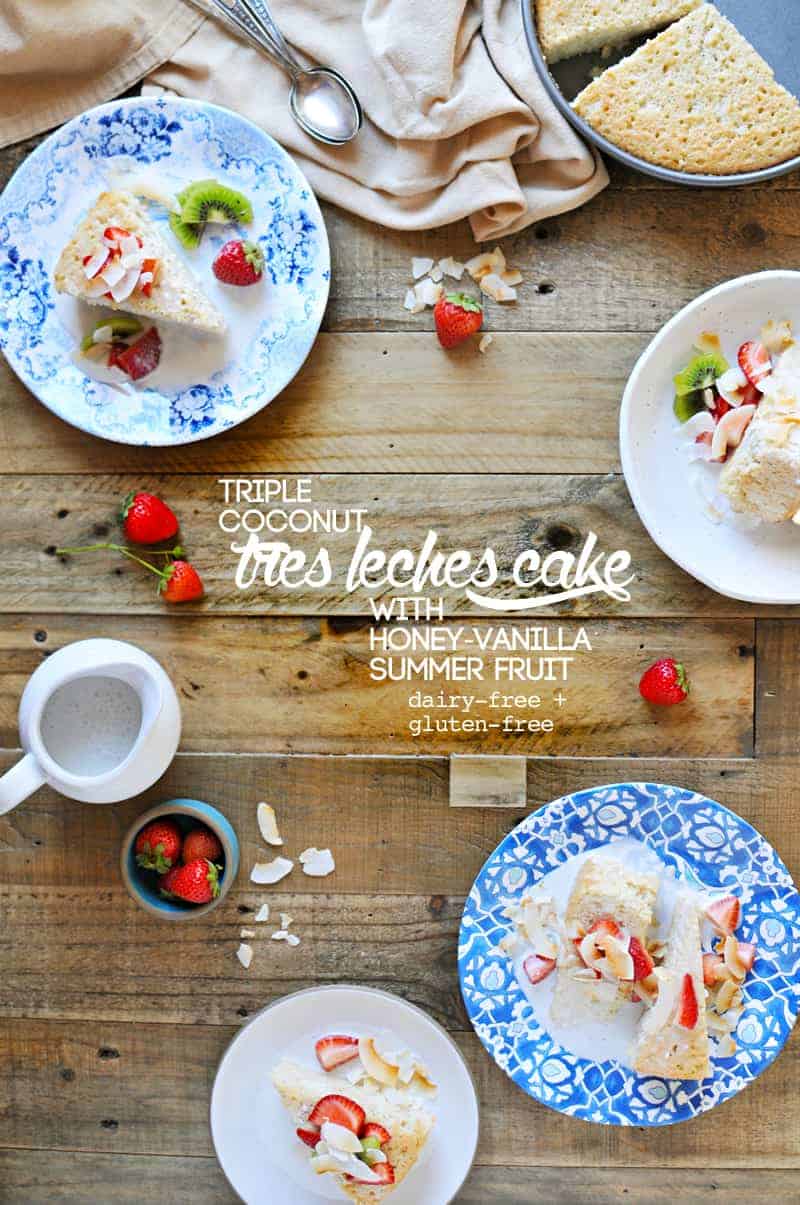 Alanna (The Bojon Gourmet) and I met when I was just baaaaarely pregnant — those first days when you're still wincing at sneezes and consulting your sustainable seafood app for fear of mercury poisoning at every turn. Both of us being only somewhat formally employed at the time (note: if you've read the tale behind the name of her blog, you'll know she takes no offense to this; note-within-a-note: she is now a bonafide cookbook author!!! while I am still…whatever the hell I am…), we met up for a weekday brunch at Plow where I promptly broke out into a cold sweat over how to slyly avoid bacon, runny eggs and booze at a meal traditionally designed around all three.
"Should we get champagne? Mimosas!" she suggested. (Clearly we were designed to be lifelong friends.)
"Oh, how fun! But I'm driving back right after this. Plus, you know…Asian. Low tolerance. I turn sooo red……." I wet blanketed back.
Which is why I didn't have the heart to confess, when we ordered a delicately dressed salad topped with an undeniably soft-cooked egg, just how many early-day preggo fears were wrapped up in that taut little trembling sack. But what kind of food blogger doesn't eat runny yolks! What kind of riffraff will she think I am? I desperately asked myself while googling "runny eggs + birth defects" under the table.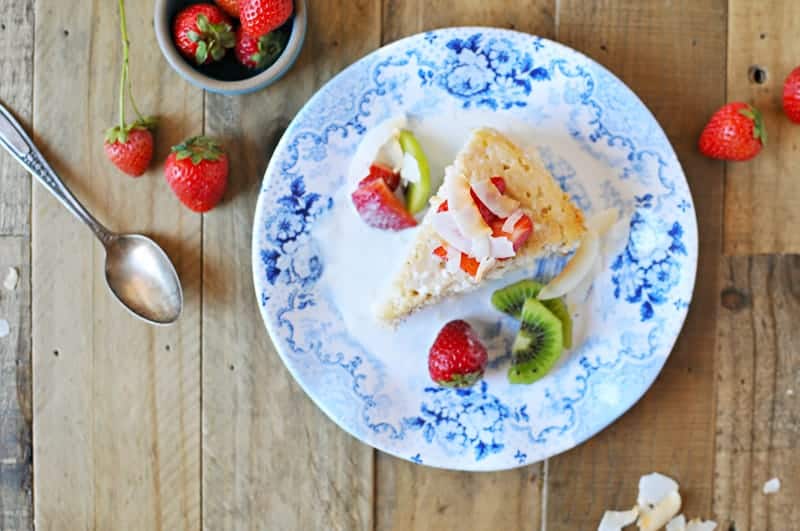 And so it is that my first date with Alanna marked the first, last (and, in case you didn't get it, only) undercooked egg that I partook in throughout my entire pregnancy. Which made it even more ridiculous when I finally divulged this fact to Alanna at the launch party for her new book (which I'm getting to, I swear), Alternative Baker, on Sunday afternoon —
— and she replied with, "um, I don't even like runny eggs."
Go.
Freaking.
Figure.
Fortunately, a little white lying on both our parts didn't stop us from having a lovely time, and I walked away as smitten with Alanna as I knew I would be when I first started visiting her space a year or more before. She's everything her blog conveys: sweetly humble, quick-witted, deeply intelligent. There's also something to be said for the way she converses — softly and often with a smile in her eyes — that makes it feel like you're trading schoolgirl secrets in the best way possible. And, of course, she's supremely talented.
Which brings us to this cake.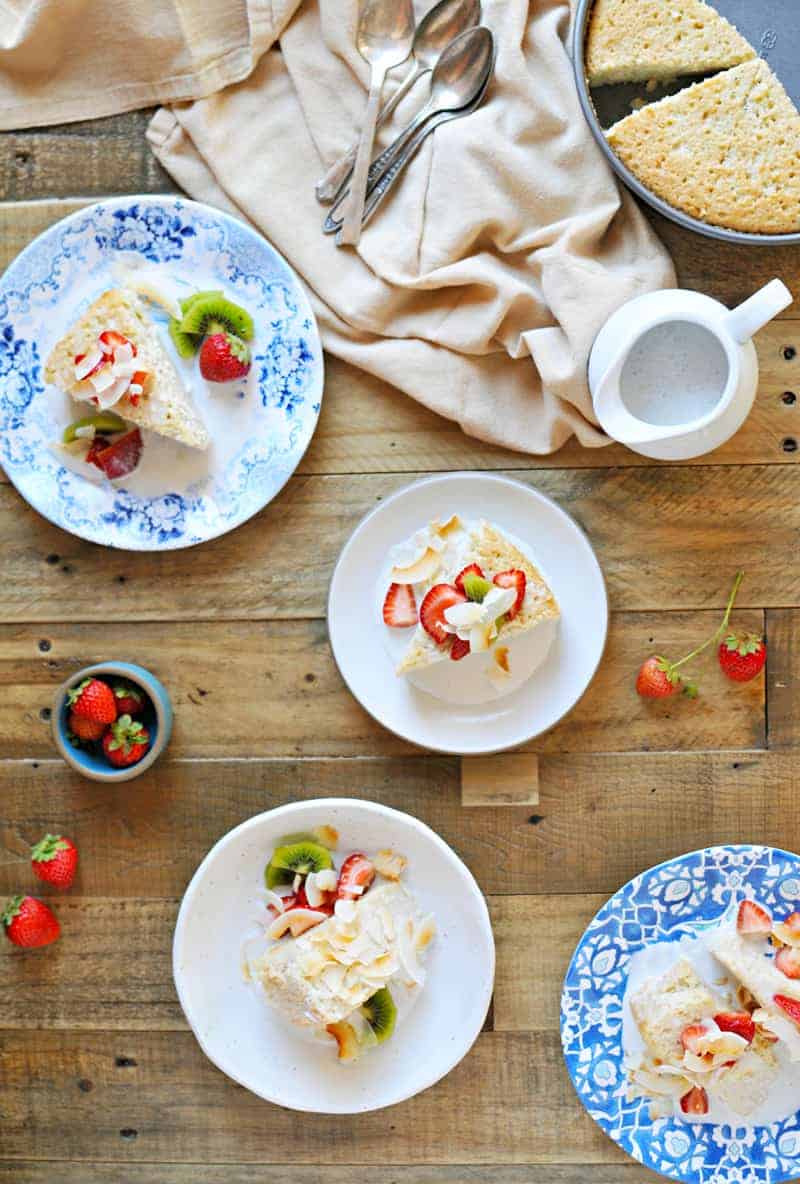 I was fortunate enough to test this cake last summer when Alternative Baker was still in draft form, and it instantly seduced me with its accessible ingredients, custardy texture and elegant flavor profile, which is far more subtle than you'd expect from a cake featuring not one but three iterations of coconut. At the time, I knew it was something special — particularly since I was avoiding dairy and was, therefore, in a serious Legit Cake dryspell — but after making it again this week, I can formally endorse it as one of the best cakes I've ever enjoyed. Probably the best cake I've ever made.
And that's not even acknowledging that it's gluten. freaking. FREE.
Alanna Taylor-Tobin: maker of magic.
I've tampered with the recipe as originally published only just slightly where the topping is concerned, and that's primarily due to the fact that truly decent mangoes — Alanna's recommended fruit — just weren't in the cards. So, strawberries it is, kissed with just a touch of honey and vanilla, both of which complement the subtle nuttiness of the millet flour. And few slices of electric kiwi tumbled about, as well, because all that coconut needs a little tropical company. It's floral, fragrant, not at all too sweet. And let's not forget pretty. I love a pretty cake.
Tremendous thanks to Alanna for allowing me to share this recipe with all of you today. And if you're reading, sweet friend: big hugs on this most precious book-baby! It's the best of your already exquisite art, captured in print, and I couldn't be prouder. ♥
xo,
Em
p.s. Whether you bake — or not (me!!). Whether you're gluten-free — or not (meeeee!!!!!)…you can and most definitely should order Alternative Baker for yourself here. It's everything gorgeous you never thought you could bake delivered with surprising ease and accessibility. You won't be disappointed.
p.p.s. To see this recipe adorned with Alanna's original mango and lime topping, be sure to visit Shelly's beautiful post here.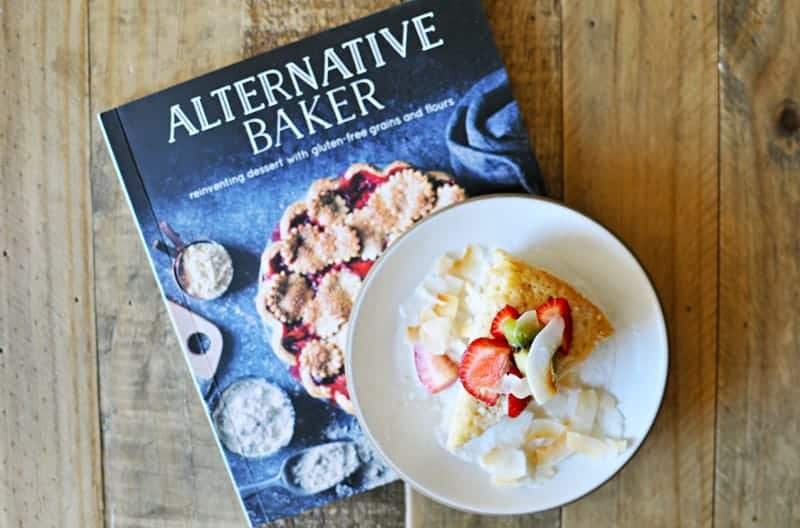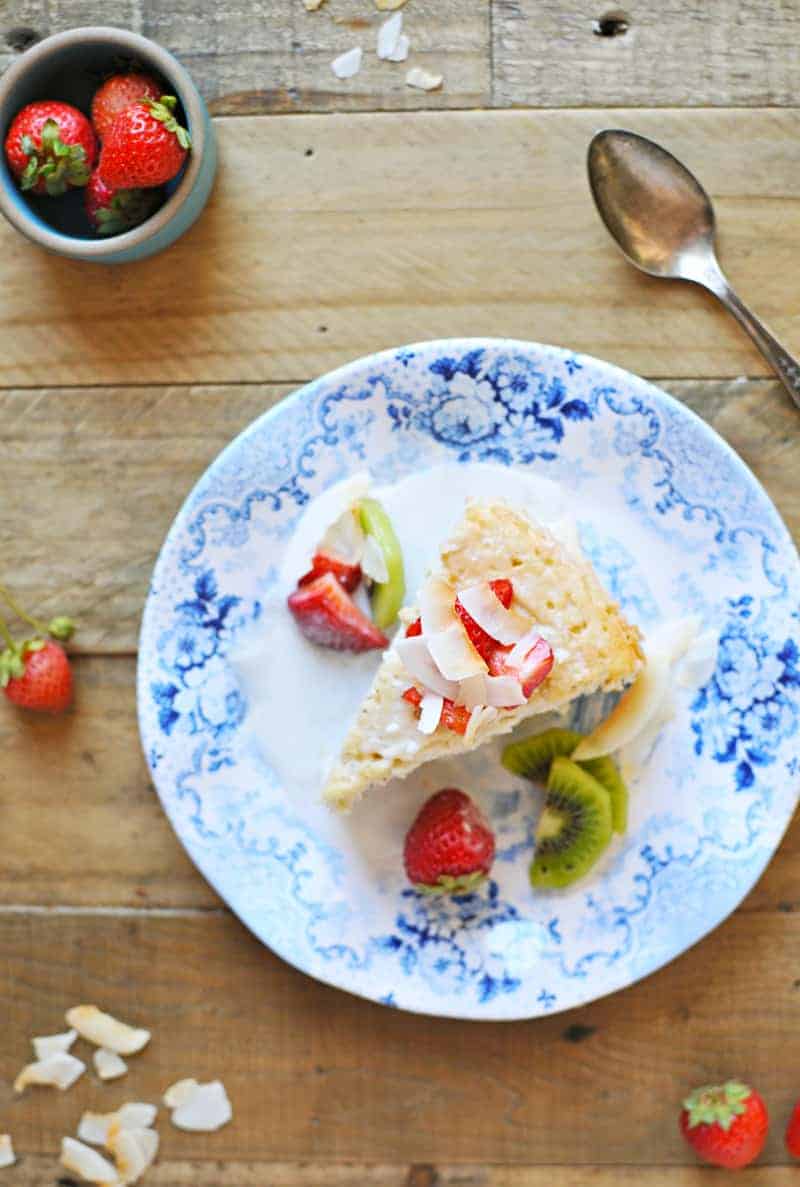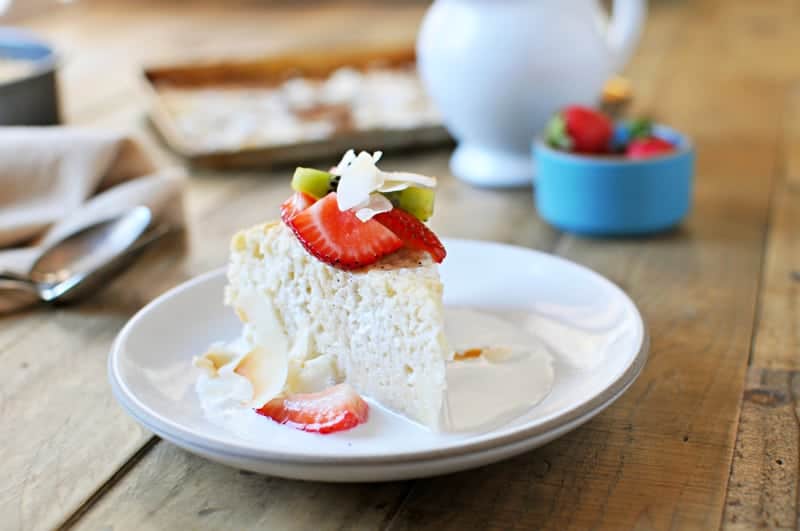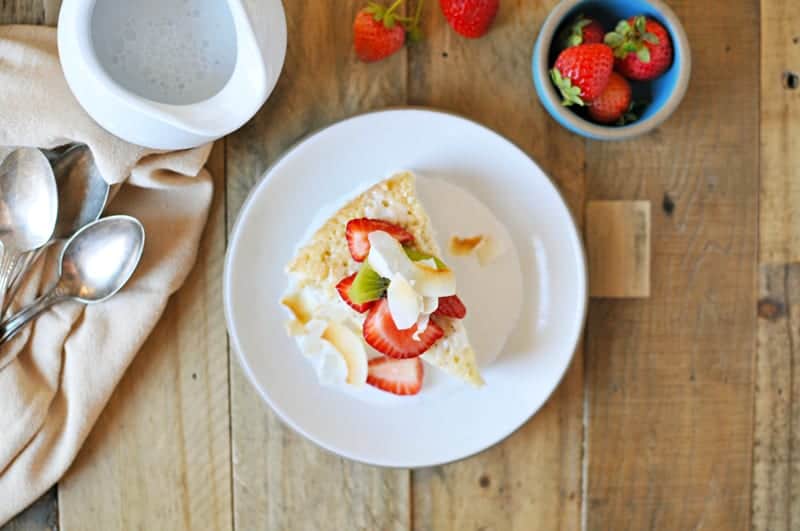 Triple Coconut 'Tres Leches' Cake with Honey-Vanilla Summer Fruit (DF/GF)
This cake, from
Alanna Taylor-Tobin's Alternative Baker
, is one of the best I've ever eaten -- and it just happens to be both dairy- and gluten-free. While there's really only one milk involved (and coconut, at that), the custardy texture is truly reminiscent of a traditional tres leche cake. I think I might even prefer it to the original. 🙂
Ingredients
For the Cake:
¼ cup avocado oil
¾ cup water
3 egg yolks
1 tsp vanilla extract
½ cup plus 2 T organic granulated sugar
⅓ cup sweet white rice flour
⅓ cup coconut flour
¼ cup millet flour
1¼ tsp baking powder
½ tsp fine sea salt
5 large egg whites, at room temperature
¼ tsp cream of tartar
For the Milk:
3 T organic granulated cane sugar
½ vanilla bean, split lengthwise and scraped
2½ cups full fat, well-shaken canned coconut milk
pinch of fine sea salt
3 T dark rum, optional (be sure to choose a gluten-free variety if you intend to keep the recipe GF)
For Finishing:
1 cup unsweetened coconut flakes
1 pint strawberries, hulled and quartered
2-3 medium kiwi, peeled and thinly sliced into half-moons
2 T honey
1½ tsp Mexican vanilla
Instructions
To make the cake: Position a rack in the center of your oven and preheat to 325F. Line an ungreased 8-inch round baking pan with a piece of parchment paper cut to fit.
In a large bowl, whisk together the oil, water, egg yolks, and vanilla, then whisk in ½ cup sugar. Place a strainer over the bowl and sift in the flours with the baking powder and salt, adding back in any bits left in the strainer. Whisk until completely smooth.
In the clean, dry bowl of a stand mixer fitted with the whip attachment, whip the egg whites with the cream of tartar on medium-high speed until soft peaks form. Slowly add in the remaining 2 T sugar and whip until the whites are glossy and just hold a firm peak, 1-3 mins.
Use a flexible silicone to fold ⅓ of the whites into the batter, then gently fold in the remaining whites until just combined and no streaks remain. Immediately pour batter into prepared pan and bake until the cake is golden and a toothpick inserted near the center comes out clean, 40-50 mins. Remove to a cooling rack. Meanwhile, make the milk mixture.
To make the milk mixture: Place sugar in a medium saucepan and add the vanilla bean pod and scrapings. Use your fingertips to rub the seeds into the sugar to distribute them evenly. Stir in the coconut milk and salt. Bring to a bare simmer over medium heat, stirring frequently, then remove from heat, cover and let steep for 10-20 minutes to infuse the vanilla. Strain the mixture through a fine-mesh sieve and into a heatproof bowl or jar. Let cool to warm, stirring occasionally to prevent skin from forming, then stir in the rum (if using).
When the cake is cooled but still warm, slice it into wedges (you'll get 8 standard or 12 modest servings), leaving the cake in the pan, and poke all over with a slender chopstick or skewer. Slowly pour over 1½ cups of the coconut milk mixture, letting it absorb into the cake. Let cake cool completely at room temperature and then transfer both the cake and the extra vanilla-infused coconut milk to chill, at least an hour and up to a day or two.
To finish the cake: preheat the oven to 325F. Spread the coconut flakes on a small baking sheet and toast until golden, 5 mins or so, keeping a very close on eye on them as soon as they start developing color.
Combine the strawberries, kiwi, honey and Mexican vanilla in a small bowl.
To serve, carefully remove a slice of cake from the pan and top with more of the chilled coconut milk, the honey-vanilla macerated fruit and the toasted coconut. Enjoy!
Notes
I've written the recipe almost exactly as printed in
Alternative Baker
with the exception of the topping, which is originally composed of mango and lime, as captured in Shelly's post,
here
.
————————————————–
OH! before you go…
Like whatcha see here — or have a question, feedback, or recipe hack to share? Join The Pig & Quill convo by commenting below (I love, luv, lurve comments) and hang out with me on Facebook, Twitter, Instagram and Pinterest. And don't forget to subscribe to P&Q emails or add me to your RSS reader with Feedly or Bloglovin' so you never miss a post. x's & o's!