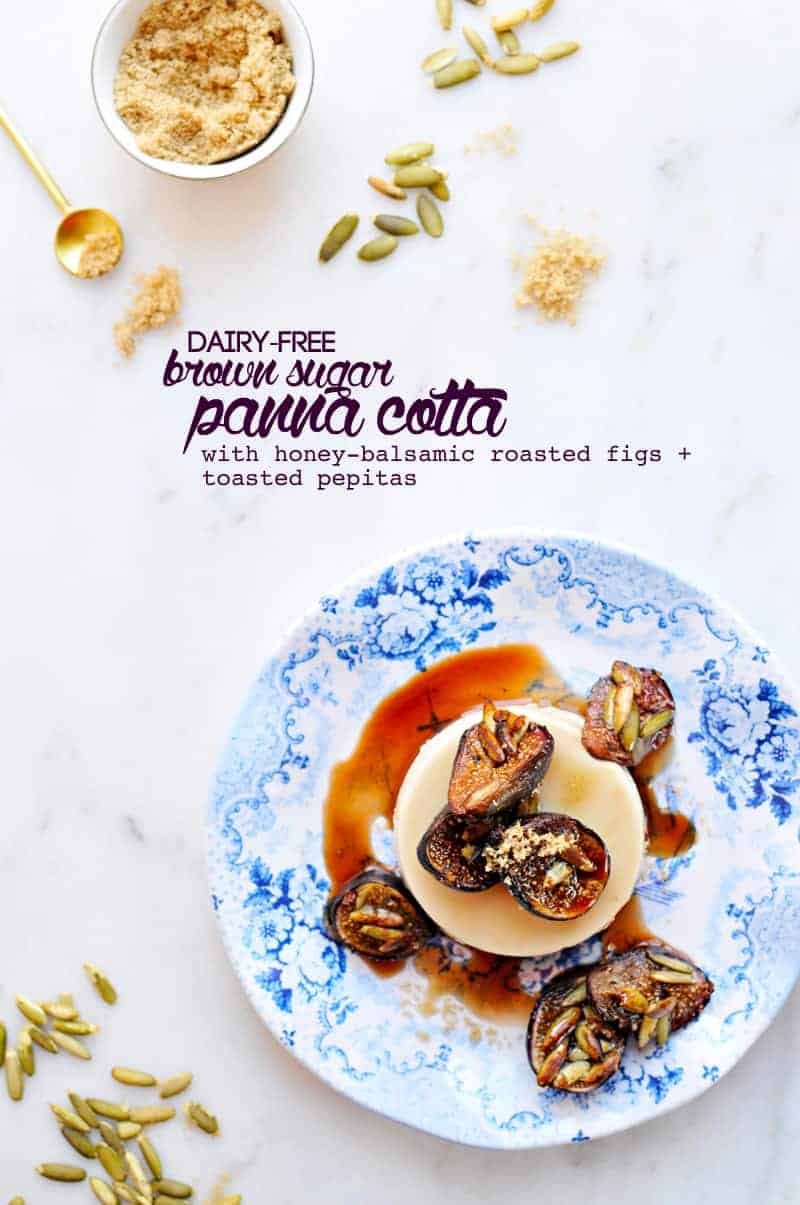 When Chris and I lived in Ohio, one of our favorite restaurants was a bustling Italian place on the riverfront in Dublin called La Tavola. For happy hours, it had a huge patio surrounded by plenty of hardwood trees for shade and unfussy cocktails mixed by unfussy bartenders. For date nights, it had lighting that was just dim enough and handmade pastas you could order by the half or full — perfect for sharing a taste of everything, even when it was just the two of us. And for impressing out-of-town family, a gigantic rustic farm table that sat smack in the middle of the dining room acted as an exposed butler's pantry, stacked tall with bread and butter plates, carafes of water and wine, and a sunny floral centerpiece roughly the size of Honda Civic. Hardwood trees aside, it all felt very Californian. And for at least our first year or so in Ohio, that seemed of notable importance.
Of all the memorable meals we enjoyed at La Tavola, two dishes, in particular, harnessed our attention with enough vigor that we've since made inspired-by variations at home. One, a fresh spinach fettuccine with red pepper flakes and garlic (basically aglio e olio), which I swear we ate almost weekly before the babe was born — a tradition I am just now realizing we should resurrect post-haste (ooooh, how fun is that to say?). And the second, a purist's panna cotta: creamy white with just a hint of vanilla, a tumble of fresh berries and a caramelly drizzle of tangy balsamic. Like, real balsamic. The kind you imagine Italian monks must chant over in underground caves while a bell tolls far in the distance. (That is how it works, right?)
This panna cotta is a seasonal riff on that fondly memorable dessert, given a new identity with a coconut milk base (though you could absolutely use cream) and just enough brown sugar to sweeten the cream while also adding a little bit of coziness. It also adds a sugary crunch when sprinkled over top, which reminds me very much of childhood vacations and complimentary breakfast buffets at The Embassy Suites, where my best friend and I would get to sit at a table all by ourselves (!!!) and add as much brown sugar to our oatmeal/yogurt/frosted flakes as our little turnt-up hearts desired.
As for the fruit-and-balsamic component, I've replaced that rich, sticky balsamic of royal pedigree with a (regular ol') balsamic and honey combo, which, when tossed with short-seasoned fresh figs and toasty pepitas and briefly kissed with the broiler's flame in a method directly inspired by this gorgeous number from Sarah, makes for a topping as seductive in both flavor and texture as this sentence is long and confusing.
It's the perfect treat to tuck into (I love the distinctive snick of that first bite) as we bid regretful adieu to the end of summer and set our sights on the pumpkin-spiced aspirations of fall.
I hope you love it as much as I do.
xo,
Em
p.s. Though the Dublin location closed shortly before we left Ohio for California, I've learned that La Tavola reopened in Grandview in 2014 with a more neighborhood-oriented setting and menu. If anyone has been, I'd love to hear how it compares!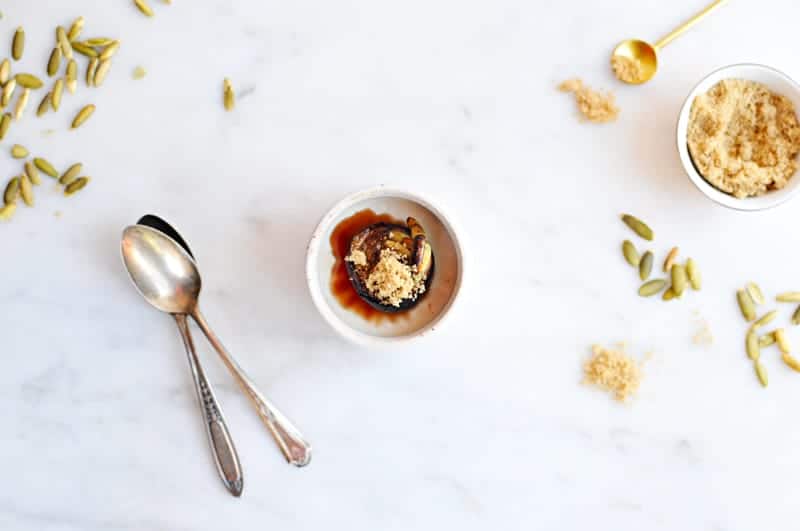 Brown Sugar Panna Cotta with Honey-Balsamic Roasted Figs + Toasted Pepitas
By:
Emily Stoffel (fig method adapted from Sarah)
Ingredients
For the Panna Cotta
1 envelope unflavored gelatin (about 1 tablespoon)
2 T cold water
2¾ cups whole coconut milk
⅓ cup brown sugar, plus extra for serving
1½ tsp vanilla extract
For the Figs
10-12 ripe black figs
1.5 T balsamic vinegar
3 T honey, divided
¼ cup pepitas
sea salt
freshly cracked black pepper
Instructions
To make the Panna Cotta: In a small saucepan, sprinkle cold water over gelatin and let stand for 1 minute while gelatin softens. Put saucepan over low heat and warm until gelatin is completely dissolved. Remove pan from heat.
In another saucepan, bring coconut milk and brown sugar to JUST a boil over medium-high heat. Remove from heat and stir in gelatin. (Note: if you've let your gelatin sit too long and it has gelled, stir a little of the hot coconut milk into the gelatin to re-liquefy and then add to the rest of the coconut milk.)
Divide mixture among ramekins and cool to room temp; then transfer to refrigerator and chill until set — at least 4 hours or overnight.
About an hour before serving, prepare figs. Preheat broiler. Halve figs (or quarter, if they're biggies) and arrange cut-side up on a rimmed baking sheet. Drizzle over balsamic and 1.5 T of the honey. Season generously with cracked pepper. Broil for 3 mins.
Meanwhile, combine pepitas with remaining 1.5 T honey and generous pinch of sea salt.
When figs have broiled, top with pepitas and broil again for 3 mins or until seeds are beginning to brown. Let figs cool completely.
To serve: Dip ramekin in hot water for 3-5 seconds. Run a knife around each edge and then invert ramekin onto serving plate. Repeat with remaining ramekins.
Top panna cotta with cooled figs and an extra sprinkling of brown sugar. Enjoy!
Notes
Prep and cook time does not include time to chill the panna cotta or cool the figs, so though there is very little hands-on work required, plan accordingly. 🙂

Because this dairy-free recipe uses coconut milk, there is a subtle coconut flavor that runs through the brown sugar and the sweet-tart caramelized figs. If you'd prefer a more traditional panna cotta and are not averse to using dairy, sub the coconut milk for heavy cream.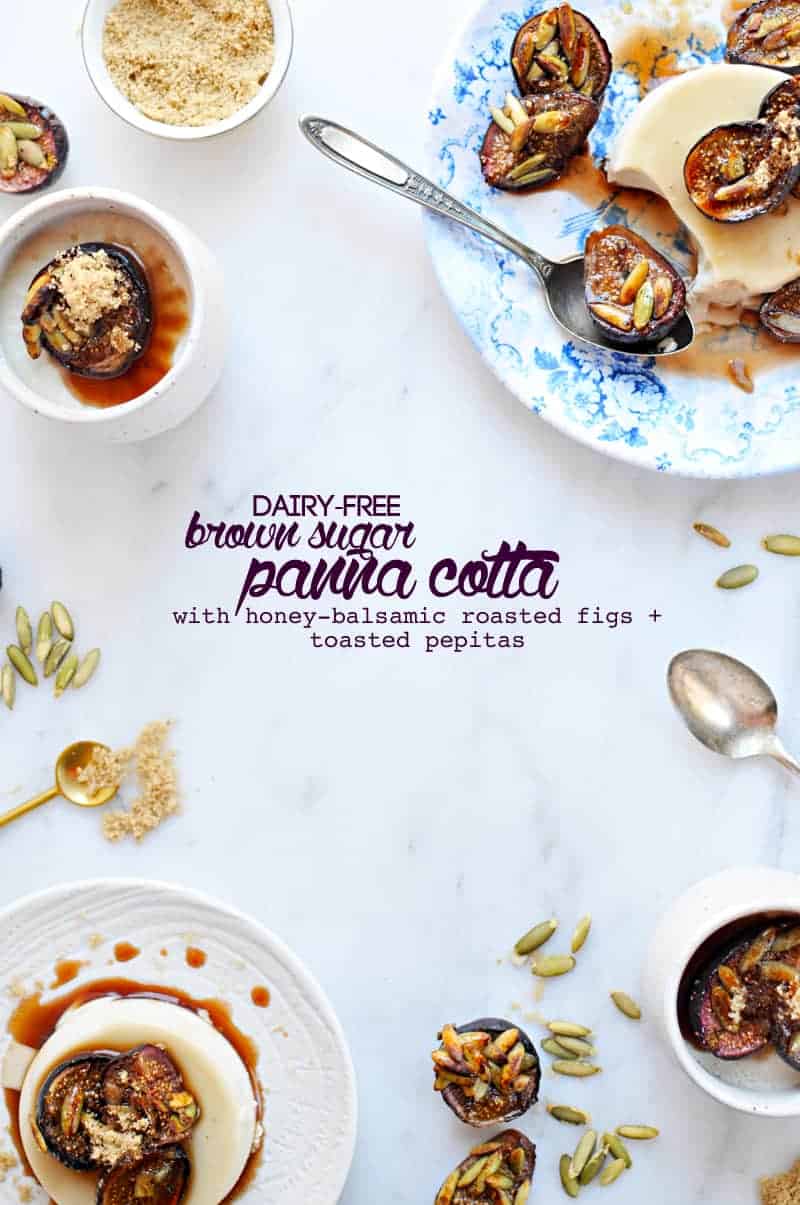 ————————————————–
OH! before you go…
Like whatcha see here — or have a question, feedback, or recipe hack to share? Join The Pig & Quill convo by commenting below (I love, luv, lurve comments) and hang out with me on Facebook, Twitter, Instagram and Pinterest. And don't forget to subscribe to P&Q emails or add me to your RSS reader with Feedly or Bloglovin' so you never miss a post. x's & o's!