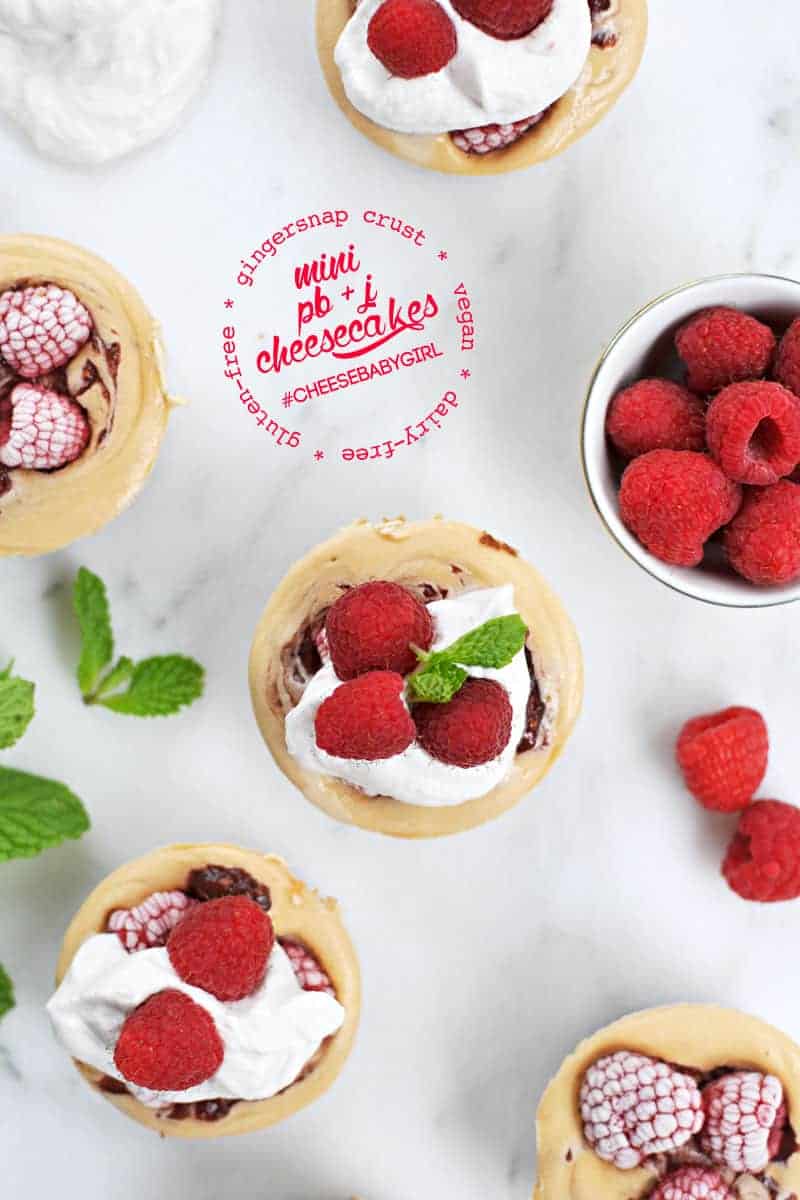 Howdy all — happy 2016! I can hardly believe this is my first post of the year, but if cheesecake is at all indicative of the general direction this year is headed, you won't hear me complaining. (Lies. You will. Just not about dessert.) (Probably about nap stuffs. Or lack-of-nap stuffs. Although today I actually got to close my eyes with the little one and we dozed together and it was The Freaking Sweetest.) (Also, I hope parentheses are still en vogue this year.) (AS IF THAT CAN STOP ME.)
(Typical.)
So about these cheesecakes: not sure if you've noticed, but the internet is kind of rockin' out today with a Virtual Cheese Baby Shower in celebration of Sarah's (aka Snixy Kitchen) forthcoming #cheesebabygirl, and I couldn't be more excited. One because Sarah is probably one of the sweetest bloggers I've had the joy of meeting IRL (clearly anyone who nicknames their unborn kiddo Cheese is destined to be a fast friend) — and two because HAAAAIII CHEESECAKE WHATTUP.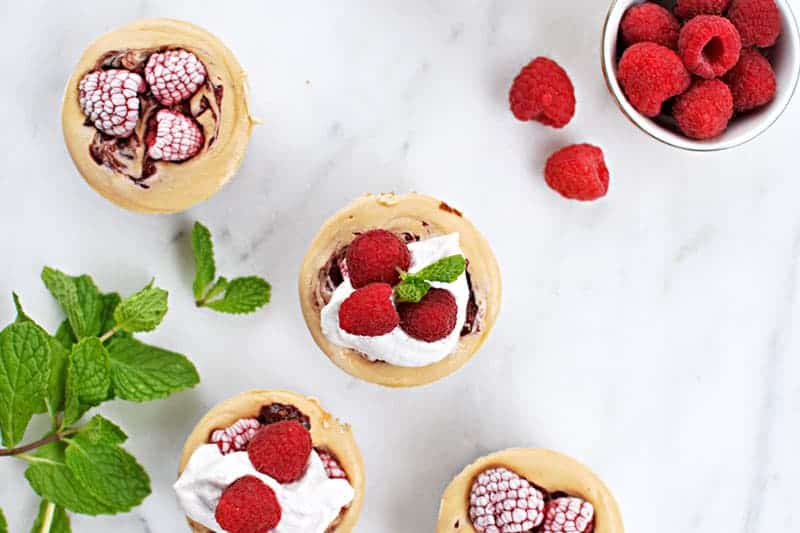 When Alana of The Bojon Gourmet and Todd of HonestlyYUM first reached out with the idea to throw Sarah a surprise #cheesebabyshower and gently encouraged participants to bring our sweetest and/or cheesiest game, I was kinda stumped. I've been on the (dairy) wagon for the better half of a year, so cheese — or rather real cheese — was definitely not on the table. I mean, suuuuure there are bloggers out there that would push forward with a legit cheese recipe and allow their partners to reap the rewards while standing aside all martyr-y and shit, but I think we all know: I am not that blogger. So I did the unthinkable, you guys. I did. The nutcheese thing. *facepalm*
Well. Kinda.
Let me explain.
The first time Sarah and I met in the realsies, we walked all-freaking-over Oakland (read: like, a lot of blocks one way, and then a lot of blocks the other way) trying to find a froyo spot. Sarah was newly pregnant, I was newly nursing, and apparently, unlike every single town on the Peninsula, Oakland is a frozen yogurt desert. Somewhere along the way, we stopped in a coffee shop to give Lana a bottle, fed my parking meter, and then KEPT LOOKING FOR YOGURT before totally giving up and driving back toward Berkeley where we knew there was froyo to be found. Ferst werld probbies, right? Totally. But it was enough of a bonding experience that, when it came time to whip up something for today's shower, I knew I wanted it to be a frozen concoction evocative, at least somewhat, of that day's pursuits. Combined with the cheese theme, a no-bake cheesecake seemed the obvious choice, and thanks to a little research and a LOT of praise for Dana's vegan cheesecake genius, these little guys were born. Are there soaked cashews involved? Yes. Can you taste them? No. Is the end result rich, creamy, custardy and not at all what you'd think when faced with the words nut cheese? You betcha.
In Sarah's honor, I poured the cheesecake filling onto a 2-ingredient (ok, well, three if you count salt) gluten-free gingersnap crust that bakes up in all of 5 minutes — and because I craved peanut butter like the dickens when I was preggy, myself, I went ahead and PB+J'd things up. Also, I just really, really like frozen PB+J treats. Remember these popsicles? Yeah…
So there ya go. Sweet. Cheesyish. And ridiculously allergen-friendly to boot, though that makes them sound not fun at all.
Happiest Surprise Shower to you, sweet Sarah! As someone who was very recently where you stand now, I'll echo what I'm sure many fellow mommas have already shared: cherish every moment that exists between now and your new arrival (that means appreciating every you-and-Lucas moment while it's still just the two of you!) and every moment after. Enjoy her immensely. Never stop kissing her. Take her to dinners while she's still in sleepy newborn mode. Get a Nose Frida and thrive on using it probably a little too much. And take time to be present for yourself, even if it's only a single minute in a day. Our wee ones are incredible, but we mommas are kind of amazing, too. 🙂
Hugs, friend. You're gonna be a natch. <3
xo,
Em
p.s. scroll down to see 30+ recipes from everyone else celebrating Sarah today!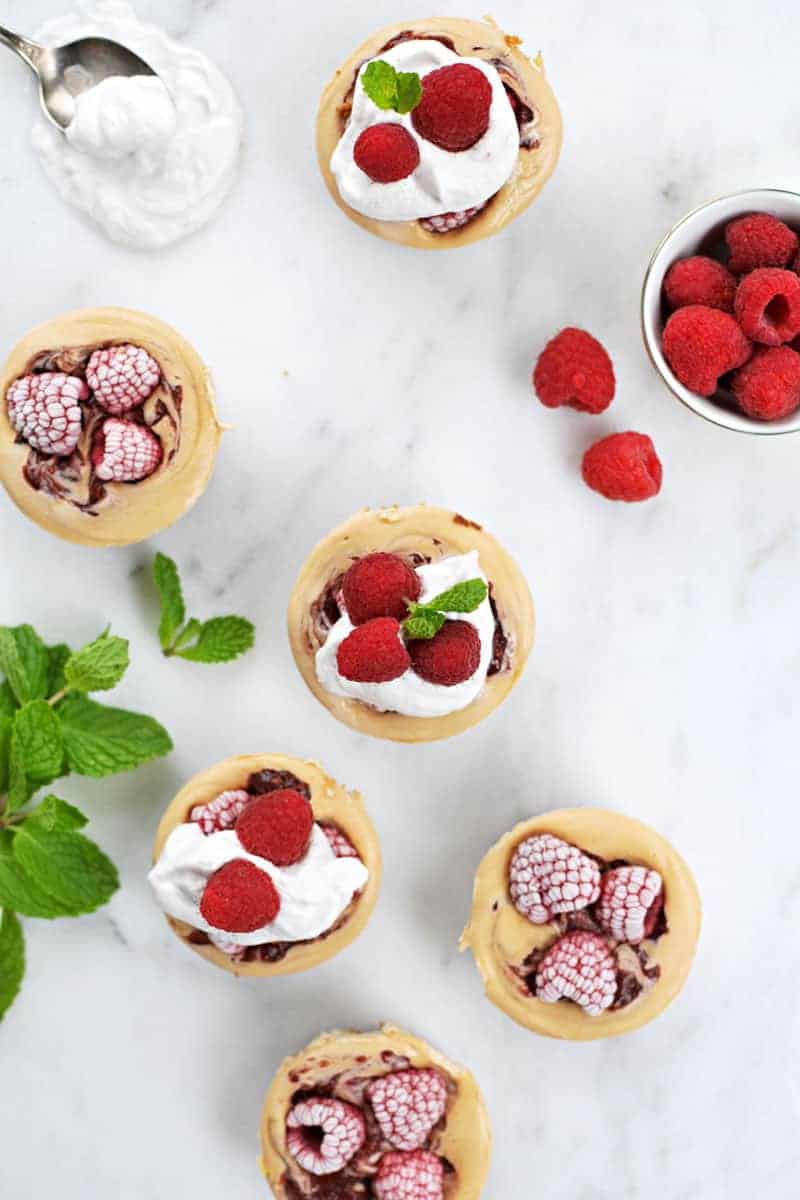 Celebrate Sarah's #CHEESEBABYSHOWER with these fave bloggers:
Cheesy Things
Sweet Things
Cheesy & Sweet Things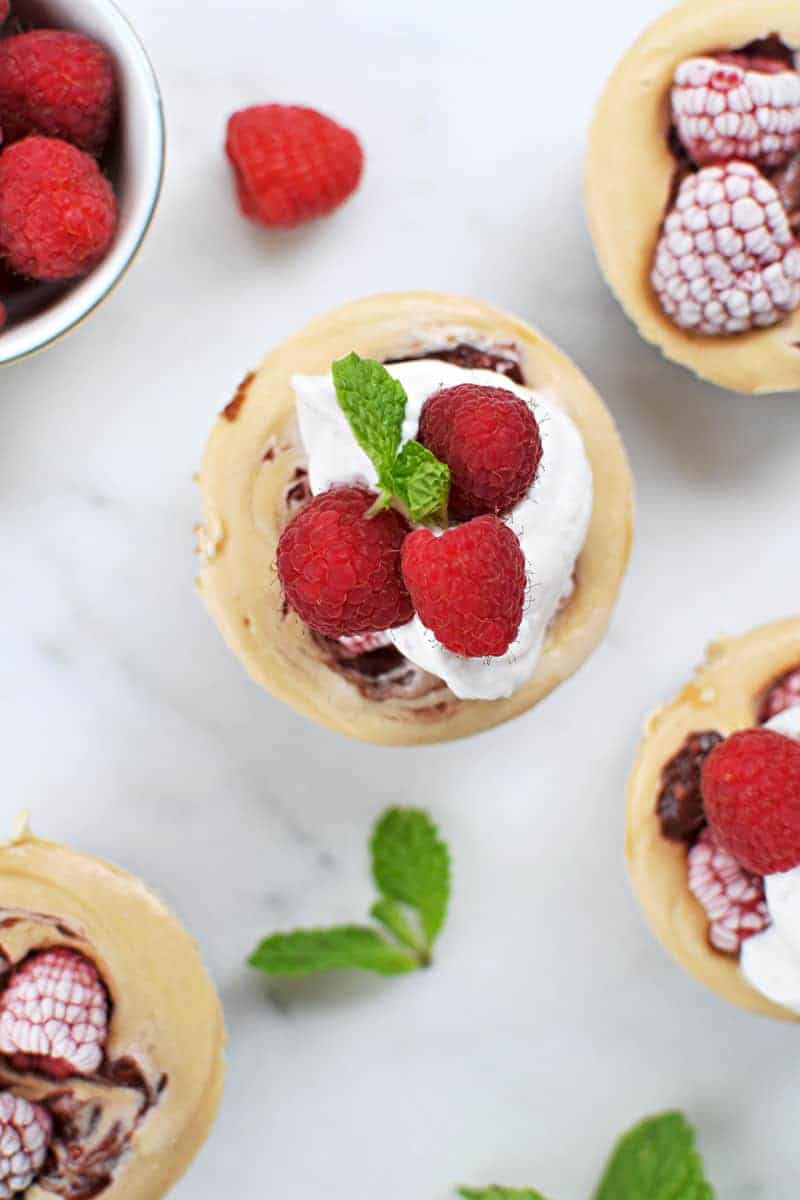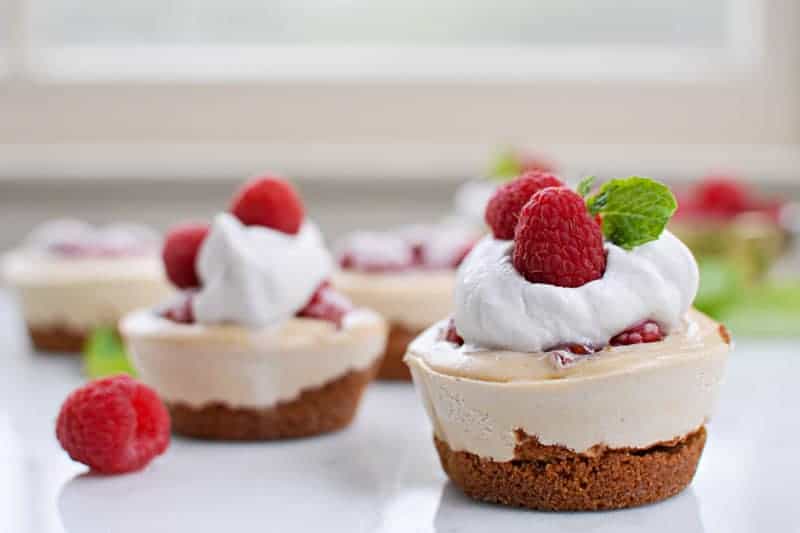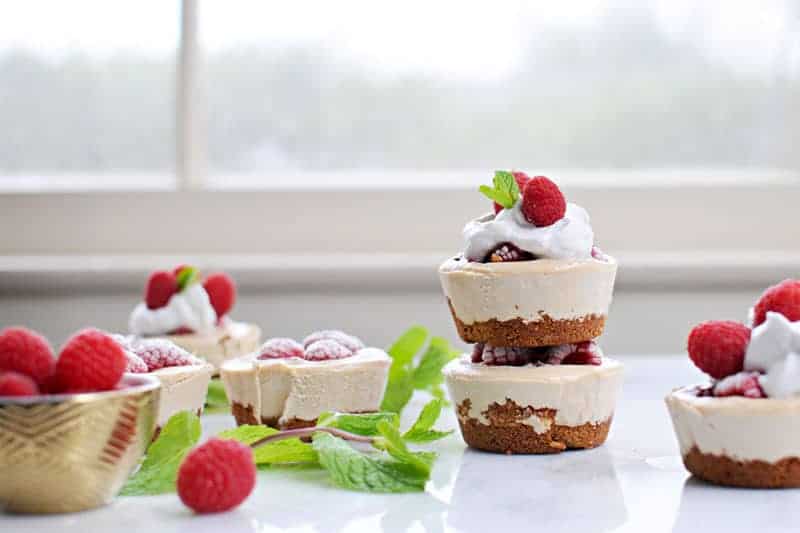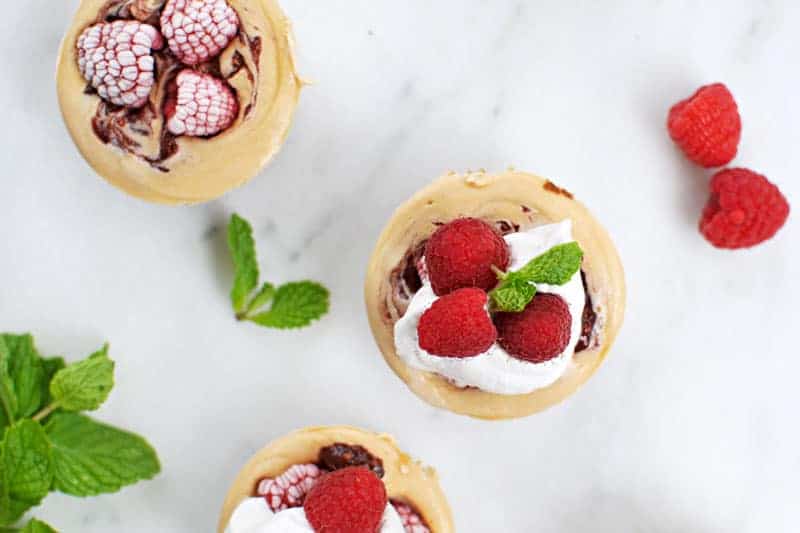 no-bake vegan mini pb+j cheesecakes
Ingredients
For the Gingersnap Crust
8 ounces gluten-free gingersnap cookies
4 T coconut oil
pinch sea salt
For the PB Cheesecake Filling
1.5 cups raw cashews, quick-soaked and drained, see note
1 lemon, juiced (scant ¼ cup)
⅓ cup coconut oil, melted
½ cup + 2 T full fat coconut milk
½ cup maple syrup
⅓ cup salted natural peanut butter
1 tsp vanilla
¾ cup raspberry jam
36 fresh raspberries
For Serving
more fresh raspberries
coconut whipped cream, see note
Instructions
Preheat oven to 350F. Add gingersnaps, 4 T coconut oil and salt to a food processor and blitz until the texture of wet sand.
Cut 12 strips of parchment paper and place them in a 12-slot muffin tin. One at a time, hold down a strip in the center of the tin, add 2 spoonfuls of crust mixture and press into tin with a small cup or the back of a spoon. Continue until all tins are filled.
Bake crust for 5 minutes, then remove and set aside to cool.
Add drained cashews, lemon juice, coconut oil, coconut milk, maple syrup, peanut butter and vanilla to a blender and process until creamy, thinning with a little more coconut milk if needed. (Mixture should be very thick but pourable.)
Pour filling evenly over crust and dollop a tablespoon of jam over the top, swirling with a skewer or chopstick to combine. Press three raspberries into top of each cheesecake and freeze until firm, 2-3 hours.
To remove cheesecakes from muffin tin, pull on tabs at the same time until cheesecake releases (if they're being stubborn, you can also pop 'em out with a butter knife).
Serve cheesecakes frozen or very slightly thawed topped with whipped coconut cream and fresh raspberries. Enjoy!
Notes
To quick-soak the cashews: pour boiling water over nuts and let soak, uncovered for an hour. Drain and set aside until ready to use.

To make the whipped coconut cream: refrigerate full-fat coconut milk or cream overnight. Open can and scoop thick coconut cream into bowl (reserve thinner liquid for smoothies or another use!). Beat with an electric hand mixer to desired stiffness and sweeten with powdered sugar, maple syrup or agave to taste.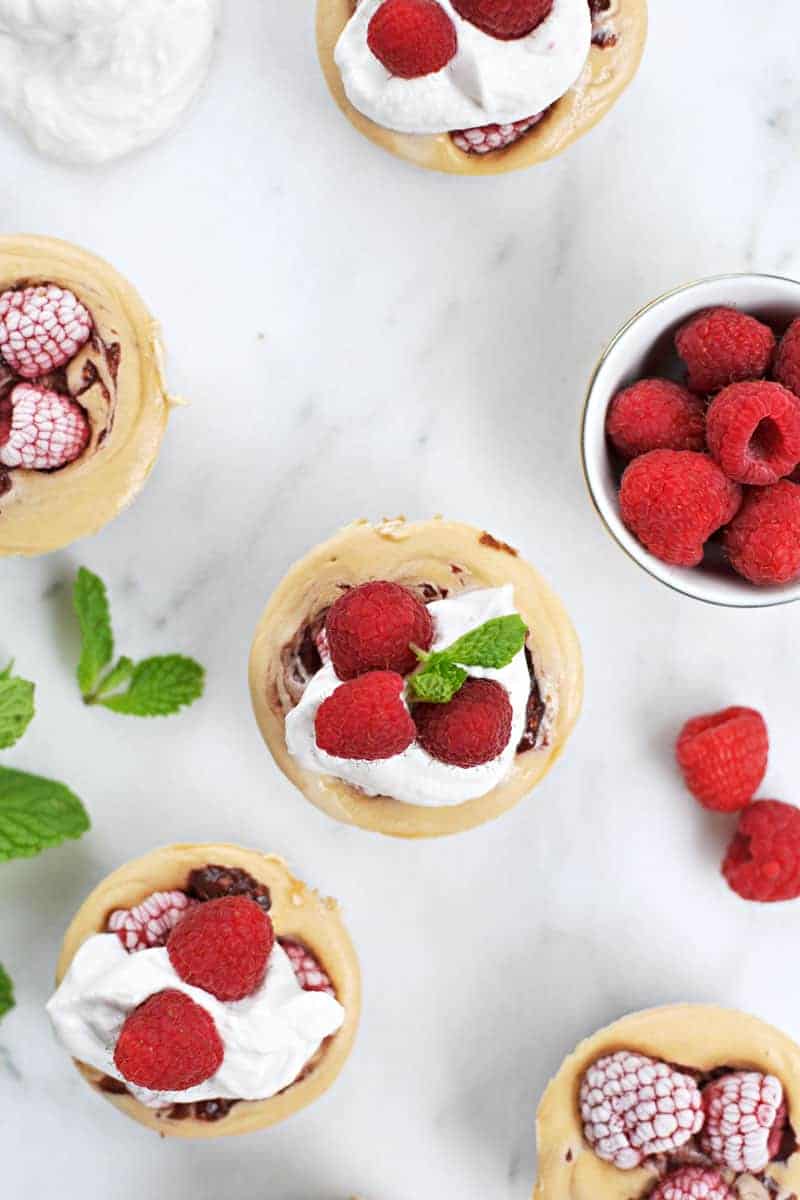 ————————————————–
OH! before you go…
Like whatcha see here — or have a question, feedback, or recipe hack to share? Join The Pig & Quill convo by commenting below (I love, luv, lurve comments) and hang out with me on Facebook, Twitter, Instagram and Pinterest. And don't forget to subscribe to P&Q emails or add me to your RSS reader with Feedly or Bloglovin' so you never miss a post. x's & o's!