no-bake vegan mini pb+j cheesecakes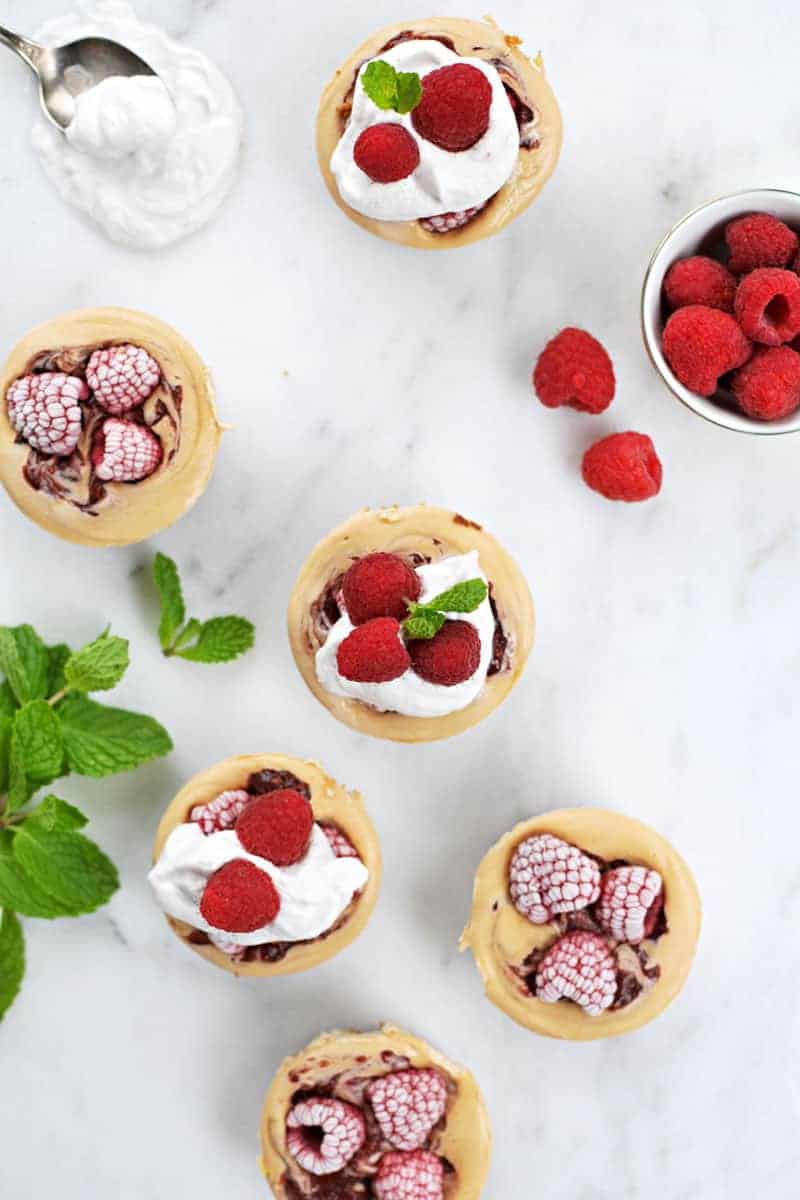 For the Gingersnap Crust
8 ounces gluten-free gingersnap cookies
4 T coconut oil
pinch sea salt
For the PB Cheesecake Filling
1.5 cups raw cashews, quick-soaked and drained, see note
1 lemon, juiced (scant ¼ cup)
⅓ cup coconut oil, melted
½ cup + 2 T full fat coconut milk
½ cup maple syrup
⅓ cup salted natural peanut butter
1 tsp vanilla
¾ cup raspberry jam
36 fresh raspberries
For Serving
more fresh raspberries
coconut whipped cream, see note
Preheat oven to 350F. Add gingersnaps, 4 T coconut oil and salt to a food processor and blitz until the texture of wet sand.
Cut 12 strips of parchment paper and place them in a 12-slot muffin tin. One at a time, hold down a strip in the center of the tin, add 2 spoonfuls of crust mixture and press into tin with a small cup or the back of a spoon. Continue until all tins are filled.
Bake crust for 5 minutes, then remove and set aside to cool.
Add drained cashews, lemon juice, coconut oil, coconut milk, maple syrup, peanut butter and vanilla to a blender and process until creamy, thinning with a little more coconut milk if needed. (Mixture should be very thick but pourable.)
Pour filling evenly over crust and dollop a tablespoon of jam over the top, swirling with a skewer or chopstick to combine. Press three raspberries into top of each cheesecake and freeze until firm, 2-3 hours.
To remove cheesecakes from muffin tin, pull on tabs at the same time until cheesecake releases (if they're being stubborn, you can also pop 'em out with a butter knife).
Serve cheesecakes frozen or very slightly thawed topped with whipped coconut cream and fresh raspberries. Enjoy!
To quick-soak the cashews: pour boiling water over nuts and let soak, uncovered for an hour. Drain and set aside until ready to use.

To make the whipped coconut cream: refrigerate full-fat coconut milk or cream overnight. Open can and scoop thick coconut cream into bowl (reserve thinner liquid for smoothies or another use!). Beat with an electric hand mixer to desired stiffness and sweeten with powdered sugar, maple syrup or agave to taste.
Recipe by
the pig & quill
at https://thepigandquill.com/no-bake-vegan-mini-pbj-cheesecakes/