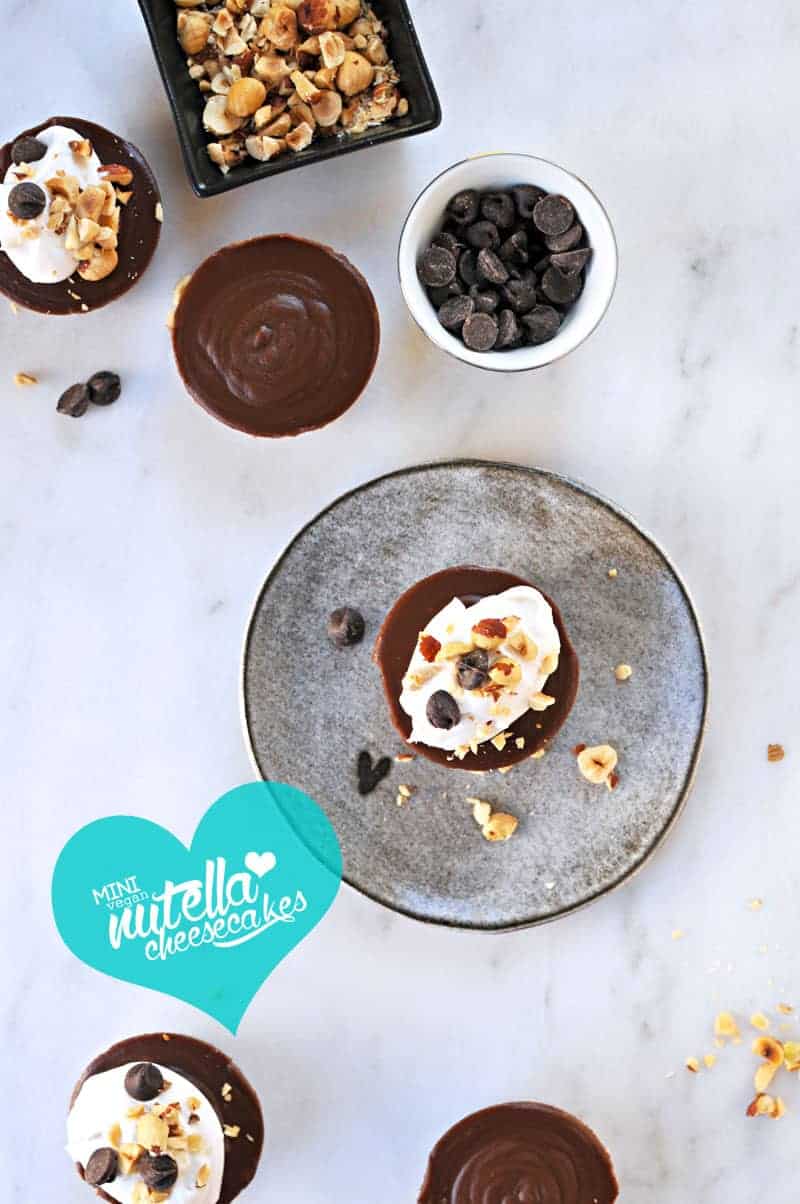 I have no idea how it happened, but Valentine's Day is upon us. Six months ago, I thought I'd be prepared. I'd take Lana to one of those under-frequented paint-your-own pottery spots, stamp her fat little hand print on a saucer for Chris, and call it a day. In the evening, per tradition, Chris and I would cuddle up with big bowls of Kraft mac n' cheese, a tray of Scotchmallows and the Mad Men finale — or something equally decadent. And one night in the week that followed, we'd celebrate more formally, pulling up chairs to a tiny table at our favorite neighborhood restaurant and sipping a bold, jammy red from wine glasses blown as big as my head.
But here we are, less than 48 hours from cupid's big day, and I'm stunningly unprepared. No cutesy baby crafts up my sleeve. No Kraft mac in the pantry. And as someone who can sniff out that sweet, honeyed bon-bon from a mile away, I can tell you with absolute certainty there are no Scotchmallows to be found in this house. Date nights out have been few and far between.
And, surprisingly, I'm kind of OK with that.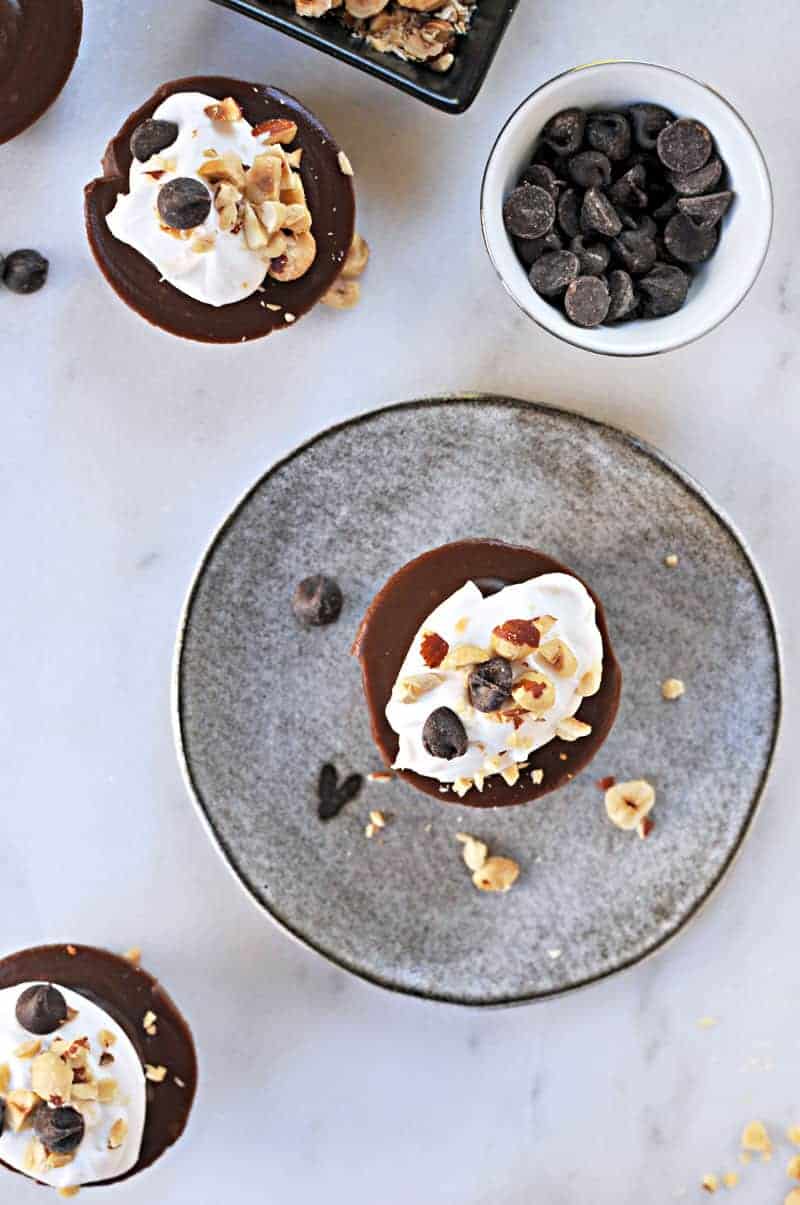 Instead of jacking up expectations over one or two big nights a year, Chris and I have inadvertently turned every night into a date of sorts. You see, there's something unexpectedly magical that happens when a baby goes to bed. First and foremost, you black out all the small mishaps, the frustrations, that may have previously stained your memory of the day, and you begin missing that baby terribly. For every long and labored sigh you let eek out earlier in the afternoon, you want to run in and stroke their forehead, lay your hand on their gently rising tummy, brush the back of your finger across their perfectly plump cheek. So you do. Once, twice. Ah, that's better.
And then, slowly, you begin blooming back into the individual you were before you were somebody's momma. Sure, we spend half the evening talking about Lana's latest ticks and tricks, but there's a certain sacredness to our time together now that continues to delight me and catch me by surprise. There's a lot of Netflixing and take-out. Some laptop time. (Less than before, as you may have noticed from the sporadic scheduling of my posts.) But in the grand scheme of things, for a couple of hours each night, I'm the most present in my marriage I've ever been. It's rather lovely.
So while this year's Valentine's Day is bound to detour from the norm — as have all celebrations over these past nine months — I'm not at all disappointed. It's part of the Parenting Shift. In priorities; in perspective; and in the practical application (or lack thereof) of previous traditions.
But having said all that, there will still be — nay, there must still be — dessert.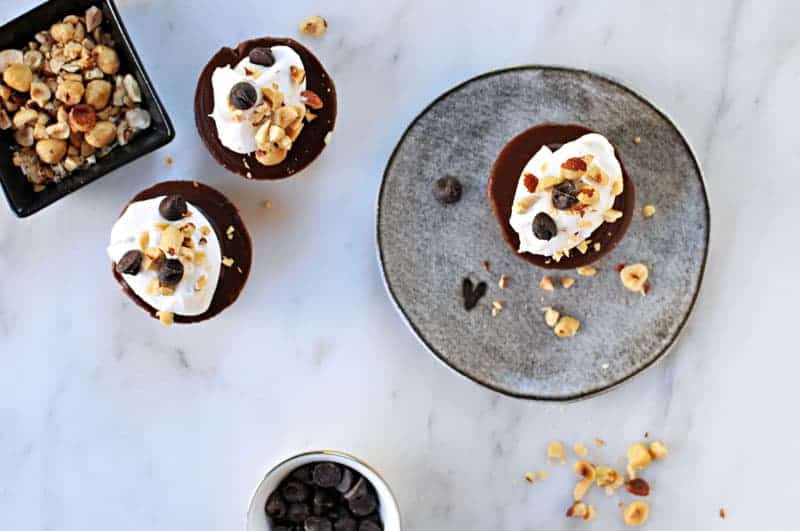 These little cheesecakes require very little explanation. They're rich and creamy, sophisticated and delicate. Not too sweet. And best of all: stupid easy. The simplest graham cracker crust topped with the classic gianduja combination of chocolate and hazelnut, scattered with more chocolate and hazelnuts, and outfitted with the little black (errrr, white?) dress of the Dairy-Free Dessert Topping world, coconut whipped cream. They set up beautifully in the fridge, feed a small crowd (just like the PB&J cheesecakes from a few weeks ago, this recipe makes a dozen little tarts) and, like all things mini, for which I apparently have a penchant these days, are just plain cute.
Happy Valentine's Day, sweet friends! Hugs and cheesecake to every one of you. ♥
xo,
Em
p.s. These would also make the perfect little treat for any belated Lunar New Celebrations you might be having, mostly because they're basically Ferrero Rocher in cheesecake form and CHINESE PEOPLE LOVE FERRERO ROCHER. No, but seriously. Gung Hay Fat Choy!
p.p.s. In case you missed my linky in last week's post, my episode on The Dinner Special podcast is now live, along with some fun bonus clips on YouTube. Don't miss it!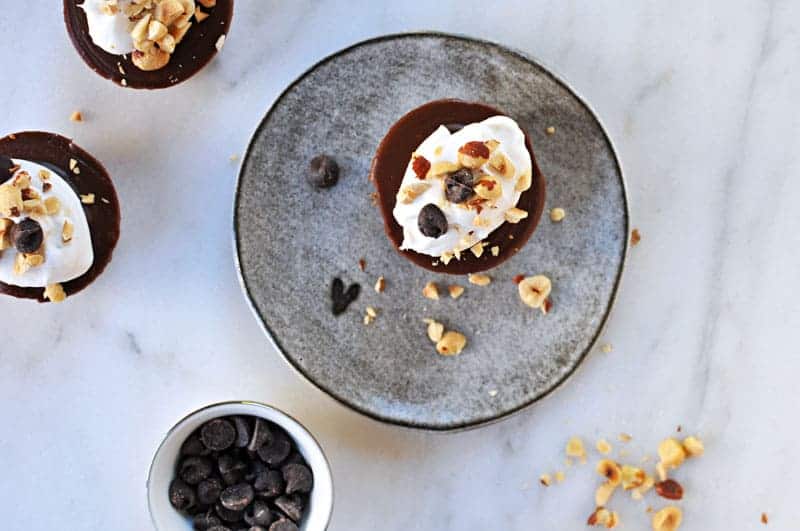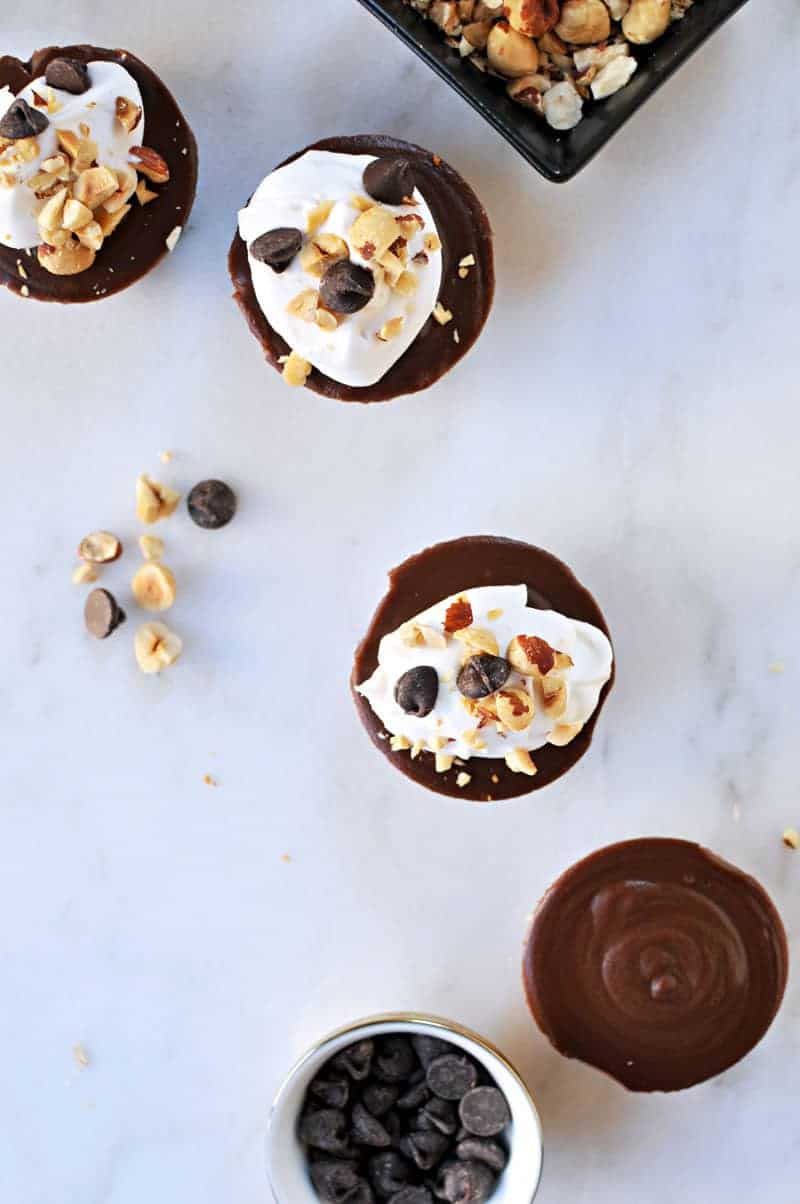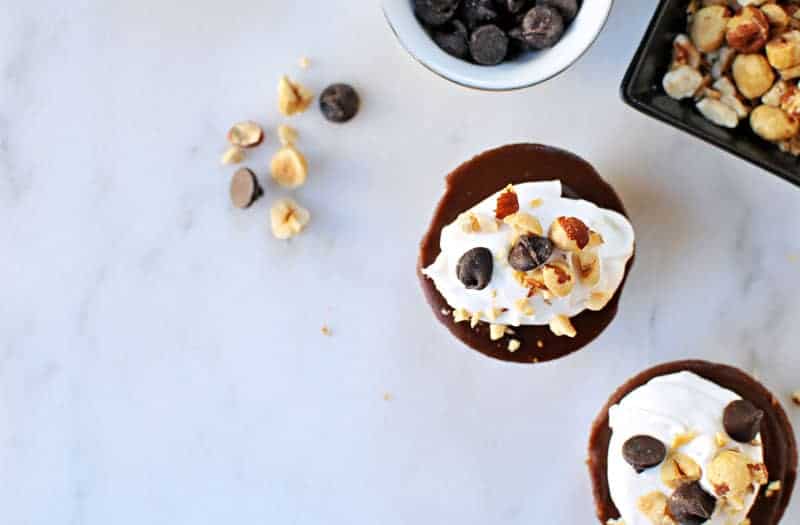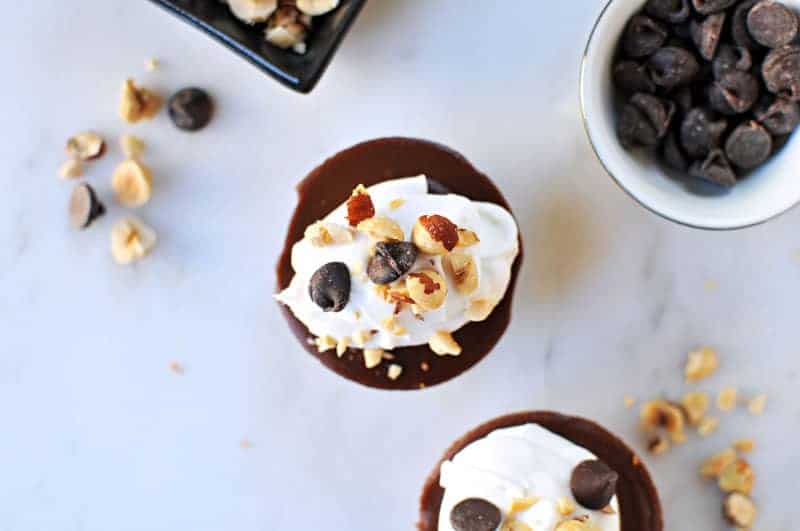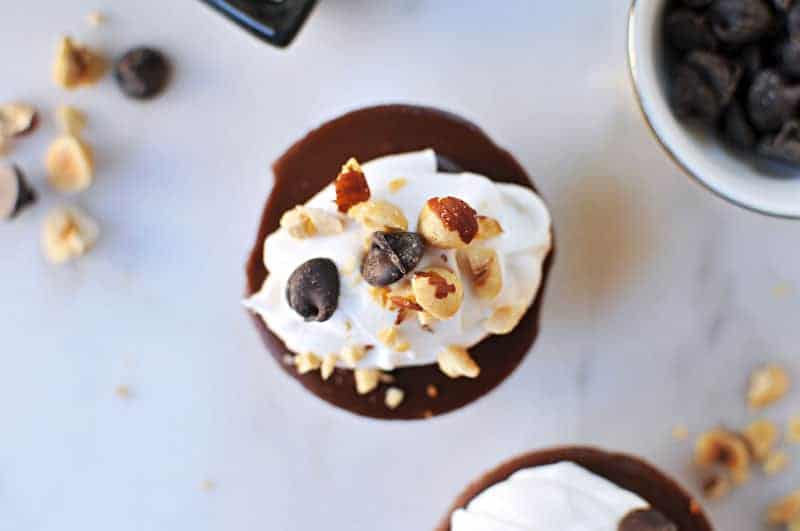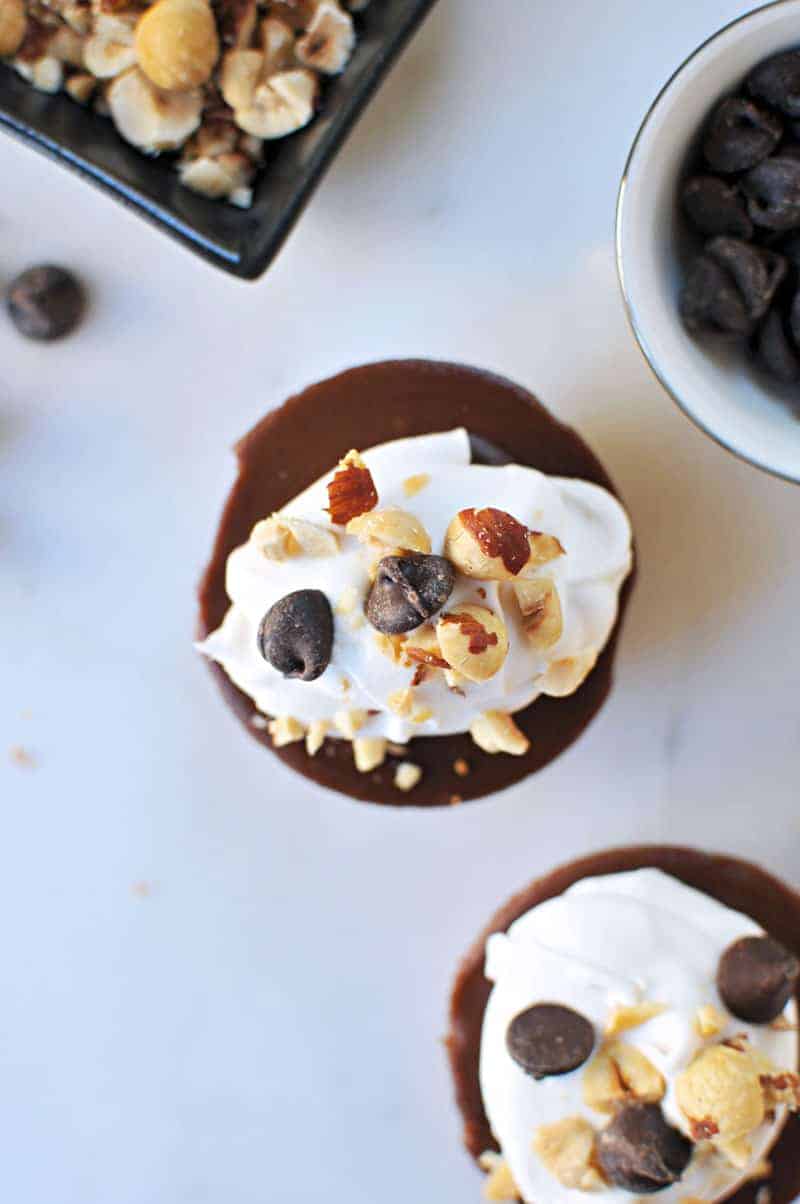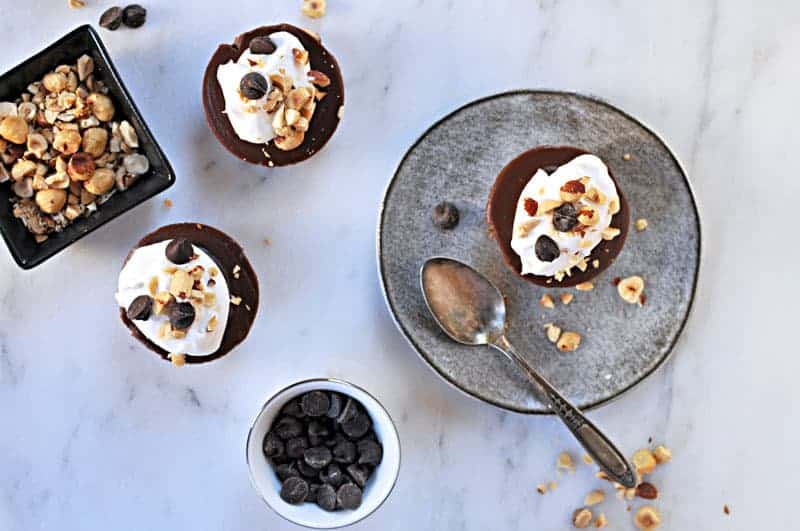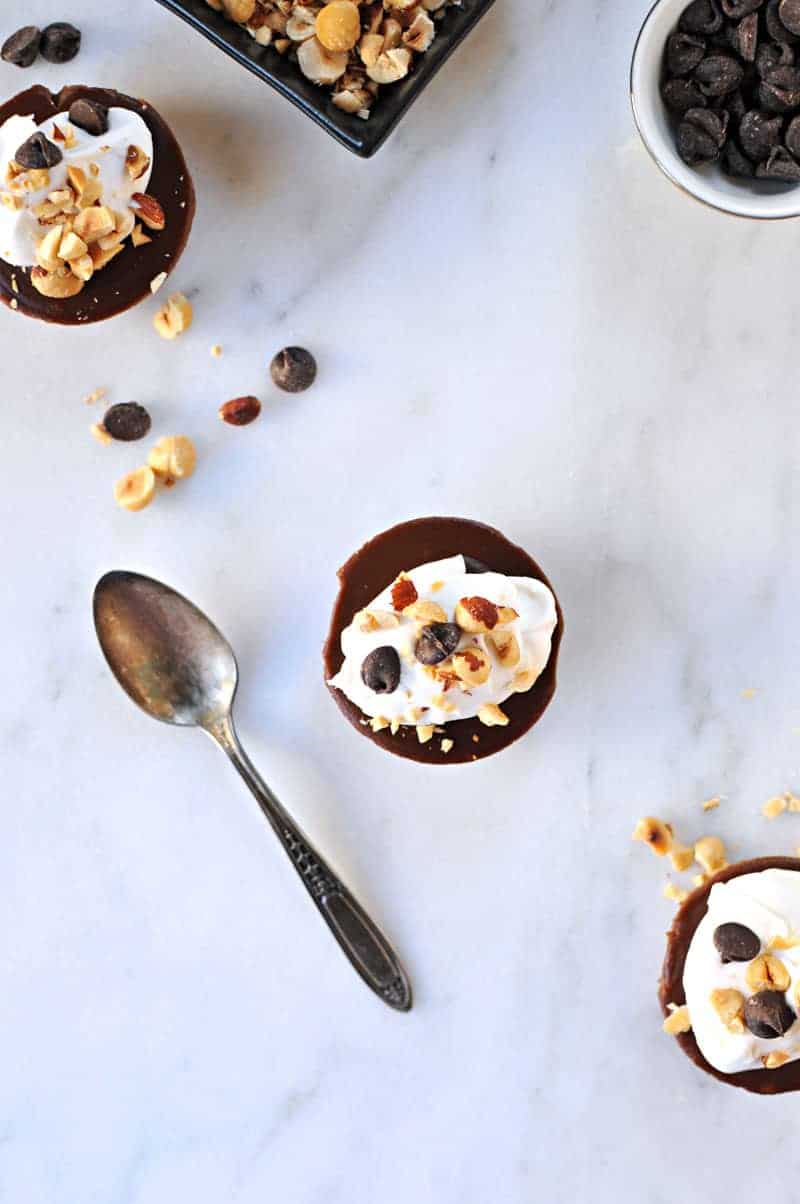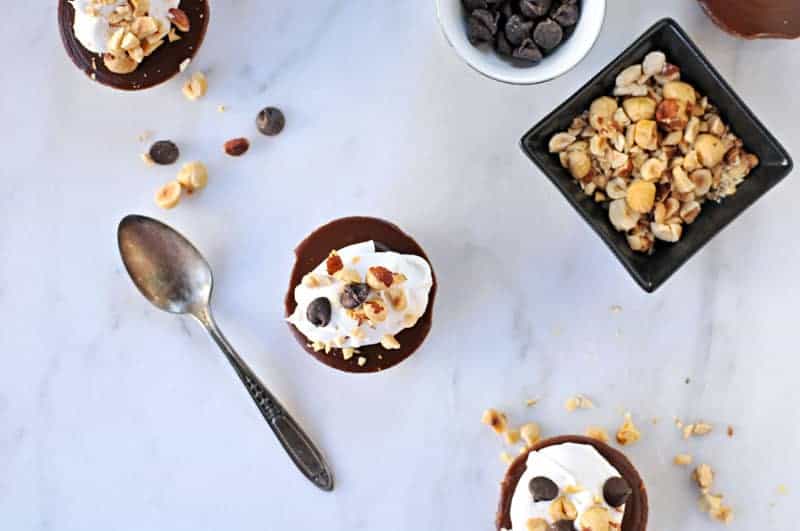 no-bake mini vegan nutella cheesecakes
Ingredients
For the Graham Cracker Crust
7 ounces (about 1 sleeve) graham crackers
4 T coconut oil
pinch sea salt
For the Nutella Cheesecake Filling
1 cup raw cashews, quick-soaked and drained, see note
1 cup dry roasted hazelnuts, quick-soaked and drained, see note
1 cup semisweet chocolate chips
1 lemon, juiced (scant ¼ cup)
¼ cup coconut oil, melted
¾ cup full fat coconut milk
½ cup maple syrup
1 tsp vanilla
For Serving
crushed hazelnuts
semisweet chocolate chips
sea salt (optional)
coconut whipped cream, see note
Instructions
Preheat oven to 350F. Add graham crackers, 4 T coconut oil and salt to a food processor and blitz until the texture of wet sand.
Cut 12 strips of parchment paper and place them in a 12-slot muffin tin. One at a time, hold down a strip in the center of the tin, add 2 spoonfuls of crust mixture and press into tin with a small cup or the back of a spoon. Continue until all tins are filled.
Bake crust for 5 minutes, then remove and set aside to cool.
Add drained nuts, chocolate chips and lemon juice to high-powered blender and pulse to briefly to chop nuts and chocolate.
In a medium saucepan, heat coconut oil, coconut milk and maple syrup until steaming but not boiling. Pour over nuts and chocolate in blender and blend at high speed until chocolate is melted and mixture is not at all grainy, adding a little more coconut milk if needed. (Mixture will be very thick but pourable.) Add vanilla and blend briefly to combine.
Pour filling evenly over crust and refrigerate until firm, 4+ hours.
To remove cheesecakes from muffin tin, pull on tabs at the same time until cheesecake releases or use a butter knife to gently pop the crust from the pan and lift out gently.
Serve cheesecakes topped with whipped coconut cream, chopped hazelnuts, chocolate chips and sea salt, if desired. Enjoy!
Notes
To quick-soak the cashews and hazelnuts: pour boiling water over nuts and let soak, uncovered, for an hour. Drain and set aside until ready to use. (Note within a note: I like the flavor of using roasted hazelnuts, and they still soften enough to serve their purpose in this recipe, but you can also use raw if desired.)

To make the whipped coconut cream: refrigerate full-fat coconut milk or cream overnight. Open can and scoop thick coconut cream into bowl (reserve thinner liquid for smoothies or another use!). Beat with an electric hand mixer to desired stiffness and sweeten with powdered sugar, maple syrup or agave to taste.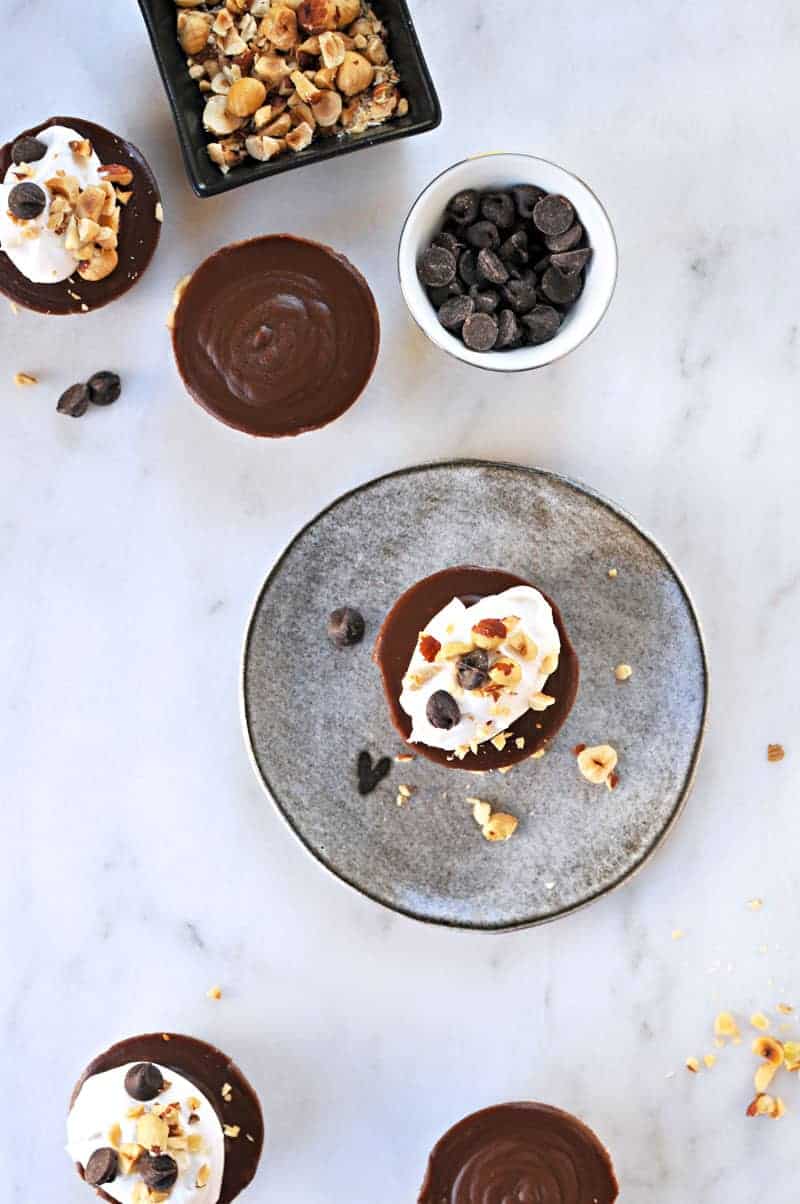 ————————————————–
OH! before you go…
Like whatcha see here — or have a question, feedback, or recipe hack to share? Join The Pig & Quill convo by commenting below (I love, luv, lurve comments) and hang out with me on Facebook, Twitter, Instagram and Pinterest. And don't forget to subscribe to P&Q emails or add me to your RSS reader with Feedly or Bloglovin' so you never miss a post. x's & o's!