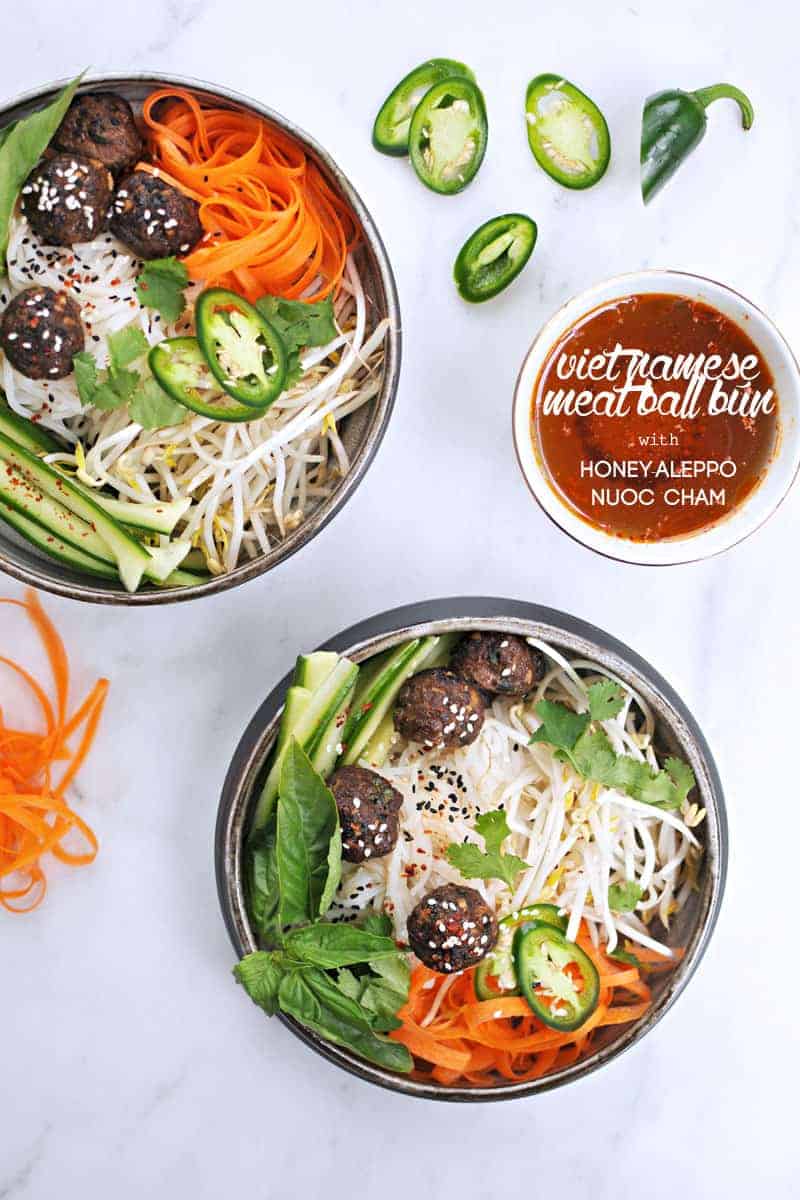 We're in it, you guys. The home stretch. The last couple of months before this artsy little nugget completes her first trip around the sun and all the excuses I've made for myself as a "new mom" come up on their expiration date. Am I supposed to have my shit together by now? My squad of mommy friends firmly established? Is it time to reintroduce my hair to the flat iron and the blow dryer? (Hell, even the hair brush is kind of estranged at this point…)
If you feel like these questions are rhetorical, I ensure you: they are not. I have questions; I need answers. Particularly on that mommy squad thing. I for serious need some mom friends, you guys, so I can talk about things like nap schedules and convertible carseats and solid food menu planning without getting punched in the face. Plus, I feel like it'd be good for Lana to have some other big people around during the day, too, if only because spending day. after day. after daaaaay with just me is surely a shortcut to smartassville.
SRSLY PLS HLP.
Aside from having the incomparable privilege of witnessing our tiny, suckling babe morph into the feisty, chuckling bug that she is today — so full of unspoiled character and charisma — perhaps the most beautiful thing about Lana's impending anniversary as a tiny, life-on-the-outside human is that it affords Chris one last opportunity to use his paternity leave, thereby inspiring a petite strand of road trips that will take us down and up California's northern coast with a dip into Sacramento in between. I envision mornings greeted with oceanview hikes and evenings sticky with s'mores and red wine — but, if we're being honest, I'll happily settle for a living room picnic and an eyebrow wax. 
Regardless of how we spend our waking hours, the sheer potential of these next few weeks has me squealing inside. Will there be afternoons marred by skipped naps and too-long trips to Ikea? Of course. But that's kind of part of the fun. (No seriously, while it might as well be Chris' kryptonite, I kind of really like planning trips to Ikea. Like really like it. Like dog-eared catalog PLUS browsing list PLUS confirmed shopping list arranged by item number and warehouse location it's a sicknessssssssss like it…)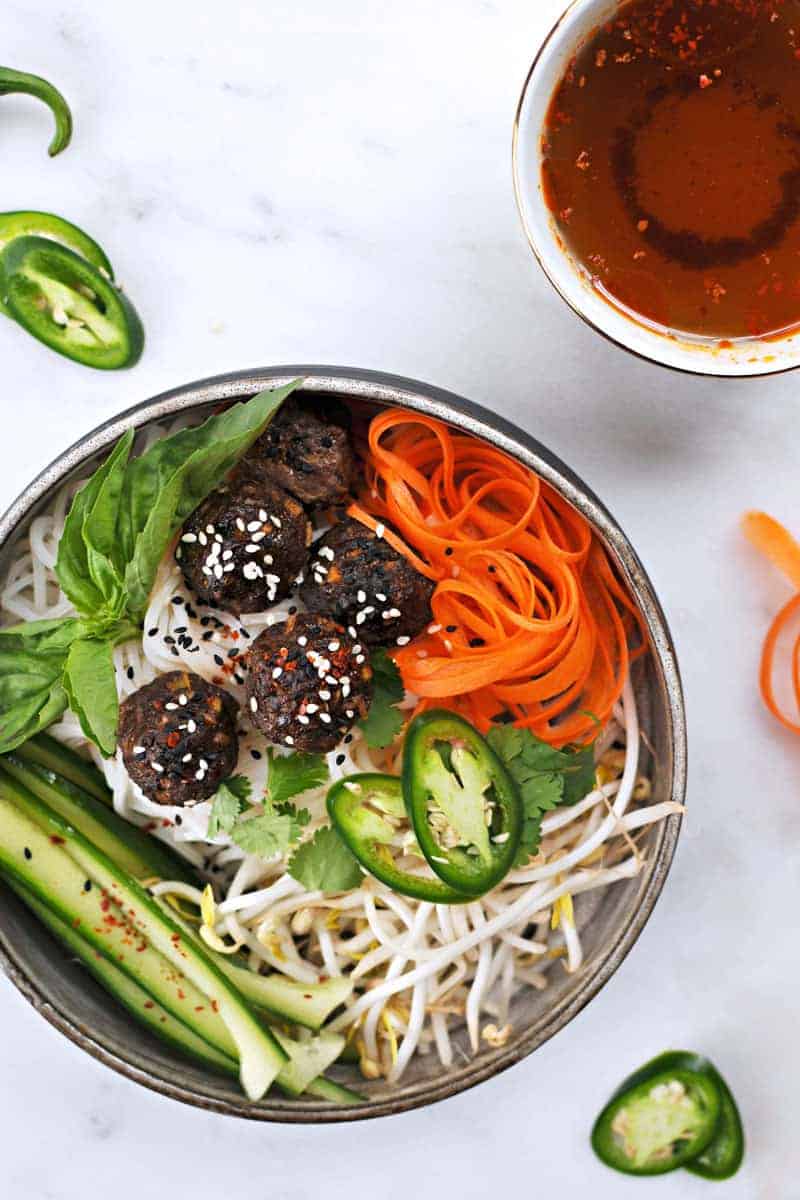 Anyway, I say all this because, if Chris is making time to share his days with our family, I will happily follow suit, which could result in a fairly quiet few weeks here on the blog and across my social media accounts (though I'm sure I'll be sharing much of our adventure on Instagram, if nowhere else!) — but I also intend to spend some of our downtime working on new recipes and even *gasp!* a little bit o' detoured content about home life with the behbes that I very much look forward to sharing when I return.
And in the meantime: MEATBAWWWWWRRRS!!!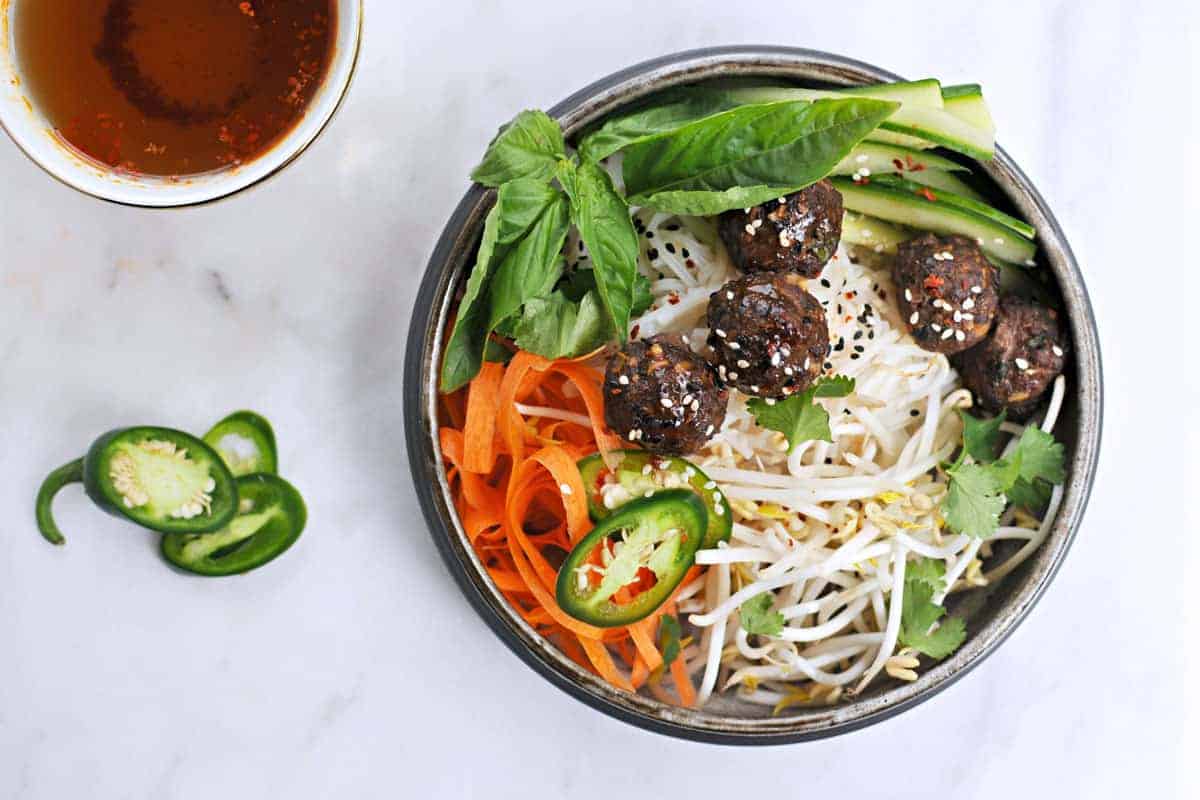 I could very well eat Vietnamese food — or food, like this, here, that approximates Vietnamese food, for nearly every meal. It's unfailingly satisfying yet somehow light on the tummy no matter how many rice noodles you pack into yo' bells. Maybe it's those fiercely verdant herbs — licoricey basil, cool mint, inexplicably polarizing cilantro — that intoxicate me so. Or the sweet and salty tang of fresh veggies dressed in a vinegary fish sauce. Without a doubt the candied umami of tiny, charbroiled meatballs adds to the allure of this particular dish. And the simplicity with which it all comes together.
A takeout-worthy meal in under 30 minutes? YZ PLZ.

So that's what I got for you today, guyssszzzs.
1) MomSquadProbs (ok, but last call: BE MY FRAND)
2) Vacay.
3) Balls.
Also, Bye. 🙂
xo!
Em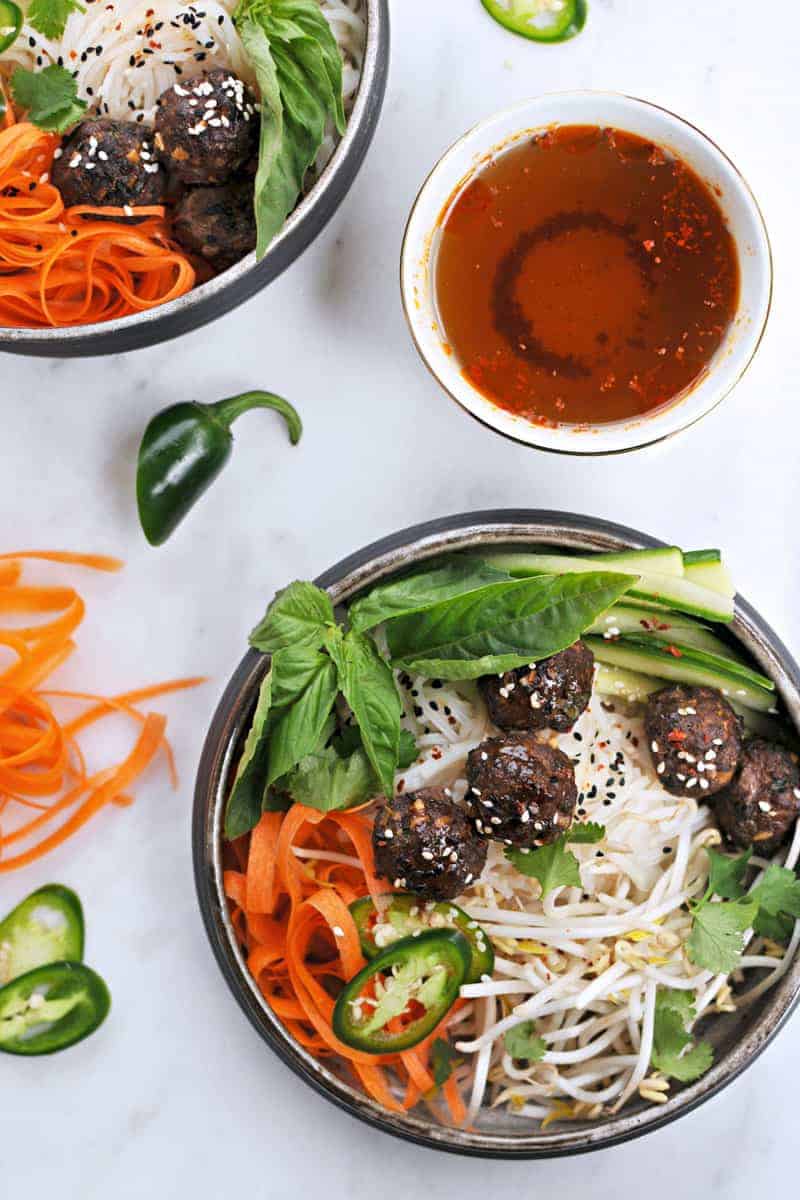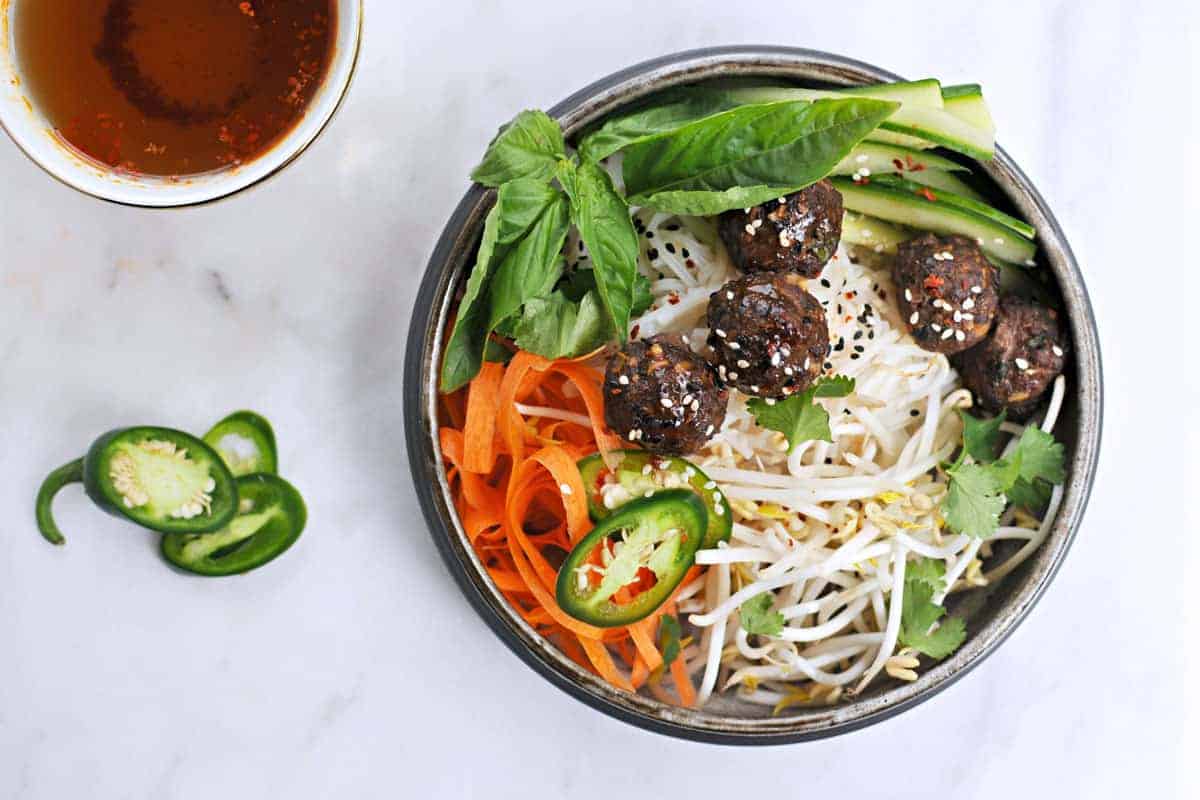 vietnamese meatball bún with honey-aleppo nuoc cham
Ingredients
For the Meatballs
1 lb ground beef or pork

3 T minced lemongrass

3 T basil, finely chopped
2 T fish sauce
2 T coconut sugar
1 T soy sauce

1 T sriracha

1 T sesame oil
3 cloves minced garlic
For the Nuoc Cham
¼ cup water
1 T fish sauce
1 T honey
1 T rice vinegar
dash sesame oil

½ tsp aleppo pepper

For serving

3-4 bundles of bún (rice vermicelli) or any thin-to-medium rice noodle

1 english cucumber
1-2 medium carrots
mung bean sprouts
jalapeno, basil + cilantro
Instructions
Preheat broiler. Bring large pot of water to boil and cook noodles according to package directions.

Meanwhile, combine all meatball ingredients and shape into bite-sized meatballs (about 20). Arrange meatballs on a broiler pan or rimmed baking sheet and broil 5-7 mins, until cooked through and browned on top. Remove and allow to cool slightly.
While meatballs cook and cool, whisk together nuoc cham ingredients and set aside. Halve cucumber and scrape out seeds, then slice into thin strips. Peel carrots, then continue to use peeler to pare carrots into long, narrow strips. Wash and dry herbs. Thinly slice jalapeno.
Rinse cooked noodles under warm water to remove excess starch and drain briefly. Divide noodles among bowls; top with meatballs, carrots, bean sprouts, jalapenos and herbs. Just before serving, dress bowls with nuoc cham. Enjoy!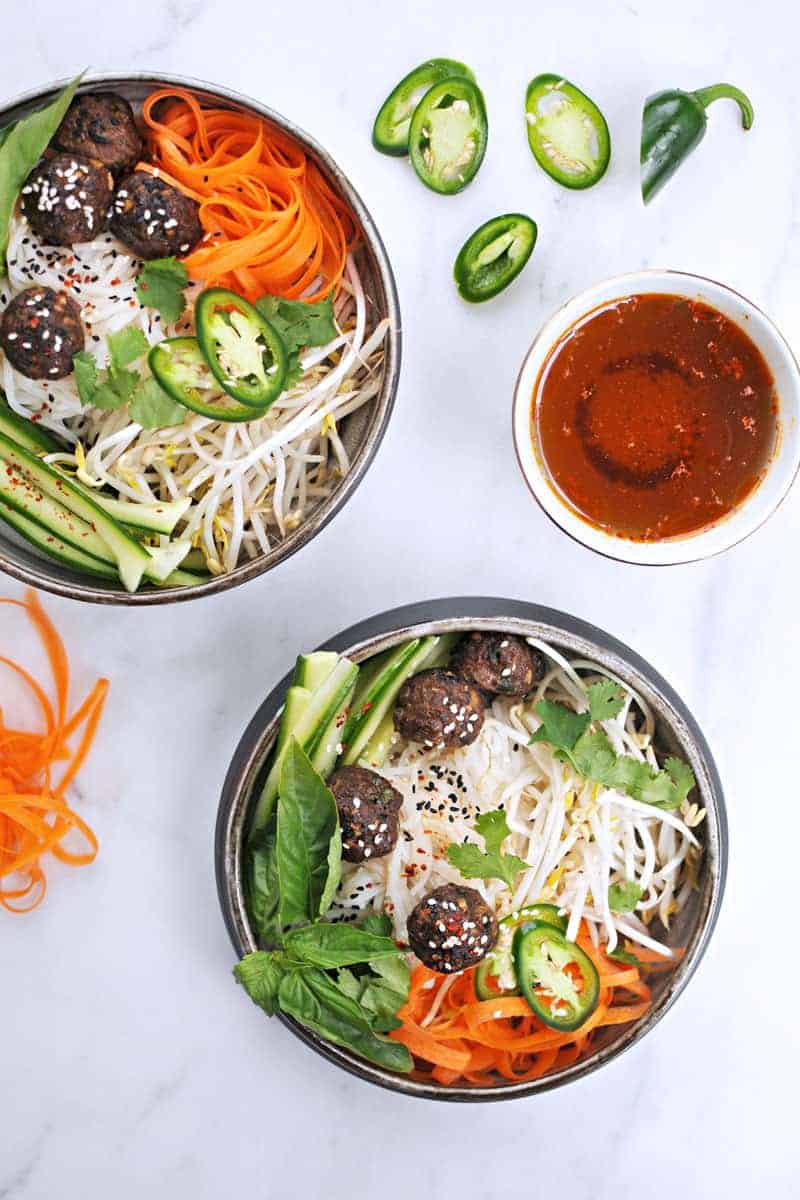 ————————————————–
OH! before you go…
Like whatcha see here — or have a question, feedback, or recipe hack to share? Join The Pig & Quill convo by commenting below (I love, luv, lurve comments) and hang out with me on Facebook, Twitter, Instagram and Pinterest. And don't forget to subscribe to P&Q emails or add me to your RSS reader with Feedly or Bloglovin' so you never miss a post. x's & o's!