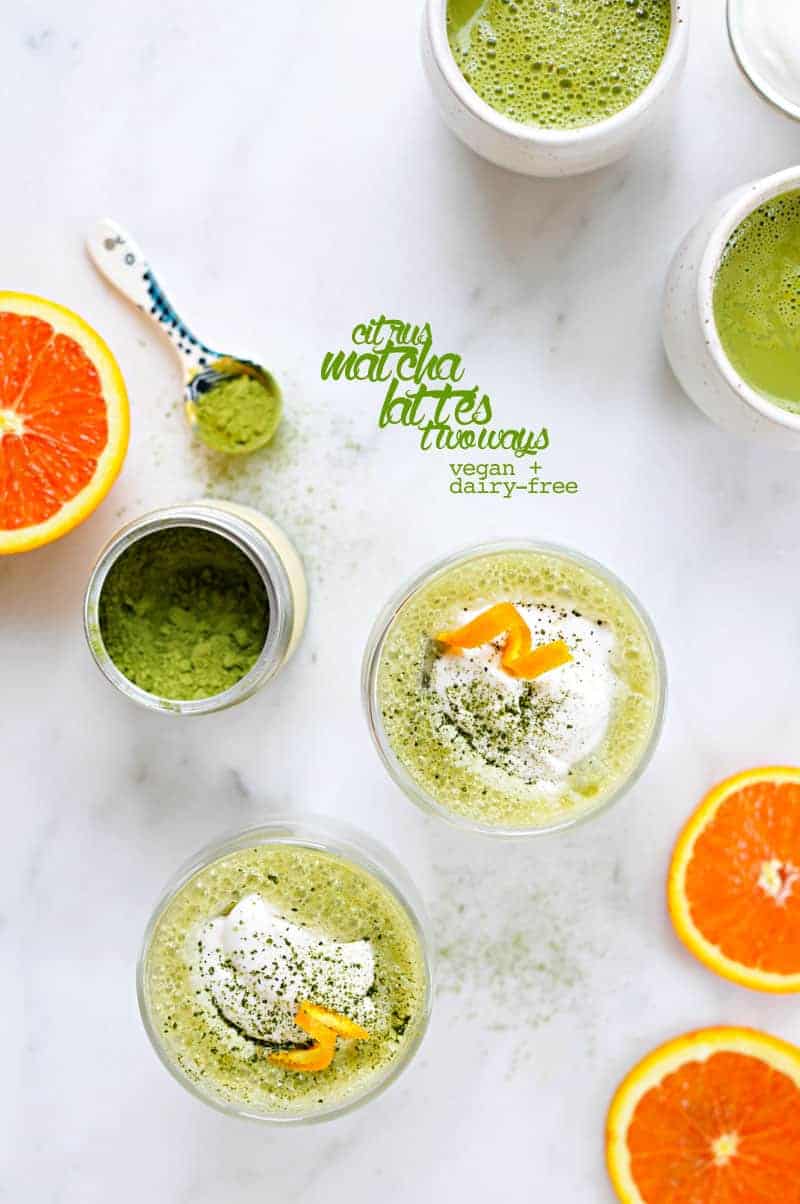 Hi hi hi hi hiiiiiiiiiiiiiiiiiiiiiiiiiiiiiiiiiii guyssssssssss! I'm so very excited to catch you up on all that's happened over the past few weeks. In the Cliffs Notes version, we road-tripped to Pacific Grove and Mendocino; finally finished settling into our new digs (hey new dining room table, you shaxy fing, you…); planted a garden that I've been more or less banned from tending given my track record with living things (Lana is really lucky she's made it this far); celebrated 11 years of good ol' fashioned monogamy; and slept in. Yeah, SLEPT IN. Like, Chris woke up with the babe, I put her on my boob for a hot minute — and then I went back to sleep. It was bliss, you guys. I felt like one of those people in those really pretty bedding ads, just luxuriating in my fluffy duvet and artfully rumpled sheets with my gently tousled bedhead and my dewy Jergens-y skin. I mean, IRL I am one hundred percent certain it looked nothing like that, but it felt super glam. Even with my pasty white arms. Like, really, when did my arms get so pasty? And, like, shapeless? I thought for sure lugging a 20lb kiddo around all day would at least get me halfway to Pilates Arms Patty from my local Trader Joe's, but I guess she knows something I don't. Maybe that having Pilates Arms involves actually participating in pilates.
Whatever, Patty.
Basically, vacation was awesome. And right there at the tail end of it, we welcomed spring.
Happily, spring around these parts is proving to be pretty AF this year. And I know a thing or two about pretty springs. If all those years in Ohio taught me anything, it's how to appreciate the return of verdant. Ohio winters are bleak. Snowy, but not so snowy as to achieve that whole sparkling blanket effect that I assumed accompanied a Midwest winter when I was still all 'ohhhhh winter! boots! coats! furry things! cuuuuuuuute!' No. Ohio winters are cold and grey. And then the sun comes out for, like, 12 hours, and they're slightly less cold and still grey but also mostly brown because now-melting snow + dormant cornfields + commute traffic is like a study in muddy gutter bleechhh. It's way less boots! coats! furry things! cuuuuuuuute! and way more, uh, grody.
But then there's spring.
Spring in Ohio, as I think I've alluded to before, is as picturesque as winter is homely. It's an awakening in every sense of the word with skies so blue and hardwood forests so green you'd swear you tripped your way right into a Mario Kart Grand Prix. Second only to summer thunderstorms, it's what endears me most to the Ohio landscape, even to this day. And this year, California has given way to a spring that can finally compete. Thanks, El Niño.
Let's celebrate with a drink!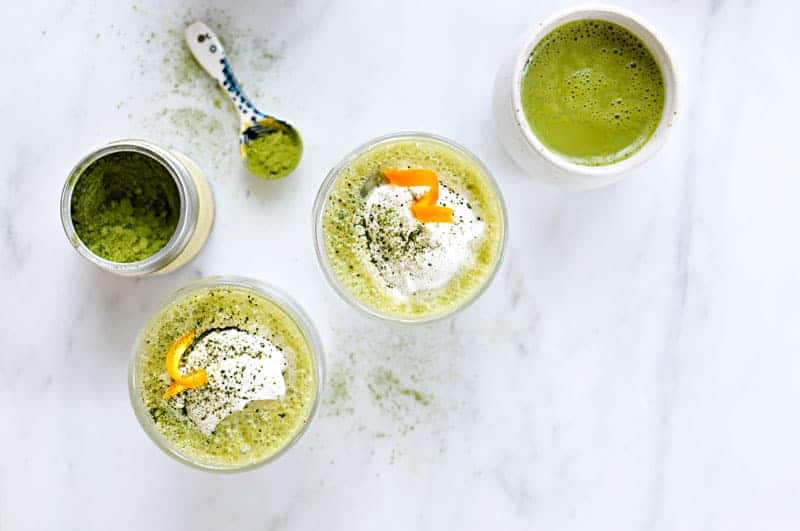 Citrus + matcha is all the rage these days. Heck, the fact that a latté celebrating both of these items is headlining the Starbuck's seasonal menu might even mean it's a bit passé — but that doesn't make it any less delicious. If you've never had the combo, it's bright and refreshing, soothing and creamy, soul-satisfying and subtly energizing. Interpreted as a hot or cold latté, it's the perfect companion for cool mornings and breezy, sun-soaked afternoons. And it's stunningly simple to make at home with nary more than an orange, your milk of choice, a drizzle of maple syrup — and, in the case of the iced version: frothy, cool, pineapple and an indulgent cloud of coconut whip.
Happy spring, friends. It's lovely to be back.
xo,
Em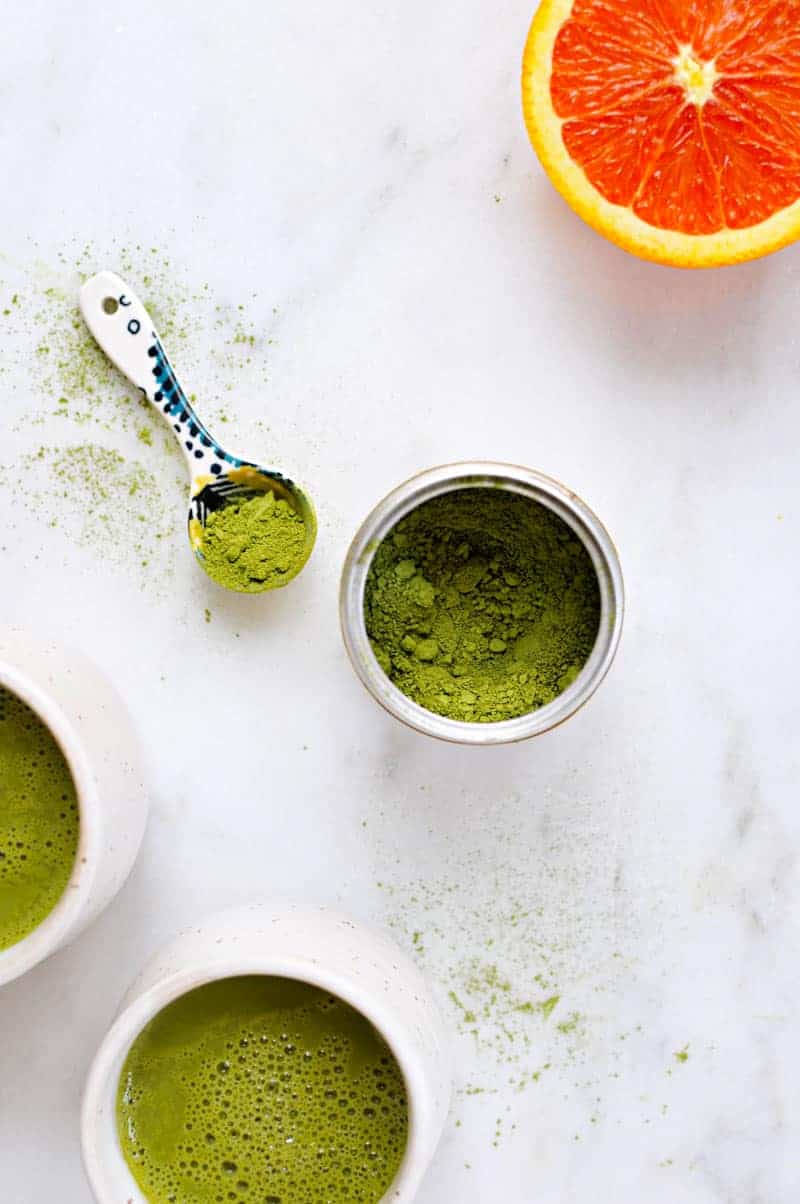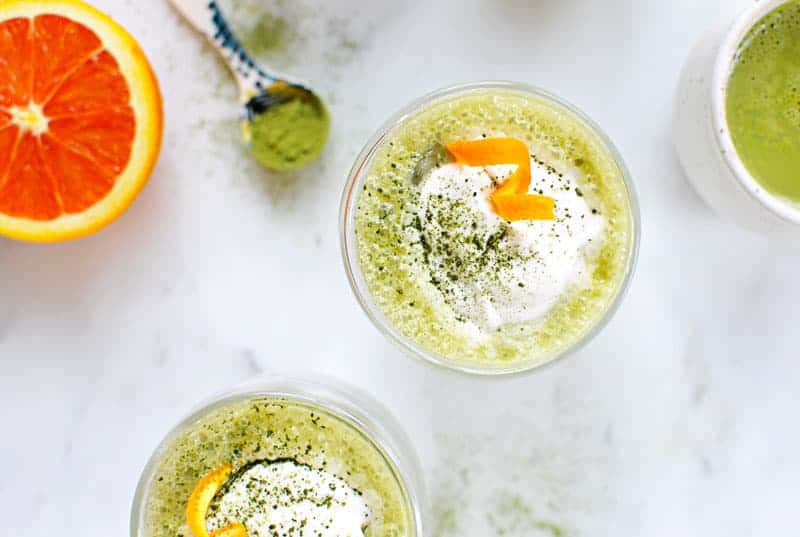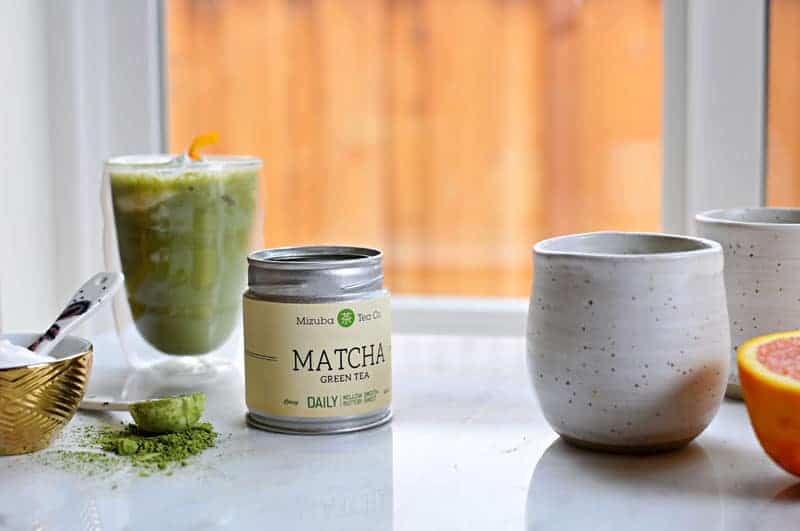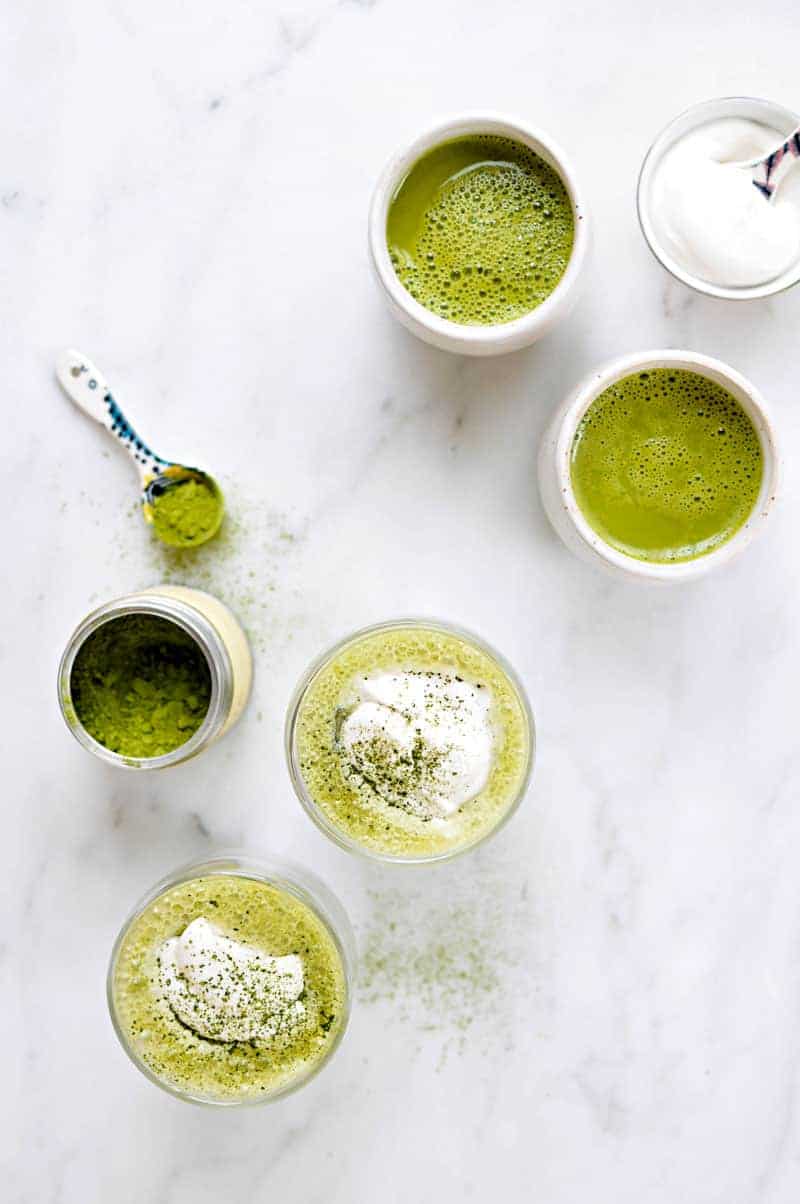 citrus matcha lattés two ways
Makes:
4 servings (hot or iced)
Ingredients
For a Hot Latté
3 cups almond or light coconut milk
juice and zest of 1 orange
3-4 T maple syrup (to taste)
½ tsp good vanilla (we always use this Mexican vanilla, which is super floral and almost buttery)
2.5 T matcha
For an Iced Latté
All of the above, plus:
1.5 cups frozen pineapple
ice, for serving
coconut whip, for serving
Instructions
For a Hot Latté: In a blender, combine milk, orange zest and juice, maple syrup and vanilla and whirl until smooth. Pour into a saucepan and gently whisk in matcha until mixture is smooth and steaming. Do not boil. Enjoy!
For an Iced Latté: Combine all ingredients except ice and coconut whip in a blender and blend until very smooth. Serve over (or shake with) ice and crown with a dollop of coconut whip. For a richer drink, blend a little extra coconut whip right into the latté. Enjoy!
Notes
When it comes to choosing a milk for these drinks, almond milk has a lighter flavor that lets the matcha shine through while coconut milk is bolder in flavor but super creamy and silky. Use whatever you prefer. I like my hot drinks on the lighter side and my iced drinks a bit more decadent (hai milkshake wannabes!), so this reflects that preference with the addition of rich coconut whip in the iced latté -- but it's tasty in either application. 🙂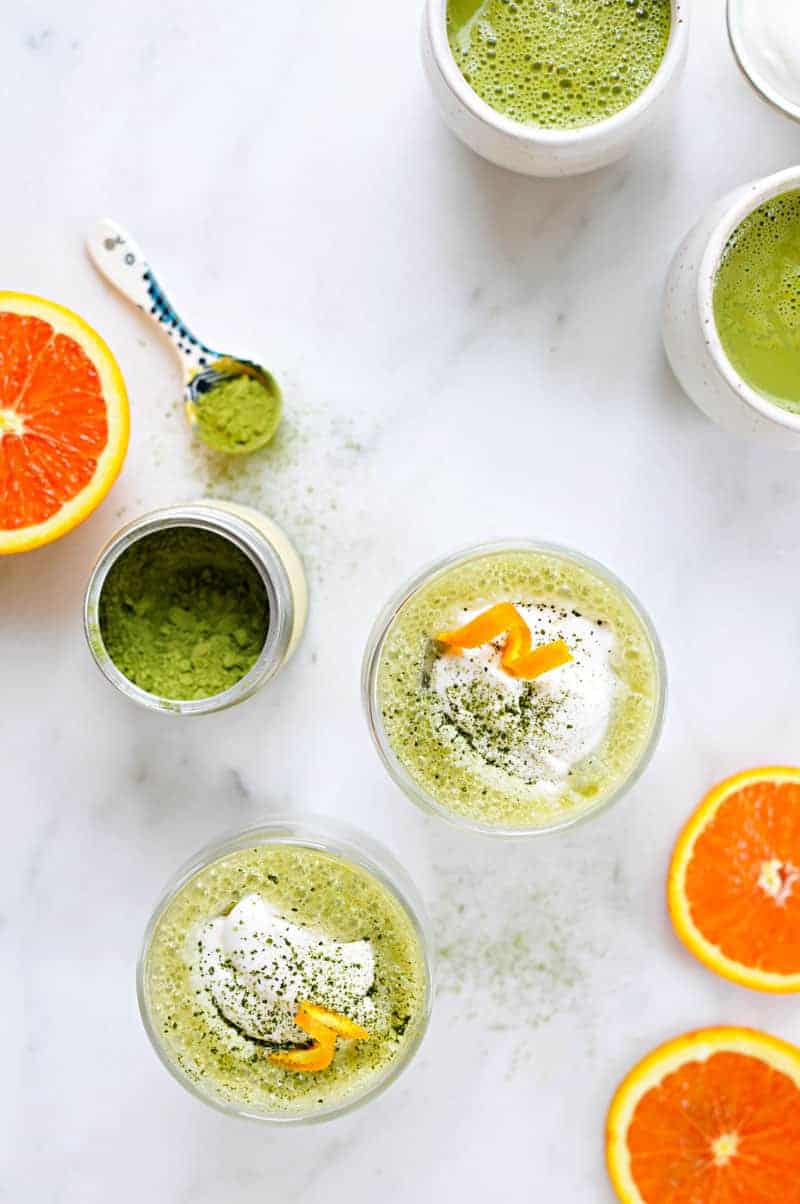 ————————————————–
OH! before you go…
Like whatcha see here — or have a question, feedback, or recipe hack to share? Join The Pig & Quill convo by commenting below (I love, luv, lurve comments) and hang out with me on Facebook, Twitter, Instagram and Pinterest. And don't forget to subscribe to P&Q emails or add me to your RSS reader with Feedly or Bloglovin' so you never miss a post. x's & o's!