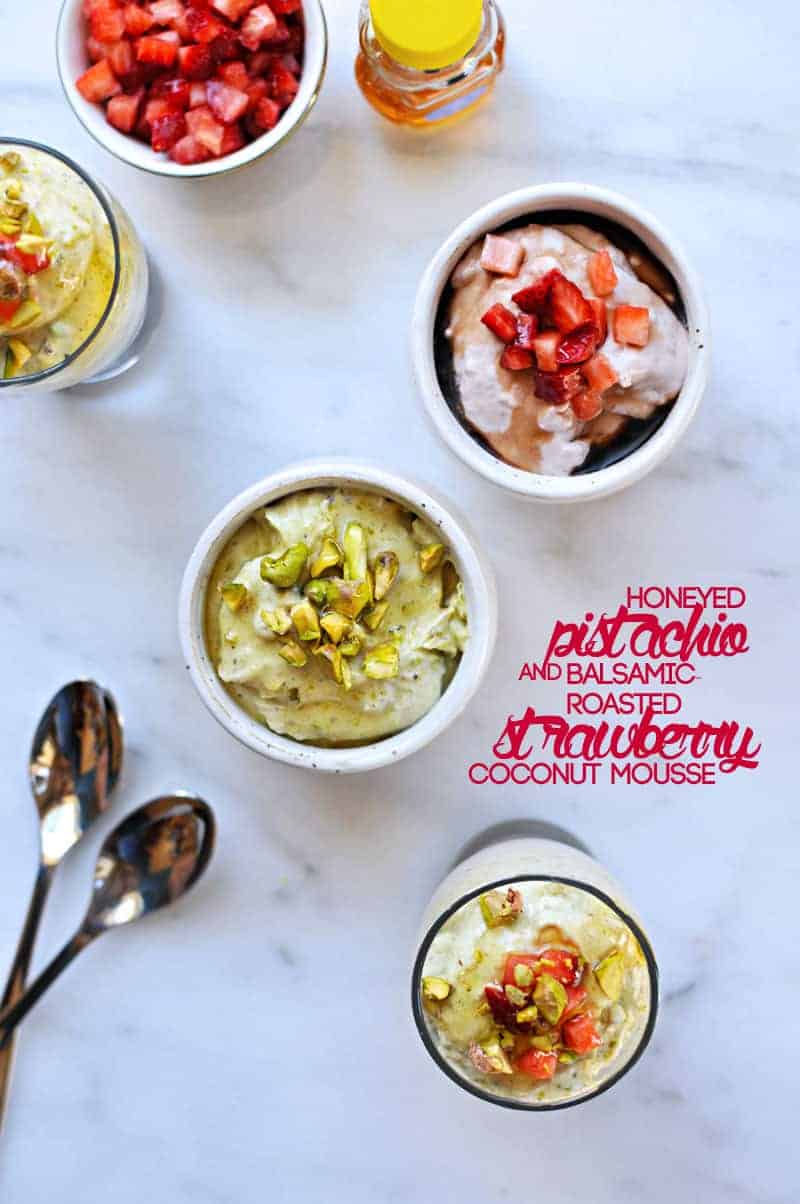 You guys. First and foremost: can we get a hell yeah for Friday? I've got exactly nothing to complain about this week — the weather has been springtime perfection, Lana is going through some sort of growth spurt that has her nursing like a newborn and napping like a champ, and I learned that the thrift store down the street does 50% off Tuesdays! — but it doesn't mean I don't love me a weekend. And this weekend, two of my besties will be here to eat, shop and bug-snuggle to their hearts' content. It'll be just like our middle school sleepovers, minus repeatedly phoning in requests for Ginuwine to the local radio station. Oh yeah, and plus babies. So more or less the same.
Second: can we peep that tiny honey bear? I schlepped a purseful home from a friend's wedding last year and have been holding out for the perfect excuse to squeeze him into a shoot. Handsome little guy, isn't he?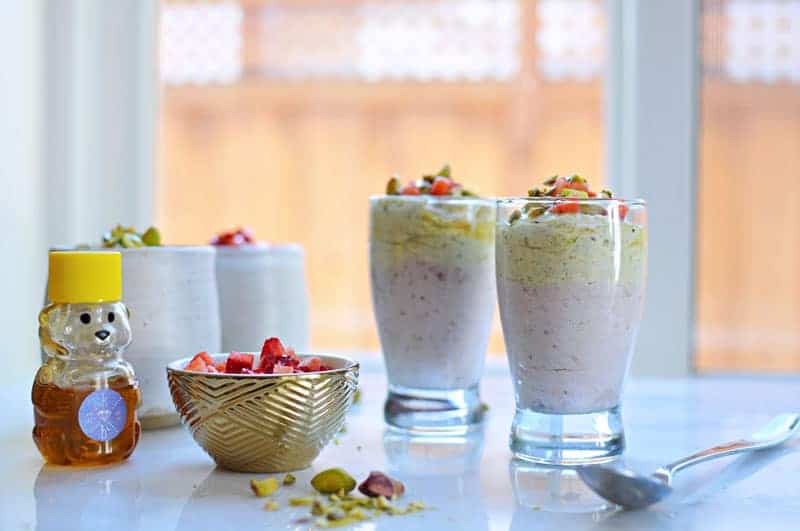 Third (and last, because, to be honest, Chris is watching Pitch Perfect 2 and I can't pry myself away): we're making Lana a big sister!!!
HA. April fools. Maybe one day, but definitely not today. Although exactly one year ago, Chris and I were sitting in a tiny outpatient room waiting to learn if our (then unnamed) Lana-bug was going to make an early entrance at the hand of doctors who were strongly suggesting we induce labor at 36 weeks. (We didn't.)
What a difference a year makes.
Ok, where were we? Ah, yes. Let's talk MOUSSE.
Would you believe me if I told you that my first pet's name was Mousse? It was. A lop-eared little rabbit the color of Nesquik, he was almost as soft as he was squirmy. Hmmm, sounds like someone else I know. Needless to say (but, uh, I'm saying it…), I've got a thing for the whipped, cloud-like dessert. And — happy day! — it's cuh-razy simp-oh to make!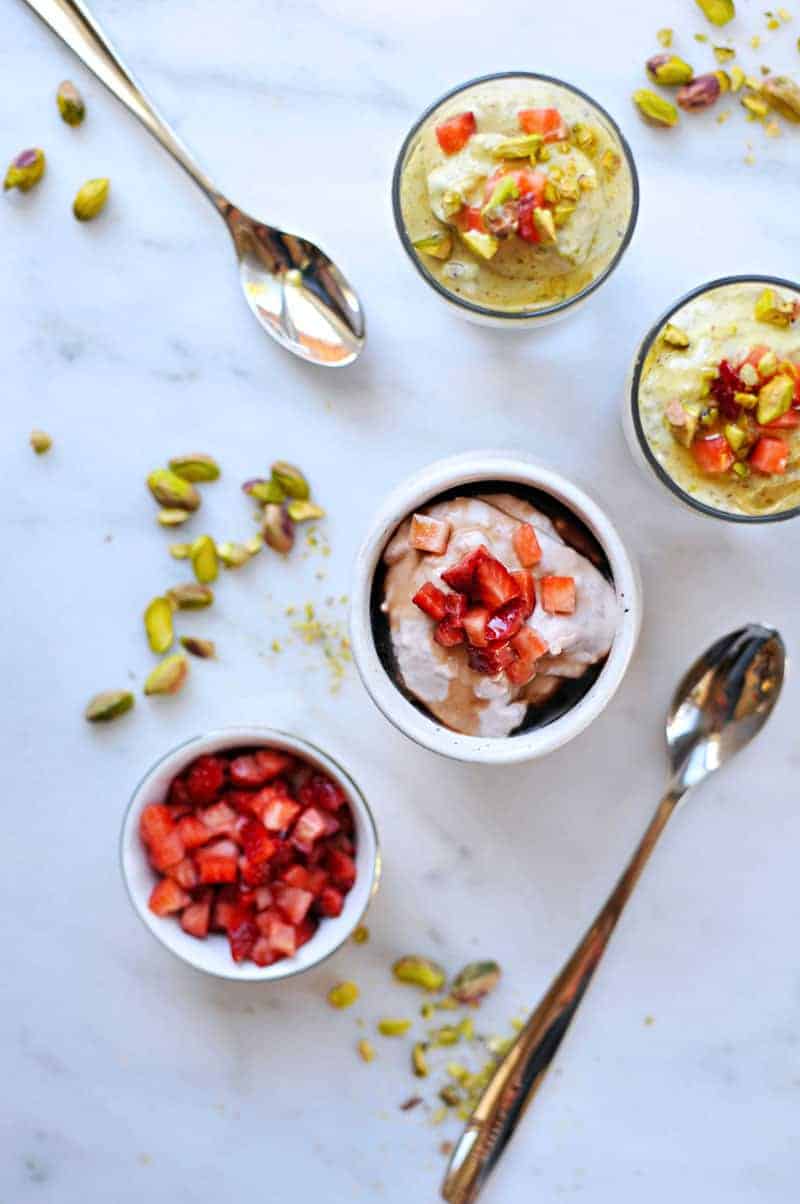 Sweet-tart strawberries become syrupy and only ever-so-slightly savory when they're caramelized in the oven with balsamic vinegar, olive oil and a drizzle of maple, and any baklava-lover knows the joy of pistachios and honey. Folded into simply whipped coconut cream, the iterations can be presented individually or layered together for vizzy interest. Either way, don't skimp on topping each serving with the recommended accoutrement (more honey and pistachios or fresh berries and a drizzle of good balsamic) to add a little texture and punch.
Happy weekend, friends!
xo,
Em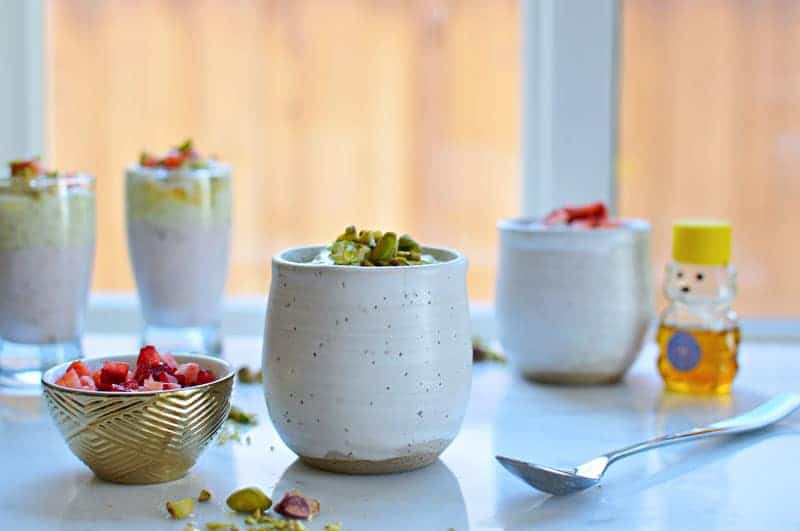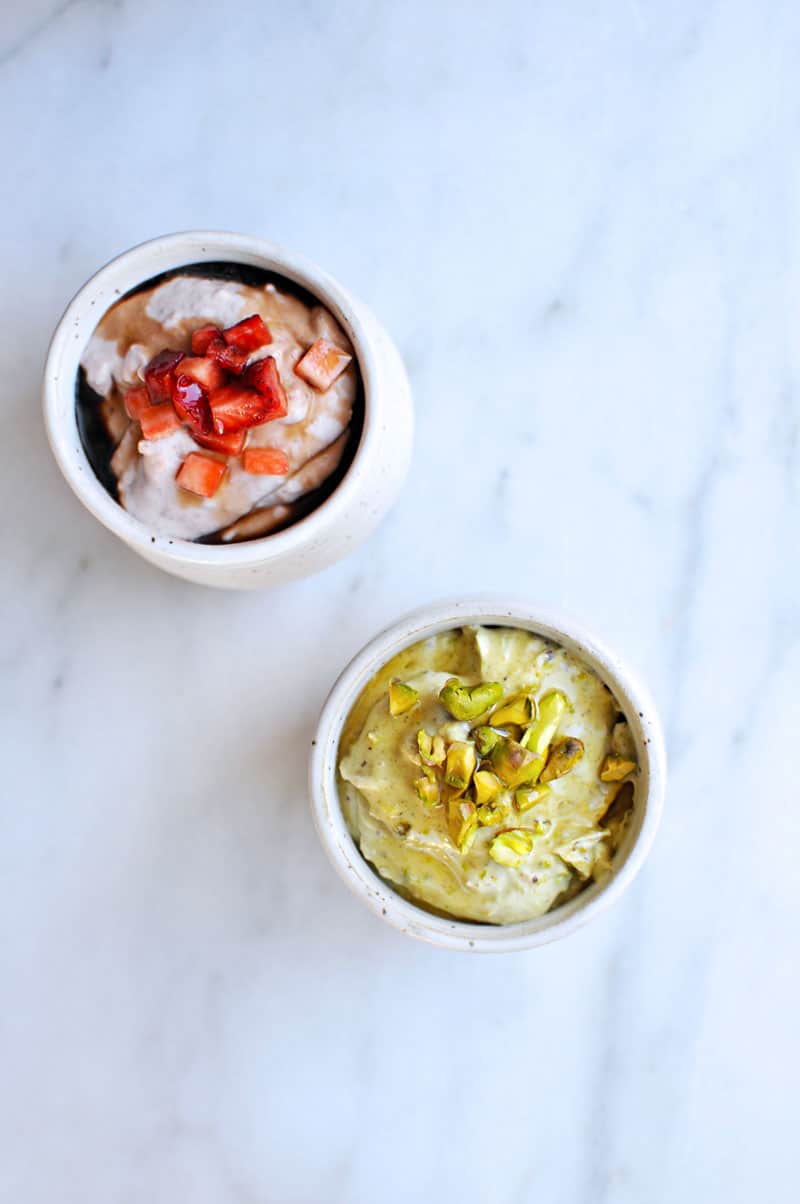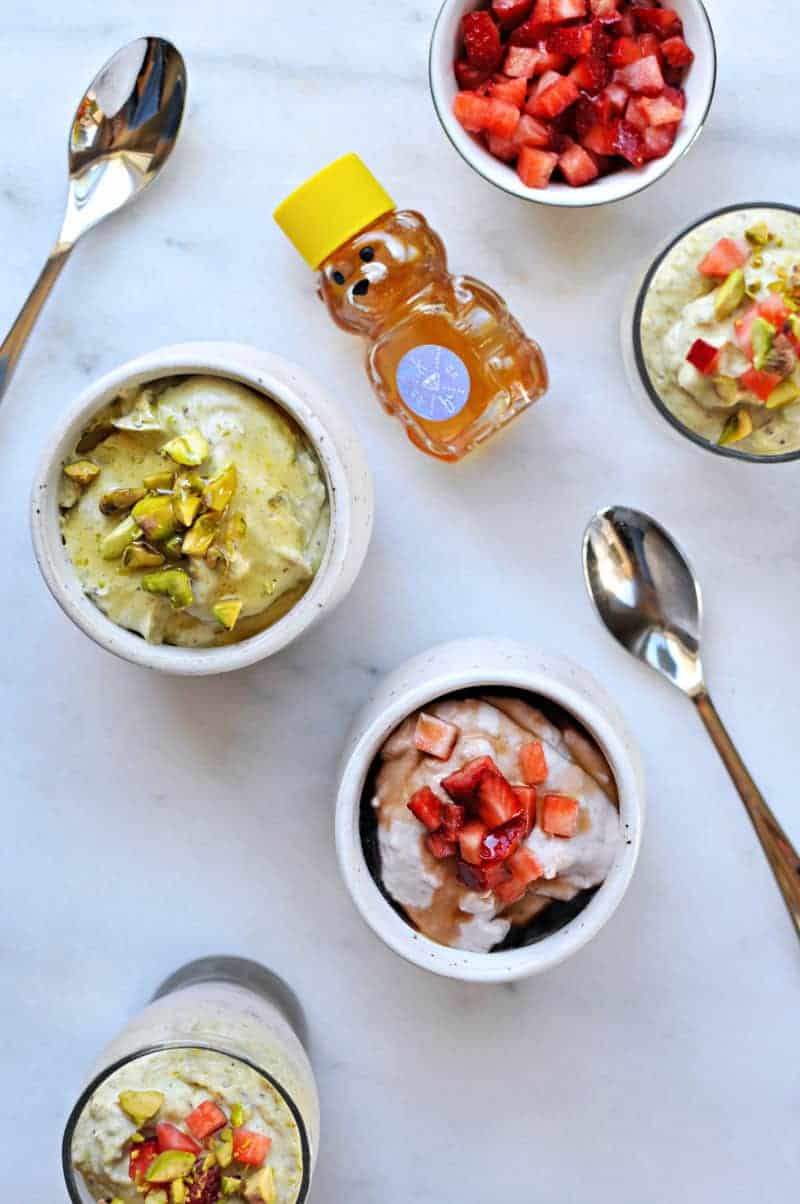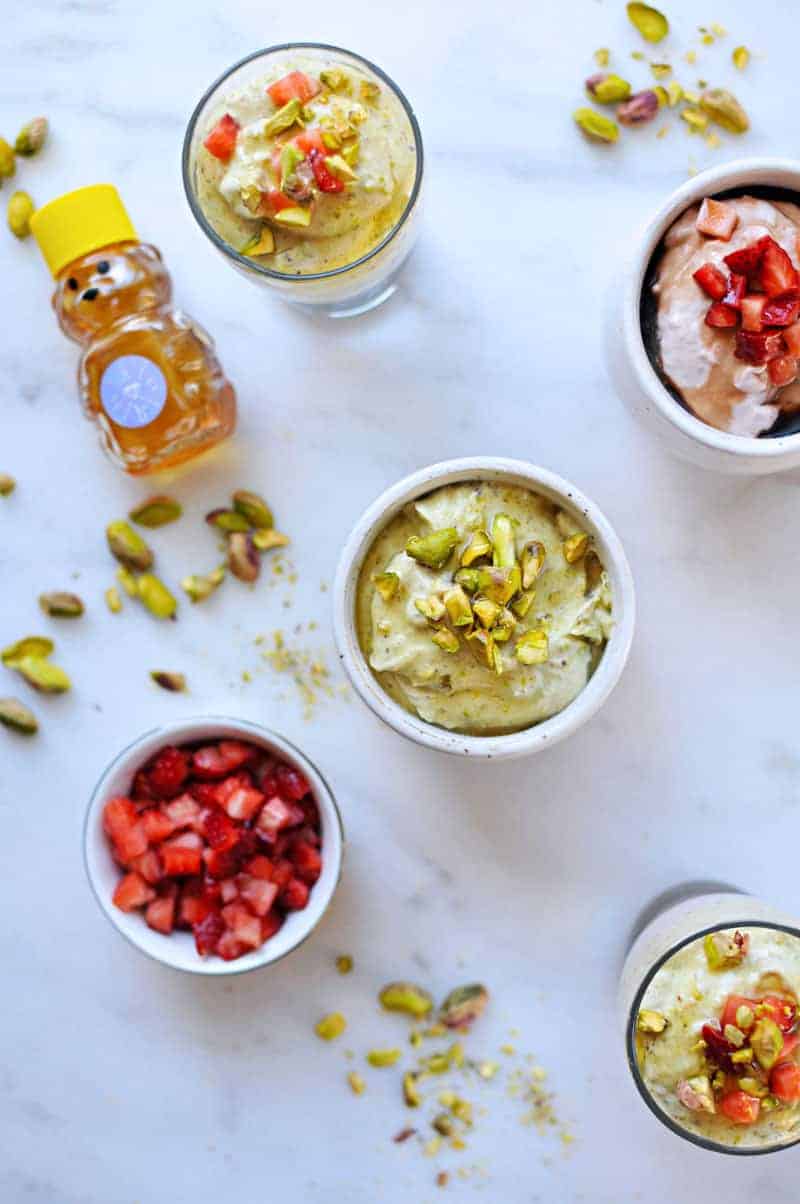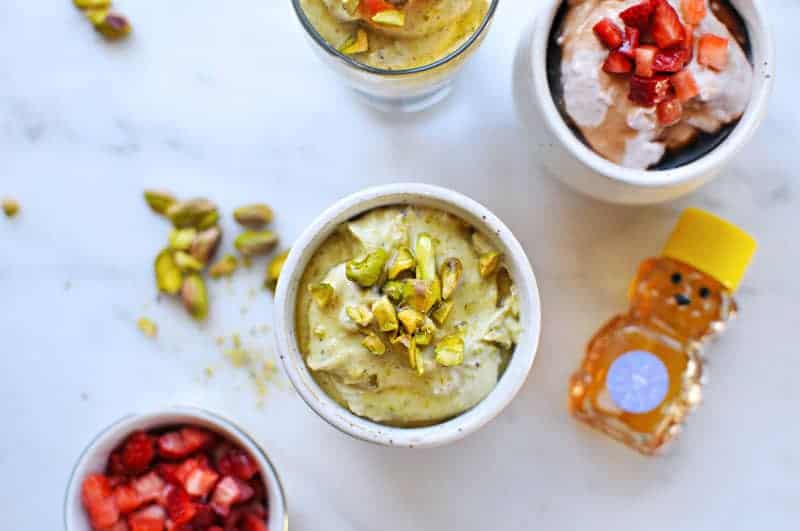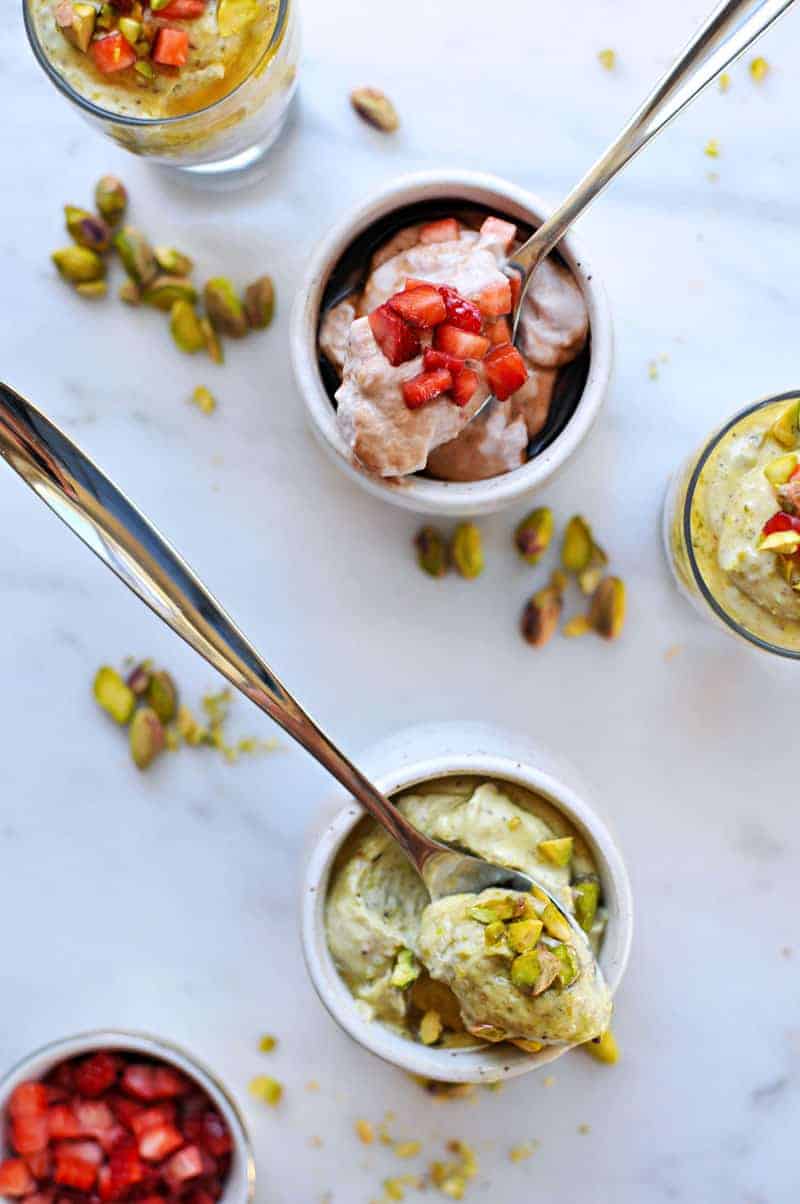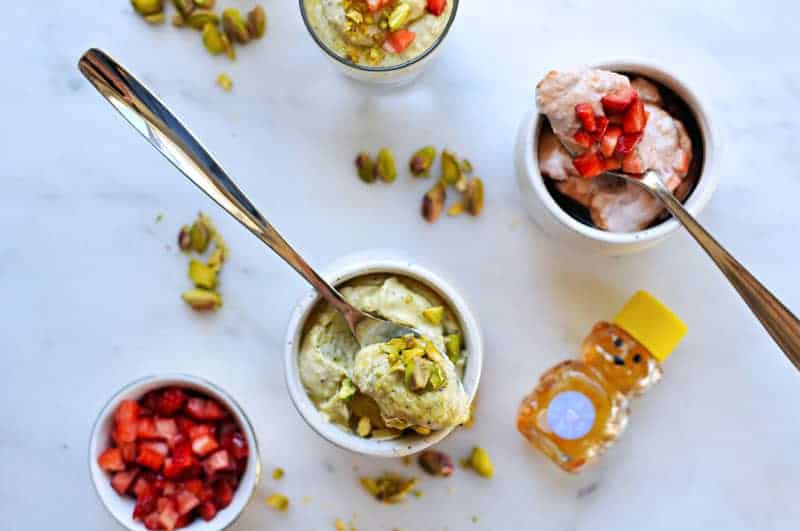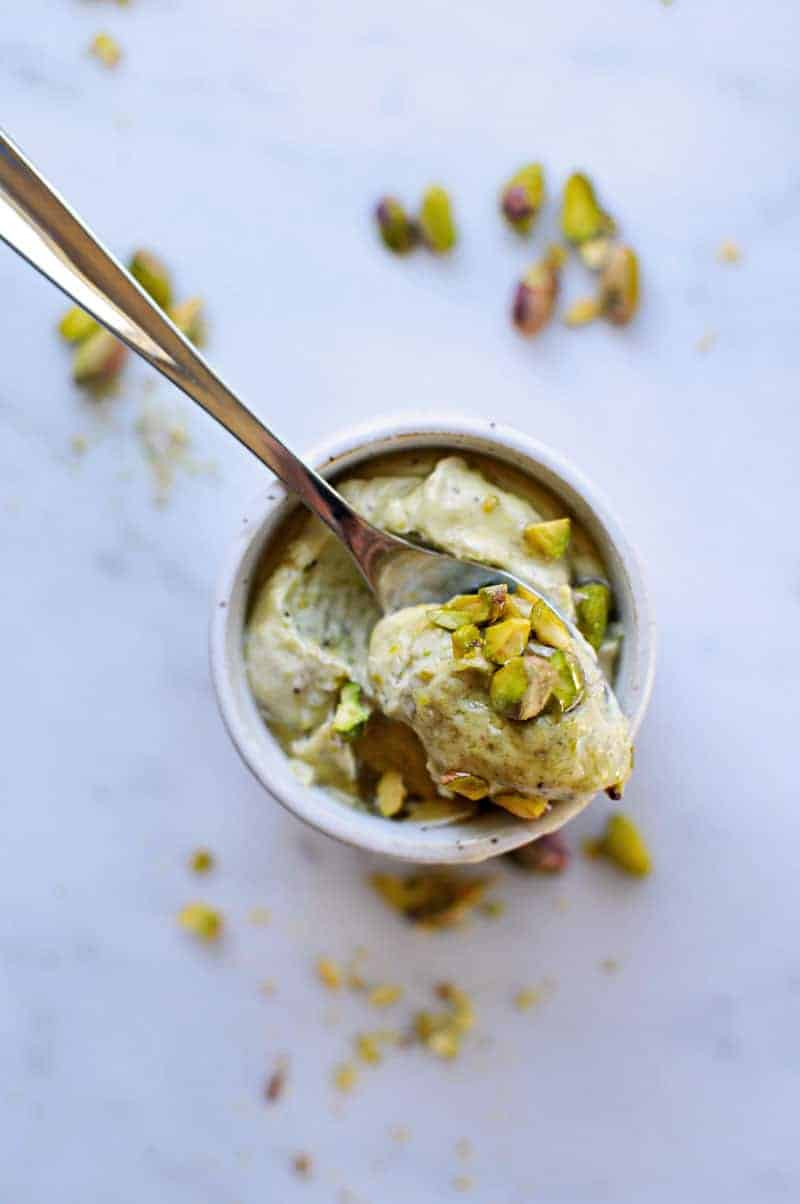 honeyed pistachio and balsamic-roasted strawberry (coconut) mousse
Makes:
5-6 servings, depending on your cups or ramekins
Ingredients
2 cups fresh strawberries, quartered
1.5 T balsamic vinegar
3 T extra virgin olive oil, divided
½ - 1 T maple syrup (Grade B ok), to taste
½ cup salted, roasted pistachios, shelled
3 T honey
2 cans full coconut cream (or the equivalent solid portion from full-fat coconut milk, see note)
additional fresh strawberries, balsamic vinegar, chopped pistachios and honey, for serving
Instructions
Preheat oven to 425F. Toss strawberries with vinegar, 1 T olive oil and maple syrup, to taste, and arrange in a single layer on a rimmed baking sheet. Roast for 20 mins. Allow to cool.
Meanwhile, whip coconut cream until fluffy. Refrigerate until ready to use.
In a small food processor, combine pistachios, honey and 2 T olive oil and pulse until very well combined and mixture is almost that of chunky peanut butter. Rinse food processor.
Add cooled, roasted berries and any accumulated syrupy juices to processor and process until almost smooth, adding 2-3 T of the whipped coconut cream, if necessary, to help mixture come together. Turn out berry mixture into a medium bowl and gently fold in 1 cup whipped coconut cream.
In another bowl, add pistachio mixture and 2-3 T of the whipped coconut cream and mix until nut "butter" has loosened up. Gently fold into 1 cup whipped coconut cream.
Spoon mousses into individual ramekins or small glasses (keeping the flavors separate or layering them together -- up to you!) and chill 2-4 hours. Serve pistachio mousse topped with a generous drizzle of honey and more crushed, salted pistachios and strawberry mousse with fresh, diced berries and a small drizzle of balsamic. Enjoy!
Notes
Just how much maple syrup you use when roasting the strawberries depends on the sweetness of the berries. Give one a taste before adding the syrup. Naturally sweet berries may need hardly a drizzle.

Regarding coconut cream: most of the time, I'm able to find this product at Trader Joe's, though they can be very hit or miss with their coconut milk offerings. If you can't find coconut cream, you can use full-fat coconut milk -- you'll just need more of it. Refrigerate several cans of coconut milk overnight, then drain off the liquid portion within (reserve for another use!) and only whip the remaining (solidified) cream portions. You'll need about 2.5 cups of the whipped coconut cream in the end.

Cook time does not include 2-4 hours of recommended chill time before serving.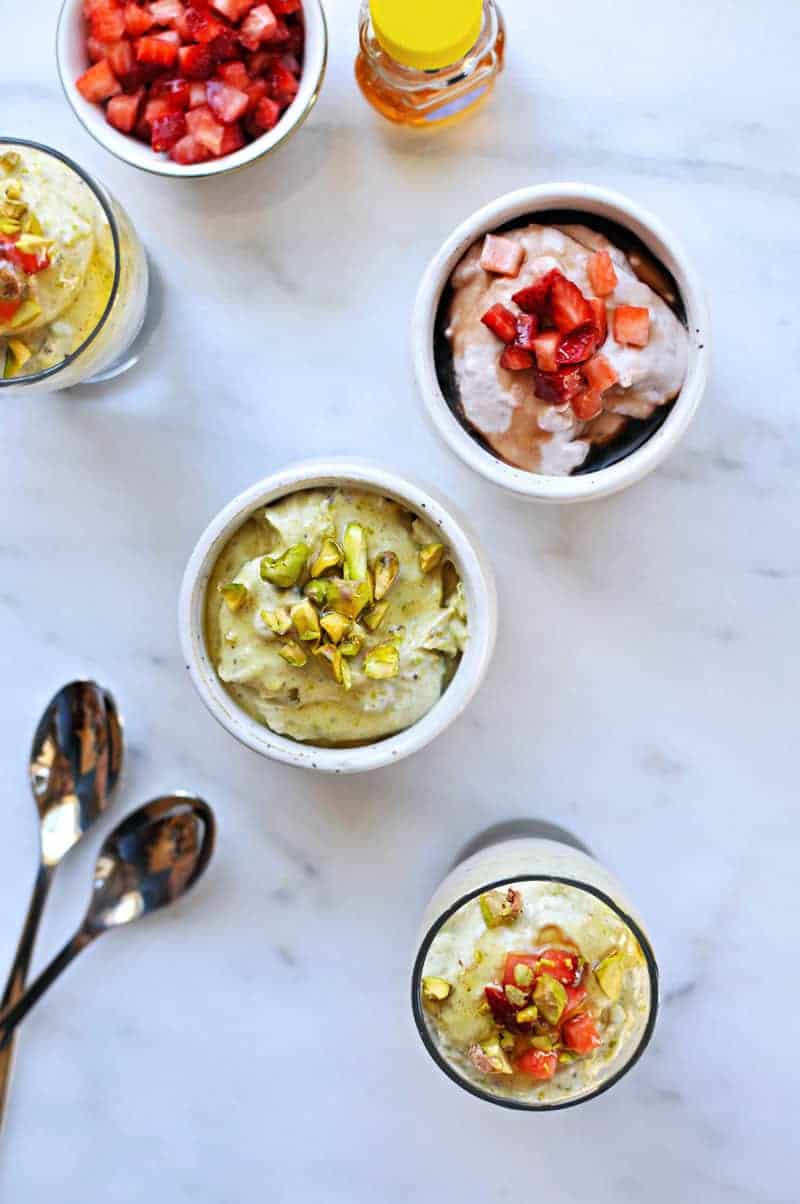 ————————————————–
OH! before you go…
Like whatcha see here — or have a question, feedback, or recipe hack to share? Join The Pig & Quill convo by commenting below (I love, luv, lurve comments) and hang out with me on Facebook, Twitter, Instagram and Pinterest. And don't forget to subscribe to P&Q emails or add me to your RSS reader with Feedly or Bloglovin' so you never miss a post. x's & o's!