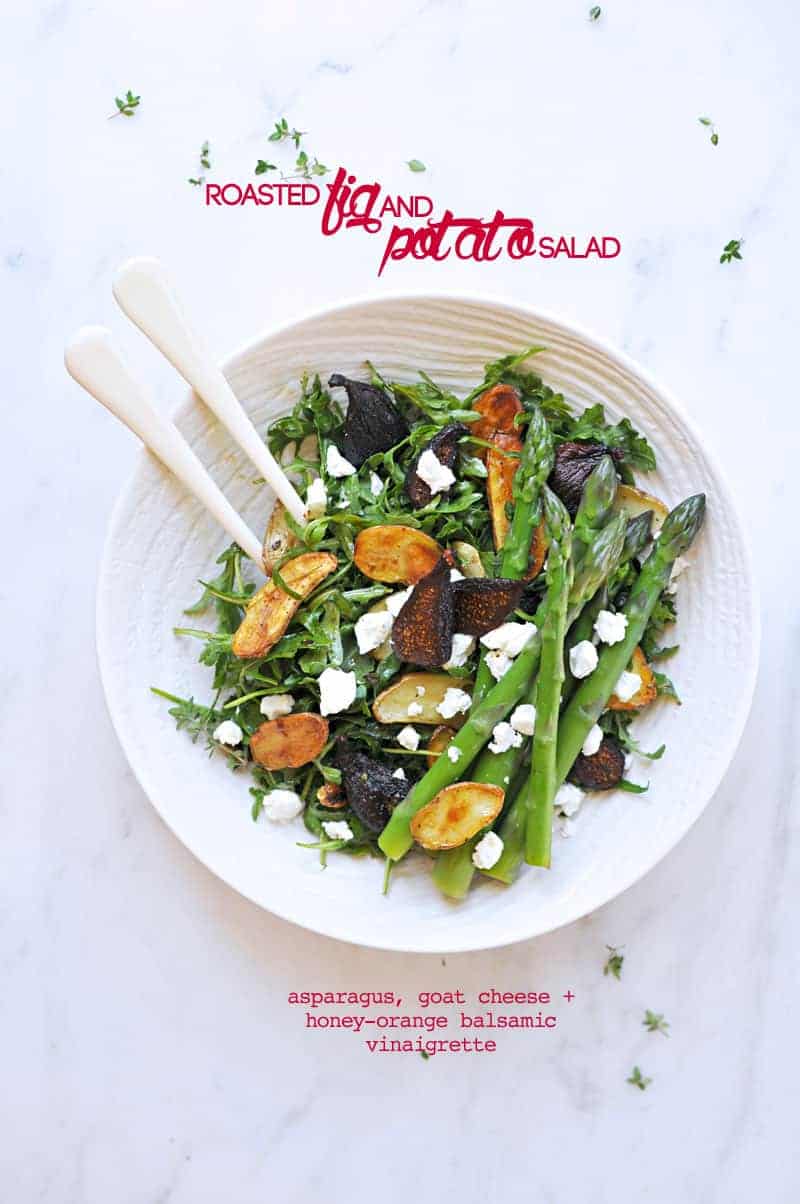 Hi, my name is Emily, and I love purging shit outta my house. So when I got an email from Phoebe a few weeks ago suggesting a pantry purge in the name of spring cleaning, I jumped right on it. Purging shit not only out of my house — but into my belly!? I can think of few things more satisfying.
At first glance, this salad doesn't necessarily scream PANTRY, I know. It's fresh, light, green. It's not bursting with nuts or legumes or any of the usual pantry-lurkers (Oriental Flavor ramen brick, I'm looking at you, ya little anti-PC creeper) — but then, that's what makes this dish so good. Unexpected in composition — and unexpectedly delicious. Bingo bango.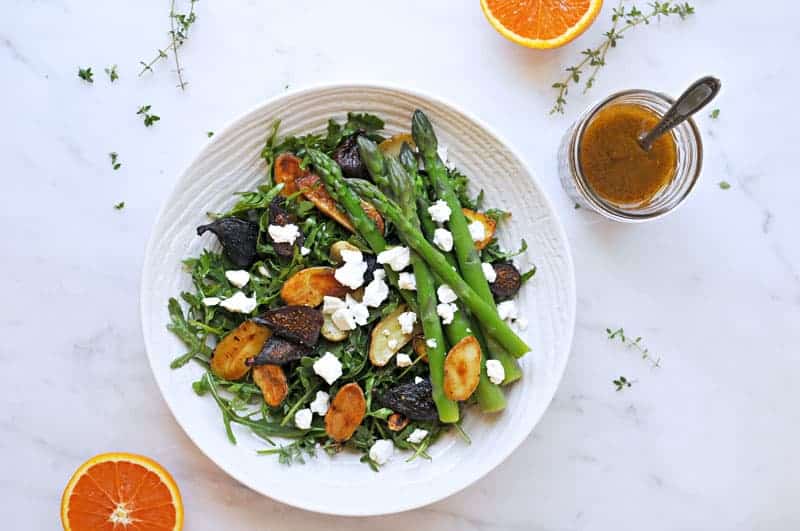 For a couple of months now, I've had a little carton of dried figs sitting right at eye level in my main pantry cupboard, just begging to be enjoyed. I bought them on a whim after sampling a few at the farmer's market a while back — with grand notions of making my own Newtons to be sure — and proudly placed them on the shelf in a cadillac position where they'd be impossible to miss. Except I've now reached over and around said figgies several times a day for the better part of eight weeks and the Newtons. Aren't. Happening.
So. #SpringPantryPurge to the rescue.
I borrowed the idea to roast the figs alongside tiny potatoes, earthy thyme and lots of garlic from this recipe in The New York Times, which interestingly employs the use of another pantry staple — tea! — to plump the figs before they make their bed in a hot oven. (A little hot tub before the dry sauna, if you will.) As unusual as it sounds, the tea — and, here, I've used something light and floral — is the perfect match for the fig's natural jamminess and a sumptuous complement to the grassy asparagus and tangy goat cheese that take an otherwise autumnal dish in a decidedly spring-forward direction. With a crowd-pleasing honey-orange balsamic vinaigrette over the top (easily the dressing we make most in our house and a favorite of Chris' parents), this dish is at once light and satisfying, easy and elegant. Also: POTATOES. 🙂
Thanks so much coordinating today's pantry party, Phoebe!
Happy Humpday, guys.
xo
Em
ps – Wanna raid all the pantries? (Heh.) Scroll down for a full list of bloggers participating in today's pantry party — and be sure to check out #SpringPantryPurge on Instagram for an overview of all the hoarding-turned-happy goodness!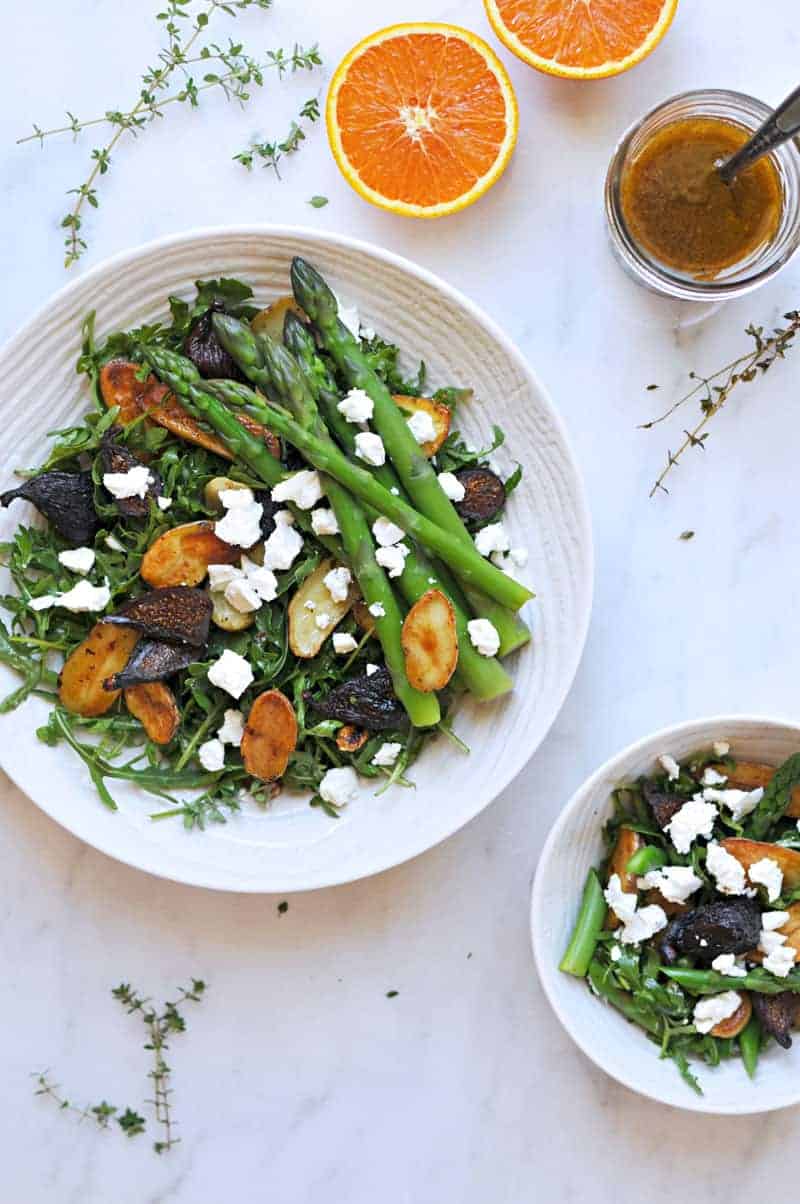 It's a #SpringPantryPurge!
Feast + West | Honey Chipotle Roasted Chickpeas
Clean Food Dirty City | Lentil Rice Bowl with Shaved Cauliflower Salad
Crepes of Wrath | Garlic Noodles
Appeasing a Food Geek | Wine Wednesday + a Kale and Tomato Galette
Feed Me Phoebe | Maple Pecan Gluten-Free Banana Bread
Domesticate ME! | Chicken and Wheat Berry Salad with Shaved Brussels Sprouts and Arugula
Arthur Street Kitchen | Kale Kimchi
Pamela Salzman | Drunken Beans
The Mom 100 | Banana Bread with Chocolate and Crystallized Ginger
Snixy Kitchen | Kale Salad with Toasted Nuts, Seeds, & Buckwheat
Loves Food, Loves to Eat | Warm Lentil Salad with Butter-Crumbed Eggs
The Speckled Palate | Curried Veggie Rice Bowls
The Naptime Chef | Basil Polenta with Pine Nuts and Feta
the pig & quill | Roasted Fig + Potato Salad with Asparagus + Goat Cheese (← that's me!)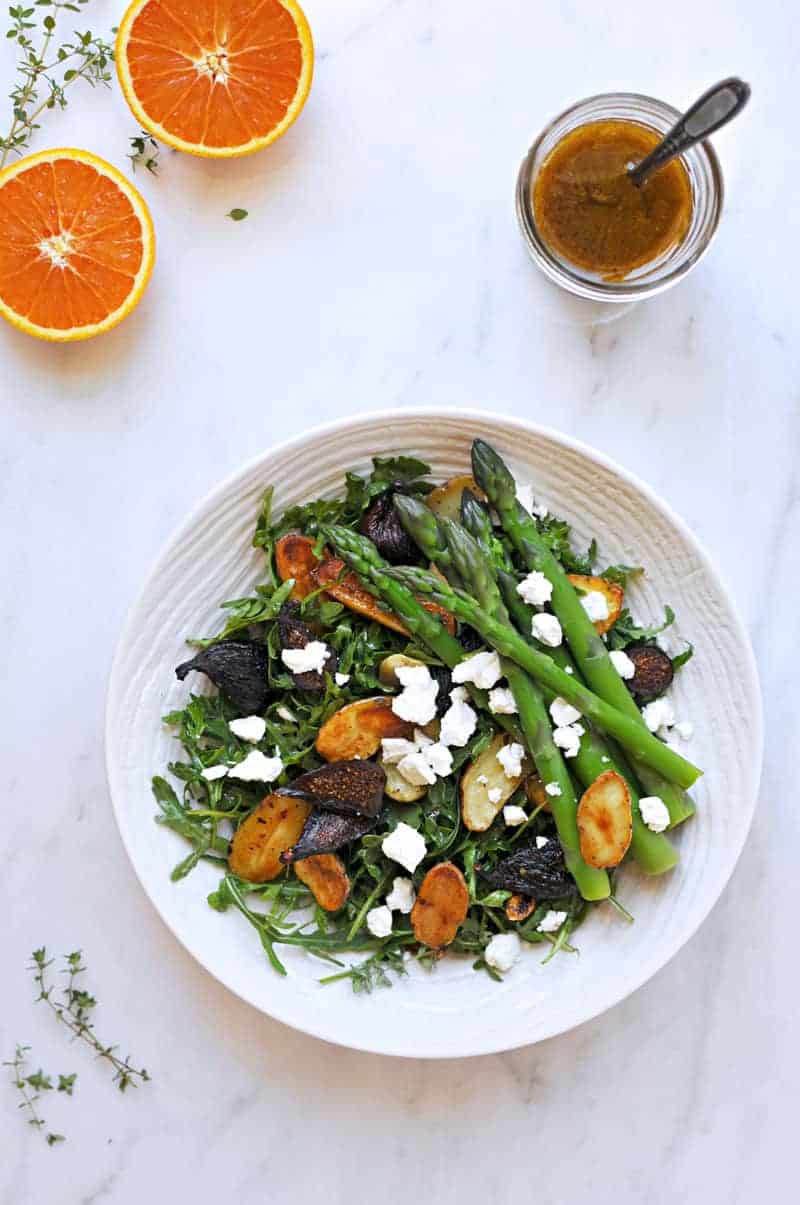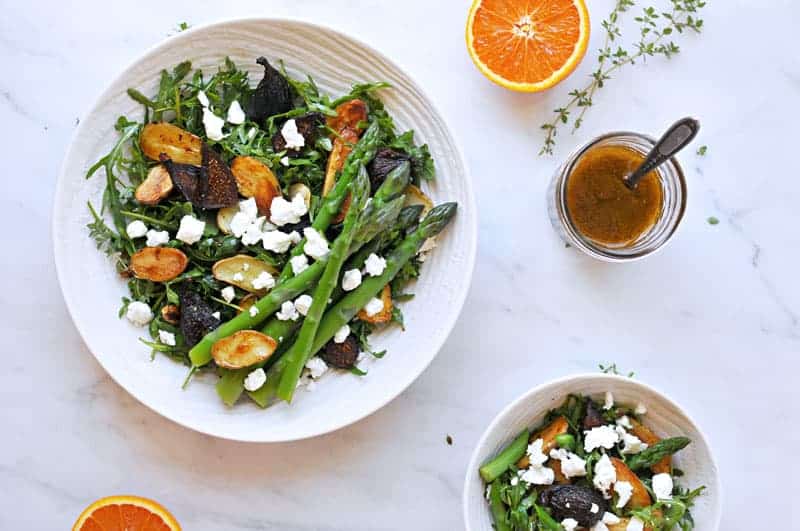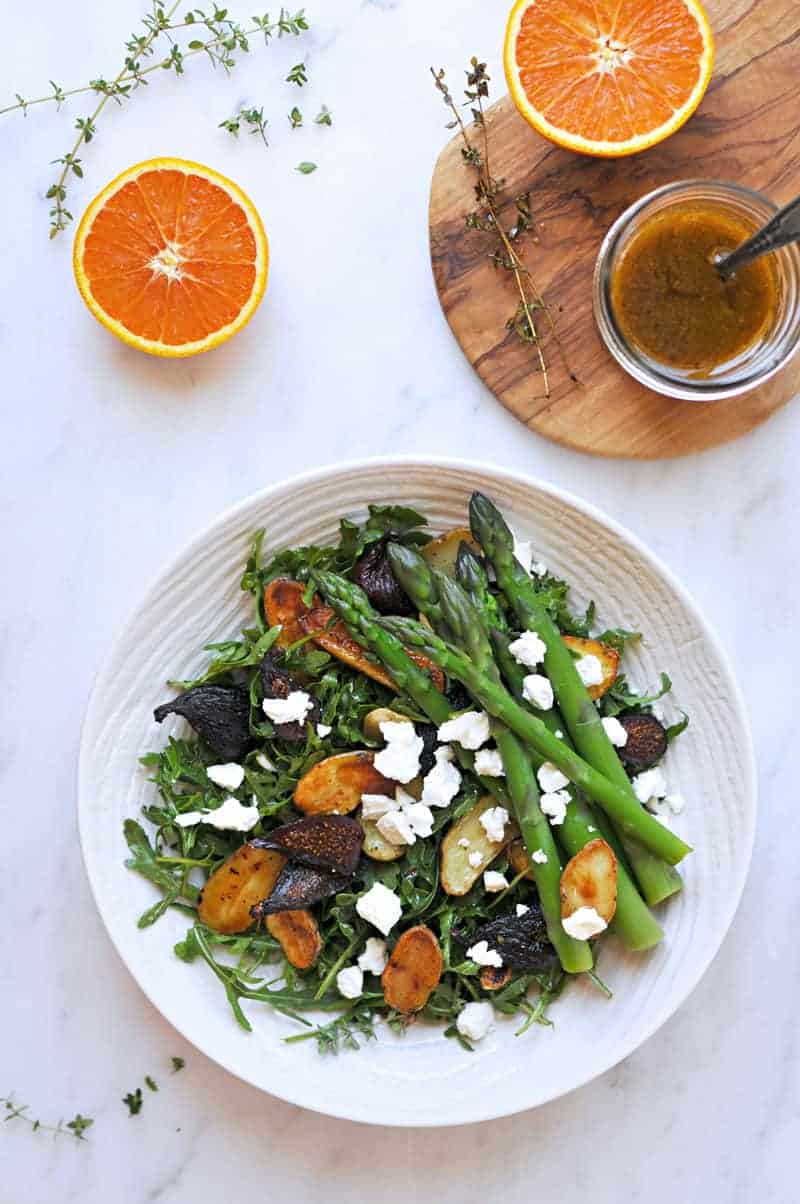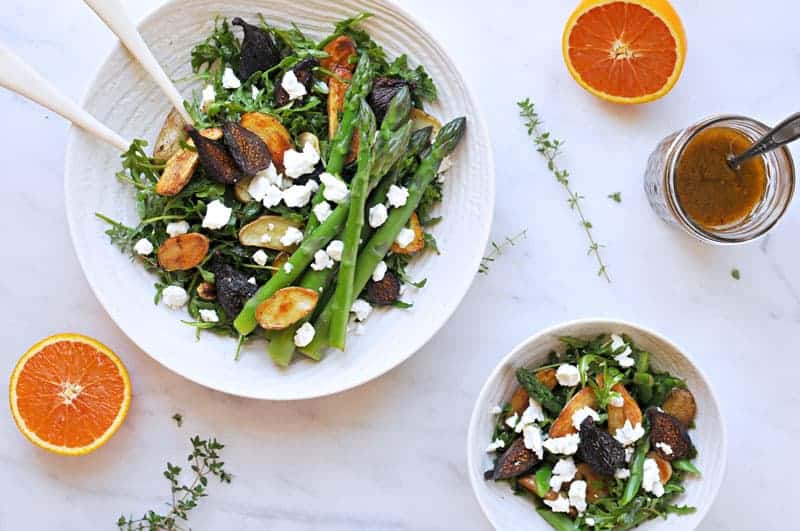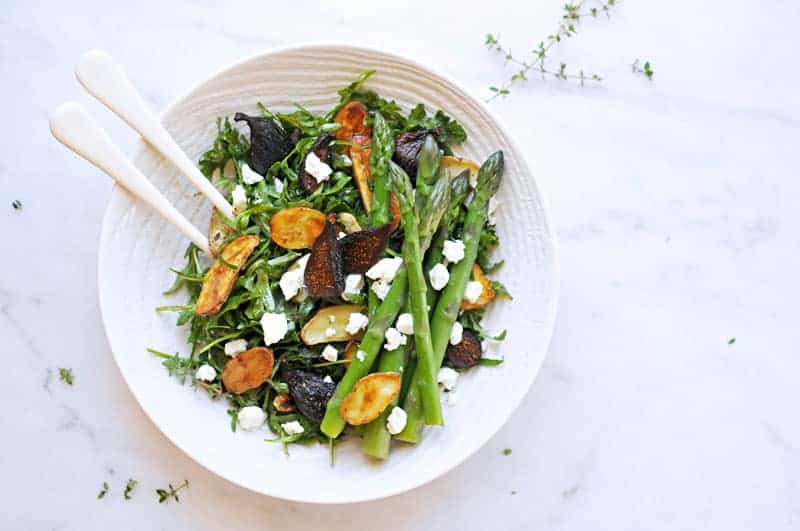 roasted fig + potato salad with asparagus, goat cheese + honey-orange balsamic vinaigrette
Makes:
4 side or 2 entree servings
Ingredients
For the Salad
½ lb dried figs, such as Mission, stems trimmed
2 cups hot brewed fruity, floral white tea (I used this Pomegranate White Tea with Hibiscus)
1 lb fingerling potatoes (or other small, waxy potato), halved lengthwise
¼ cup olive oil
1 head garlic, cloves whole and peeled
5-6 sprigs thyme
salt and pepper, to taste
6 large handfuls arugula
6-8 oz asparagus, trimmed
4 oz goat cheese, crumbled
For the Dressing
⅓ cup olive oil
3 T orange juice
3 T good balsamic vinegar
1 T honey (or maple syrup)
1 T sweet-hot mustard (I'm loving this one at the moment)
1 clove garlic, minced (optional)
salt and pepper
Instructions
In a medium bowl, pour hot tea over dried figs. Bring to room temperature, then cover, refrigerate and allow to soak 2-6 hours or overnight (depending on the softness of your dried fruit), until slightly plumped and soft but with a bit of chew.
Preheat oven to 400F. Drain figs (discard tea) and toss with potatoes, garlic cloves, thyme and plenty of salt and pepper. Arrange on a rimmed baking sheet in a single layer and roast until potatoes are golden, tossing once, about 30 mins.
Meanwhile, prepare a large bowl of ice water. Bring a shallow pan of water to a boil. Salt water and add asparagus, cooking only until bright green, about 60-90 seconds. Remove asparagus to ice water to stop cooking. Drain.
Whisk or shake together all dressing ingredients.
Lightly dress arugula with vinaigrette, tossing to combine. Divide arugula among serving plates (or pile into large serving dish) and top with roasted potatoes, figs and garlic cloves. Add asparagus (either trimmed into bite-sized pieces or whole spears) and goat cheese over the top. Serve with additional dressing and more salt and pepper, to taste. Enjoy!
Notes
While the idea of tea-soaked figs seems really unusual, the flavor is lovely and subtle, and the floral aroma complements the rest of the springy components. Choose any light tea that's fruity or floral. (Note that prep time does not account for soaking, which adds an extra 2-6 hours.)

As for presentation, I love the look of this salad served up with the whole spears of asparagus, but you could just as easily slice the stalks on angle and toss them right in.