honeyed pistachio and balsamic-roasted strawberry (coconut) mousse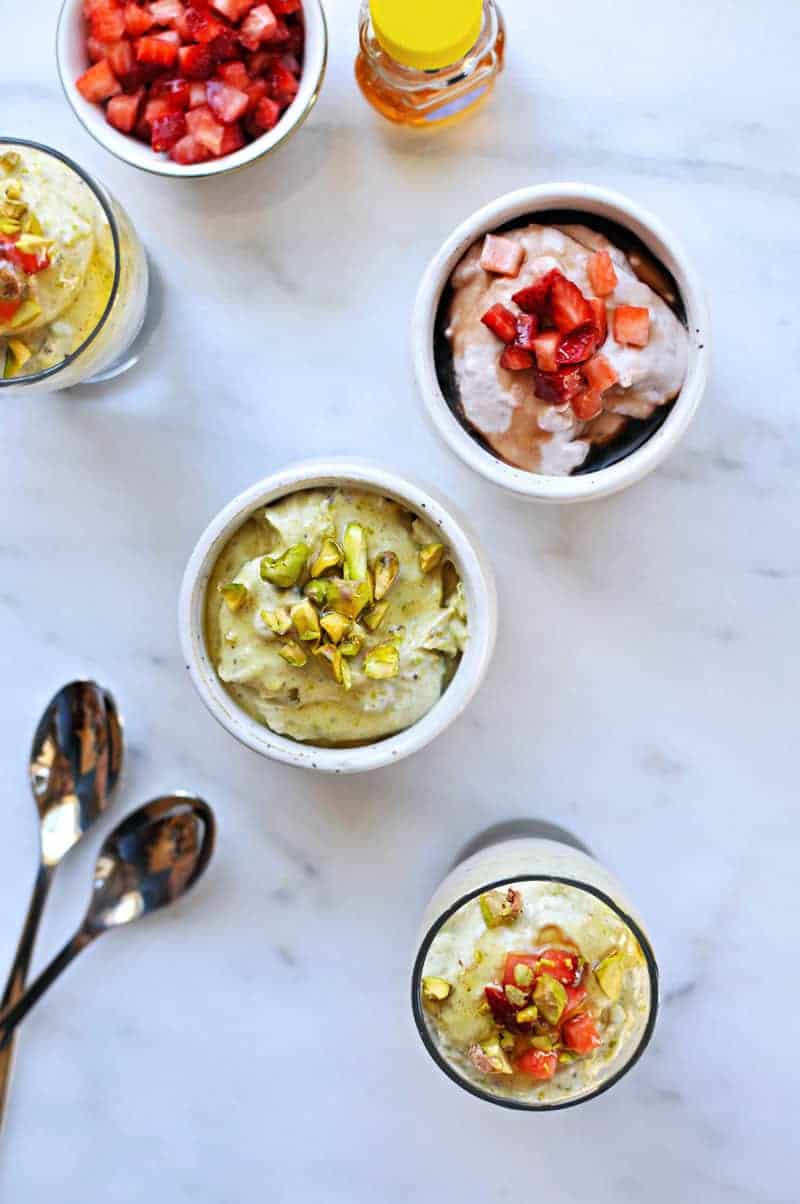 Makes:
5-6 servings, depending on your cups or ramekins
2 cups fresh strawberries, quartered
1.5 T balsamic vinegar
3 T extra virgin olive oil, divided
½ - 1 T maple syrup (Grade B ok), to taste
½ cup salted, roasted pistachios, shelled
3 T honey
2 cans full coconut cream (or the equivalent solid portion from full-fat coconut milk, see note)
additional fresh strawberries, balsamic vinegar, chopped pistachios and honey, for serving
Preheat oven to 425F. Toss strawberries with vinegar, 1 T olive oil and maple syrup, to taste, and arrange in a single layer on a rimmed baking sheet. Roast for 20 mins. Allow to cool.
Meanwhile, whip coconut cream until fluffy. Refrigerate until ready to use.
In a small food processor, combine pistachios, honey and 2 T olive oil and pulse until very well combined and mixture is almost that of chunky peanut butter. Rinse food processor.
Add cooled, roasted berries and any accumulated syrupy juices to processor and process until almost smooth, adding 2-3 T of the whipped coconut cream, if necessary, to help mixture come together. Turn out berry mixture into a medium bowl and gently fold in 1 cup whipped coconut cream.
In another bowl, add pistachio mixture and 2-3 T of the whipped coconut cream and mix until nut "butter" has loosened up. Gently fold into 1 cup whipped coconut cream.
Spoon mousses into individual ramekins or small glasses (keeping the flavors separate or layering them together -- up to you!) and chill 2-4 hours. Serve pistachio mousse topped with a generous drizzle of honey and more crushed, salted pistachios and strawberry mousse with fresh, diced berries and a small drizzle of balsamic. Enjoy!
Just how much maple syrup you use when roasting the strawberries depends on the sweetness of the berries. Give one a taste before adding the syrup. Naturally sweet berries may need hardly a drizzle.

Regarding coconut cream: most of the time, I'm able to find this product at Trader Joe's, though they can be very hit or miss with their coconut milk offerings. If you can't find coconut cream, you can use full-fat coconut milk -- you'll just need more of it. Refrigerate several cans of coconut milk overnight, then drain off the liquid portion within (reserve for another use!) and only whip the remaining (solidified) cream portions. You'll need about 2.5 cups of the whipped coconut cream in the end.

Cook time does not include 2-4 hours of recommended chill time before serving.
Recipe by
the pig & quill
at https://thepigandquill.com/honeyed-pistachio-and-balsamic-roasted-strawberry-coconut-mousse/