Update: this giveaway is now closed. Thanks for participating!
Greetings from the Big Apple! Can you believe this is the first time I've ever set foot in NYC for pleasure? The last time I was here was pleasant, to be sure, but it was definitely business related. As in, outside of the W Hotel and a few publishing houses, I didn't see much. Thankfully, things are drastically different this time around as Chris and I have tasked ourselves with plenty of activities to make sure we get the biggest bang possible from our NYC buck. I'll try to bring some pics to the blog when I get back, but in the meantime, keep up with our travels on Facebook and Instagram. Yay!
Ok, now onto the good stuff: the GIVEAWAY!
The Background: Beginning this week, I'm participating in Sliced — a Chopped-esque recipe competition hosted by Saucy Mama. In the first round, 25 bloggers, including yours truly, will each present an appetizer featuring one of Saucy Mama's tantalizing mustards and a required secret ingredient. This round's secret ingredient? Bacon. I know, tough break, right?
As the competition progresses, Saucy Mama judges will move participants to the next round until we (wishful thinking!) make it all the way through desserts and a final winner is chosen. Social media likes, shares and votes count, too, so I'll be asking for your help!
In the meantime, however, Saucy Mama is giving away this collection of three fabulous mustards to one lucky Pig & Quill Reader!
HERE'S HOW TO ENTER
(Up to 6 entries per person!)
Comment below with a response to the question: When's the last time you were saucy?
Here's mine: in the car on the way back from lunch on Wednesday. There was way too much talk about boxes and pickles. Let's leave it at that.
(+1 entry) LIKE the Pig & Quill on Facebook and comment below letting me know.
(+1 entry) FOLLOW the Pig & Quill on Twitter and comment below letting me know.
(+1 entry) FOLLOW the Pig & Quill on Instagram and comment below letting me know.
(+1 entry) FOLLOW the Pig & Quill board on Pinterest and comment below letting me know.
(+1 entry) PIN or REPIN your favorite Pig & Quill recipe and comment below letting me know.
Winner will be chosen at random. Entries close end of day June 29th; winner will be announced July 2nd. Contest is limited to US residents.
BUT WAIT, THERE'S MORE!
As a bonus thanks to Pig & Quill readers, Saucy Mama is also offering you fine folks 25% off all purchases in their online store using the code EMI25. 
Nice guys, right? Right.
So can we talk buns now? Great.
I've got to start off this whole bunversation with one pretty candid confession:
I don't really love mustard.
It's up there with ranch dressing in my mind. Totally one-dimensional and yet somehow completely overpowering. Exceptions, I suppose, would include most sweet-hot mustards, Chinese hot mustard and nasally, horseradishy mustards, like wasabi, which are all still super dominating flavors but also tastes I've somehow come to enjoy.
HAVING SAID THAT…
These mustards pass muster. Chris and I conducted a little taste test the other evening and I was pleasantly surprised by the depth of each blend. Yeah there's mustard, but the Creamy Garlic is sharp and savory, the Dill is tangy and verdant — and the Hatch Chili, well, it's got that sweet-hot thing going for it. Total no-brainer.
Also, I'm a sucker for buns.
If you're a fan of Peking duck, Chinese steamed bao or anything that combines the purity of a fluffy, steamed bun with sweet and salty vittles, these buns are calling your name. The mustard mellows out substantially during braising leaving you with a complex, almost mustard-scented bacon that's meltingly tender and just sweet enough. Spicy, quick-pickled radishes add a kick of freshness while plenty of cilantro cuts the richness.
With each recipe making 10 buns, these are the perfect apps for an intimate dinner party — but I like them piled four to a plate for supper or wrapped up to-go for a light lunch, too. In my honest opinion, these are quite possibly probably one of the world's perfect foods — and one of my favorite recipes to-date in part since they're so EASY. If you can brown bacon (and apply a lid), you're but time away from these little bites of bliss.
So! Enter to win some bomb-diggy-bomb 'tard and then make these for yourself.
Take it from me, your inner bun sucker will thank you.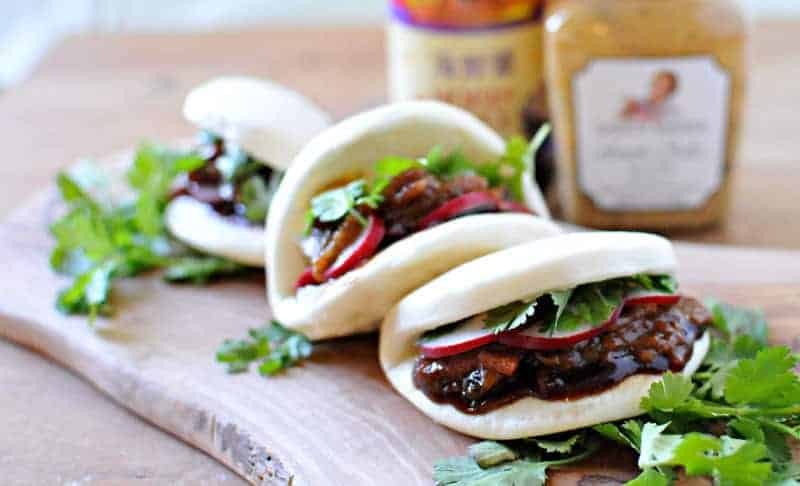 Mustard-Braised Bacon Buns with Radish Pickles
By Emily Stoffel
Cook time: ~1.5 hrs | Makes 10 buns
Note: The steamed buns used here can be found at most Asian grocery stores – and even some supermarkets. They're typically sold 10 or 12 to a pack and are fairly inexpensive (under $2 in my neck of the woods). If you don't have access to steamed buns, Hawaiian rolls would be a super tasty swap.
Ingredients:
1 lb good quality sliced bacon, cut into 1" pieces
¼ cup brown sugar
½ cup Saucy Mama Hatch Chili Mustard
½ bottle (6 oz) beer, such as an amber ale
2 T hoisin sauce
1 small bunch (about 10) radishes, thinly sliced
2 T rice vinegar
7 tsp sugar
1 tsp sea salt
10 frozen steamed ("duck") buns
1 small bunch cilantro, stems removed
Instructions
Add bacon to a cold, lidded sauté pan or Dutch oven and turn flame to medium. Render bacon until cooked through and just starting to brown, about 5 minutes. Add brown sugar and cook, stirring frequently, until sugar dissolves and bacon becomes glossy. Add hoisin sauce and mustard and stir to combine. Pour over beer.
Bring mixture to a boil, then cover, reduce heat to low and simmer for 1 hour.
Meanwhile, combine radishes, salt, sugar and rice vinegar in a medium bowl and stir thoroughly. Marinate "pickles" for about an hour or until ready to serve.
At the end of an hour, remove lid from bacon. Adjust heat, as needed, to maintain a simmer, and cook uncovered for 10-20 minutes or until sauce has darkened and reduced by two-thirds, stirring occasionally to prevent burning. Allow bacon to cool slightly.
Steam or microwave buns according to package directions. To serve, smear each bun with a smidge of additional hoisin (optional) and stuff with a heaping tablespoon of the bacon, radishes (to taste) and cilantro. Enjoy!