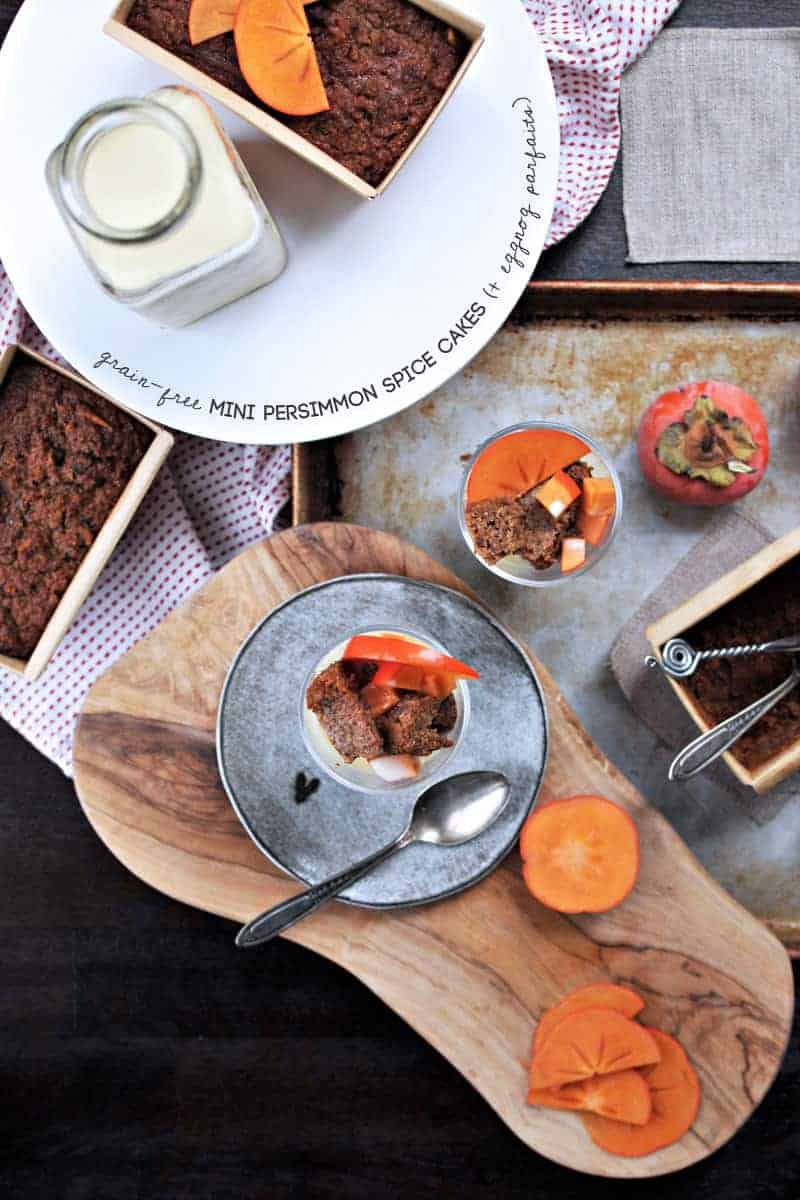 It's Christmas Eve! Around here, that means prepping for the in-laws' annual tamale feast and perhaps the most competitive pirate's gift exchange that ever was. Our particular version features plenty of red wine and tequila and a particularly obscene vase that makes a comeback every year. It's a raucous good time and one of those small things I know we'll enjoy savoring in its current glory before things like an unfortunate floral receptacle that seriously resembles a vagina and nothing else takes a backseat to our inevitably lovely little piglet.
How well do you feel like you know my family right know?
I'm just going to jump right into persimmons.
Is it persimmon season where you are? (Super graceful.) We're getting to the end of it here, but for the last few years, without fail, I've come home from Thanksgiving at my grandparent's house with at least one hulking sack of hazy, fiery-hued Fuyus. For those unfamiliar with the persimmon family tree, those are the little flat guys that can be eaten while crisp, like an apple. I prefer them drastically to the more teardrop-shaped Hachiya that are eaten once the flesh becomes soft and almost custardy. They sound intriguing and even quite delicious when described in this way, I know — but as a kid they kinda just seemed like a goopy, slimy mess and I haven't come round to them just yet. So Fuyus have my heart each fall. And that is that.
Also, hulking sack. Sorry.
Should we say it once more just to acknowledge how very awkward it was the first time?
HULKING SACK.
Perfect.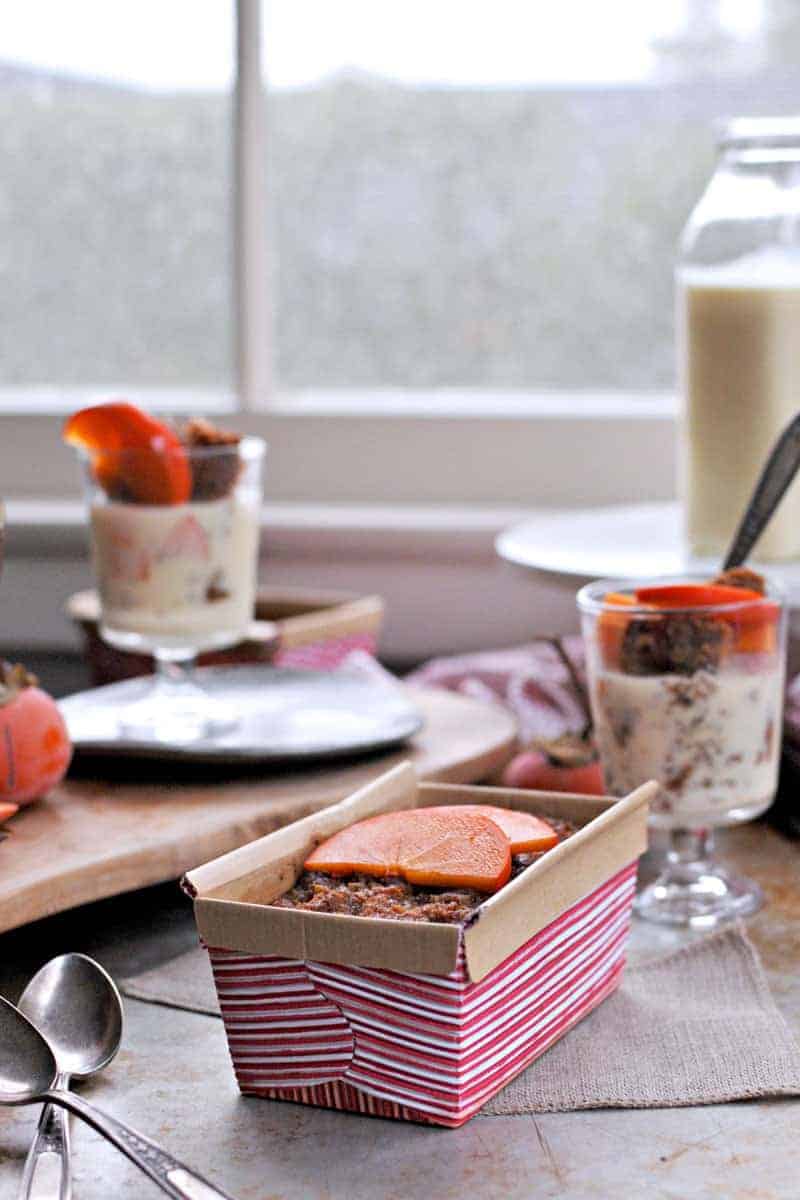 These petite cakes are hardly complicated — because if they were I would have found a way to turn them into complete and inedible shit as I do with most baked goods. Those familiar with cake-like foods might liken them more to quick-breads, and I suppose that's fair. Loaded with fresh fruit, nutty pecans and just enough fragrant holiday spice, they're a close cousin of zucchini bread. Ok, like, a really close cousin. Like, a marriage-is-off-the-table kinda kinship. But more seasonal.
(This post…I don't even know.)
Much like those beloved Devil's Food Donuts from this summer, these not-too-sweet cakes also happen to be grain-free and yet totally tender and moist with a pleasingly textured crumb. For this, I have to acknowledge the blend of coconut and tapioca flours, which are maybe some of my favorite grain-free flours for baking things of this nature since, together, they hang on to moisture something fierce. As far as GF flours go, they're also relatively accessible and affordable and adaptable. And, most importantly, delicious.
(In fact, the vast majority of sweet recipes in this book, from which this recipe was somewhat adapted, are based upon the one-two punch of coconut and tapioca flours. ←Not a sponsored mention, mind you. Just a great reference if you have any interest in primal eating/can't bake for beans/don't have the space for 491 gluten-free flours.)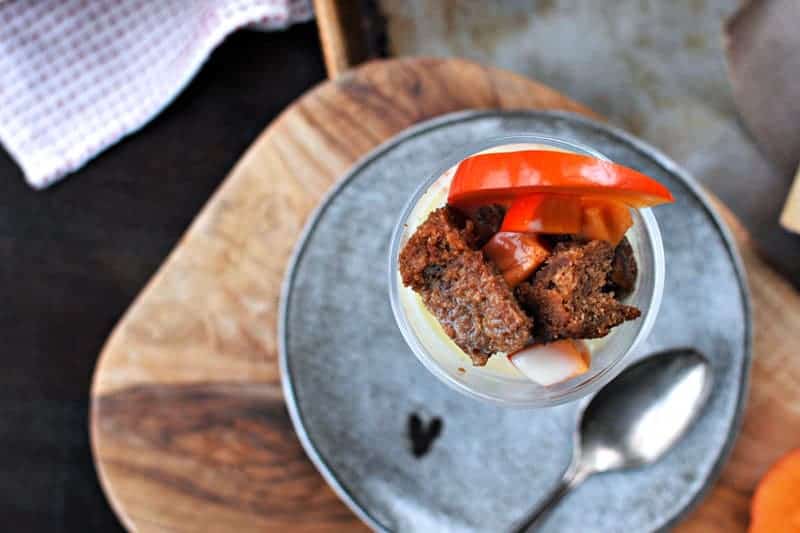 Being quite wee in size and therefore adorable by default, these mini cakes are also just a bit darling and lotsa bits giftable and perfectly perfect for…
…drowning in eggnog.
Ok, the eggnog part has nothing to do with their size. It's just the next step in turning these mostly responsible little dudes into something more definitively festive: PARFAITS, BISHES!
Your favorite store-bought eggnog — which I honestly find kinda hard to beat — will do here, although I encourage all you grown-up types to check out Beth's naturally sweetened, vegan version if you feel like cleaning things up a bit. Either way, these guys are a super simple and elegant addition to any nog-relevant holiday. Christmas, of course. But New Years would be a dandy excuse, too. 🙂
Many heartfelt wishes that you and your loved ones enjoy a safe and lovely Christmas holiday, friends.
Cheers!!!
Em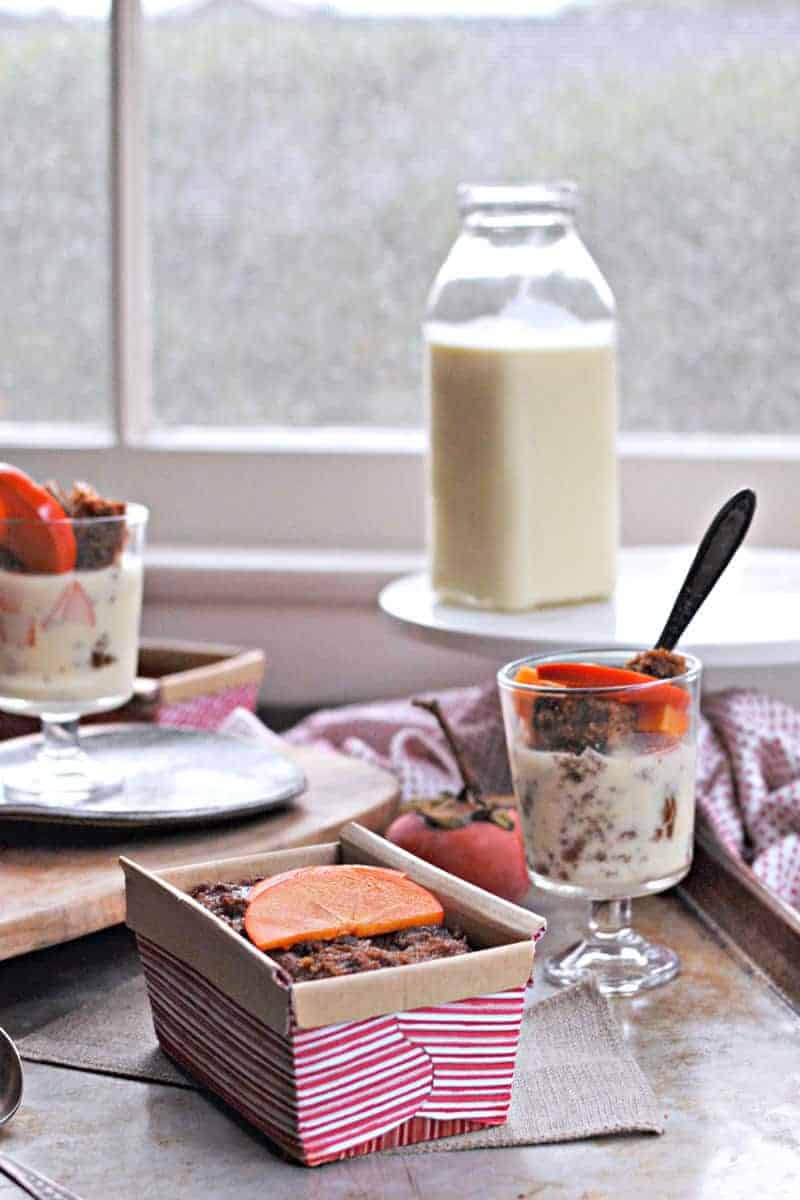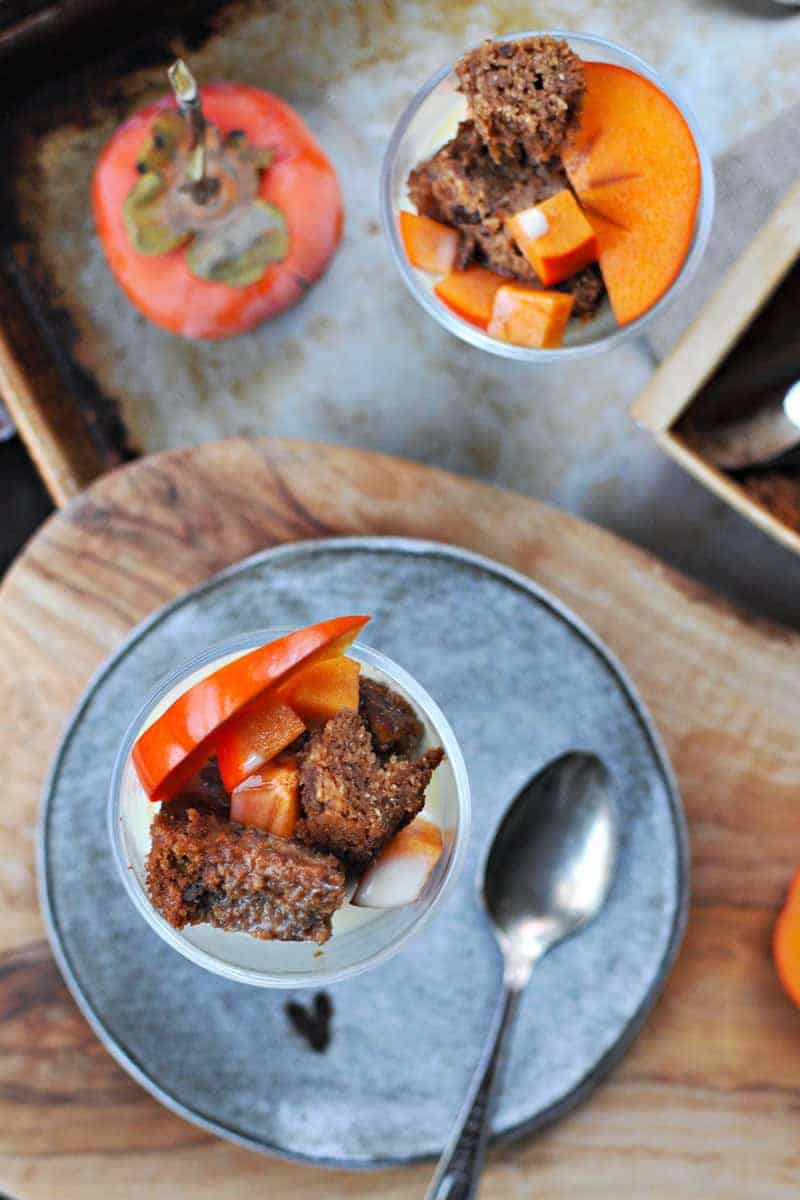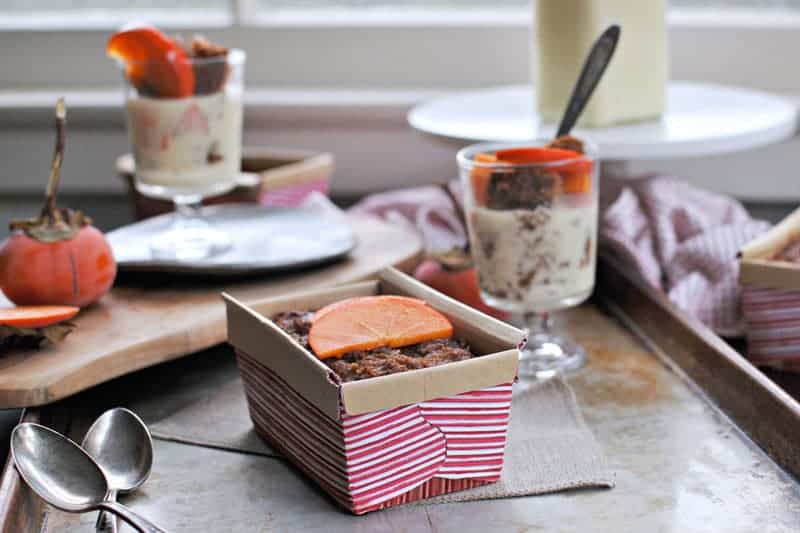 grain-free mini persimmon spice cakes (+ eggnog parfaits)
Ingredients
For the Mini Persimmon Spice Cakes:
½ cup melted butter, plus extra for greasing the pan
½ cup coconut sugar
2 cups (about 1 lb) firm Fuyu persimmons, peeled and grated
4 eggs, beaten
1 tsp vanilla
½ cup coconut flour
½ cup tapioca flour
1 teaspoon baking soda
1 tsp cinnamon
½ tsp nutmeg
½ tsp ground ginger
pinch salt
1 cup pecans, chopped
For the Parfaits
eggnog
fresh Fuyu persimmons, cut into slices or diced
additional pecans and/or cinnamon and whipped cream or coconut whip (optional, for serving)
Instructions
Preheat oven to 325. Very lightly grease three (3) mini paper loaf pans (mine were 5" x 3⅛" x 2¼") with butter (or coconut oil).
In a large bowl, whisk together butter and sugar. Add eggs, persimmon, and vanilla and stir to combine.
In a separate bowl, whisk together dry ingredients (flours, baking soda, spices and salt).
Gradually add dry ingredients to wet, stirring until combined. Stir in nuts. Mixture will be thick and almost paste-like.
Turn out mixture into paper loaf pans, smoothing into place with a spatula as needed.
Bake in preheated oven for 50-60 mins, until edges are golden brown and center is cooked through. (A toothpick should come away with just a few crumbs.) Let cool before serving.
To make Parfaits: layer cubes of cooled cake in small tumblers or parfait glasses. Top with eggnog to your liking, plenty of fresh persimmon and (optionally) a scattering of pecans/cinnamon and coconut whip or whipped cream. Enjoy!
Notes
The parfait portion of this recipe is, of course, optional, but if you like eggnog even a little, it's a fun way to take this seasonal treat to the next level. Plus, since the cake, itself, isn't too sweet, the eggnog isn't quite as over the top as you'd expect.

Regarding the cakes: I've only ever made these in paper loaf pans and suspect that, if you use metal pans, you may be able to decrease the baking time. You can also bake a single cake in one (1) 1.5 quart loaf pan, though, again, you may have to adjust baking time accordingly.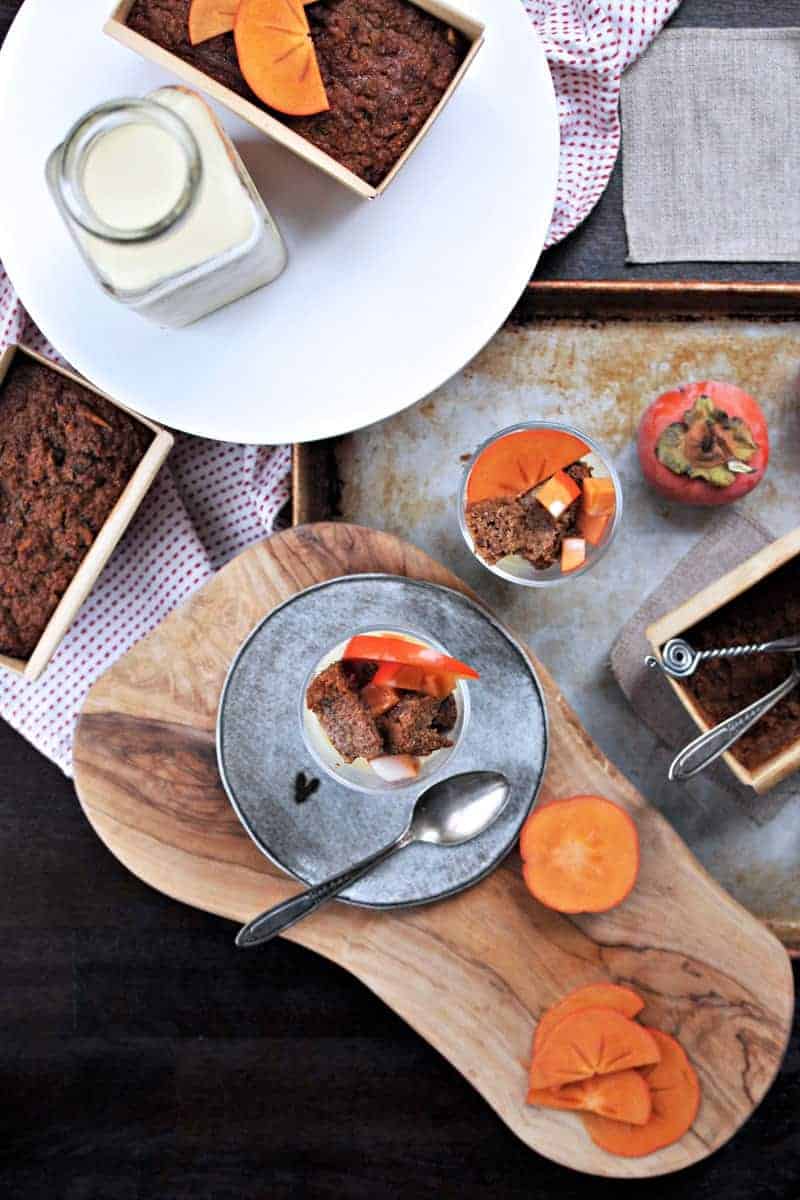 ————————————————–
OH! before you go…
Like whatcha see here — or have a question, feedback, or recipe hack to share? Join The Pig & Quill convo by commenting below (I love, luv, lurve comments) and hang out with me on Facebook, Twitter, Instagram and Pinterest. And don't forget to subscribe to P&Q emails or add me to your RSS reader with Feedly or Bloglovin' so you never miss a post. x's & o's!