I'm gonna tell you a story about Chris and eggplant. Here we go: Chris thinks he hates eggplant. End of story. It was a short one. Guess I could have thrown in a twist where you thought, for a second, that he liked eggplant. But come on. I can't fool you.
BUT. Here's something joyful.
Chris eats eggplant kind of a lot. He just doesn't know it. Or maybe he does and he's a good sport. I guess that's the one. He'd be less than stoked if he thought I thought he was a picky eater, because really he's not. He's just a guy that knows what he likes. Guess that should make me feel pretty fancy, eh? *Wink*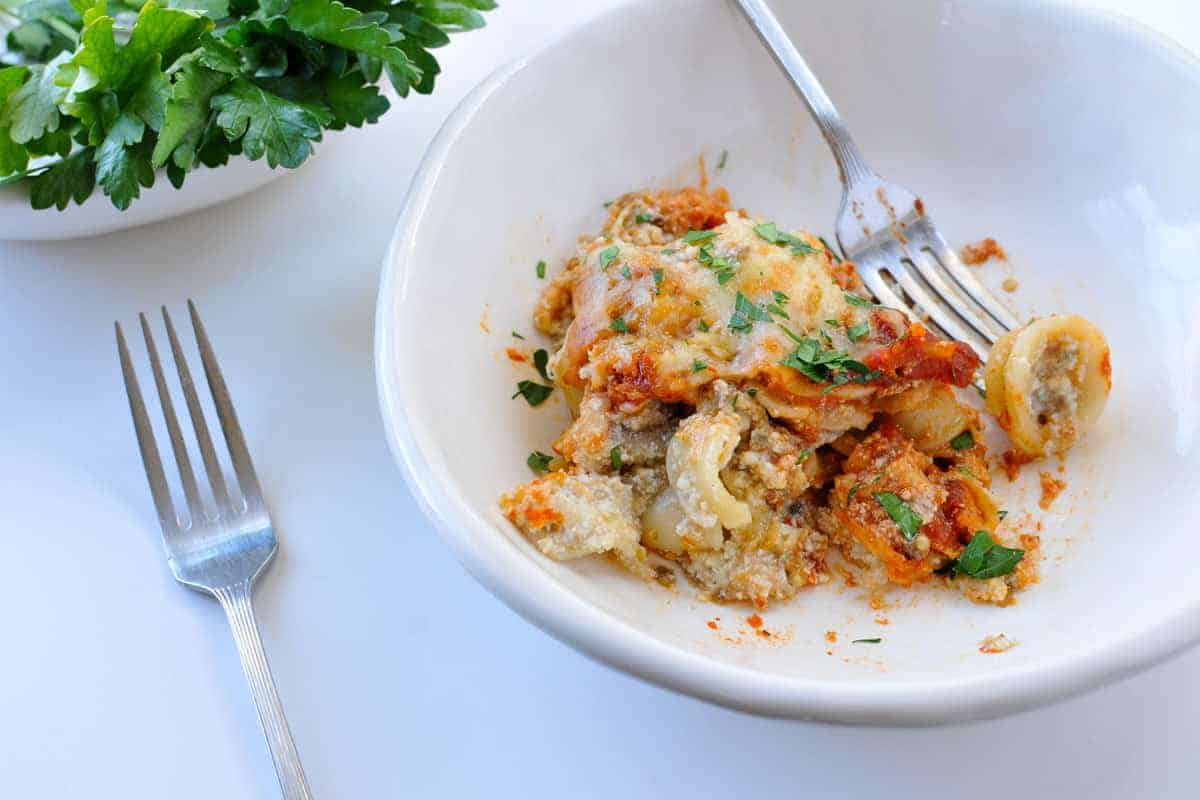 OK! So, here's how you make someone that doesn't like eggplant not realize that they don't love eggplant. Mix it with a crap-ton of cheese and orecchiette pasta and bake it in a pretty skillet. With more cheese on top. Right? Amiriiiight?
So, make some sneaky eggplant pasta this weekend for your family! Kids and totally not picky at all significant others will eat it right up.
Oh, and eggplant lovers will have their itch scratched, too.
Winning.
Eggplant-Ricotta Pasta Bake
By Emily Stoffel
Cook time: 1 hr 15 mins (with some decent downtime) | Serves 4 hungry people
Note: I don't turn to pre-shredded cheese all that often, but this is one instance where it's totally worth it. An Italian cheese blend will serve you well here — we like the "Quattro Formaggio" four cheese mix from Trader Joe's.
Ingredients:
1 medium eggplant
15 oz fat-free ricotta
1 tsp sea salt, plus extra for seasoning
1/2 tsp freshly ground black pepper, plus extra for seasoning
2 cups shredded cheese, divided (see note)
1/2 lb orecchiette pasta
1.5 cups prepared marinara sauce
chopped parsley
olive oil
Instructions
Preheat oven to 450F. Cut eggplant in half lengthwise. Drizzle generously with olive oil and season with salt and pepper. Place on a baking sheet cut-side-up and roast for 30 minutes. Turn oven down to 400F. Allow eggplant to cool slightly. Peel eggplant halves and add to a large mixing bowl. Mash with a fork. Add ricotta, 1 tsp salt and 1/2 tsp black pepper.
While eggplant is cooling, cook orecchiette in boiling, salted water until it's a minute or two shy of al dente. (Pasta should have a thick line of white in the center when bitten. Don't worry! It will continue to cook in the oven.) Drain pasta and add to eggplant mixture. Add 1 cup shredded cheese and toss everything to combine.
Turn pasta mixture out into a greased skillet or baking dish and top with marinara. Sprinkle over additional cup of shredded cheese and drizzle dish with olive oil. Bake for 25 minutes until cheese is melted, bubbly and beginning to brown. Allow dish to set up several minutes before serving scattered with chopped parsley. Enjoy!