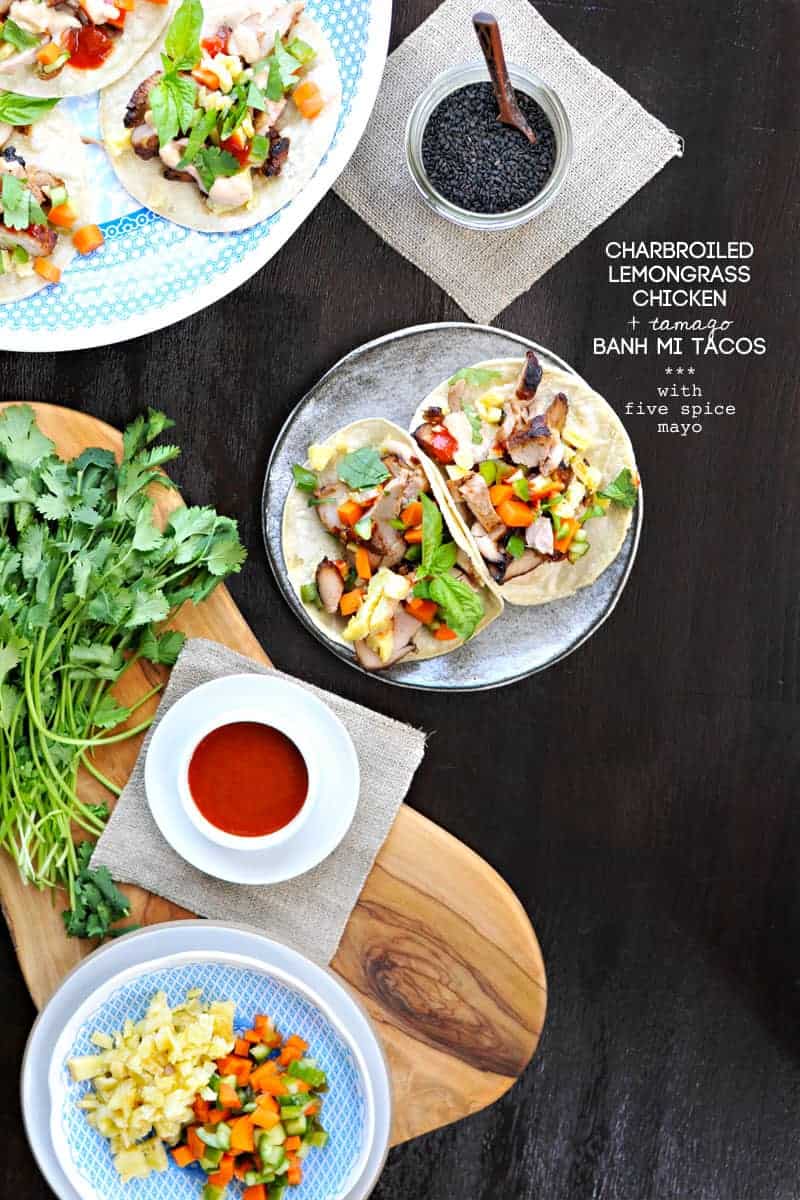 Gonna keep things simple today because we're off to spend a long weekend with ye' old granfolksies and homie needs to pack up all the shit that apparently is required for a 13-lb human to function.
Oh, ok — to function in style.

But it's a lot of shit, you guys. And that's not even counting the actual, um, shit. Which is surprisingly unshitty.
Wow, really getting you revved up for tacos, aren't I?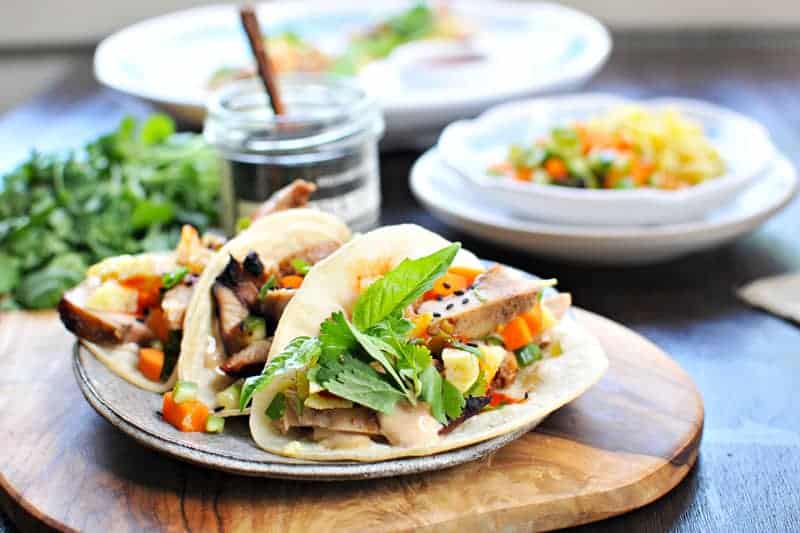 Rewind.
It's no secret I love tacos. Or even, specifically, fusion tacos.
It's also no secret I love banh mi.
As Joey Tribbiani wold say, put your hands together.
Voilà.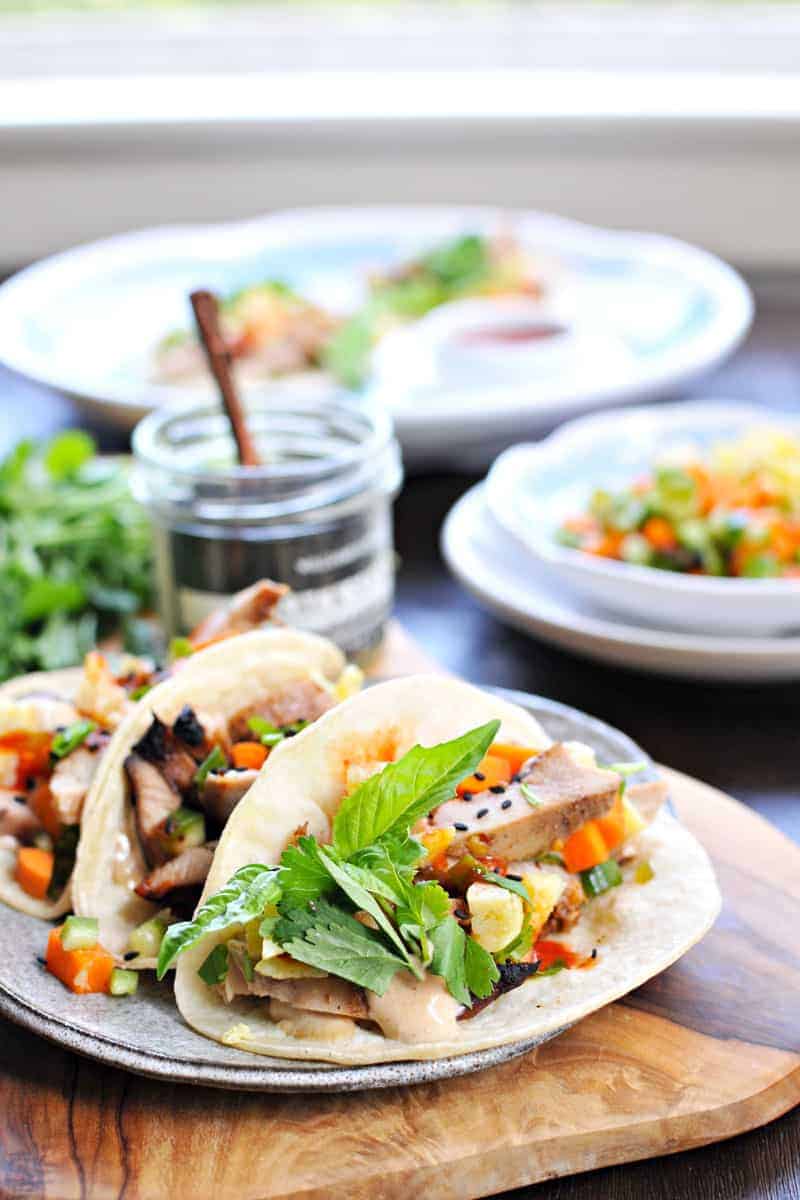 (You thought I was done, huh?)
These little gems are so stinkin' good — and my favorite part might be that the chicken is broiled until all the little dark meat nubbies are blackened and charred and rocking that kinda faux charbroiled flavor you get from a Burger King patty — except not at all like that and one hunny pecent legit. (Here's where I admit that I really do kinda like that sneaky fast food charred flavor. Like, a Whopper Jr. with all that grilly goodness and a solid attempt at crisp, cold lettuce? I almost wouldn't say no to that right now. *see-no-evil-monkey-emoji/hang my head in shame*)
The marinade is a knockout and would no doubt be mad delish (sorry) on some super thinly sliced pork or beef, too. Savory and herbacious with the distinctive taste of lemongrass telling you straight away that something Viet this way comes. It's gonna become a fast fave. With the perky spice of these pickled veggies and even more herbs? YES. Or, as the cool kids say, yas. Or is it yassss. YASSSSSSSSSS?
Oh look, encore appearance of the face palm monkey.
Since I like my banh mi with eggs, I took the liberty of adding (some rather rustically assembled) tamago. Would a scattering of sunny little quail eggs have been cuter? Mabes. But quail eggs aren't commonplace around these parts, and the slight sponginess of good ol' fashioned chicken eggs, lightly sweetened and rolled into a scrappy omelet, makes it the perfect clingy vehicle for all that five spice'd mayo.
Speaking of which, I dare you not to lick the spoon and then decide it needs more stirring just so you have an excuse to lick it again. And again.
Errrrrrnd again.
Ok, back to packing for me, tacos for you — and HAPPY ALMOST FREAKING WEEKEND for all of us.
xoxo!
Em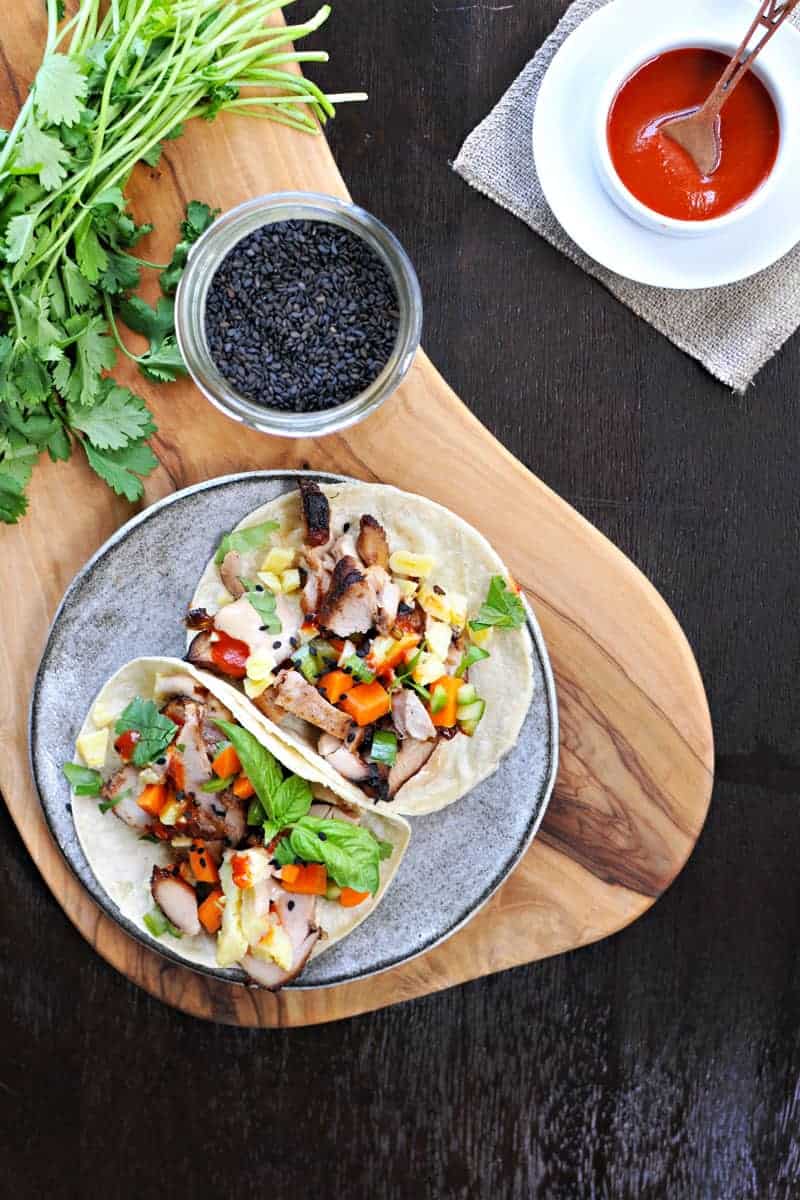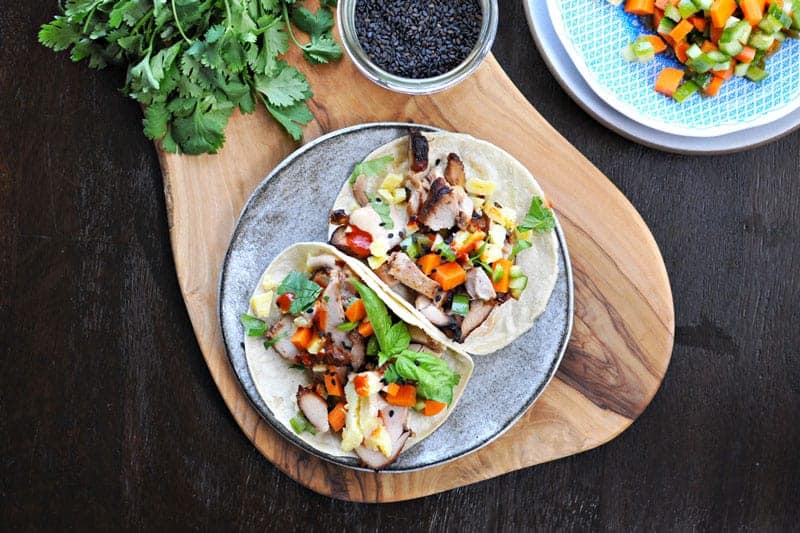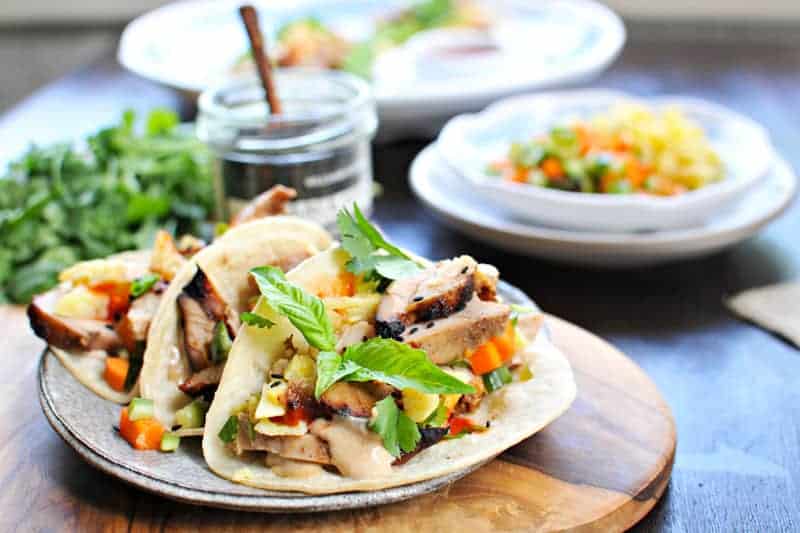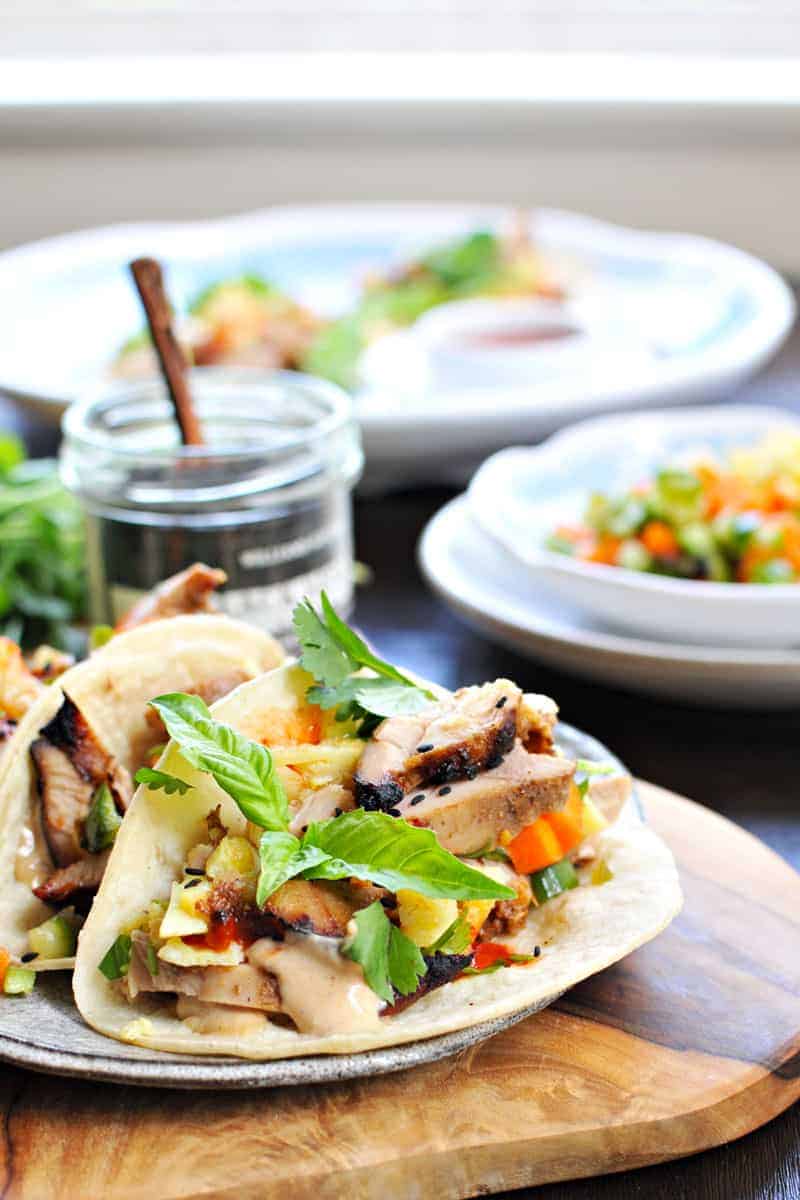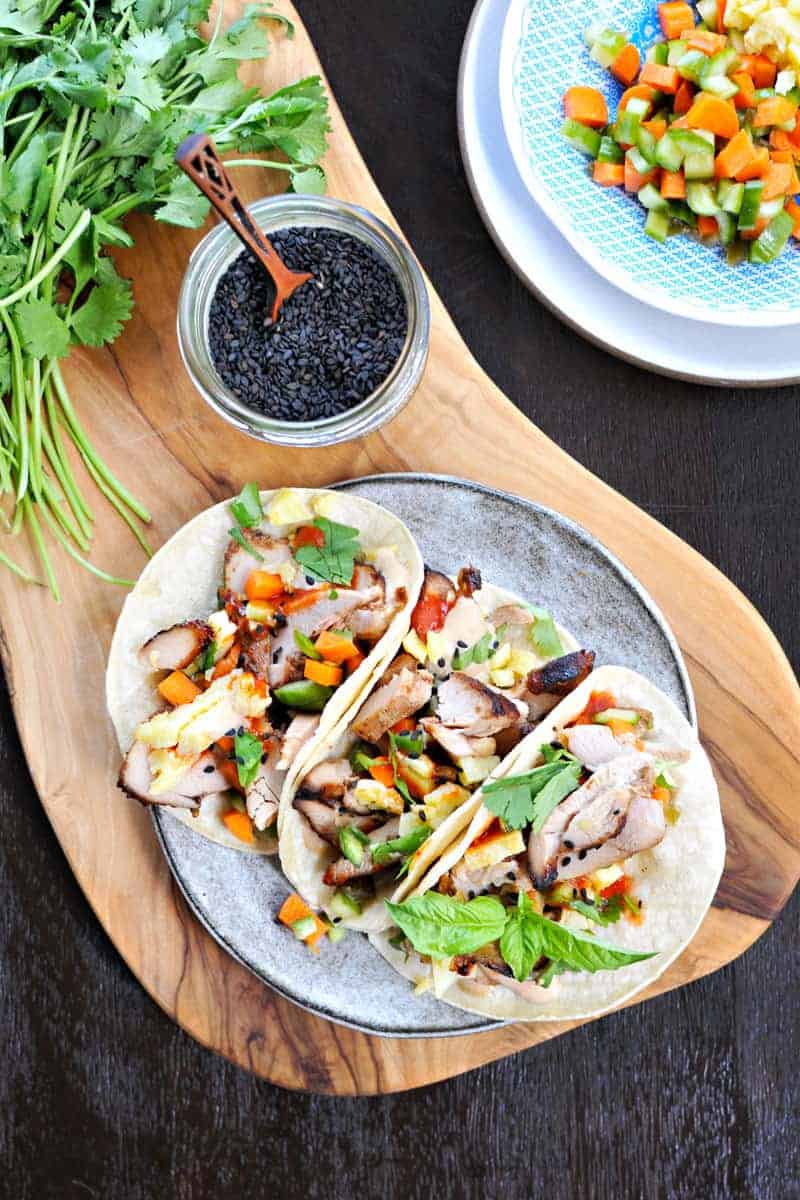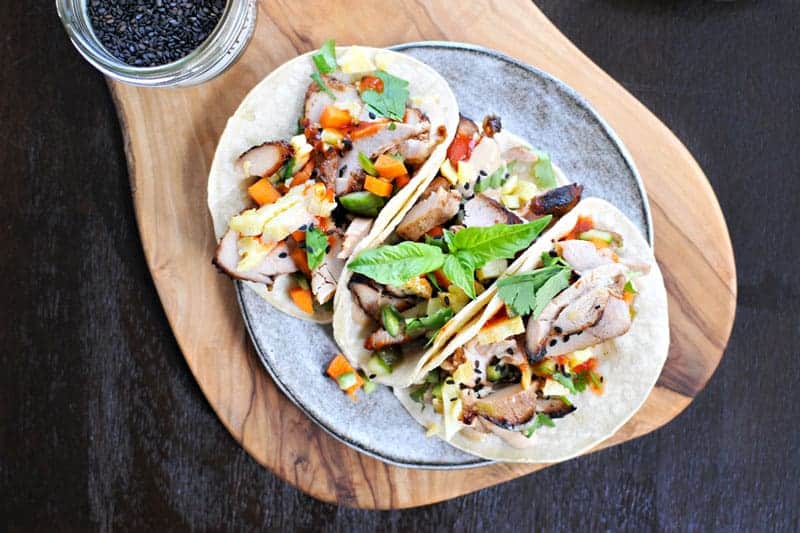 lemongrass chicken + tamago banh mi tacos with five spice mayo
Ingredients
For the Lemongrass Chicken
4-5 large boneless skinless chicken thighs
1 stalk lemongrass
¼ cup olive oil
¼ cup sherry or marsala wine
2 T sambal
2 T soy sauce
2 T agave
1½ tsp five spice
1 tsp garlic powder
1 tsp ginger powder
½ tsp sea salt
½ tsp black pepper
For the Tamago
3 large eggs
2 T water
1 T sugar
oil for the pan
For the Pickled Veggies
2 Persian cucumbers, seeded and finely diced
1 large carrot, finely diced
1-2 T pickled jalapenos, diced (to taste)
2 T pickled jalapeno liquid
2 T rice vinegar
1½ T sugar
¼ tsp salt
For the Five Spice Mayo
½ cup good mayo
1 T soy sauce
½ tsp five spice
For Serving
basil
cilantro
sriracha or other hot sauce of your choice
10-12 taquito sized corn tortillas (see note)
Instructions
Marinate the Chicken: Pull tough outer stems from lemongrass and trim off woody green tops. Using the back of a knife, thoroughly bruise lemongrass up and down the stalk, rotating it to address all sides. Quarter stalk lengthwise, then chop very finely. Combine chicken with lemongrass and all marinade ingredients and allow to marinate at least 2 hours or up to overnight.
Pickle the Veggies: Right around the time you're marinating your chicken, pickle the veggies by combining all ingredients in a sealed container or zip-top bag. Allow to "pickle" for at least 2 hours or up to two days before serving.
For the Egg: Up to one day in advance of taco time, scramble eggs with water and sugar. Allow to stand several minutes for sugar to dissolve, then scramble again. Heat a little oil in a nonstick skillet and add egg, swirling to cover pan's surface (like making an omelet). Continue swirling any standing egg to edges of hot pan to help it set into one large omelet. (Try not to let egg brown.) When egg is mostly set, clumsily roll it up from one side of pan to the other. Turn omelet out of pan, allow to cool slightly, and dice.
For the Mayo: Combine all ingredients. Bingo bango!
Broil the Chicken: Lift chicken from marinade and arrange on broiler-safe pan. (I like to use a ¼ sheet pan lined with foil.) Discard marinade. Broil chicken for about 10 minutes on one side, or until a nice char begins to develop. Then flip and broil for just a couple minutes longer, or until chicken is cooked through. For an extra crisp finish, flip chicken back to the first side for one more minute. Allow to rest 10 mins before roughly chopping.
Assemble the Tacos: Warm tortillas on a griddle or in the microwave for a few seconds (loosely covered with a damp paper towel to prevent them from drying out). Top each tortilla with a smear of mayo, chicken, tamago, pickled veggies and herbs. Top with more mayo and sriracha, if desired. Enjoy!
Notes
Cook time does not include the passive time during which the chicken marinates and the veggies pickle, but if you prep everything the day before, it's really as simple as broiling the chicken and bringing it all together. Oh yes, and I like my tacos in the style of street, so I choose the smallest little corn tortillas I can find (usually labeled taquito size, available at almost every Mexican grocery story in these parts), but any corn or even flour tortilla will do. Bigger torts will just result in bigger (but fewer) tacos.

*Gluten-Free Mod: use wheat-free tamari in the mayo and the marinade and choose gluten-free torts. Easy!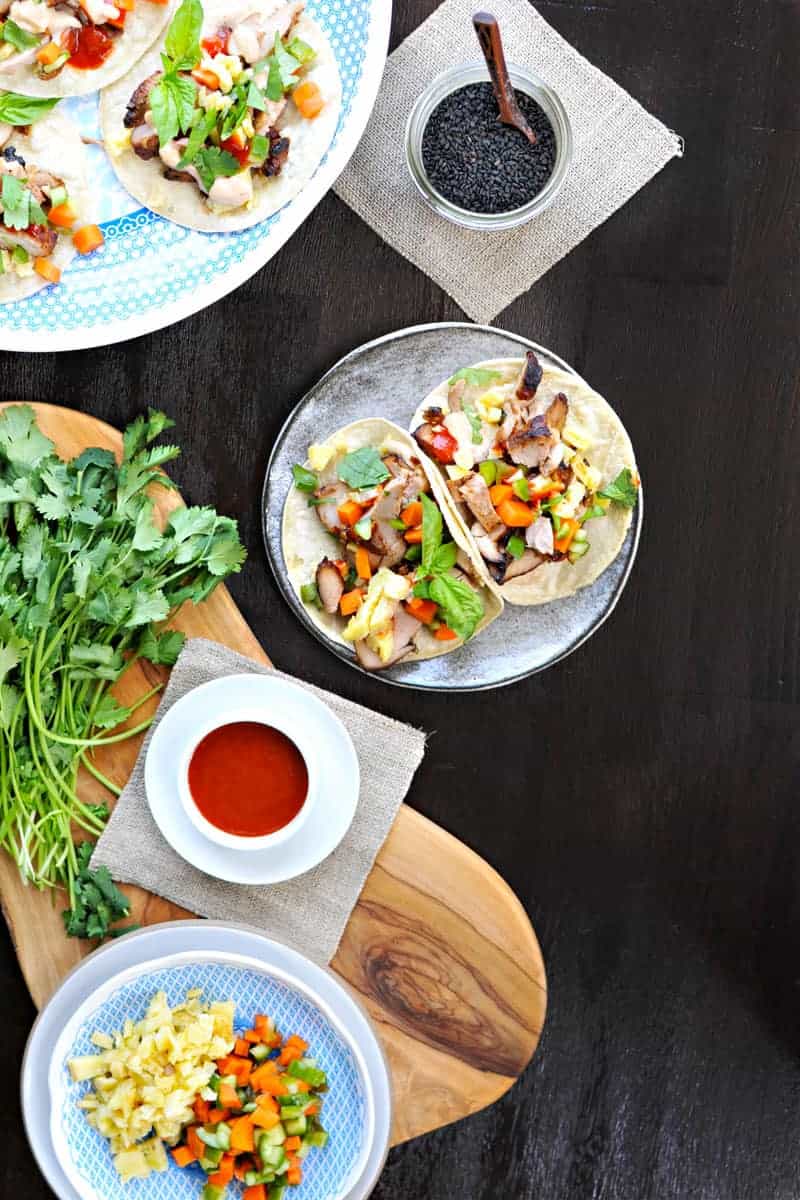 ————————————————–
OH! before you go…
Like whatcha see here — or have a question, feedback, or recipe hack to share? Join The Pig & Quill convo by commenting below (I love, luv, lurve comments) and hang out with me on Facebook, Twitter, Instagram and Pinterest. And don't forget to subscribe to P&Q emails or add me to your RSS reader with Feedly or Bloglovin' so you never miss a post. x's & o's!