Today I'm beyond elated to have Cynthia from Two Red Bowls generously pinch-hitting for me while I gorge myself on baby Lana cuddles (ok – more like baby Lana feeding. after feeding. aaaaafter feeding. someone takes after her momma…). I've adored Cynthia's culinary creativity (these biscuits + Chinese sausage gravy! this SPAMmy budae jjigae! those pineapple buns!) and distinctively styled photography since shortly after I joined the blogosphere, and her warm heart and sincere voice always keep me coming back to her space time and again. She's truly an inspiration! If you don't already follow Cynthia (you silly duck, you…), I implore you to check her out just as soon as you're done reading about the knockout bacon-studded soup and sammy combo she put together, below. And be sure to follow her on Instagram, Facebook, Twitter and Pinterest, too. With a wedding in the works for this summer — cue confetti pop/bride/blingy ring/hearty-eyes/more confetti pop emojis!!! — she's extra social media stalk-worthy these days. 🙂
Big hugs for the helping hand, Cynthia! And so many congrats on your upcoming nuptials. Yay!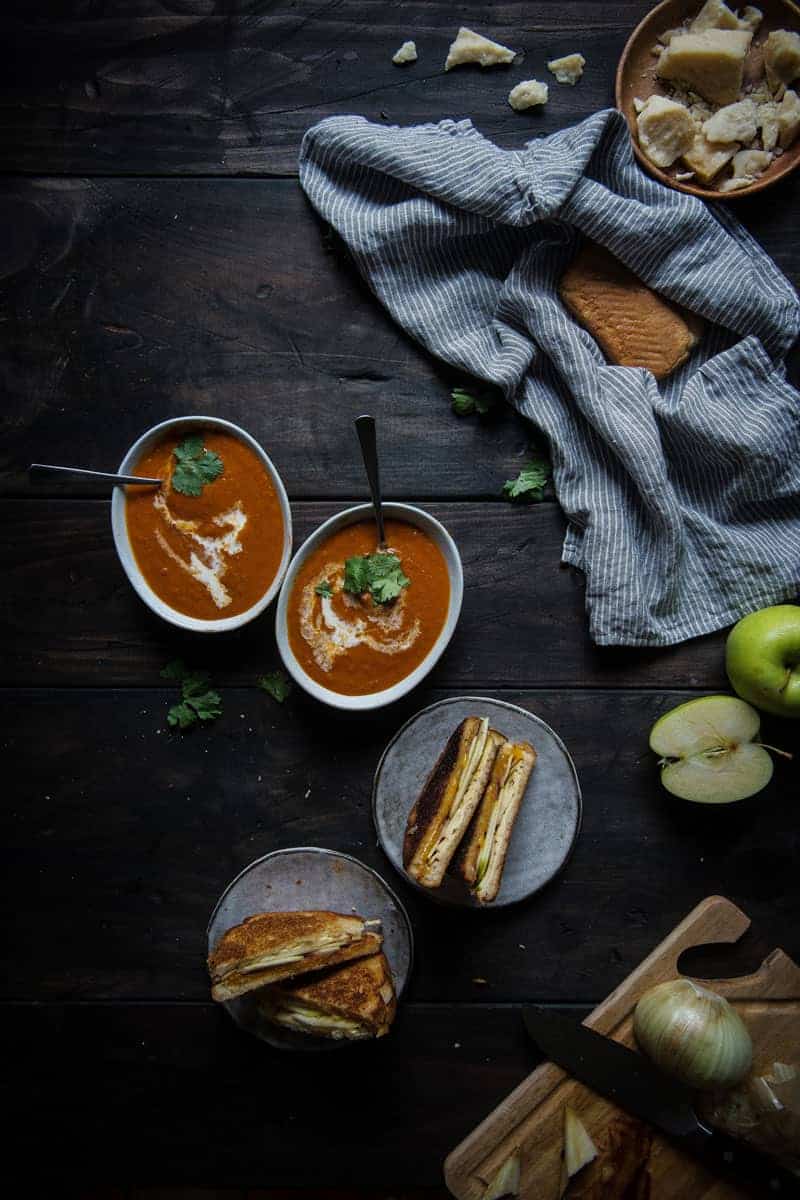 Hi friends! I am so, so excited and honored to be here in such a special time for P&Q. When Emily first asked me if I'd want to share a recipe, I jumped at the chance — now that she's welcoming her beautiful baby girl into the world, pretty much all I want to do is show up at her door with giant Ziplocs of ready-to-freeze casseroles and cuddles for Em and mini-Em. Since I'm a couple thousand miles too far for that (wah) this virtual meal seemed like the next best thing. It's got not one, but two hits of bacon (because a guest post for The Pig & Quill must have pig, after all) and some buttery-fried grilled cheese action, because Emily's way with cheese is a thing of genius that must be honored — just look at this waffled scamorza! Or these halloumi crisps. Or these prosciutto cheese straws! I could go on, but it's making me really hungry and tempting me to use way more exclamation points than are appropriate in a blog post.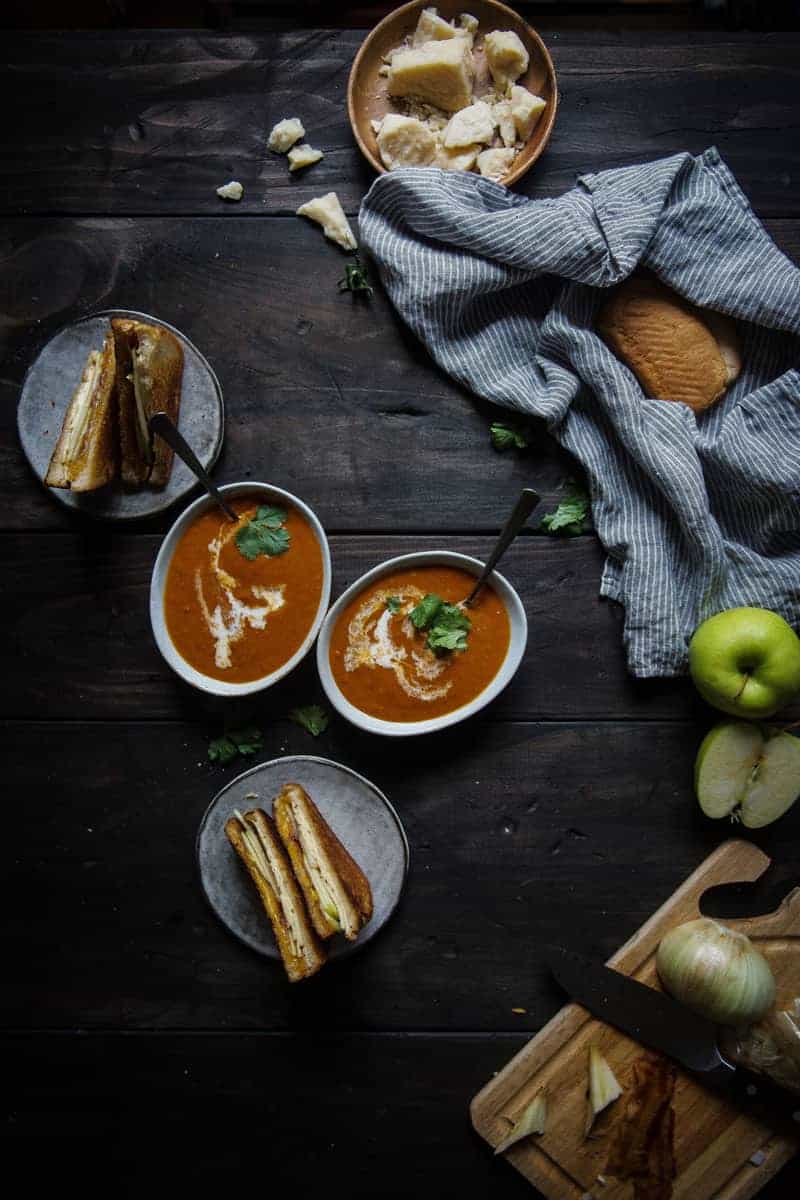 The bisque is a recreation of a favorite comfort soup of mine from undergrad at a place called The Loop — it packs a little more punch than a normal tomato soup from the bacon, but uses milk and Greek yogurt for its creaminess, so that it's hearty but still nourishing. The grilled cheese has a little less to say for itself in terms of nourishment, but … it has apples, so I'm gonna go with that. And really, the combination of smoked Gouda and cheddar with tart green apples and bacon makes it one of my favorite grilled cheeses ever. Sadly, the grilled cheese doesn't lend itself to make-ahead meals for a new mama, but I do like to dole out the soup into individual sandwich Ziplocs and freeze them for an easy lunch or snack on a busy day. And that at least seems fitting, because I have a feeling easy meals would be welcome in the P&Q household right about now.
So incredibly excited and thrilled for you and your new little one, Emily! I hope you're resting up as much as you can and enjoying every moment of this new ride.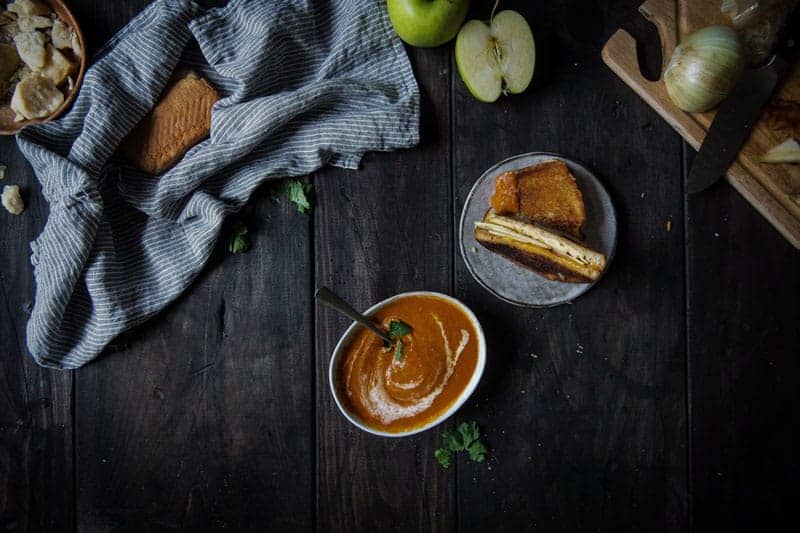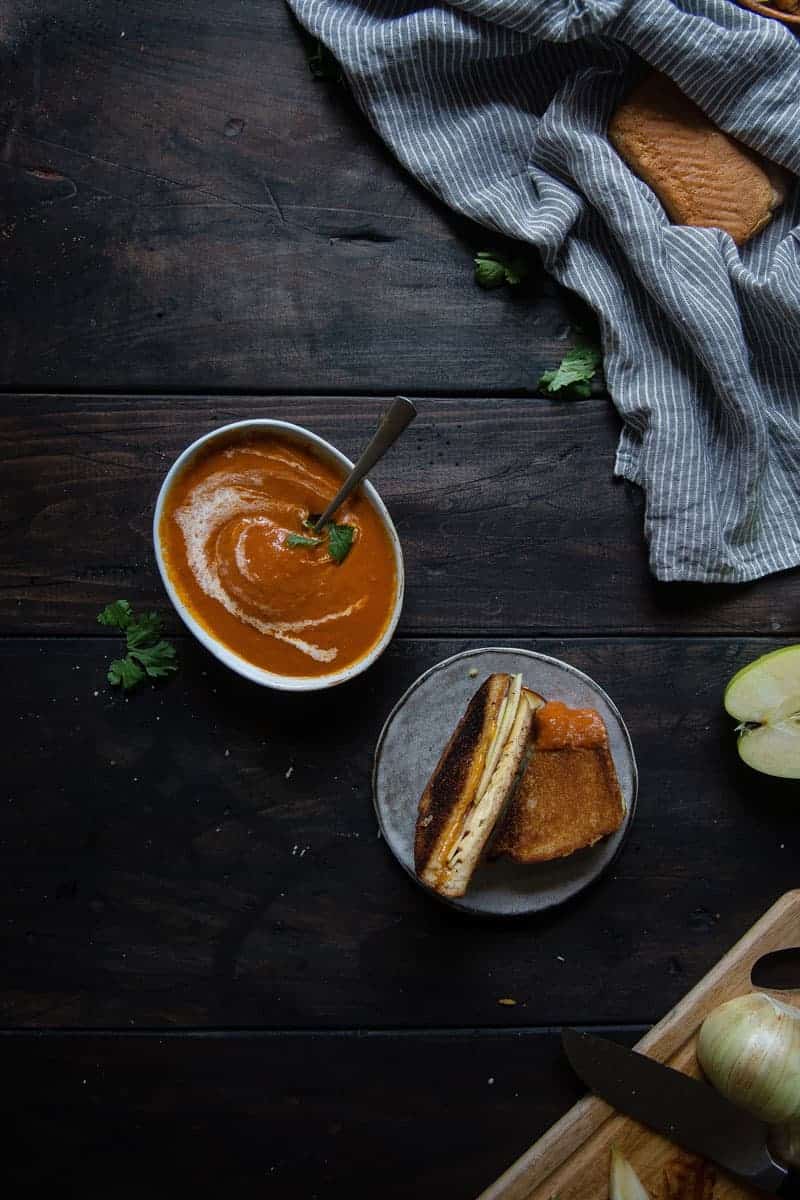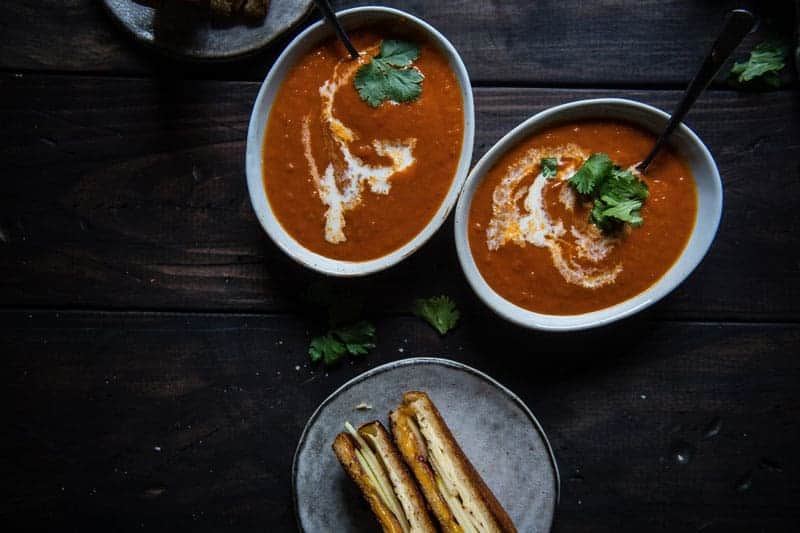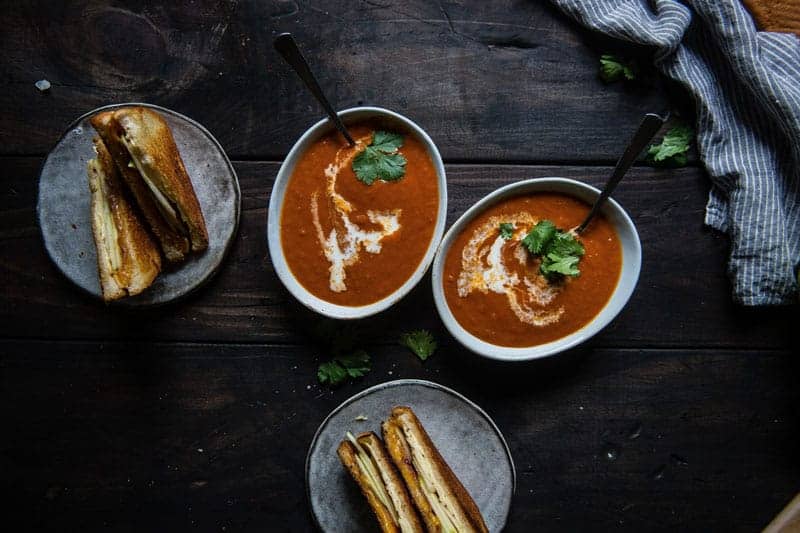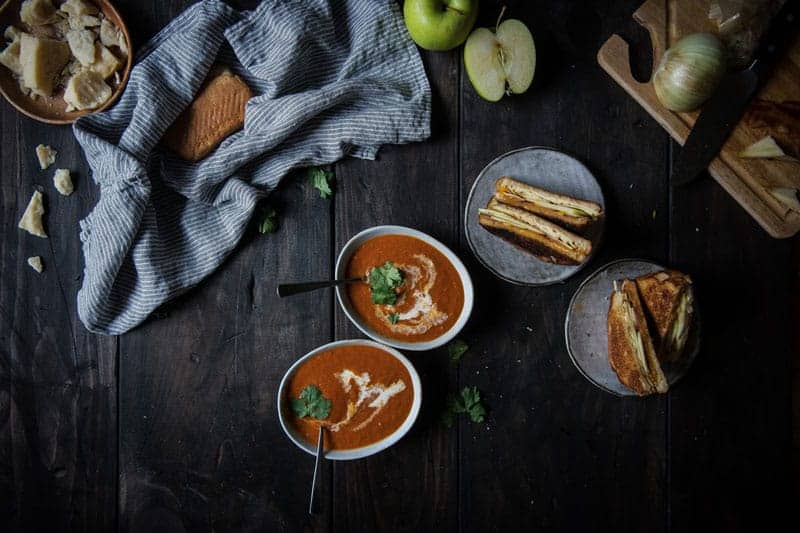 Tomato-Bacon Bisque
Ingredients
2-3 rashers (about 2 oz) bacon
1 tbsp rendered bacon fat, from above
½ cup diced onion
1-2 cloves garlic, minced
28 oz (1 large can) crushed tomatoes (or 2 lb fresh tomatoes, if in season)
1 tbsp tomato paste (optional)
1½ cups chicken stock, plus more for thinning if needed
2-3 tbsp grated Parmesan cheese
2 tbsp light brown sugar (or more, to taste)
2 tbsp whole milk (or heavy cream)
2 tbsp Greek yogurt
salt and pepper to taste
½ tsp finely chopped fresh thyme
½ tsp finely chopped fresh oregano
cilantro or parsley (optional, for garnish)
Instructions
First, prepare your bacon. (If you're making the grilled cheese too, you might want to prepare all the bacon at once in this step.) You can either panfry it on the stove or bake it -- I like baking for ease of preparation. To bake, place the bacon strips on a rimmed baking sheet (foil-lined, if you prefer) or in a cast-iron skillet, then pop them in a cold oven (no need to preheat) and turn the oven to 400 degrees. Let bake for about 12-15 minutes, until fat is rendered and bacon is crisp. The crisper the better for the soup -- it purees smoother.
Drain and reserve the bacon fat from the bacon strips; set the strips aside. Heat one tablespoon of the bacon fat (or however much you'd like to sauté with) in a large stockpot over medium heat. Add the onions and minced garlic, and sauté until onions just begin to soften. Crumble two rashers of bacon into the pot and continue to cook for 20-30 seconds more.
Add the tomato paste, crushed tomatoes, chicken stock, grated Parmesan, and brown sugar, and stir to combine. Turn the heat to low and let simmer for 30 minutes.
Turn the heat off. Add the milk and Greek yogurt, then use an immersion blender or regular blender to puree the soup until uniform in texture. Season with salt, pepper, thyme, and oregano to taste, and adjust the soup with chicken stock if it's too thick for your liking. If the soup is tart, add a bit more brown sugar and another splash of milk or cream. Serve hot, or let cool and freeze for later.
Notes
I find that this freezes well. I've never had the dairy separate on me, but if it does for you, just give it a stir when you reheat it -- and adding another splash of milk or cream when you do won't hurt anyone.

If you're out of chicken stock, water will work in a pinch -- just add a bit more Parmesan and salt to compensate, if needed.
Apple-Bacon Grilled Cheese
Ingredients
4 slices of your favorite bread
3-4 tbsp butter
1-2 oz sliced cheddar, to your preference
1-2 oz smoked gouda, to your preference
6-8 slices apple (or about ½ a medium apple, sliced)
3-4 rashers (about 3 oz) cooked bacon
Instructions
If you haven't yet, cook your bacon to your desired crispness and set aside.
Butter one side of each slice of bread, taking care to spread the butter to the very edges. Heat a non-stick or well-seasoned cast-iron skillet over medium heat, then place the slices of bread butter-side down. For each sandwich, layer the cheddar cheese on one slice and the smoked gouda on the other. Let cook until the bread is toasted and golden-brown underneath, and cheese is melted on top. Depending on your skillet, you may want to lower the heat to medium-low or low to prevent the bread from burning before the cheese is melted.
Add the bacon and sliced apple to one slice per sandwich, then flip the other slice on top of the bacon and apple. Press down slightly to get the cheese gooey and melted together, then remove from heat, slice, and enjoy immediately.
Notes
Editor's Note (from Em): The prep time accounted for here is for baking off the bacon. If your bacon is already ready to rock, these sandwiches come together in no time at all! Thanks Cynthia!
————————————————–
OH! before you go…
Like whatcha see here — or have a question, feedback, or recipe hack to share? Join The Pig & Quill convo by commenting below (I love, luv, lurve comments) and hang out with me on Facebook, Twitter, Instagram and Pinterest. And don't forget to subscribe to P&Q emails or add me to your RSS reader with Feedly or Bloglovin' so you never miss a post. x's & o's!