Hi fraaaaands! Back again today with another fun guest post, this time from superstar Steph of (award-winning!) I Am A Food Blog fame. As many of you already know, I'm an unabashed Steph fangirl; maybe it's her super saturated, uncluttered photography, for which I swear the foodporn hashtag was created; maybe it's her uncanny ability to whip up temptingly comfy, creative (and oft-Asian-infused — my fayvsies!) recipes that are truly accessible enough for real folk. 
Or maybe it's her knack for Totorofying all the things. Or authoring a fantastically tasty cookbook, Easy Gourmet, that will inspire many a weeknight meal. But most probably all of the above.
Real talk, once you check out Steph's peking duck poutine, below, I implore you to get to know her a little better over at her place — or, of course, on Instagram, Pinterest, Facebook and Twitter. If you can say no to her Chicken Fried Steak Bites, Shepherd's Pie Grilled Cheese, Crispy Cornmeal Pancakes with Clementine Syrup or Honey Garlic Eggplant, you're a far stronger soul than I!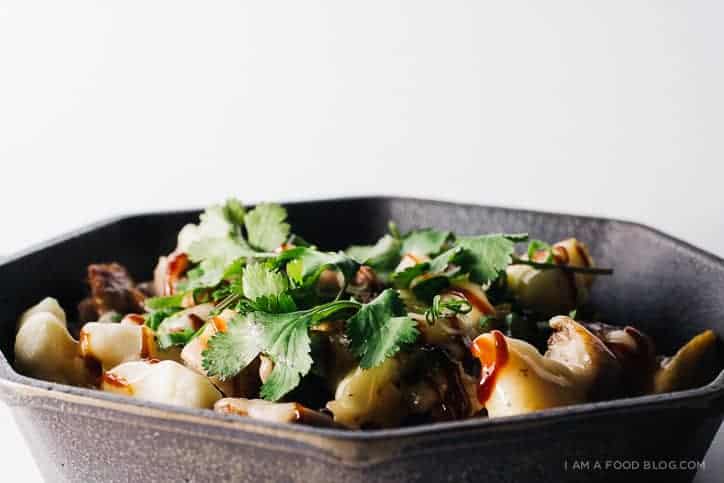 First off, congrats to Emily and Chris! They're both enjoying the deliciousness of new parenthood and I wish them the best with their tiny bundle of joy! Emily asked if I could come up with a quick lil recipe to celebrate and I came up with peking duck poutine.
For the uninitiated, poutine is hot and crispy french fries, cheese curds, and gravy. The heat of the gravy and french fries causes the cheese curds to soften just a bit – they don't exactly melt, they just get a wee bit gooey in a good way.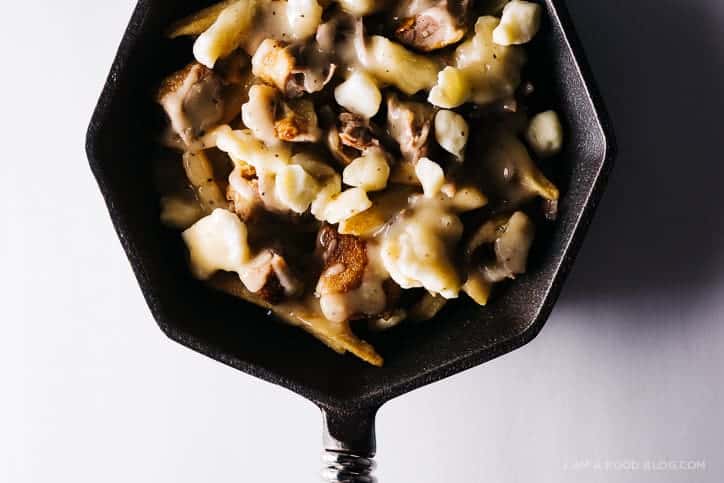 Regular poutine is awesome on its own, but throw some meat in and you've got yourself a complete meal! This "recipe" is incredibly easy. So easy that I'm almost embarrassed to call it a recipe, but I figured that most new moms definitely want a couple of easy "recipes" that they can throw together without worrying about actually cooking.
Please go with store bought duck, because why not? It'll give you more time to eat while binge watching Unbreakable Kimmy Schmidt (or taking care of your tiny baby). Bonus points if you buy the fries instead of baking them off yourself.
Again, yay to babies and french fries and gravy. I can't think of a more delicious way to celebrate!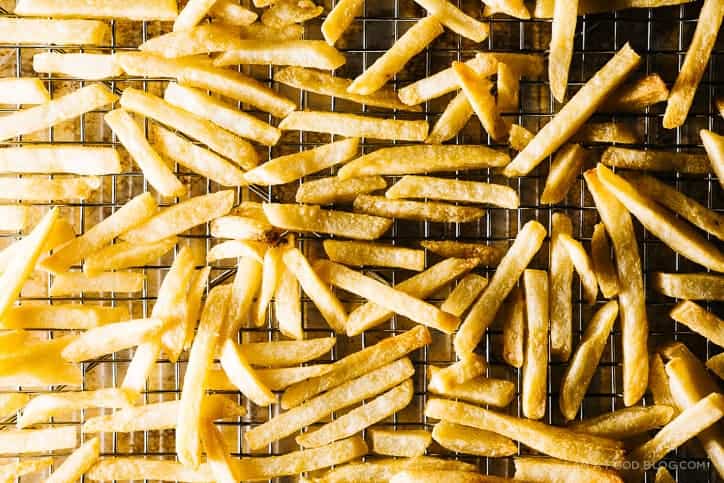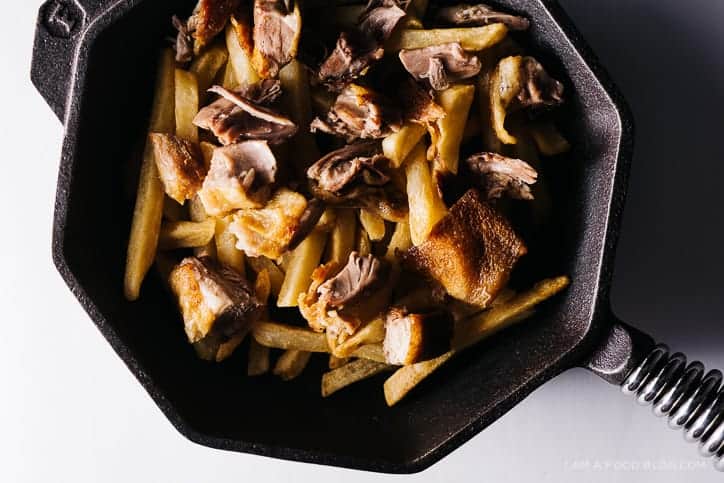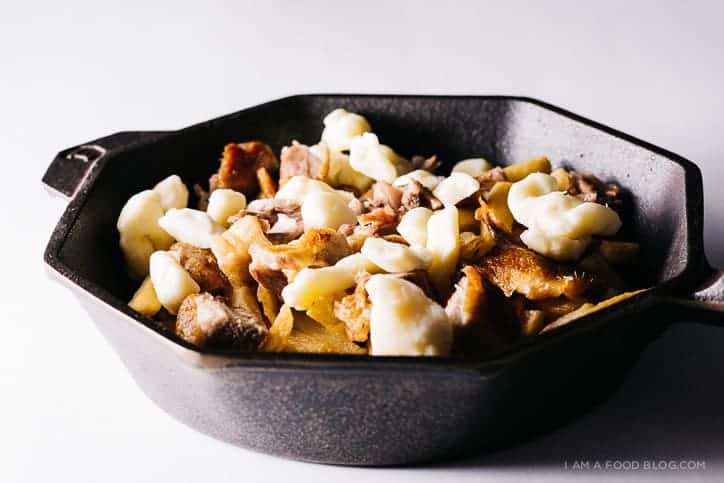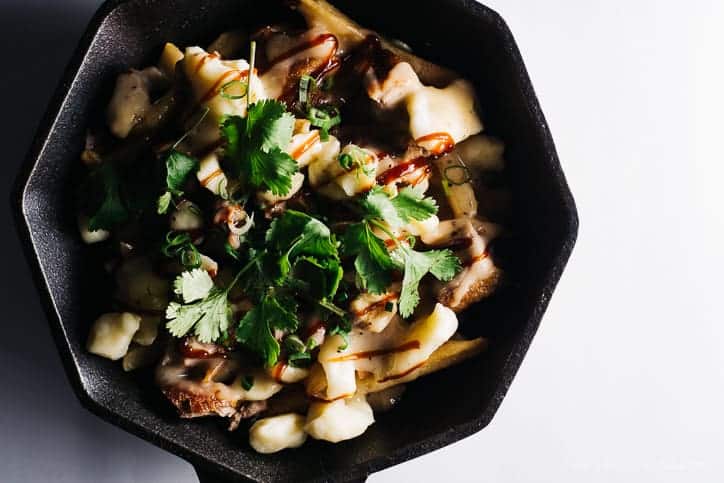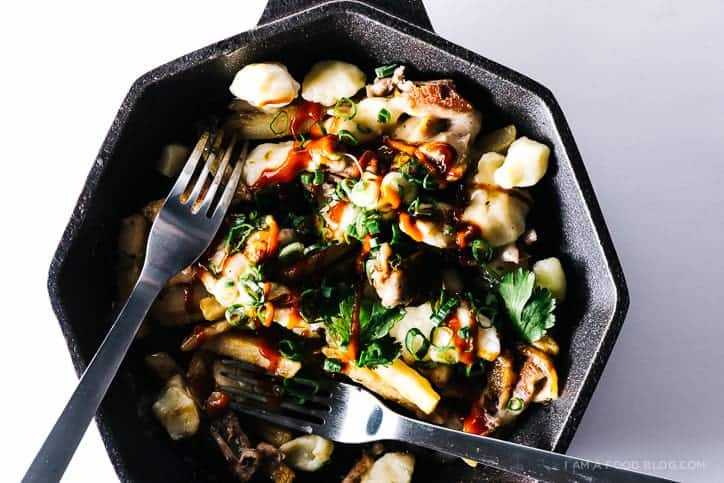 peking duck poutine
Ingredients
1 T duck fat
1 T flour
½ cup chicken stock
salt and freshly ground pepper
2 servings of hot fries
1 cup cooked duck, chopped or shredded
½ cup white cheddar cheese curds
1 - 2 green onions, sliced
handful of fresh cilantro, roughly chopped
sriracha, to taste
hoisin, to taste
Instructions
Start by making the duck gravy: melt the duck fat over medium heat. Sprinkle on the flour and cook, stirring constantly until the flour is incorporated, 2-3 minutes. Pour the stock into the pan in a thin stream, while stirring. Stir and bring to a simmer to thicken. Taste and season with salt and pepper.
Place the fries in an oven-safe dish. Top with the duck and cheese curds. Pour on the gravy. Pop the dish into the oven on broil for a couple of minutes, just to help the cheese curds soften and melt a bit. Remove, top with green onions, cilantro and a drizzle of sriracha and hoisin. Enjoy hot!
Notes
If you don't have duck fat you can use butter or any other type of animal fat. Just make sure the stock you use is super flavourful so your gravy is tasty!