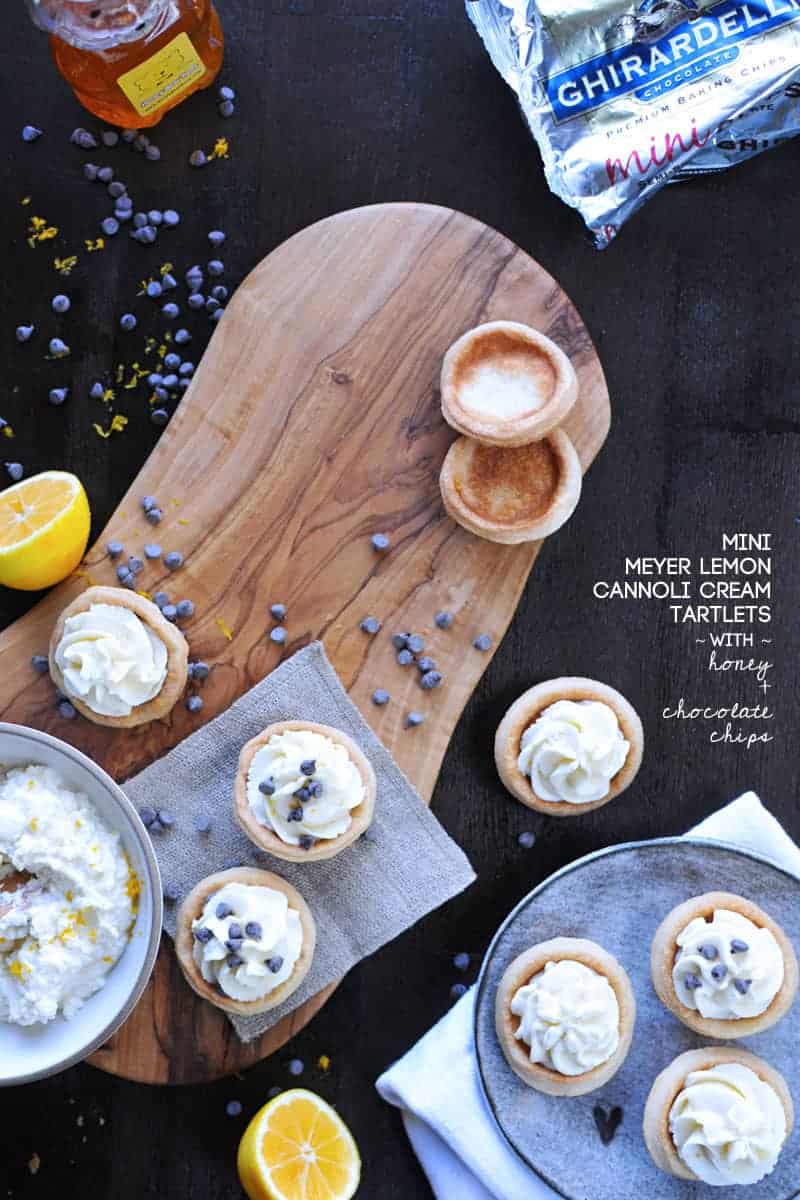 You guysssszsszzz! Mother's Day is this weekend!! Somehow that means it's FREAKING MAY ALREADY. Yikes.
And new this year: I totally get to participate in MoDay stuffies as a momma. Yikes Part 2. Or maybe Yay Part 1? Because crudsmugglers, this whole parenting thing is spectacularly spectacular in the full-blown, John Leguizamo-as-The-Magical-Sittar kind of way. It's at once beautiful and terrifying and easier and harder than I ever imagined and the last two weeks have passed in what I can only describe as a state of quasi-hypnosis. I've never been more fixated on another living thing. I've never been more fixated on my own boobs.
I've never had more pride in or respect for the moms in my life.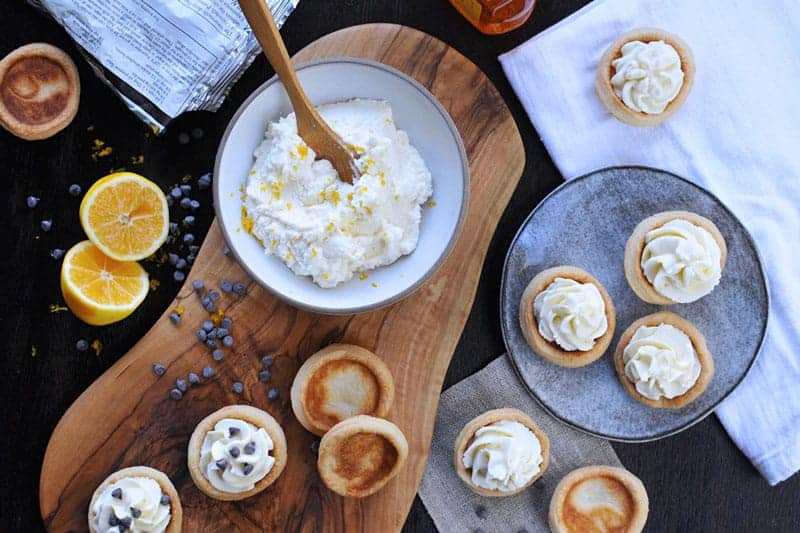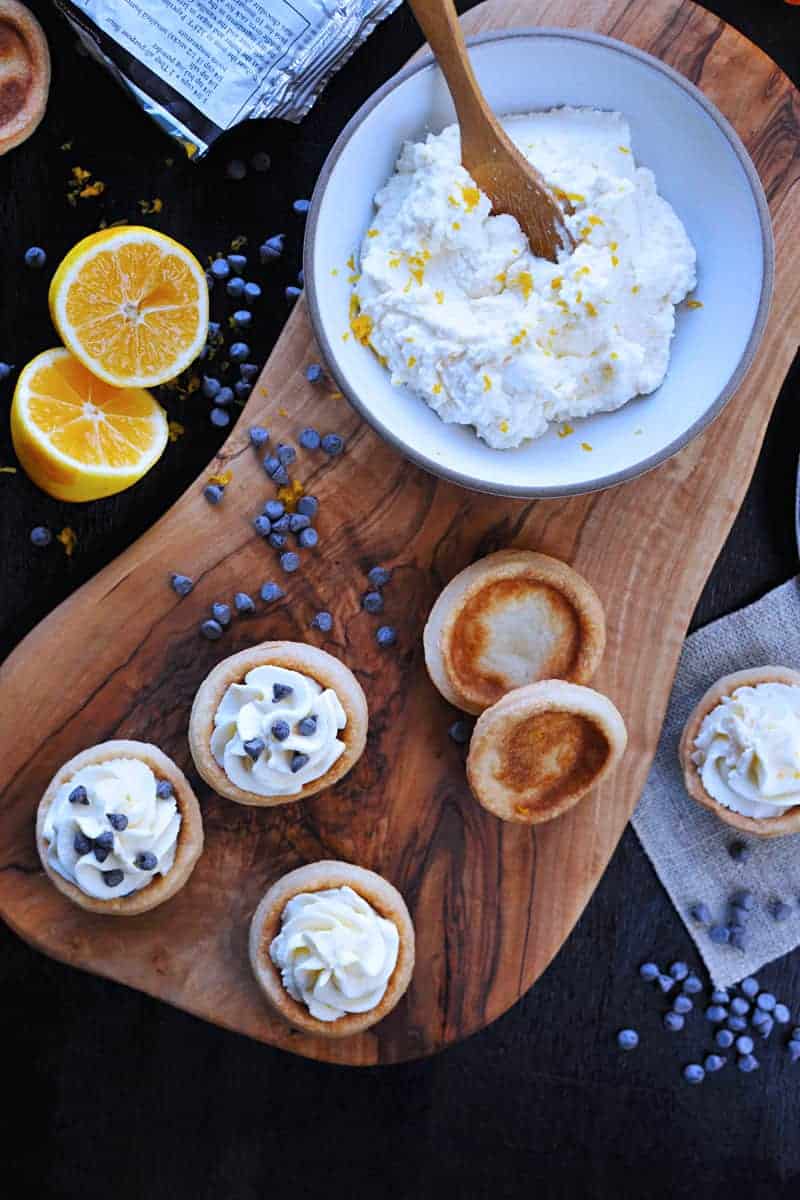 Speaking of moms, this Sunday, The Moms — who, blissfully, are buddies and actually elect to endure things like long car rides together — are making the trek to our place to spoil us with a feast of traditional family-style eats: chicken enchiladas and potato salad for Chris; Chinese sausage fried rice and BBQ pork ribs for me.
Boobs for Lana. (Sorry, husband. Gone are the days.)
If I can sneak into the kitchen between feedings (that is: stuffing both my own face and the piglet's), we'll wash everything down with these bite-sized pastries. As simple as store-bought pie crust cleverly baked into tiny tart shells (on the back of a mini muffin tin!) and piped full of decadent, honeyed cannoli cream. With Meyer lemon zest because we fancy. And mini choco chippies all over the plizzy.
SUUUR KYERRRRRT. I'll take 400.
Happy Mother's Day to all you beautiful mommas out there, including, of course Mommas Fong and Stoffel. We're so blessed to have your unconditional love, good humor and support backing the (now) three of us in all we do. I'm honored (and more than a little humbled) to join your ranks. ♥
xoxo,
Em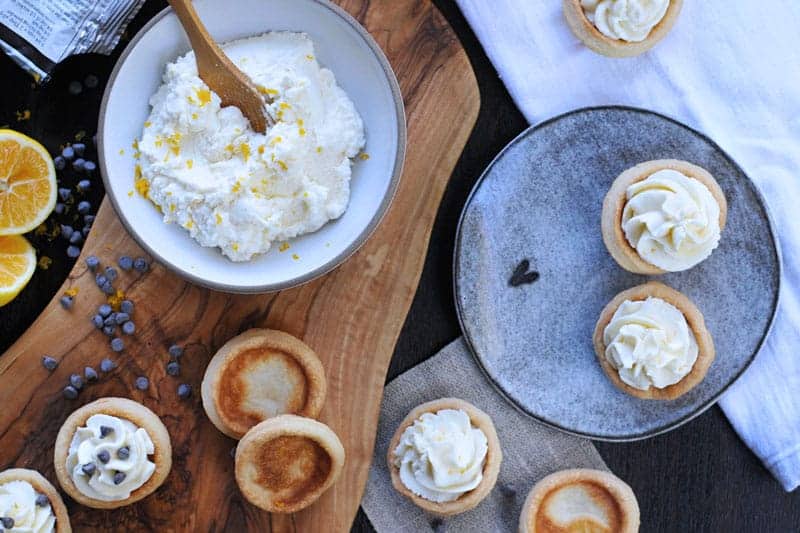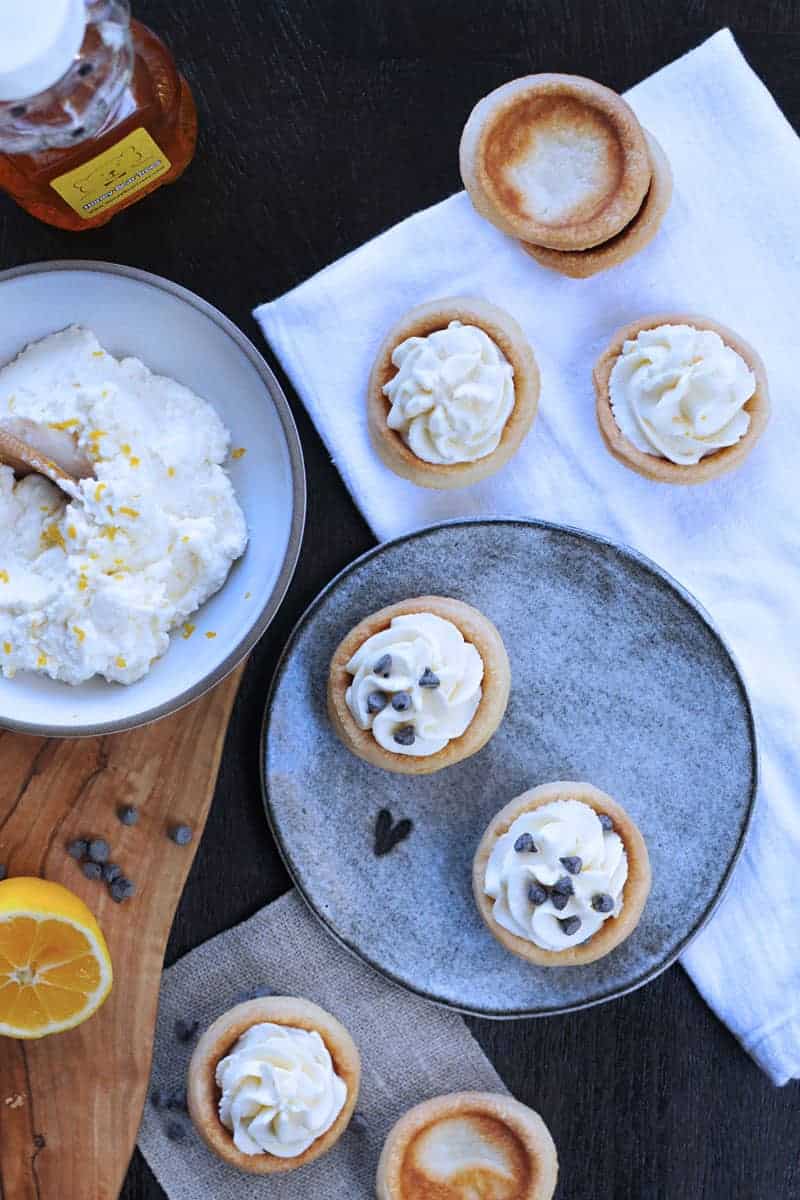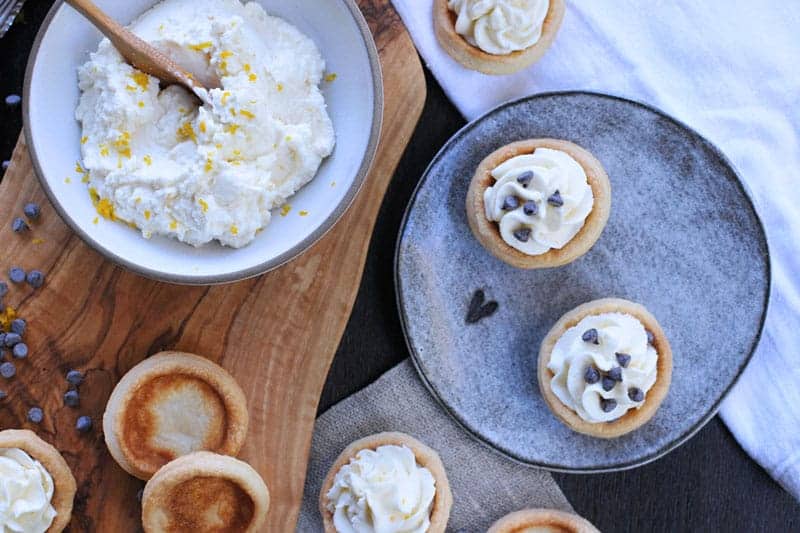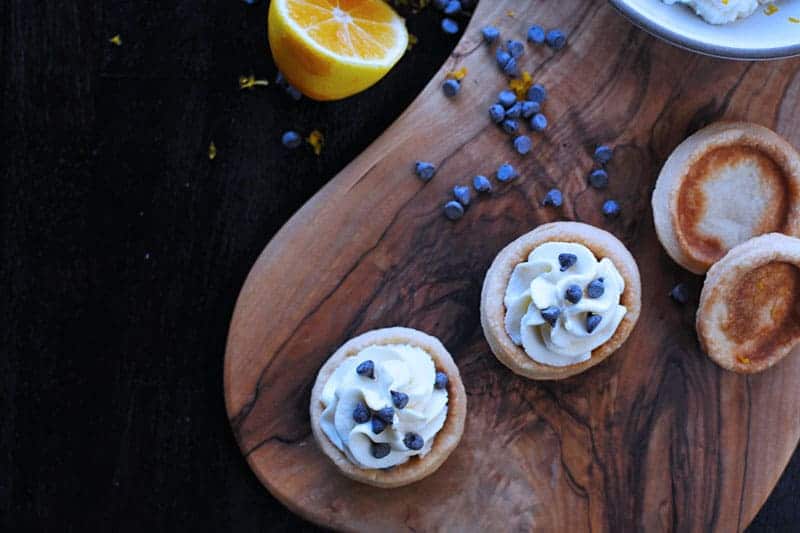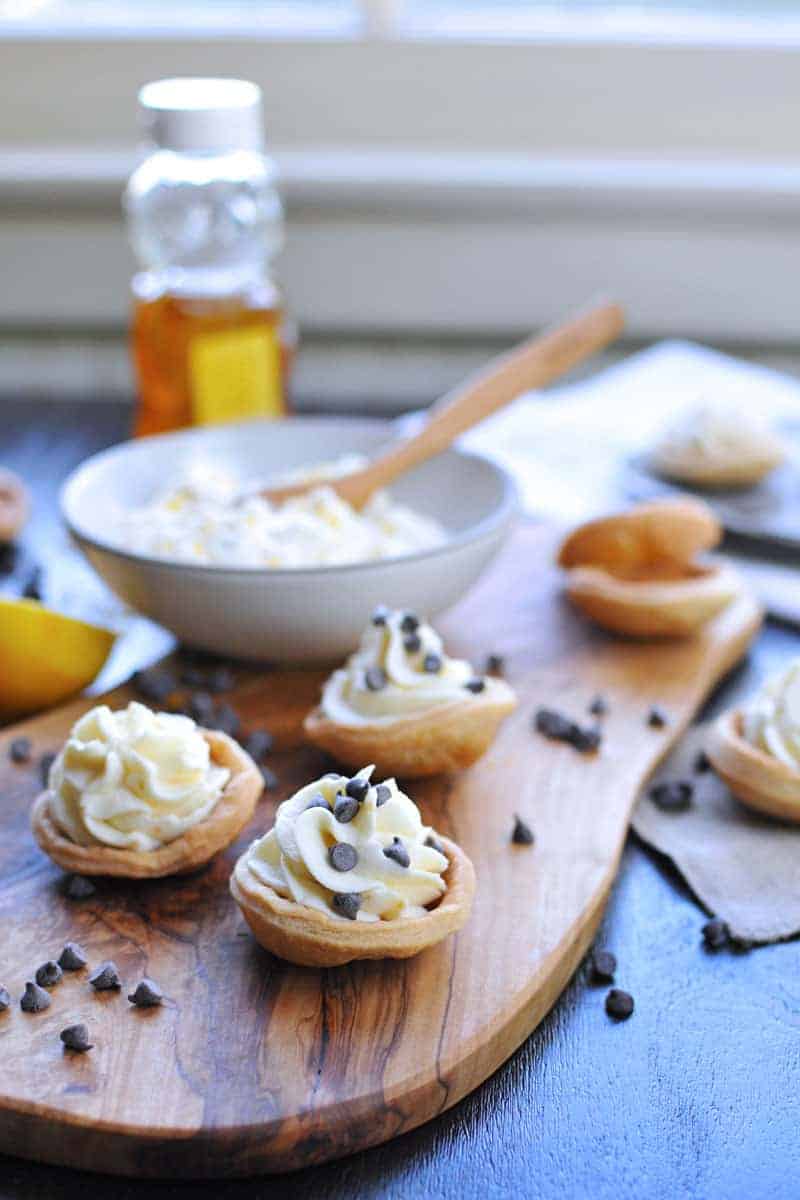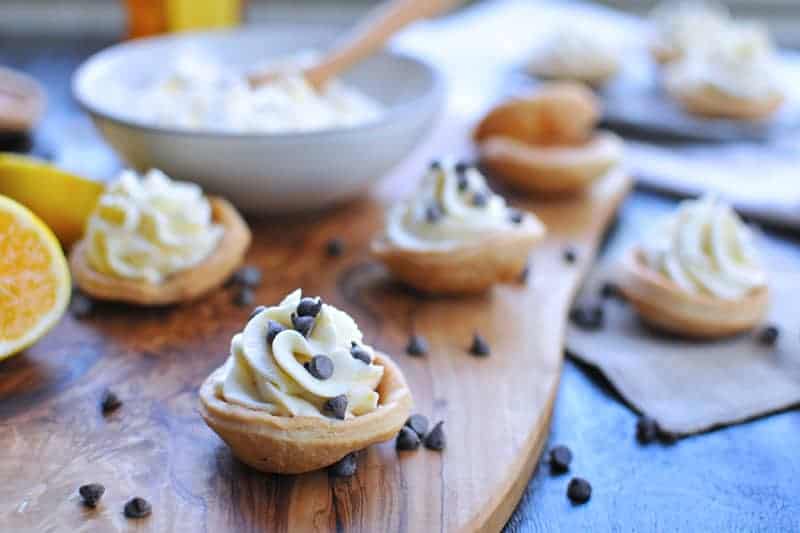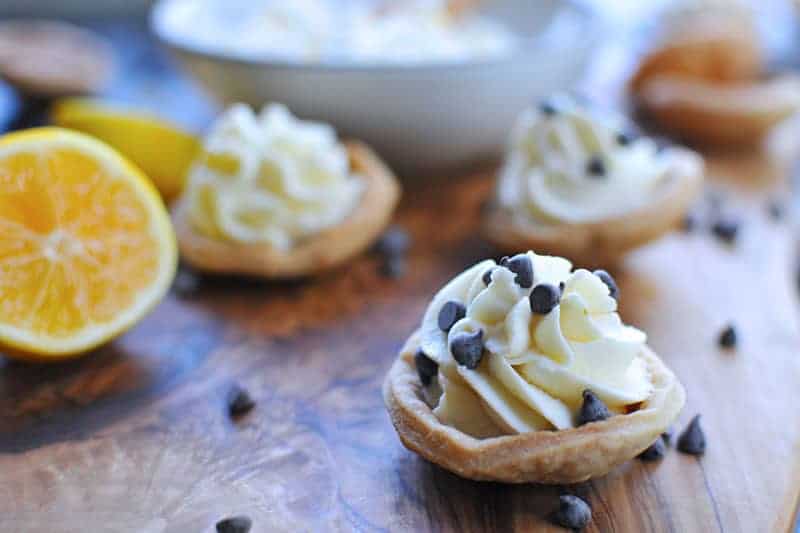 mini meyer lemon cannoli cream tartlets
Makes:
20 to 24 mini tartlets
Ingredients
8 oz whole milk ricotta cheese
4 oz mascarpone
2.5 T honey
zest of one Meyer lemon
mini chocolate chips
prepared pie dough (about 1 premade frozen crust, defrosted, or generous ½ lb favorite dough)
Instructions
Preheat oven to 450F .
To make the mini tartlet shells, roll pie crust out to about ⅛" thickness. Using a 3" (or so) biscuit cutter or drinking glass, cut dough into circles; re-roll dough and continue until all dough is cut into 20 to 24 discs. Drape circles over the back of an ungreased mini muffin tin, pressing them down lightly to form inverted cups. (If necessary, drape the dough over alternating cups to prevent shells from touching each other and bake shells in batches.) Bake for 7 to 10 mins or until shells are golden brown. Note: if you're using a dark nonstick pan, the underside of the shells will brown faster than the tops.
Allow shells to cool on the pan slightly before carefully removing them to cooling racks to cool completely.
While shells are cooling, mix ricotta, mascarpone, honey and Meyer lemon zest in small bowl.
To serve, spoon or pipe a small amount of cannoli cream into each mini tartlet shell. Top with mini chocolate chips. Enjoy!
Notes
This recipe is adapted from a classic Italian cannoli cream I fell in love when Chris' friend, Paolo, potluck'd it a couple of years ago. Clever fella that he is, Paolo served the cream dip-style with broken sugar cones for dunking -- a totally genius option if baking off tartlet shells is not your jam. Thanks for the inspo, Paolo! 😉

Both the cannoli cream and the tartlet shells can be made one to two days in advance. Keep cannoli cream tightly covered in the refrigerator; (fully cooled) shells can be sealed in an airtight bag and kept at room temperature. Composed tartlets also keep relatively well in the fridge for up to two days. So easy!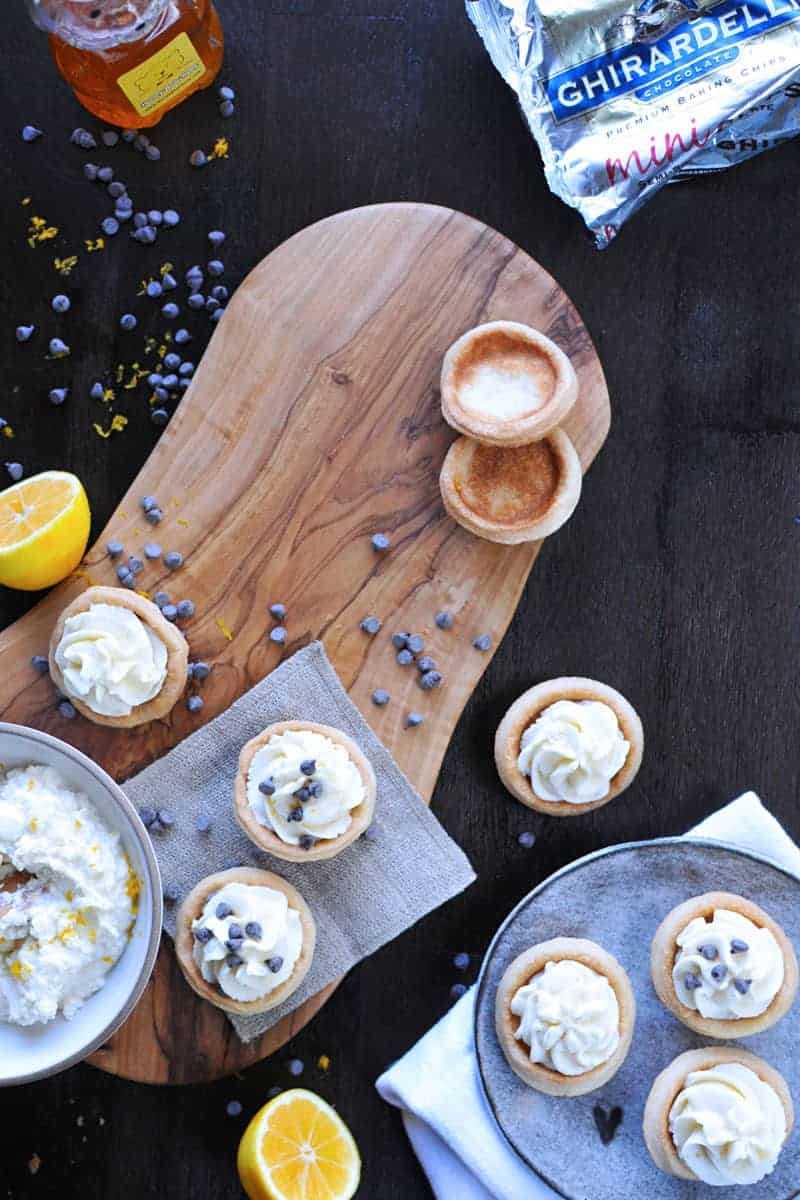 ————————————————–
OH! before you go…
Like whatcha see here — or have a question, feedback, or recipe hack to share? Join The Pig & Quill convo by commenting below (I love, luv, lurve comments) and hang out with me on Facebook, Twitter, Instagram and Pinterest. And don't forget to subscribe to P&Q emails or add me to your RSS reader with Feedly or Bloglovin' so you never miss a post. x's & o's!