Update: This giveaway is now closed. Thanks to all who entered!

Dudesies, it's Valentine's Day! And in honor of this, the most romantical of holidays, I felt like I needed, well, more than words…to show I feel…that my love for you is real. (Too…Extreme? Ha. Just me? Shocking.)
But seriously you guys: I've joined nine of my blogger buds to Share the Love by giving one lucky reader an incredible 14-Cup Cuisinart Food Processor! And it couldn't be easier to enter!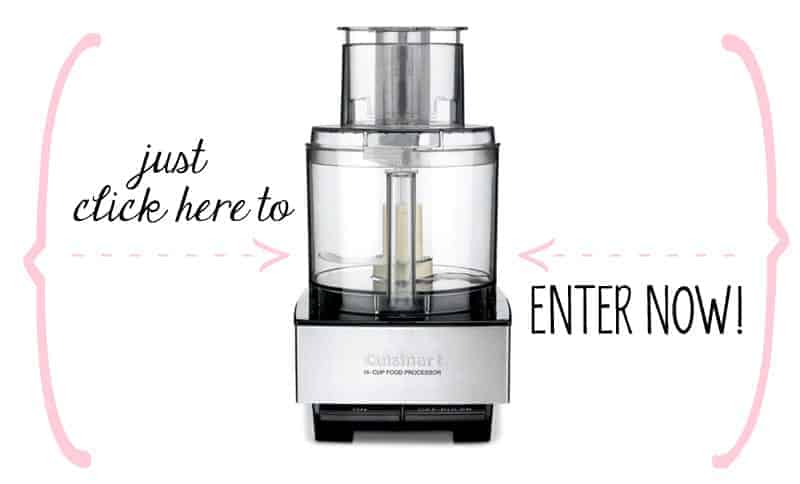 In case you didn't get that, alls ya gotta do is CLICK HERE to enter through Rafflecopter between February 14th and February 21st NOON on February 25th – simple! (Prize will be shipped within the continental U.S. Must be 18 to enter.)
And be sure to check out all the other lovely gals who are Sharing the Love, too, for even more chances to WIN (and some faboo food and lifestyle content, of course):
Alright! So now that we're done there — how are ya feeling about a reward recipe that'll put that handy new Cuisinart of yours to work? Coo.
How's about one that tastes like Strawberry Milk — in pie form?  There's even a cereal crust, you guys. CEREAL.
Do you see what's happening here? Cereal. Milk. Strawberries. All frozen together in happy oblivion. It's childhood in a Springform pan. And it's piyank. For Vaylentymes Diyay. Suuuurr spurshurr. It also requires very little hands-on time and more, uh, hanging-out-and-doing-nothing-in-the-freezer time, which I am totally cool with.
Wink.
Thanks for letting me Share the Love, friends! Big heart-shaped hugs all around — and good luck!
"Strawberry Milk" Icebox Pie
By Emily Stoffel
Cook time: 20 mins hands-on plus chilling | Serves 8
Notes: Clearly, I really dig the cereal element of this pie, because I really dig eating strawberries in my cereal and then drinking the lusciously pinkified milk afterwards. If that's not your cup of tea (bowl of milk?), a standard graham cracker crust would also be a good option here. But c'mon. Give it a shot.
Ingredients:
 5 cups Cheerios cereal (or similar; we used a multigrain variety)
1/4 cup brown sugar
1 stick melted butter (plus extra for greasing the pan)
2 cups strawberries, washed, hulled and quartered, plus extra for serving
1 can (14 oz) condensed milk
2 egg yolks
whipped cream and strawberries (for serving)
Instructions
Preheat oven to 350. Butter bottom and sides of a Springform pan.
Pulse Cheerios in food processor until sandy in texture. Add brown sugar and butter and pulse to combine. Spread crumbs evenly across the bottom of pan, using a drinking glass to press into an even crust.
Bake crust for 10-15 mins until golden-brown and toasty smelling. Let cool completely. (Alternatively, purchase a pre-made pie crust. Look at you go!)
While crust is baking, rinse food processor. Add two cups strawberries and process until smooth. Transfer strawberry puree to a medium size bowl and chill while you complete filling and crust cools.
In a small saucepan, whisk together condensed milk and egg yolks until steaming but not simmering, stirring frequently. Do not boil. Fold condensed milk mixture into strawberry puree and return to fridge to cool completely. Handily, your crust is probably cooling down at the same time.
(Watch an episode of something.)
Pour cooled filling onto cooled crust in Springform pan and FREEZE 4 hours over overnight, until filling is completely set. (It will be tacky to the touch but very firm.)
Immediately prior to serving, release frozen pie from pan, using a pastry cutter or spatula to carefully lift off base. Cut  pie into slices with a sharp knife and serve with strawberries and whipped cream all fancy like. Enjoy!
————————————————–
Like whatcha see here — or have a question, feedback, or recipe hack to share? Join The Pig & Quill convo by commenting below (I love, luv, lurve comments) and hang out with me on Facebook, Twitter, Instagram and Pinterest. And don't forget to subscribe to P&Q emails (see that nifty box up there in the right sidebar?) so you never miss a post. x's & o's!