Grilled Tofu Kebabs with Blueberry Chutney — a simple, grilled plant-based meal with a tangy, fruity chutney and bright herbs.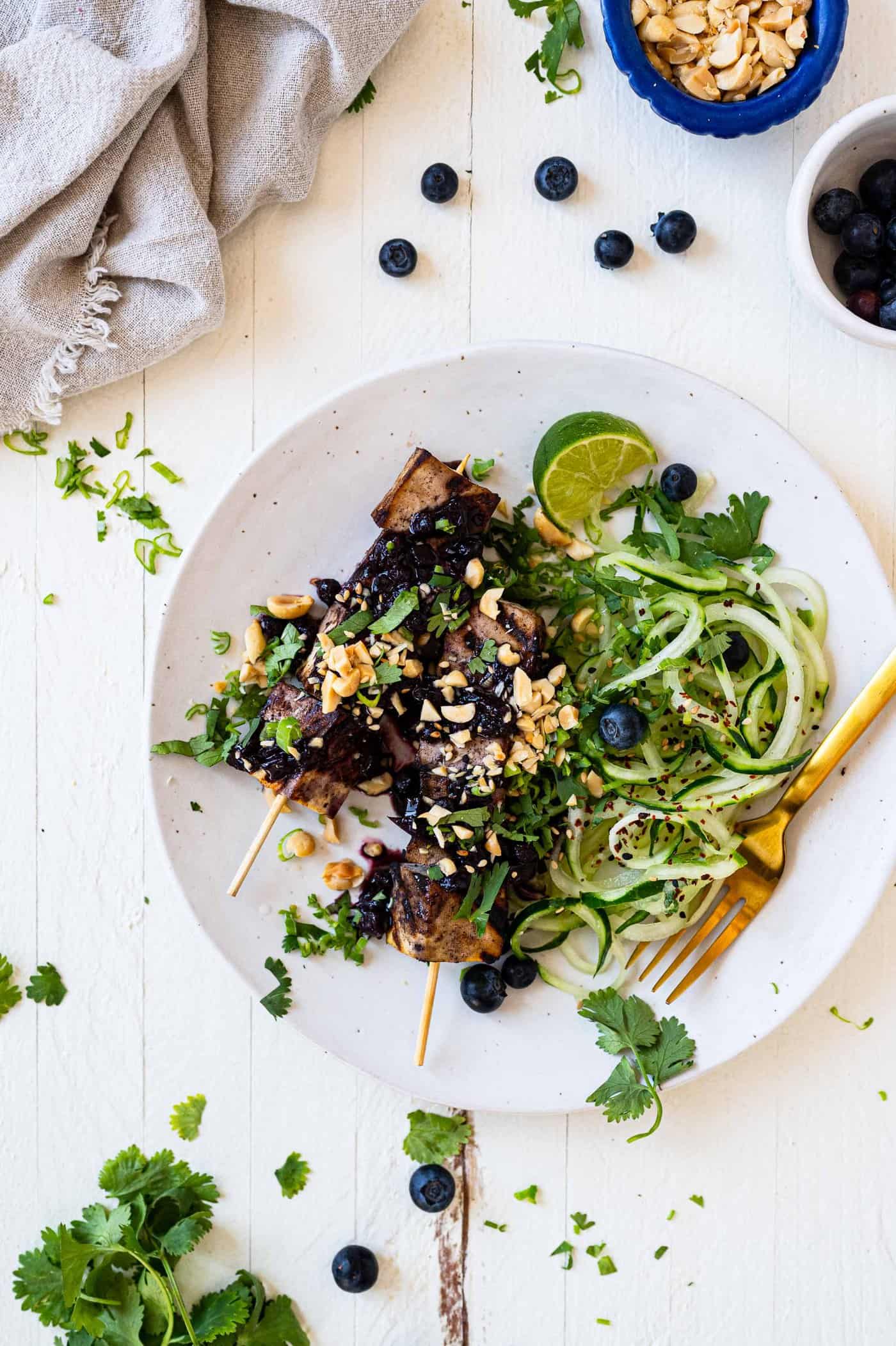 Well hey, guys! Been a while, but I'm sharing these Grilled Tofu Kebabs with Blueberry Chutney over on Nosh & Nourish today, and I wanted to give you a bit of a sneak peek here first.
I'm gonna be real with you for a moment: when Kelly approached me with the idea for a recipe that would marry blueberries + tofu, well — I was totally on team sweet. Visions of blueberry smoothies and vegan panna cotta and tofu mousse danced in my head — and maybe one day they'll dance to life, too — but there's something so very satisfying about going in the savory direction and having the results be so dang unexpectedly delicious. And simple, too. Because if you've followed me for any length of time, you know that's just how I roll.

What to Serve with Blueberry Chutney
If you've been holed up at home for the past few months, you'll appreciate the takeout-worthy flavors of these easy grilled tofu kebabs, too. Sure, they look pretty straightforward, but the blueberry chutney delivers such a wallop of unexpected flavor that you might just find yourself branching out and smothering it on a porkchop, or maybe some grilled halloumi. It's worth making up a batch and smearing it on a little fluffy pita or naan, too. Or here's a pro tip: smoosh a little on your pizza crust. You know when you get to the end of the slice and you're like if only this were a garlic breadstick? I mean, if you're me, you happily eat it anyway, but a little dab of this and it suddenly feels like you've got a little global fusion bonus snack on your hands. Trust me.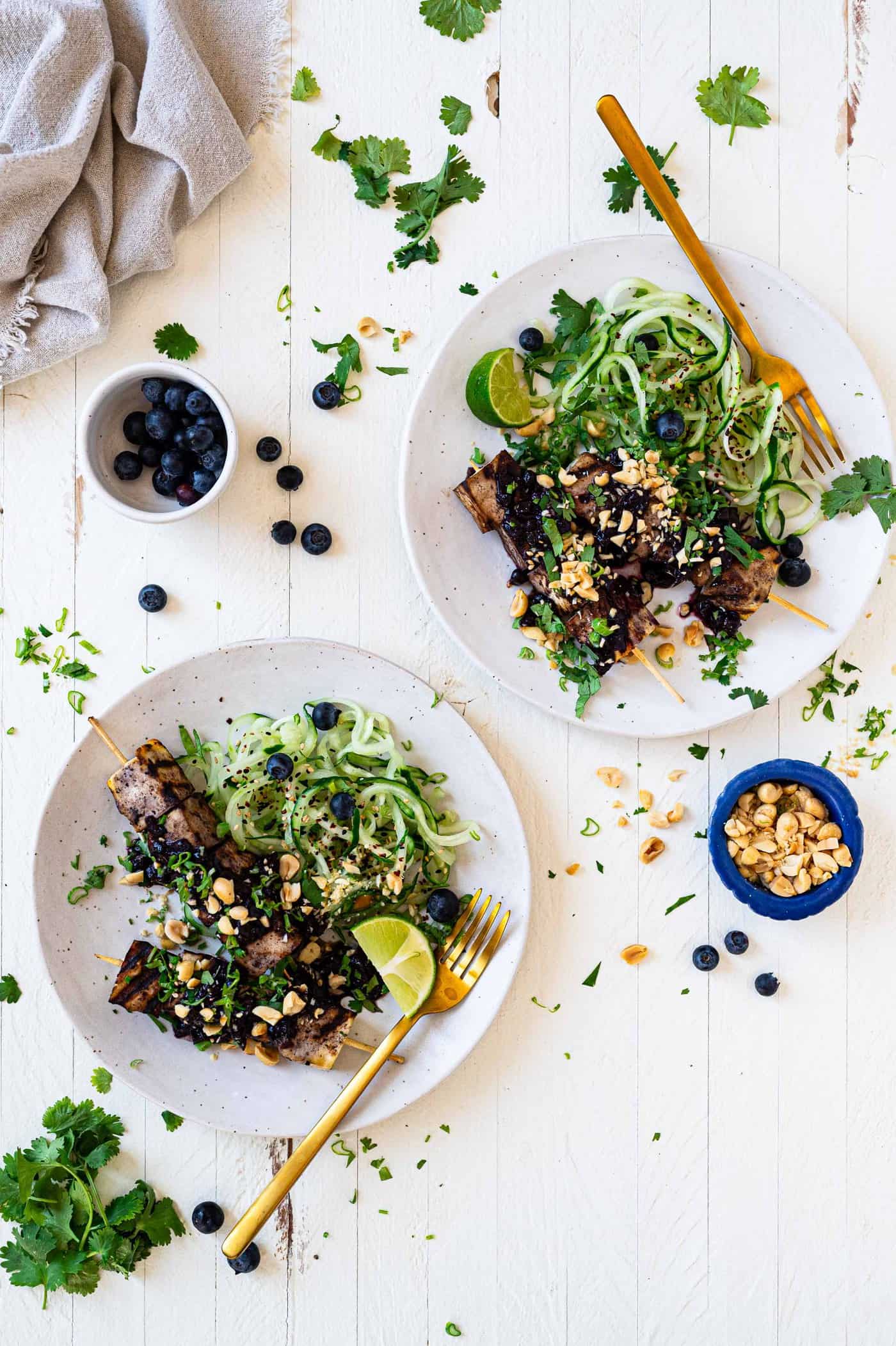 Pop over to Kelly's for the full low-down on what goes into this chutney (it's literally a dump everything into a saucepan and let it simmer situation) and how these kebabs come together. I even spill the deets on this little cucumber salad we've got going on alongside. Easy, refreshing — perfect summer meal.
Hope you're staying well, friends — healthy, sane and inspired amid what continues to be unprecedented times.
Cheers, as always!
Em
Like these Grilled Tofu Kebabs with Blueberry Chutney?
Be sure to check out: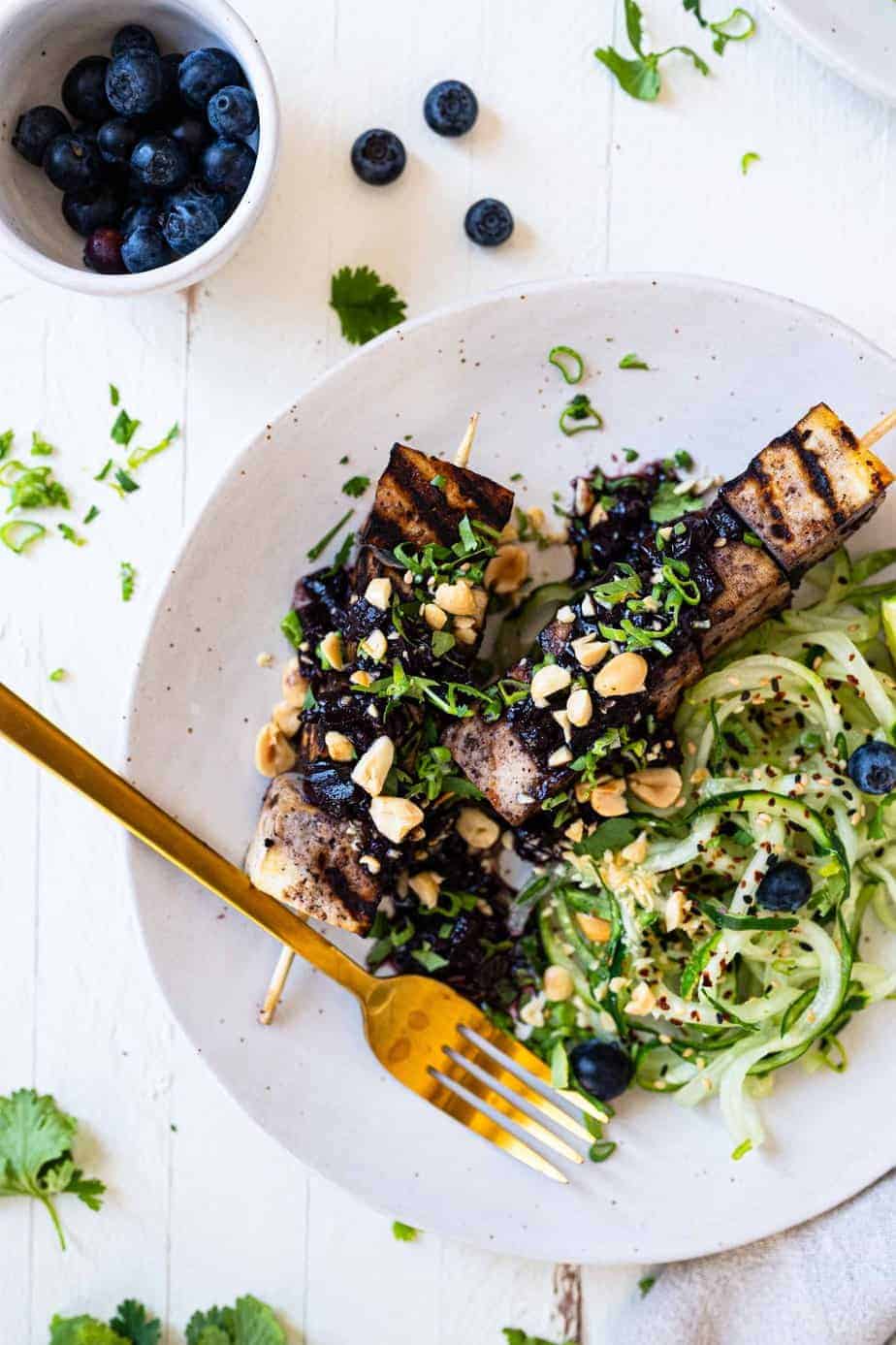 ————————————————–
OH! before you go…
Like whatcha see here — or have a question, feedback, or recipe hack to share? Join The Pig & Quill convo by commenting below and hanging out with me on Facebook, Twitter, Instagram and Pinterest. And don't forget to subscribe to P&Q emails or add me to your RSS reader with Feedly or Bloglovin' so you never miss a post. x's & o's!