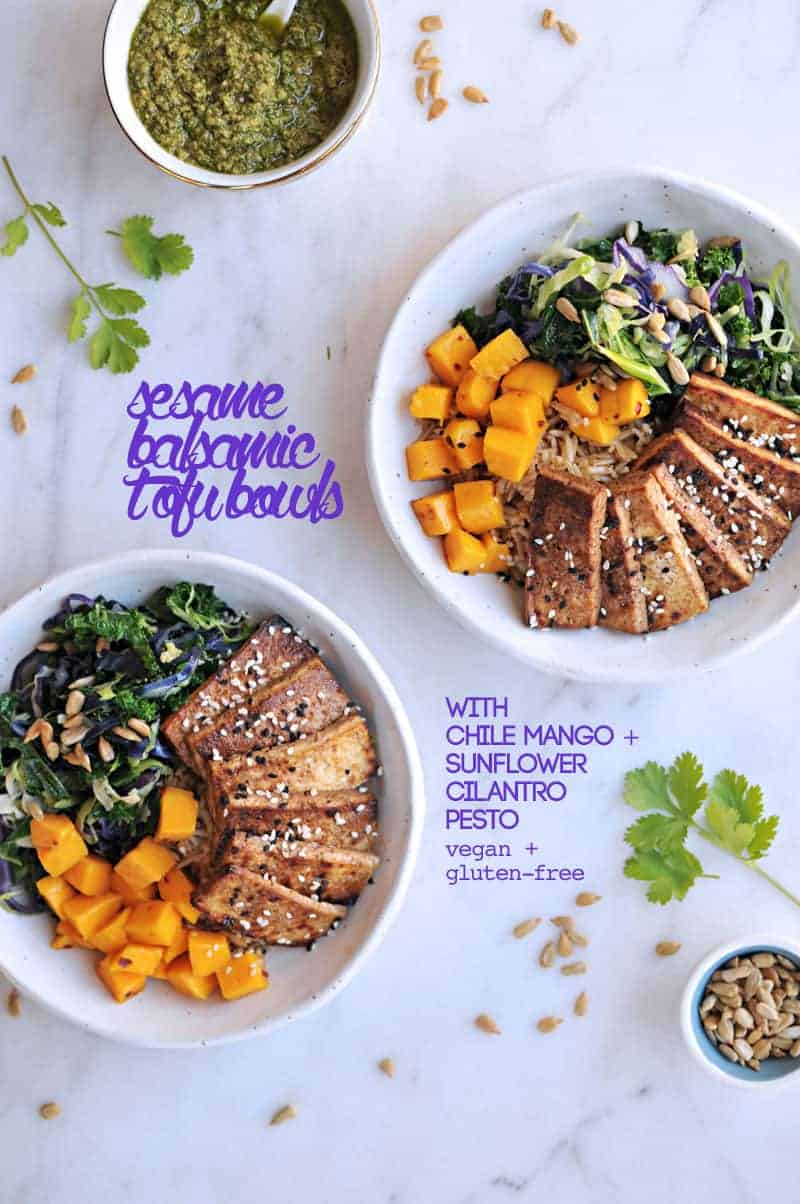 They don't yet know this (ok, well maybe they do now), but I am making it my personal mission to get my in-laws fully aboard the tofu train. Not because I'm a super yooge advocate of soy protein or anything (here's where I'll remind you that we're an all-things-in-moderation household), but because I've met me a tofu — many tofu/tofus/tofi? in fact — that are off-the-charts tasty, and I'm just not sure they've had the pleasure.
Ok, I'm certain they've not had the pleasure, as evidenced by my mom-in-law meticulously removing tiny cubes of gauzy tofu from her fried rice. (To be fair, it was decent store-bought fried tofu — nothing offending to a tofiend like me, but not at all the poster child for Tofu: It's Better than It Sounds. Which it so can be. And these bowls are proof.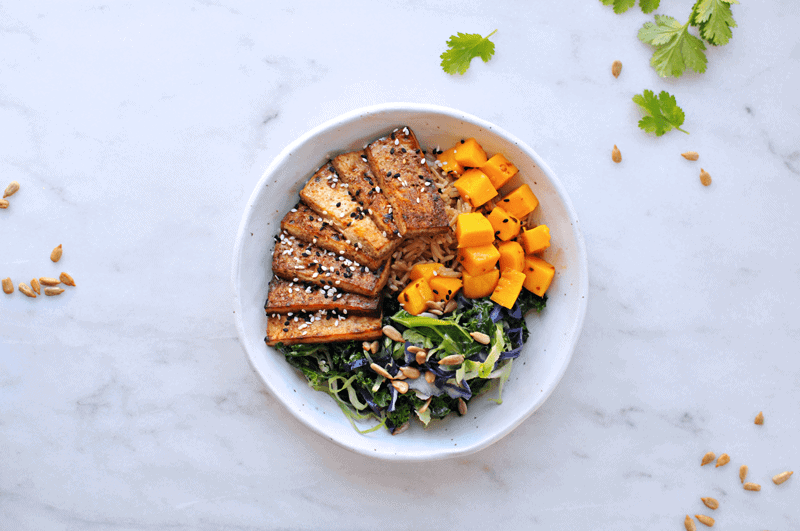 While it takes a minute to marinade (ok, lies. it takes, like, 240 minutes…), the actual cooking portion of this tofu is so blissfully short. Eighteen minutes, to be exact, and that's largely hands-off time during which your sweet little army of tofu soldiers become tender and puffy and crisply-edged under the broiler. In that respect, this is tofu super similar to these crispy little nuggets, except that, in place of a generous coating of spice, it's bathed in this sweet, savory and faintly hot dressing type thing that permeates those spongy little soy babes through and through and aids in achieving the optimal nutty-brown-exterior-meets-creamy-tender-interior-ness that is so key in the Getting the In-Laws On The Tofu Train Game.
Side note: maybe I should ditch that game for the Improving Sentence Structure Game or the Simplifying Elaborate Descriptions Game or the Staying On Topic Game.
What I'm saying is: should I lob my hair? But then I'll just want it long againnnnnnnnnnn.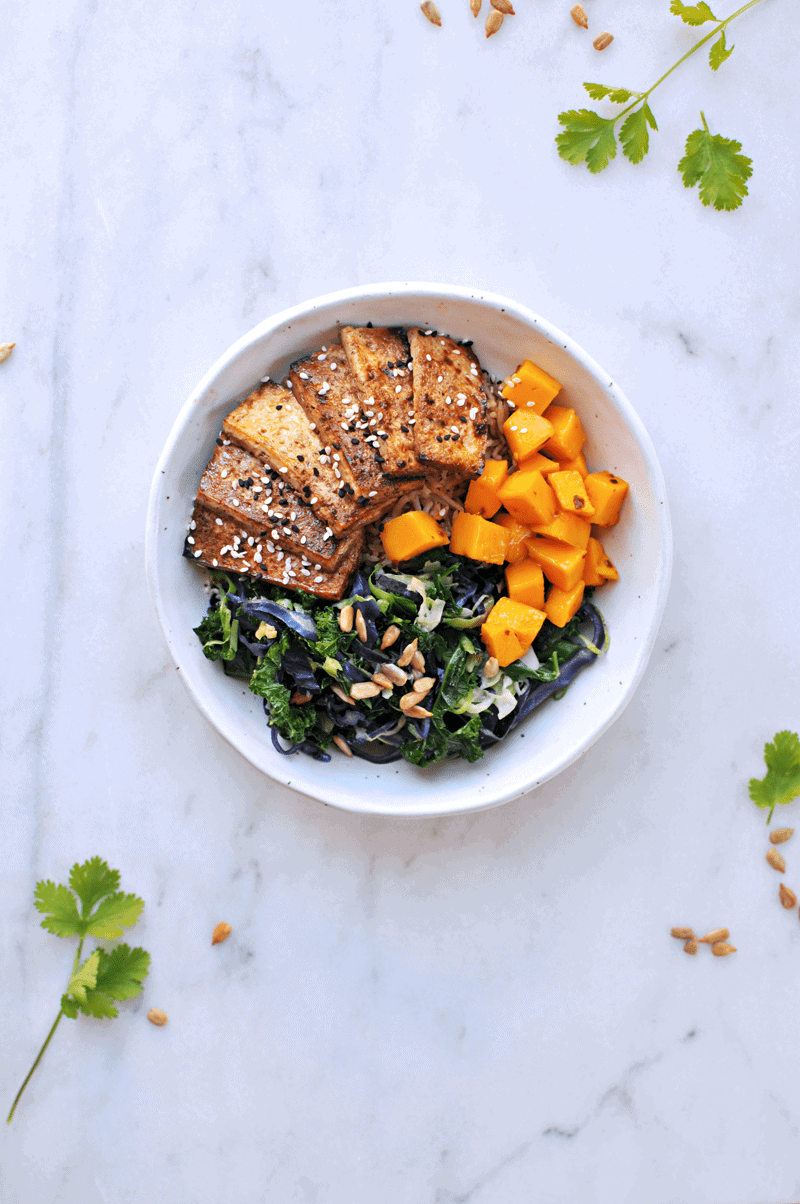 Anyway, these bowls. We've talked about the tofu, which is so good on its own, you guys, I promise. Put it on salad or layer it into a sandwich or eat it cold out of the fridge for breakfast. Whatever. But if you really want to paint the whole picture, add a little spicy, quick-pickled mango; some sautéed greens for color/crunch; and — my favorite part! — an unapologetic draping of bright, nutty pesto. YES, PESTO! With Tofu! And Mango! These are some phenomenally satisfying, weeknight-friendly, global flairy eats.
And they're coming for ya, Stoffels. Get ready. 😉
xo!
Em
p.s. In case ya missed last week's post, this Creamy White Miso Cauliflower Soup with Candied Furikake Prosciutto hugs ya in all the right places. 😉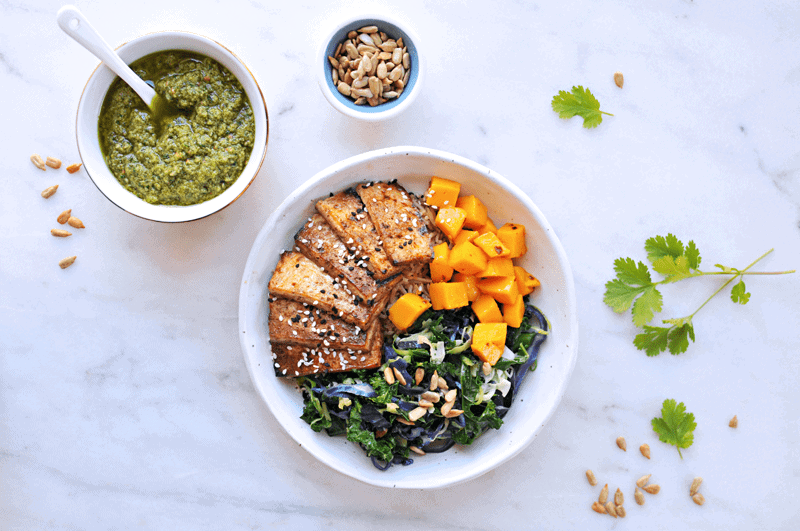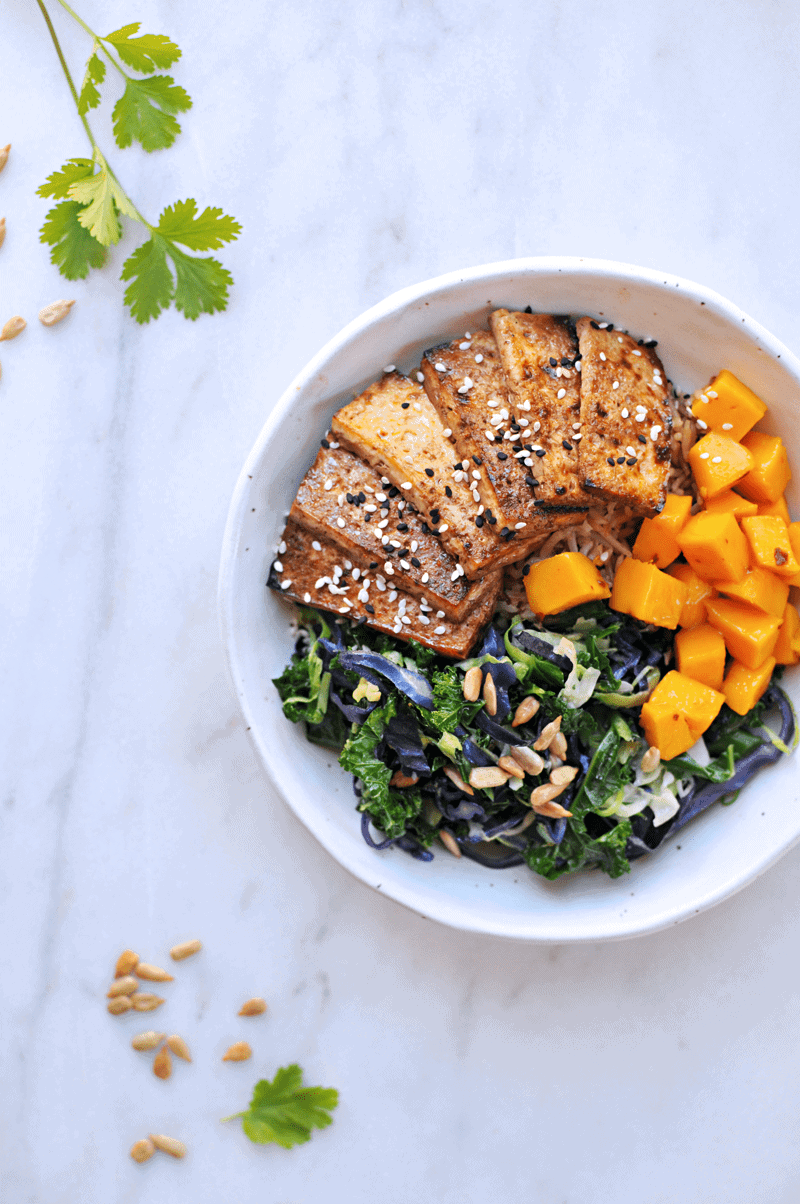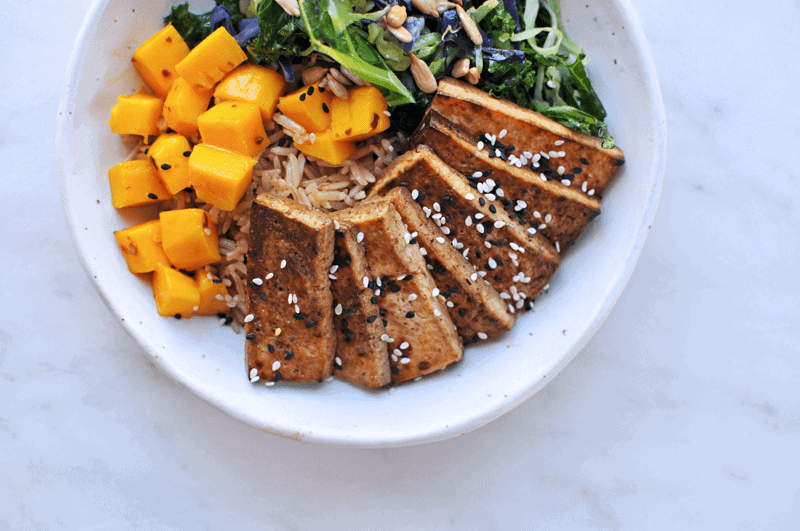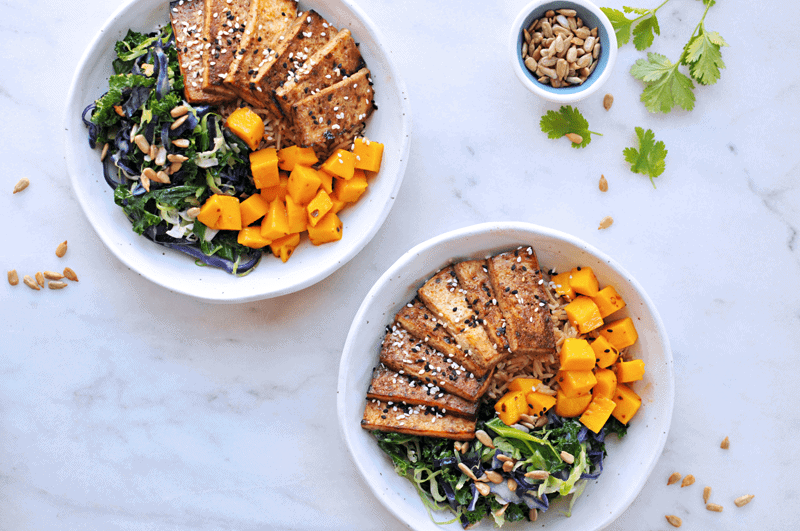 sesame balsamic tofu bowls with chile mango + sunflower-cilantro pesto
Ingredients
For the Sesame Balsamic Tofu
1 lb firm tofu, sliced into 26-32 slabs (see note)
¼ cup soy sauce or gluten-free tamari
2 T balsamic vinegar
2 T olive oil
1 T sesame oil
1 T maple syrup
1 T sriracha
For the Chile Mango
2 mangoes, peeled, pitted and cut into chunks
2 tsp seasoned rice vinegar
generous pinch aleppo pepper flakes
pinch sea salt
For the Sunflower Cilantro Pesto
½ cup cilantro leaves, loosely packed
½ cup roasted, unsalted sunflower seeds (shelled)
¼ cup extra-virgin olive oil
juice of 1 orange
salt to taste
For Serving
cooked rice or other grain of choice
sauteed leafy greens (I used a mix of kale, cabbage and shredded Brussel sprouts)
sunflower and/or sesame seeds, for topping
Instructions
Arrange tofu in a single layer on a rimmed baking sheet (foil-lined, if you prefer simpler clean-up). Combine remaining tofu ingredients and pour over. Refrigerate at least 4 hours or overnight, flipping tofu halfway if you have the chance.
When tofu has marinated, preheat broiler. Broil tofu 8-10 mins, until browned and slightly puffy. Flip, broil another 6-8 mins, watching tofu closely to avoid burning. Allow to cool slightly.
While tofu is broiling, combine all mango ingredients in a small bowl and set aside.
Combine cilantro and sunflower seeds in a food processor and pulse until finely chopped. Add oil, juice and salt and process until a loose paste forms (like, uh, pesto).
Portion rice or grain and sauteed veggies across bowls. Top with tofu and mango; scatter seeds over top. Serve pesto over top or alongside for dipping and mixing in as you eat. Enjoy!
Notes
Prep time does not include a recommend marinating time of 4+ hours for the tofu.

Re: slicing the tofu: I like to slice the block in half lengthwise and then stand each half up on its side and butterfly it, for lack of a better term. Slice the resulting quarters into 6-8 slabs each.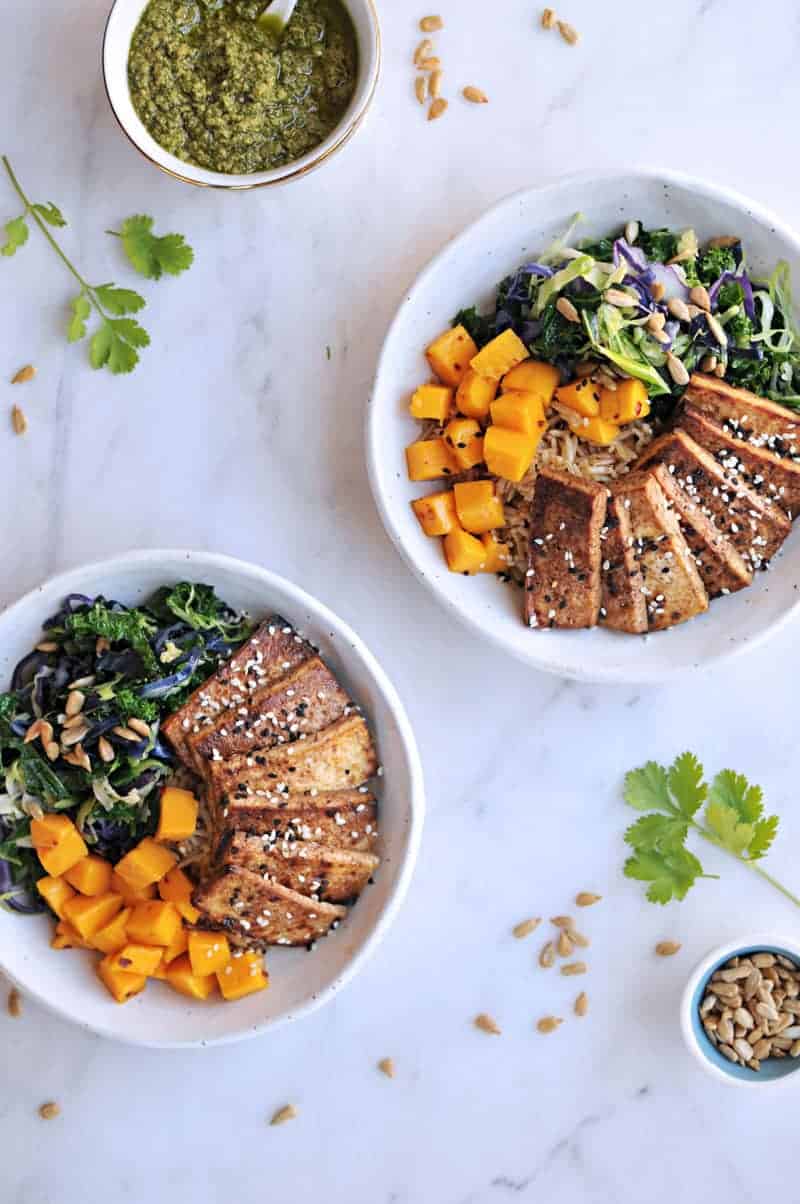 ————————————————–
OH! before you go…
Like whatcha see here — or have a question, feedback, or recipe hack to share? Join The Pig & Quill convo by commenting below (I love, luv, lurve comments) and hang out with me on Facebook, Twitter, Instagram and Pinterest. And don't forget to subscribe to P&Q emails or add me to your RSS reader with Feedly or Bloglovin' so you never miss a post. x's & o's!