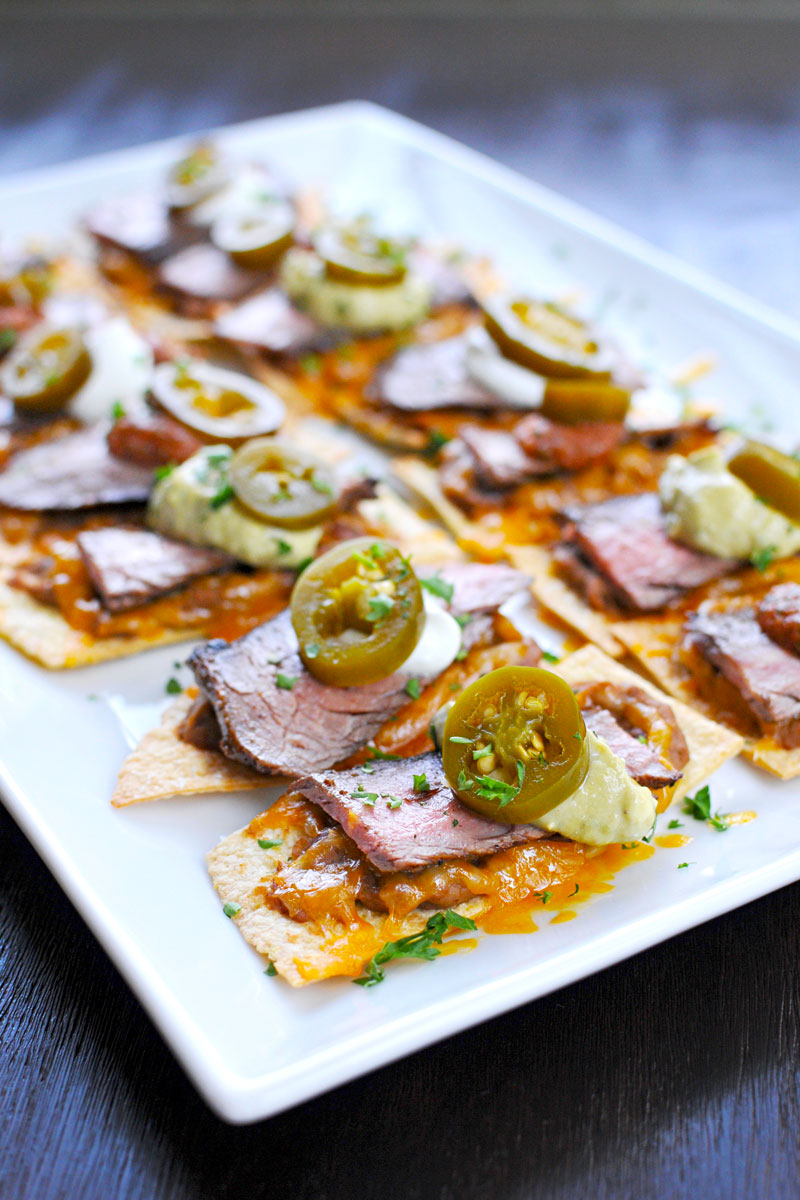 Nothing like bouncing back from a vegan chili post with a few slabbies of medium rare bovine, amirite? It's part of this whole living on the edge thing Chris and I have going on. Just a couple of real risk-takers alternating bites of bean curd and meat. Somebody get me a parachute.
Actually, somebody get me a fresh thinking cap, because my brain has been particularly sputtery this past week and I'm a liiiittle afeared for you all. I even went so far as to look up Use Of Words Such As 'Afeared' in the symptoms index of my baby book, and scribbled over the original text was a crude drawing of a spherical woman holding a cow over her head, fangs bared, while her friends ran away. This is what I get for cheaping out and buying my references used on Amazon, you guys. The world is full of freaking weirdos, and I can only do so much to warn you away from them.
Uh, are you…still…there?
Better to just talk about deez nachos, den, I suppose. Look at all dem layers!
Ok, but really, I'm done subbing th's for d's. Cuz dat's annoying.
Ha…rrrrro?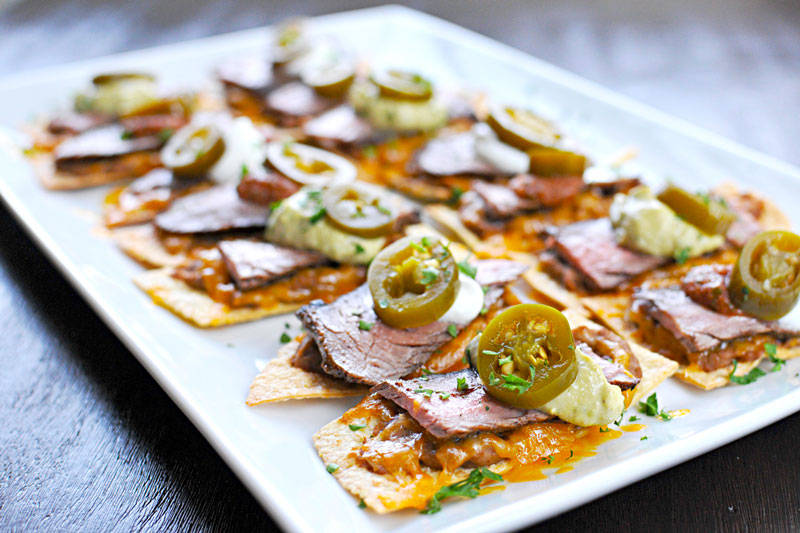 For those of you looking at these nachos and thinking they look nothing like the massive pile of chips and generously assembled (though somewhat hastily applied) fixings that top the menu at sports bars 'round the country, well — you're right. These nachos are not those nachos, nor will these nachos ever be those nachos because what these nachos have on those nachos is, well, everything. But also: appropriately portioned toppings that result in the perfect bite, every single time, no soggy or sadly unadorned chips to speak of.
They are The. Perfect. Nachos.
(Also, how grateful are you that I dropped the th→d thing now, huh? That could have been real ob-nox up there…)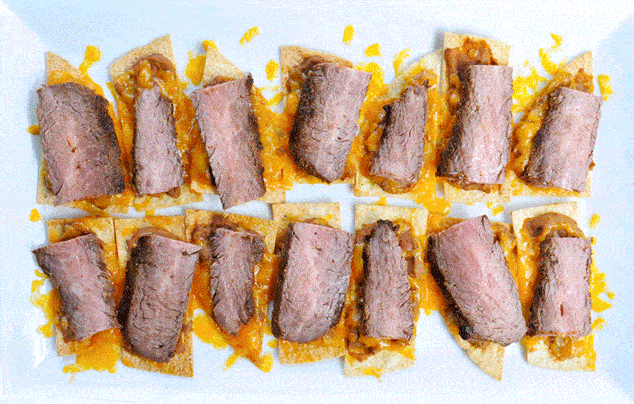 The first time I had nachos assembled in this fashion was at Cantina Laredo in Columbus, OH. It's a chain restaurant that kinda manages to not feel like a chain restaurant cuz it's moody and Latin and stuffs, but mall food, you know? I was skepty. So when the server was like, "I really recommend the nachos…" and I shot him my best I AM MEXICAN BY MARRIAGE AND YOU ARE OFFERING ME NACHOS look — all nostril-flarey and stuff — he quickly elaborated.
"Oh, they're not, like, normal nachos," he stammered. "They're individually layered with beans and cheese and seared carne asada, and then you can load them up with all the toppings you want. There's about 12 on the plate. It's a pretty big serving."
Okay, first reaction, of course, went something like 12 stupid nachos dontmakemelaugh.
But then: Individually topped, you say…?
And the rest is history.
Because individually topped nachos are THE ONLY nachos that need to exist — definitely ever, and maybe even for all of eternity, if there's (dere's) a difference. And also: 12 nachos, loaded in this way, were pretty substantial.
They be like:
Crunchy, salted chip.
Creamy beans.
Melty cheese.
Slice o' steak.
And then all the toppings you can handle. In this case, a restrained dollop of sour cream, our fave salsa, a little guac'd up Greek yogurt, PEÑOS OF COURSE! And cilantro.
We're basically talking about bite-sized tostadas! That are totally hand-to-faceable! Easily customizable for everyone's tastes! And quite possibly the most craveable food you'll eat all year! (And yes, I realize it's only February.) We made these first for the Super Bowl earlier this month — and then again the next day for dinner. And I probably shouldn't disclose how many times since then I've made a half-batch and called it lunch, but it's enough to warrant embarrassment if I were a normal person.
Pshaw.
Individually-topped nachos a la Cantina Laredo, my friends.
Hands down my most favesies nachos, and if they're nachos, well den youmussabecrazay.
…
…
…
I mean…one nachos pun. I'm getting better.
xoxo!!
Em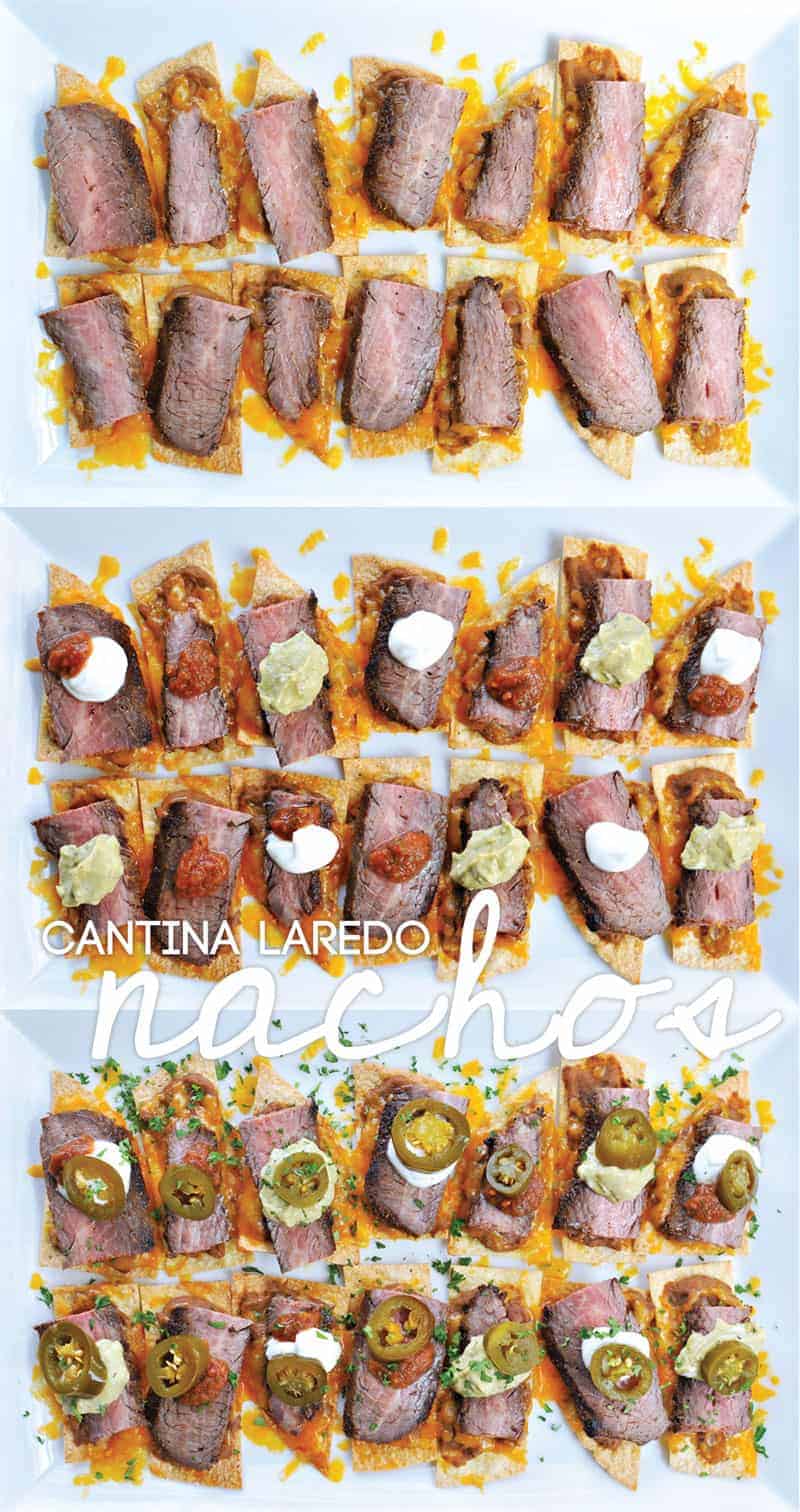 cantina laredo style carne asada nachos
Makes:
about 2 meal-sized servings or snacks for 4
Ingredients
For the Carne Asada
1.5 lbs flank steak
¼ cup olive oil
1 T soy sauce or coconut aminos
1 T lime juice or sherry wine (see note)
2 tsp coconut sugar
2 tsp chili powder
1 tsp sea salt
½ tsp black pepper
½ tsp cumin
½ tsp Mexican oregano
½ tsp paprika
For the Nachos
2 large tortillas (I like a corn-flour hybrid, but feel free to use GF)
olive oil
sea salt
refried beans (one can is more than enough)
heaping cup shredded colby jack cheese
sour cream or Greek yogurt, guac, salsa, pickled jalapenos and cilantro for serving
Instructions
Combine all carne asada ingredients in a zip-top bag and marinate for at least 30 mins. (It can go as long as overnight in the fridge; just be sure to bring the meat to room temp before cooking.)
Preheat oven to 350F.
Heat a grill or indoor grill pan until smoking hot and sear steak to desired doneness, about 7 mins on the first side and 4-5 mins on the second for medium rare. Allow to rest at least 10 mins.
While steak cooks, brush tortillas lightly on both sides with olive oil, stack, and cut into 8 equal pieces each to make about 16 chips. Arrange on an ungreased baking sheet and sprinkle generously with salt. Bake until golden and crisp, about 10 mins.
Meanwhile, warm beans until creamy.
Slice steak thinly at an angle against the grain. Cut each slice in halves or thirds to fit atop a chip.
Transfer chips to an oven-proof serving platter (or you can totally leave them on the baking tray) and top each with a generous smear of warmed beans. Scatter cheese evenly over all chips. Pop back into oven until cheese is just melted and begins to bubble, 3-5 mins.
Top hot, cheesy chips with sliced steak and nacho fixings of your choice. Enjoy while hot and crispy!
Notes
The carne asada marinade for the steak is probably not the most authentic, but I love the slight sweetness and the great crust that comes from the soy sauce and the coconut sugar blended with all those spices. If you're opting for a quick marinade (an hour or less), the lime juice really brightens things up; however, for longer marinades (several hours or overnight), the acid tends to penetrate the meat almost too much, which is when I opt for the wine. Delicious either way!

This recipe also yields enough steak for approximately two batches of nachos -- or you can use the leftover meat in any number of ways: tacos, burritos, sandwiches, atop a salad, or enjoyed cold out of the fridge standing over the sink. 🙂

Lastly, note that the timing on this recipe was a bit tricky to quantify. If you don't take into account the (flexible) amount of time during which the steak marinates, the actual cooking comes together in about half an hour.
————————————————–
OH! before you go…
Like whatcha see here — or have a question, feedback, or recipe hack to share? Join The Pig & Quill convo by commenting below (I love, luv, lurve comments) and hang out with me on Facebook, Twitter, Instagram and Pinterest. And don't forget to subscribe to P&Q emails or add me to your RSS reader with Feedly or Bloglovin' so you never miss a post. x's & o's!