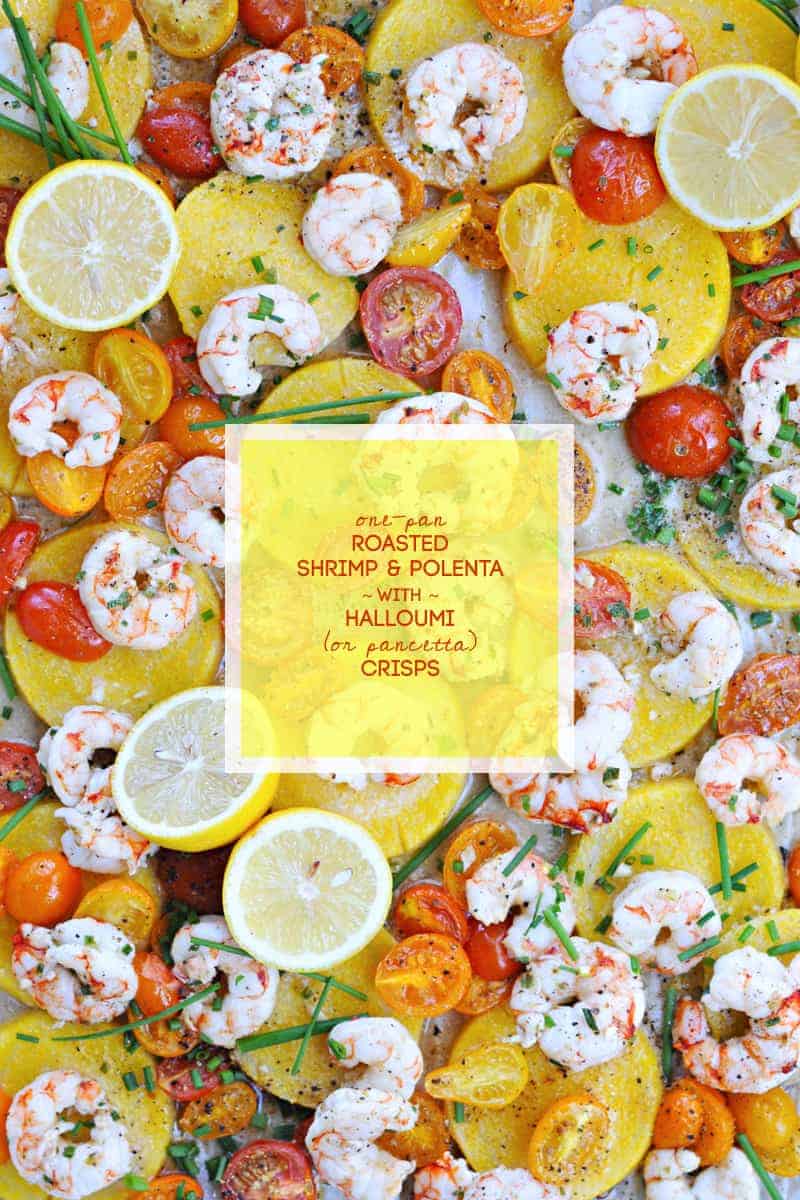 As I write this, a small being is hiccuping away inside my belly.

I'm growing something that hiccups.
Is life not an absolute trip?
That person I never thought I'd be — you know, that woman completely enamored with what's taking place inside her as new life blooms into being? I think I'm becoming her. I took my sweet-ass time getting here, but I think it, or she, rather, is finally sinking in. Being pregnant does not The Suck. Nor is it, as I thought it would be for the duration of this experience, Totally Normal.
I think maybe — finally — it's kind of Awesome. <3
I like Awesome.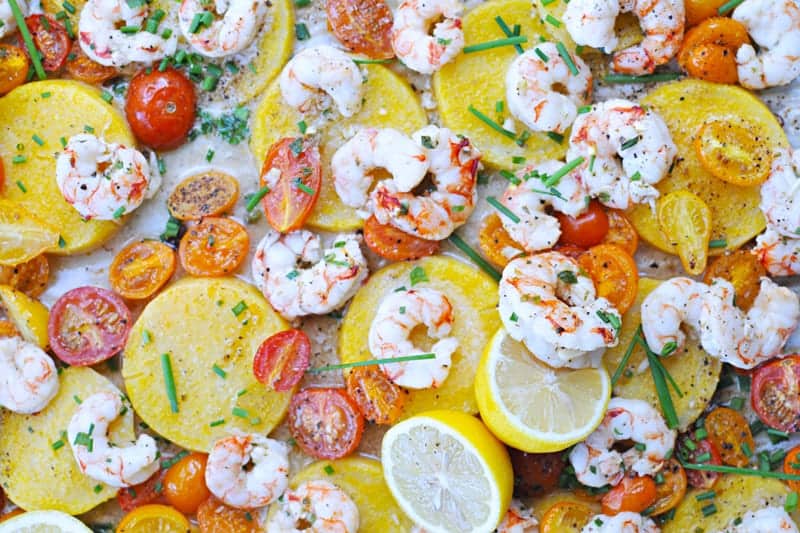 With less than two months to go, Chris and I have entered full-blown nesting mode. (Charming how I've lumped him in with me, isn't it?) We've tucked into every corner of our tiny house (and our not-so-tiny garage) in an attempt to clean/repurpose/maximize each square inch of potential living/storage space to the very best of our ability. The folks at the local Goodwill donation center probably know us by name. I'm certain they at least know our car well enough to suppress a small feeling of dread as we make our weighty approach.
It's so kind how they don't say half of what they could about the things people donate, isn't it? If it were me, it'd be all "wow, talk about a macramé phase…" and "I thought jellies were coming back, too…"
There's no holding my tongue. But they just take it all in stride.
As part of this whole baby-prep situation, I've started collecting recipes that will help make those first few weeks of parenthood just a little bit easier. For the most part, we're aiming for lots of freezer-to-oven meals that will keep prep-work and grocery shopping to an absolute minimum, but I know we'll want to tuck a few fresher — and yet still suuuuuper simple — options into the mix, too.
For that reason, sheet pan suppers, like this one here, are only too compelling.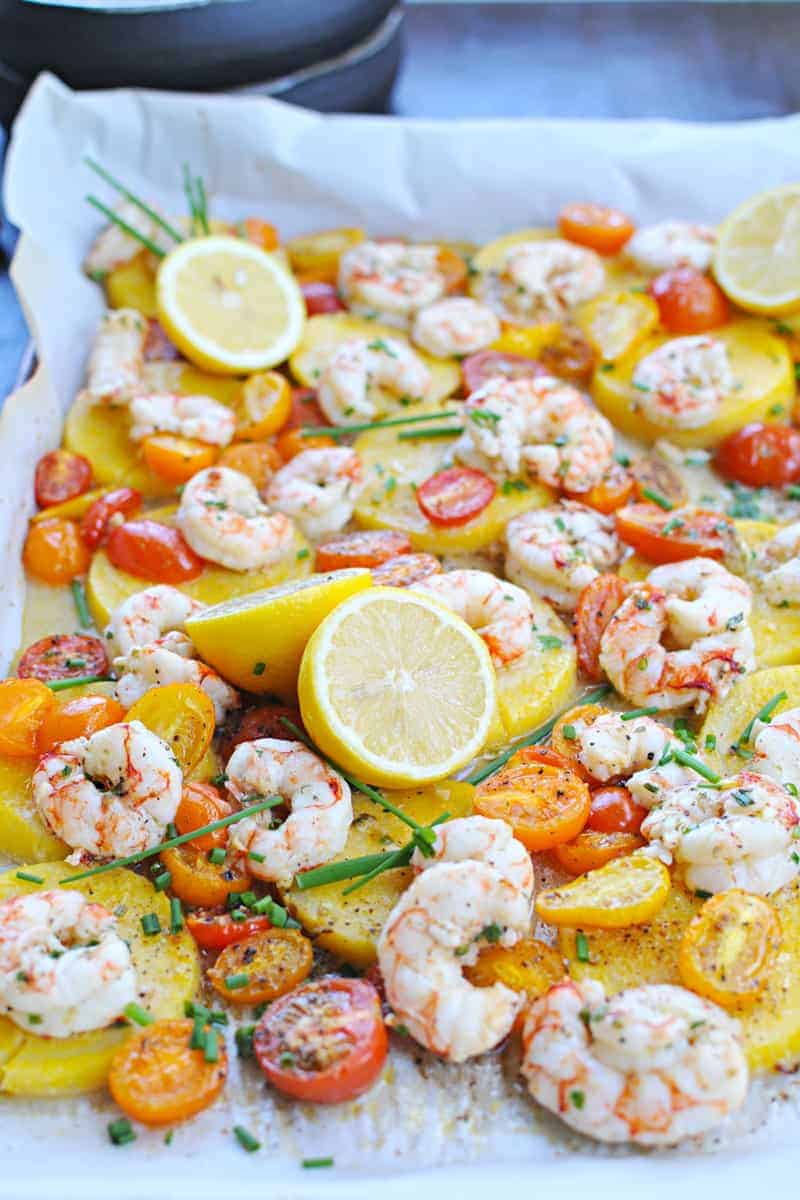 This recipe comes from Molly Gilbert's new book Sheet Pan Suppers, and it's one of maybe a dozen I had earmarked within 10 minutes of cracking the spine. If you don't know Molly, she's the charming, easygoing, completely relatable voice behind the food blog Dunk & Crumble. Unlike so many of us (or instead: like so many of us wish to be!), she's classically trained, but despite the hours she's logged in professional kitchens and testing recipes for Saveur Magazine, she still churns out eats that are refreshingly approachable and relevant for everyday cooking.
Oh, and she's kind of gabby, too.
I like gabby.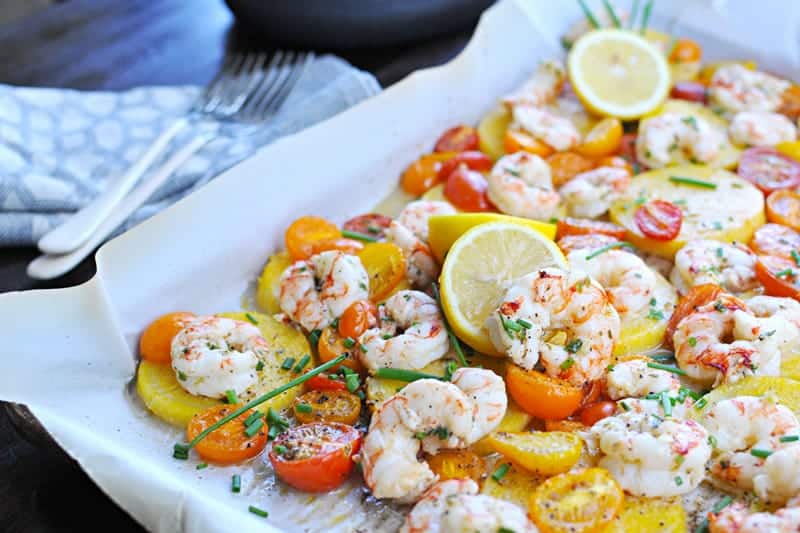 As the name so subtly implies, Sheet Pan Suppers is full of one-dish meals (and appetizers! and sides! and sweets!) that all come together within the confines of the humble sheet pan. Most of them cook up in an hour or less — and those that take a little more time certainly take no more labor because it's literally as simple as throwing everything onto a pan (ok, sometimes some creative layering is involved) and stashing the whole lot in the oven.
In addition to the recipe I've shared below, I'm also fairly smitten with Molly's:
Roasted Figs with Gorgonzola & Honey
Chicken Legs with Orange & Fennel
Herbed Leg of Lamb with Crispy Sweet Potatoes
Crisp-Topped Eggplant with Chickpeas
Broiled Plums with Meringue Hats
There's even a whole chapter on SHEET PAN BRUNCHES.
I like brunches. (But we'll save that for another post.)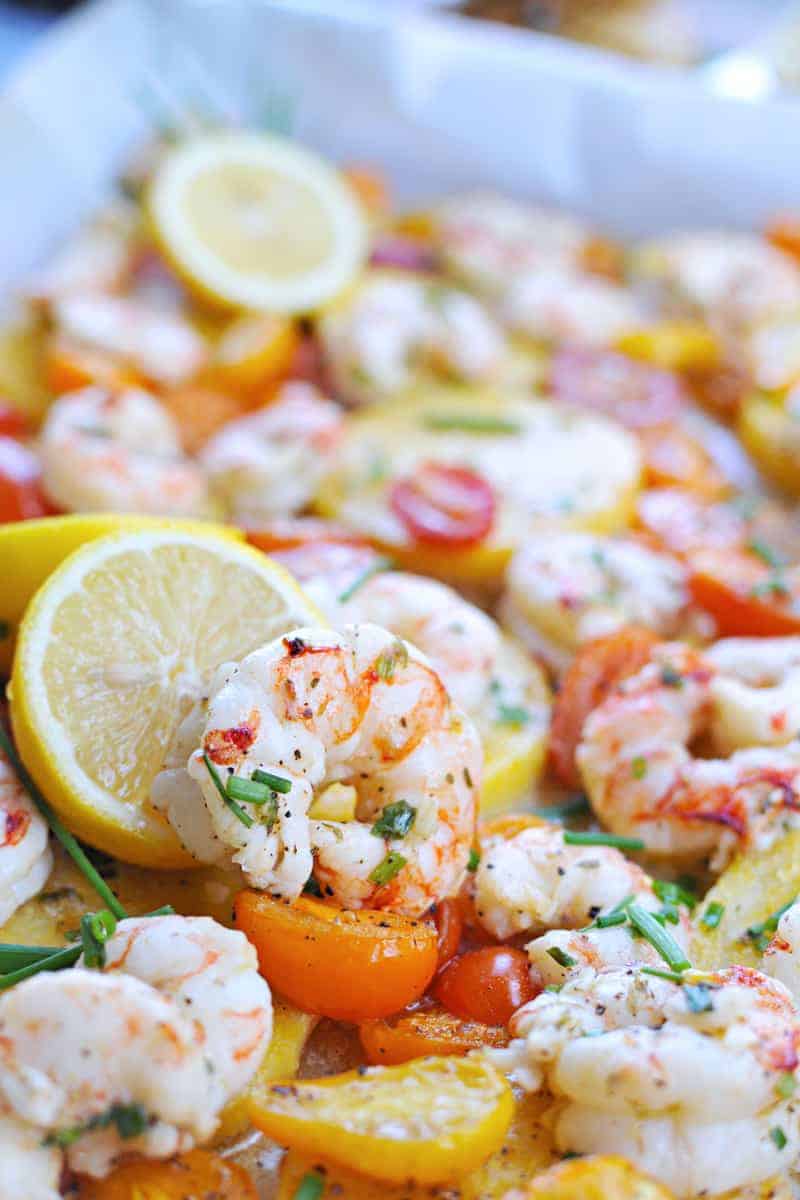 This shrimp is such a show-stopper, you guys. Aside from the fact that tubed polenta is just fun, this recipe has so many things going for it. It's fresh, bright, briny, salty — and if you can nab your shrimp on sale (like I did – yay!), this entire pan o' food comes together for around $15. Tell me that is not an absolute steal considering how flipping fancy the whole thing looks!
Being off the nitrates (and knowing we'll quite possibly be serving this to a few of our weirdo pescetarian friends in the future) I traded the pancetta 'tuiles' for crisply-edged slabs of bubbly halloumi, but I'm only too eager to give the original version a go just as soon as I'm off the wagon. Both, I'm sure, result in delightfully salty little nibbles that add a layer of naughty to an otherwise responsible meal.
I like naughty. 😉
So many congrats, Molly, on what has got to be one of the most thoughtful, useful resources to grace our kitchen in quite a while. I can't wait to sheet all over the place with you in mind — those first few weeks, especially. <3
xoxo,
Em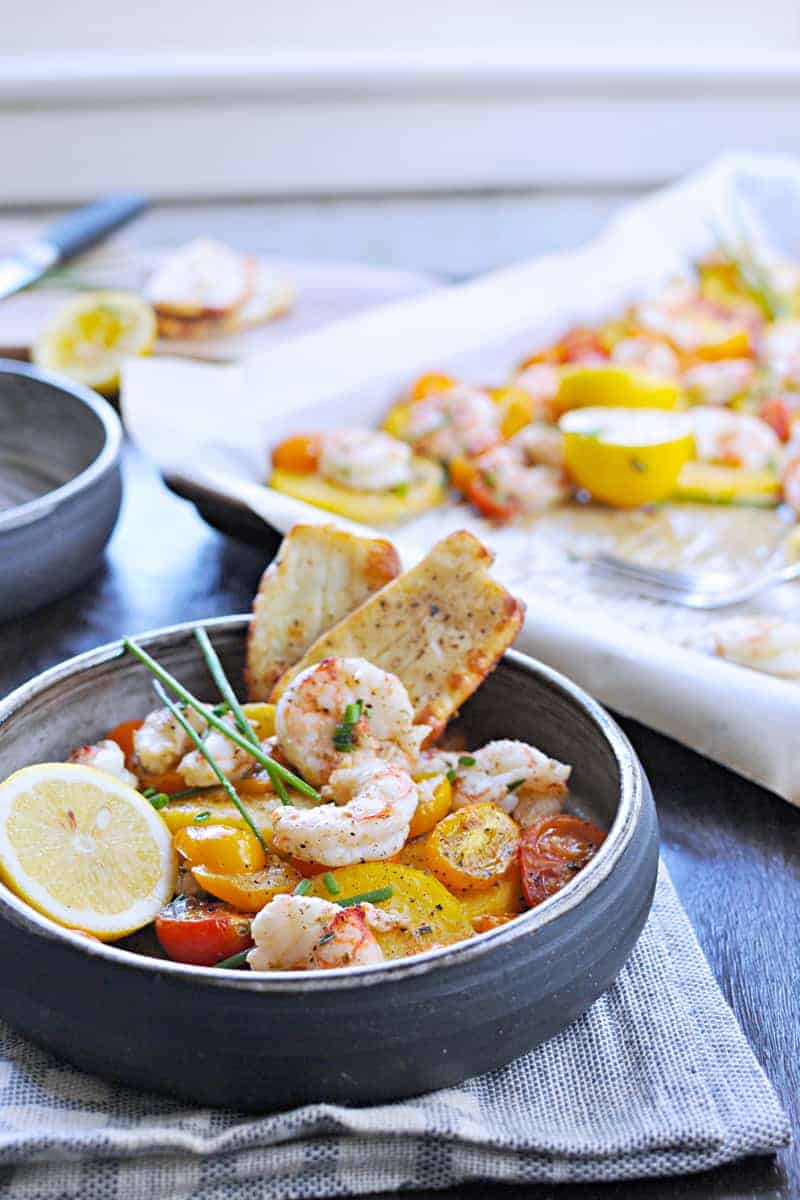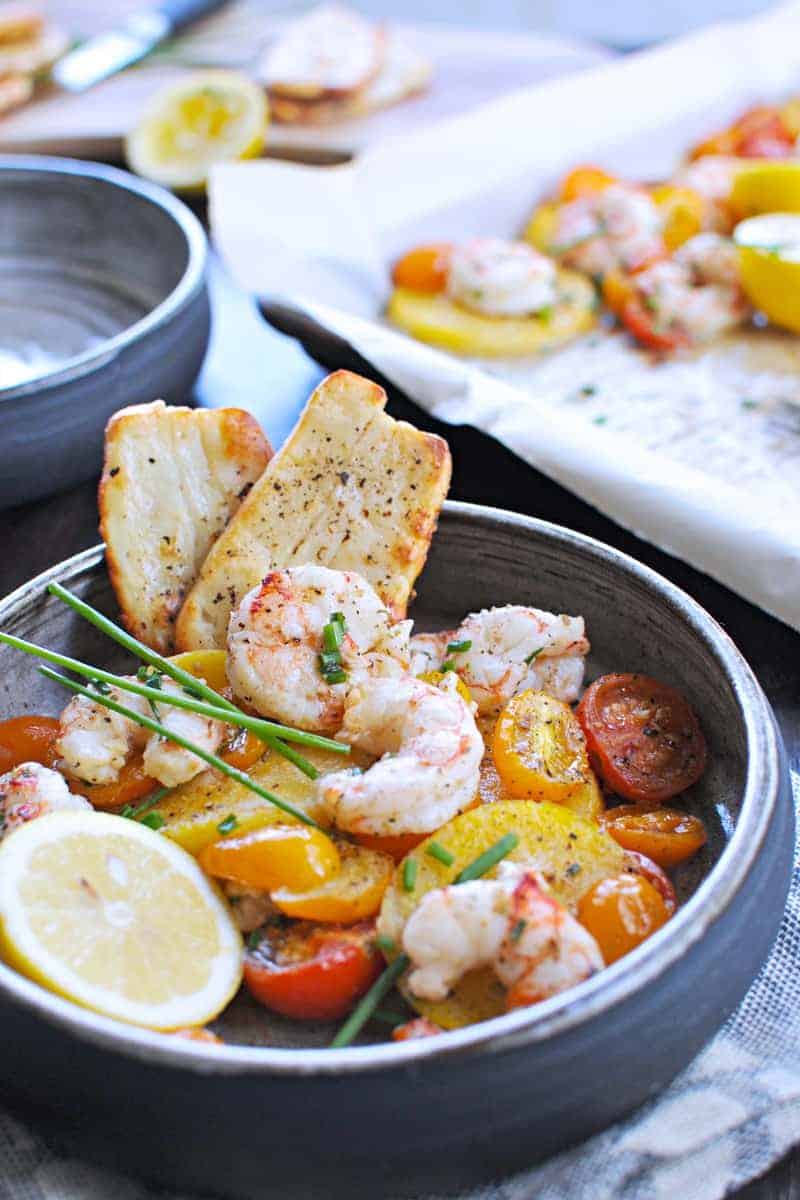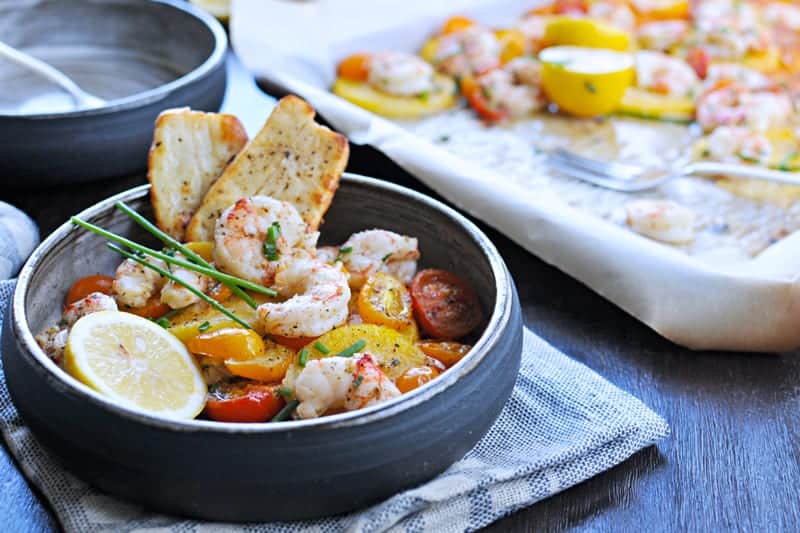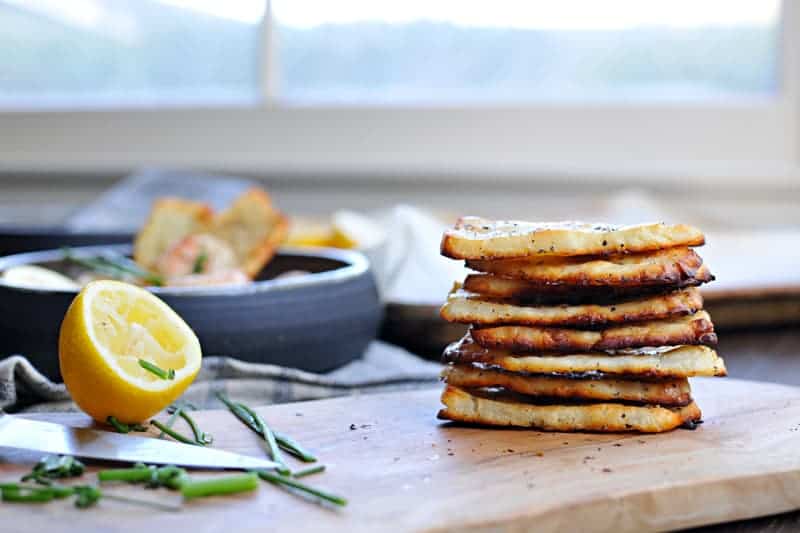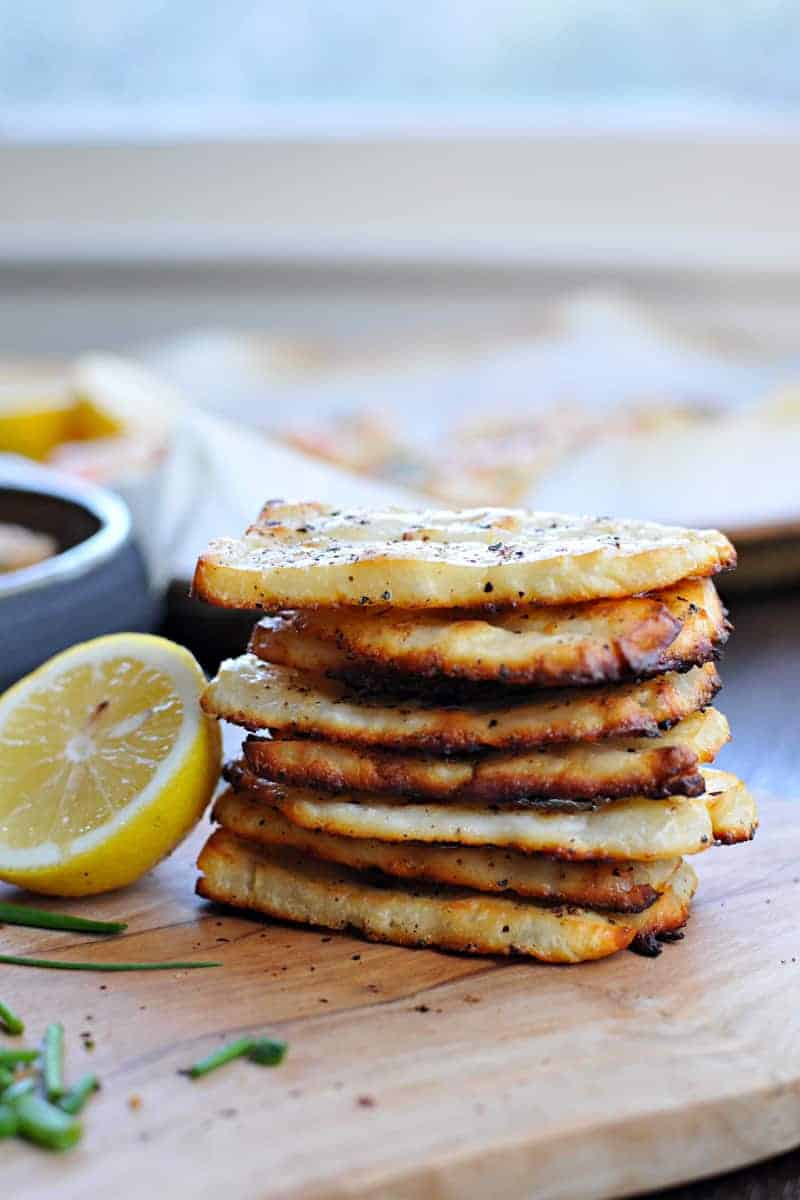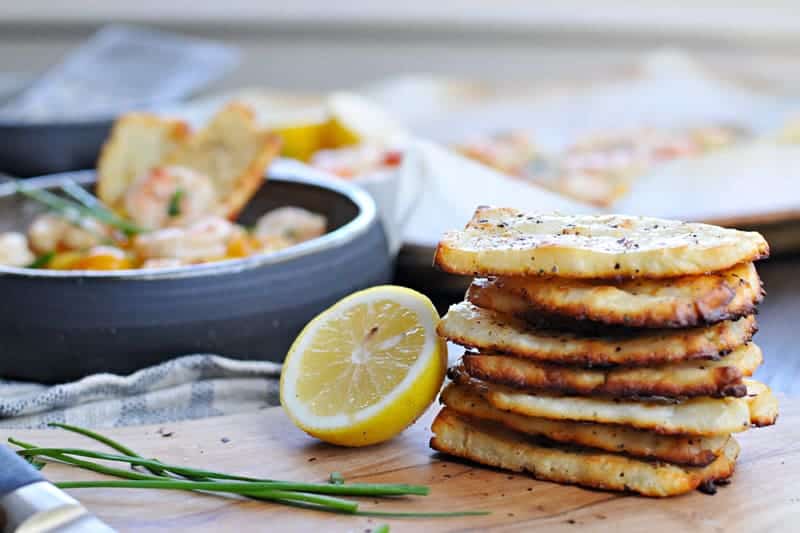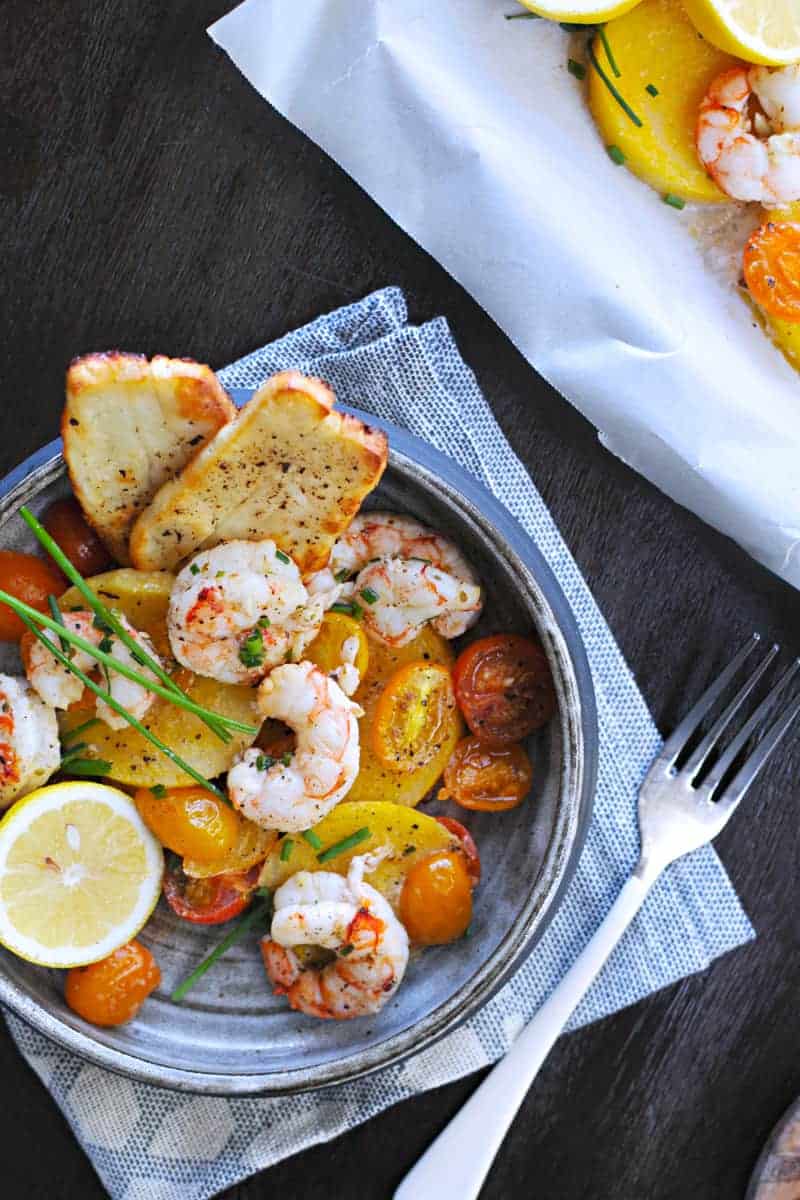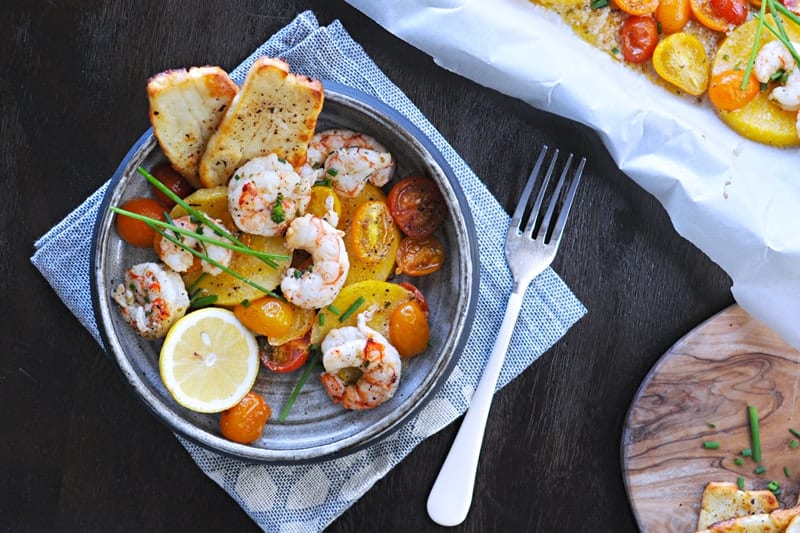 roasted shrimp + polenta with pancetta (or halloumi) crisps
This one-pan supper from Molly Gilbert's new book is as pleasing to the eye as it is to the palate -- and it comes together in about half an hour. See the Notes, below, for suggested modifications.
Ingredients
8-10 very thin slices round unsmoked pancetta
1 tube (18 ounces) precooked polenta, sliced into ½" thick rounds (about 16 slices)
½ pint cherry tomatoes, halved
1.5 T plus 1 tsp extra virgin olive oil
kosher salt and freshly ground black pepper
1 T freshly squeezed lemon juice
1 or 2 cloves garlic, minced
½ tsp oregano
½ tsp Worcestershire sauce
1 tsp chopped fresh chives
1 generous pound 26/30 count raw shrimp, peeled and deveined, tails removed, blotted dry
Instructions
Preheat oven to 400F with rack in center position. Line a sheet pan with parchment paper. Line a plate with paper towels.
Arrange pancetta rounds on prepared pan and bake until crisp, 5-7 mins. Remove to the lined plate to cool and drain; set aside. (Keep parchment on the pan.)
Place polenta rounds on the used sheet pan on top of the pancetta drippings.
In a large bowl, toss together the cherry tomatoes with 1 tsp olive oil, ¼ tsp salt and ¼ tsp pepper. Scatter tomatoes around and over polenta. Bake tomatoes and polenta for about 10 mins.
Meanwhile, whisk together remaining 1.5 T olive oil, lemon juice, garlic, oregano, Worcestershire, ¼ tsp salt, ¼ tsp pepper and chives in a large bowl. Add shrimp and toss to coat.
After polenta and tomatoes have baked for 10 mins, arrange shrimp over the top in a single layer and return pan to the oven. Roast until shrimp are pink and just cooked through, about 8-10 mins.
Serve shrimp, tomatoes and polenta warm with pancetta crisps on top. Enjoy!
Notes
The recipe above is taken directly from Sheet Pan Suppers. I modified the version pictured here in the following ways:

Subbing pancetta for halloumi cheese:
Swap the pancetta rounds for 7-8 oz of thinly sliced halloumi cheese. Arrange the slices on the parchment as you would the pancetta and bake for 10-12 mins, or until crisp and brown on the edges (it'll still have a bit of that halloumi 'squeak' in the middle). Set aside to enjoy with the finished dish.

Seasoning the polenta:
Knowing that the brand of prepared polenta I usually buy is quite bland, I opted to liberally season the rounds with salt and pepper before arranging them on the sheet pan and topping them with the tomatoes.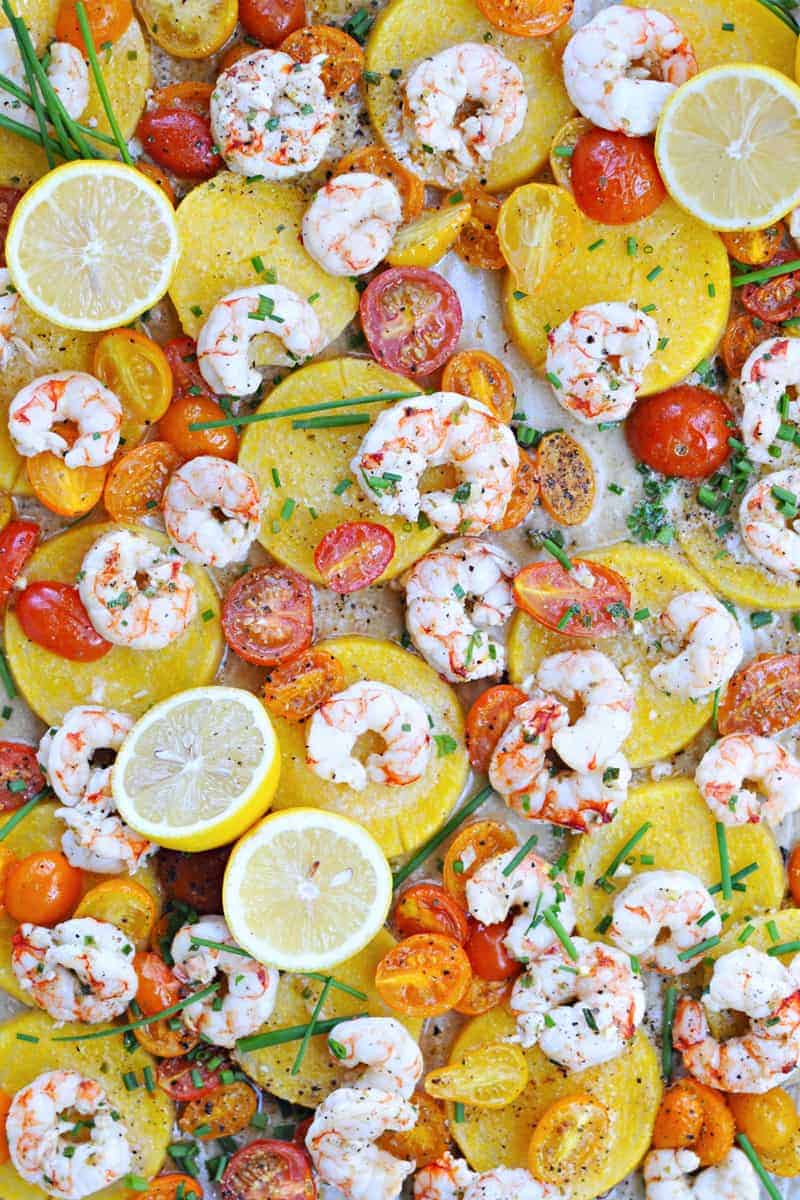 ————————————————–
OH! before you go…
Like whatcha see here — or have a question, feedback, or recipe hack to share? Join The Pig & Quill convo by commenting below (I love, luv, lurve comments) and hang out with me on Facebook, Twitter, Instagram and Pinterest. And don't forget to subscribe to P&Q emails or add me to your RSS reader with Feedly or Bloglovin' so you never miss a post. x's & o's!