One year, 126 posts and a whole lot of random lingo. Lango. Lingo-lango. It's been a ride.
Tremendous thanks to everyone who's dropped in on my little corner of the innerweb, and especially to those who have hung around for more than a post or two. I know it's gets weird sometimes, you guys. You're troopers for sticking it out.
Here's to another year of pigging, quilling and nonsensical kitsch.
Let's stick a candle in this B and celebrate, shall we?
So much love,
Em
(P.S. Oh yeah – the recipe. Vanilla-scented pineapple, tart sorbet and toasty, multi-grain shortcake. Berfday food at its best. Enjoy!)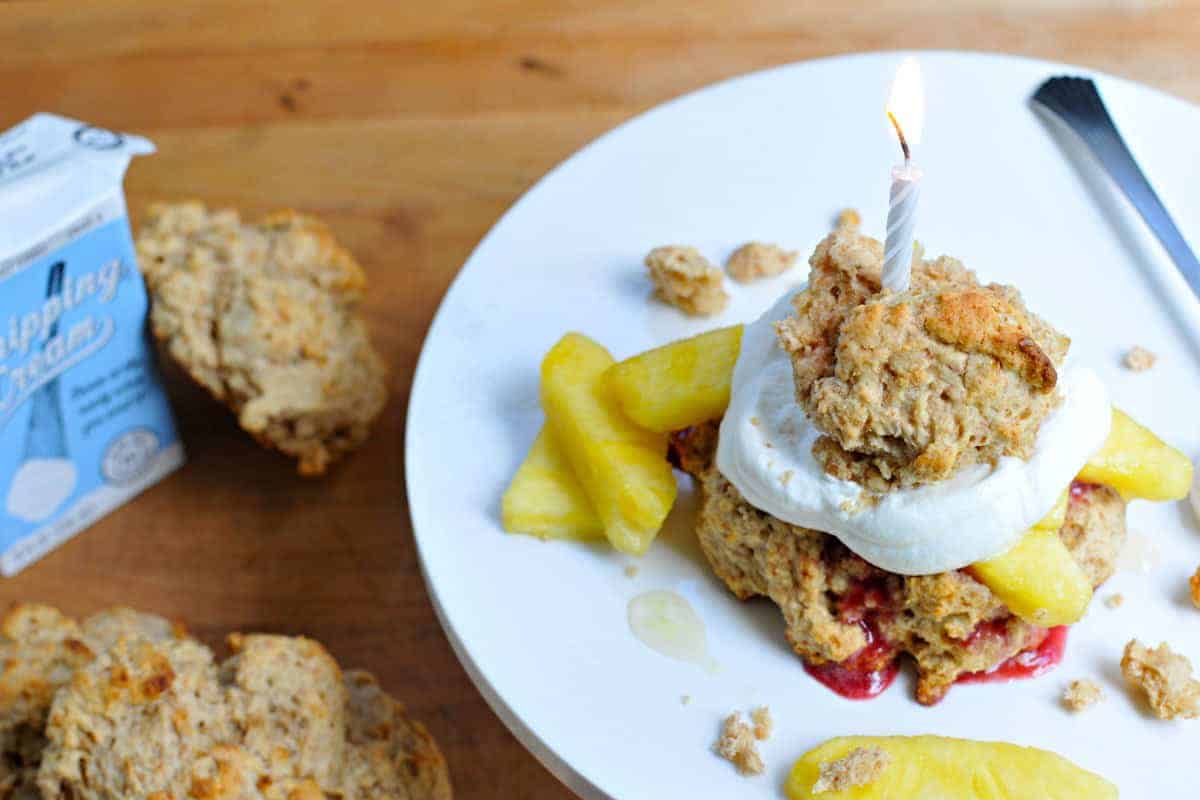 Fresh Pineapple Shortcakes with Raspberry Sorbet
By Emily Stoffel
Cook time: 25 minutes | Serves 5
Note: For a vegan variation, swap the milk for light coconut milk and the whipping cream for coconut whip. Just be sure your baking mix is vegan, as well. We love the nutty, oatmeal-studded mix offered by Trader Joe's, but it does contain buttermilk in the ingredients.
Ingredients:
1 pineapple, peeled, cored and thinly sliced
2 T sugar
1/2 tsp vanilla
dash salt
2 1/3 cups multigrain baking mix, such as Trader Joe's Multigrain Baking & Pancake Mix (see note)
1/2 cup milk
3 T coconut oil, melted
3 T coconut sugar (or white sugar)
1 tsp vanilla
1 cup whipping cream
confectioners sugar and extra vanilla (optional)
raspberry sorbet
Instructions
Preheat oven to 425F. In a large bowl, mix pineapple with 2 T sugar, 1/2 tsp vanilla and salt. Set aside to macerate.
In another large bowl, combine baking mix, milk, coconut oil, 3 T sugar and 1 tsp vanilla. Mixture will be sticky. Drop by 5 spoonfuls onto ungreased cookie sheet. Bake 10-12 minutes or until golden brown. Allow to cool slightly.
Meanwhile, whisk whipping cream to desired consistency. (Sweeten whipped cream to taste with confectioner's sugar and a dash of vanilla, if desired.)
Split shortcakes in half. Top with a scoop of raspberry sorbet, macerated pineapple and whipped cream.