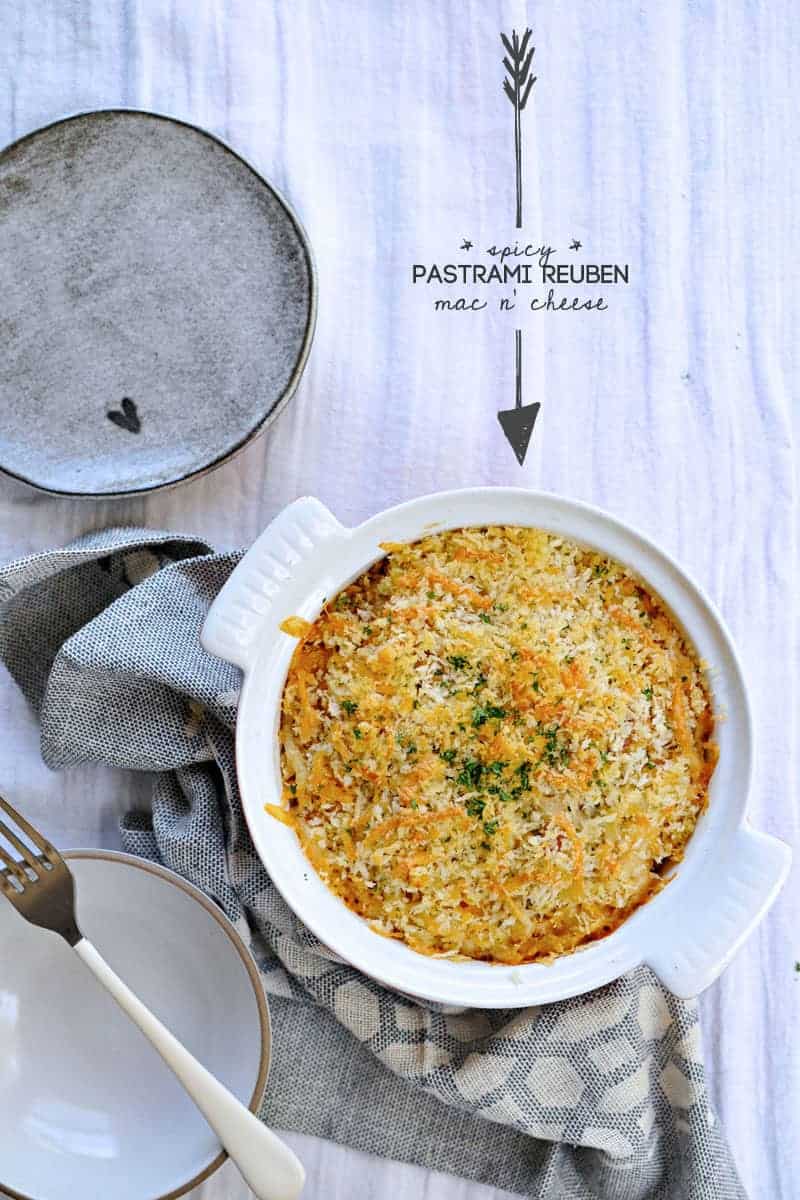 Just a quick one today because it's too beautiful outside not to get the to-do list tuh-dun so the behbes and I can take a walk in the sunshine. I'm strongly contemplating taking along the stroller (we got one! this one! with these wheels!), just to see how it rolls, but then I'd just be that crazy pregnant lady walking her phantom child attempting to talk-text via Siri instead of just that crazy pregnant lady attempting to talk-text via Siri because that's more normal.
But seriously, walking and texting — like finger-slash-thumb-texting — is kinda dangerous in a neighborhood of slim-to-no sidewalks, so crazy is maybe sane in this instance. Eh, ehhhhhhh? Just saying.
Also, I'm 97% sure speaking things aloud like "Siri, text Chris: going for a walk period maybe it'll make me poop exclamation mark" is totallllly socially acceptable. WHO ARE YOU LOOKING AT, LADY WALKING YOUR CAT. I'm with child. What's your story?
I don't blame you if you've stopped reading at this point.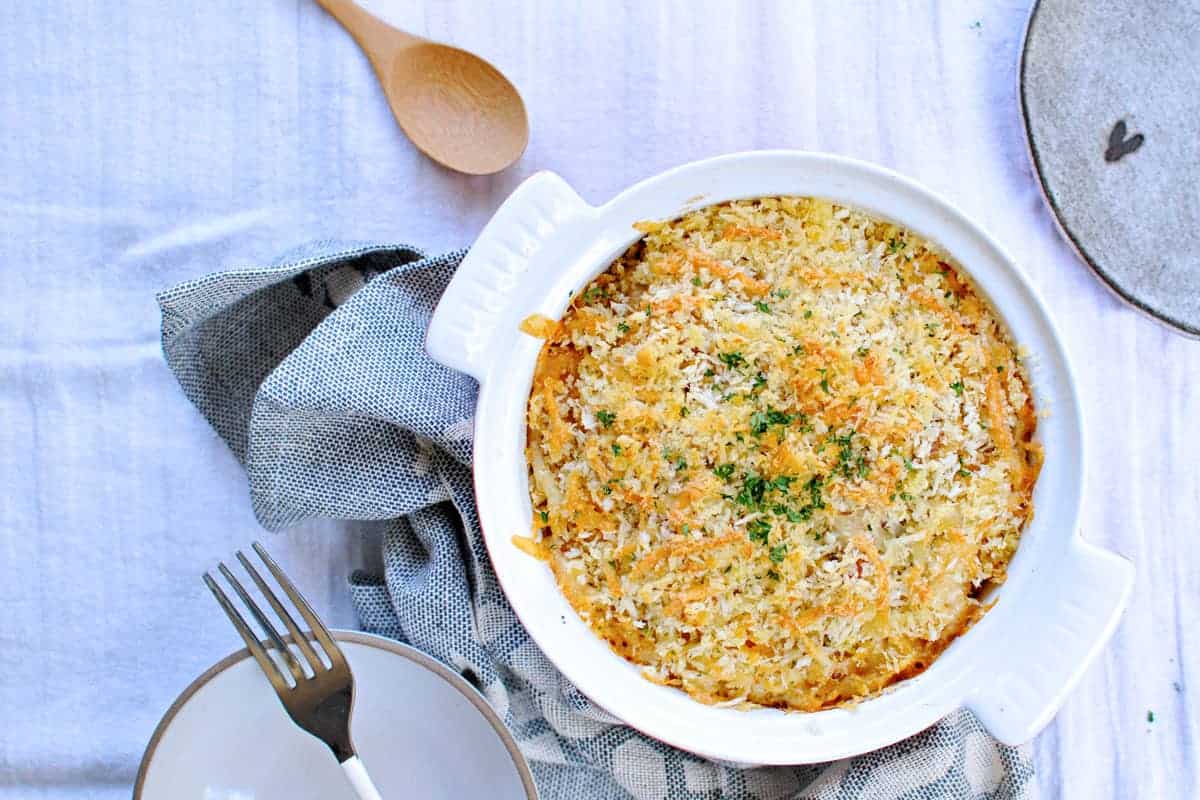 This reuben mac n' cheese, guys, is so, SOOOOOO good. It's even Chris-approved — and he's ordinarily a Blue Box Traditionalist, so that's saying a lot.
It's got everything there is to love about a classic pastrami reuben:
Pastrahms, because duh.
Krauts.
Melting Swiss(ish) cheese. (I like a gruyere-cheddar comboroni.)
Russiany dressing elements, like ketchup, hot paprika, and just enough zingy deli mustard to make you be like ohhhh, we be eatin' sammiches. Except you're not eating sammiches. You're eating macaroni! (Side note: we are seriously obsessed with this Beaver stuff, which I swear was created just for pastrami. Also: Beaver! heh…)
Like most macs, this guy is super good straight outta the pot if you've got no time for baking (and let's be honest, I ate at least 14567 "tester" bites this way), but if you're inclined to bake it off with a little panko, that crispy topping is a lovely thing, indeed, and worth the extra 20 mins. Proms proms poms poms. *cheerleader emoji*
Sorry.
Hope you're all able to get summa this pretty spring sunshine action in your faces today!
xo,
Em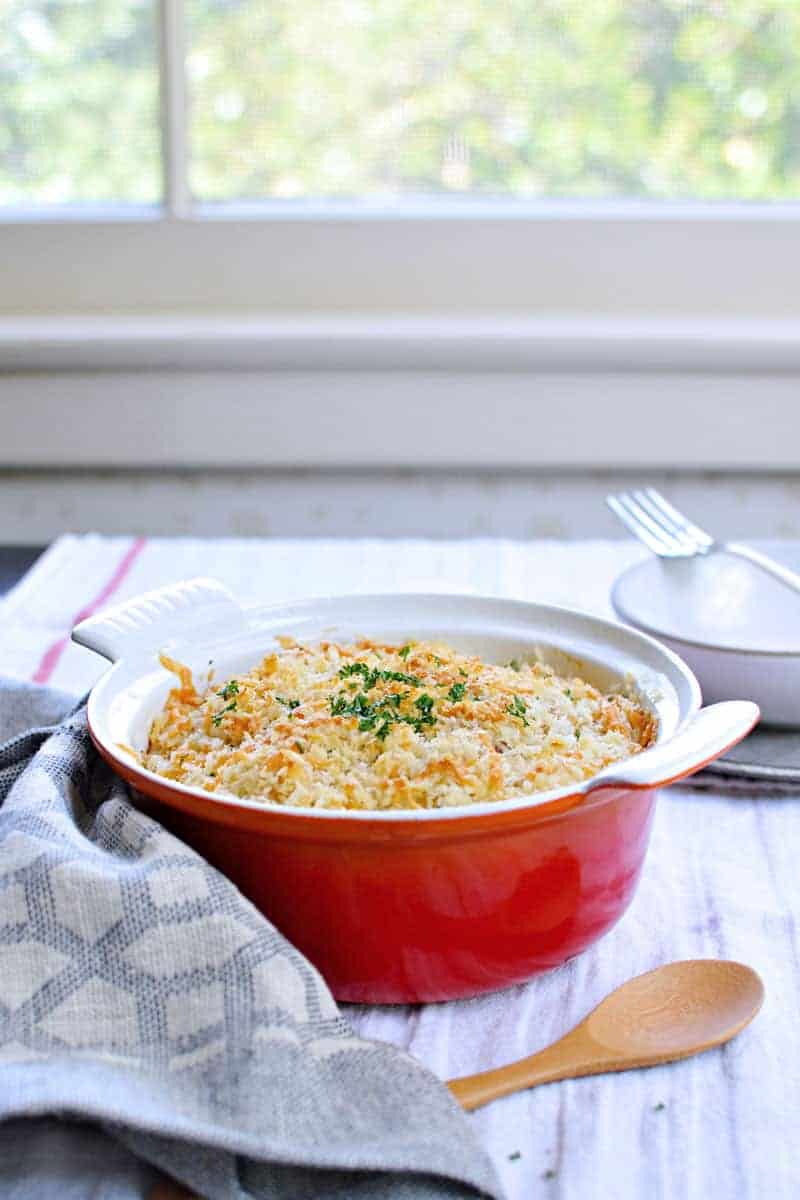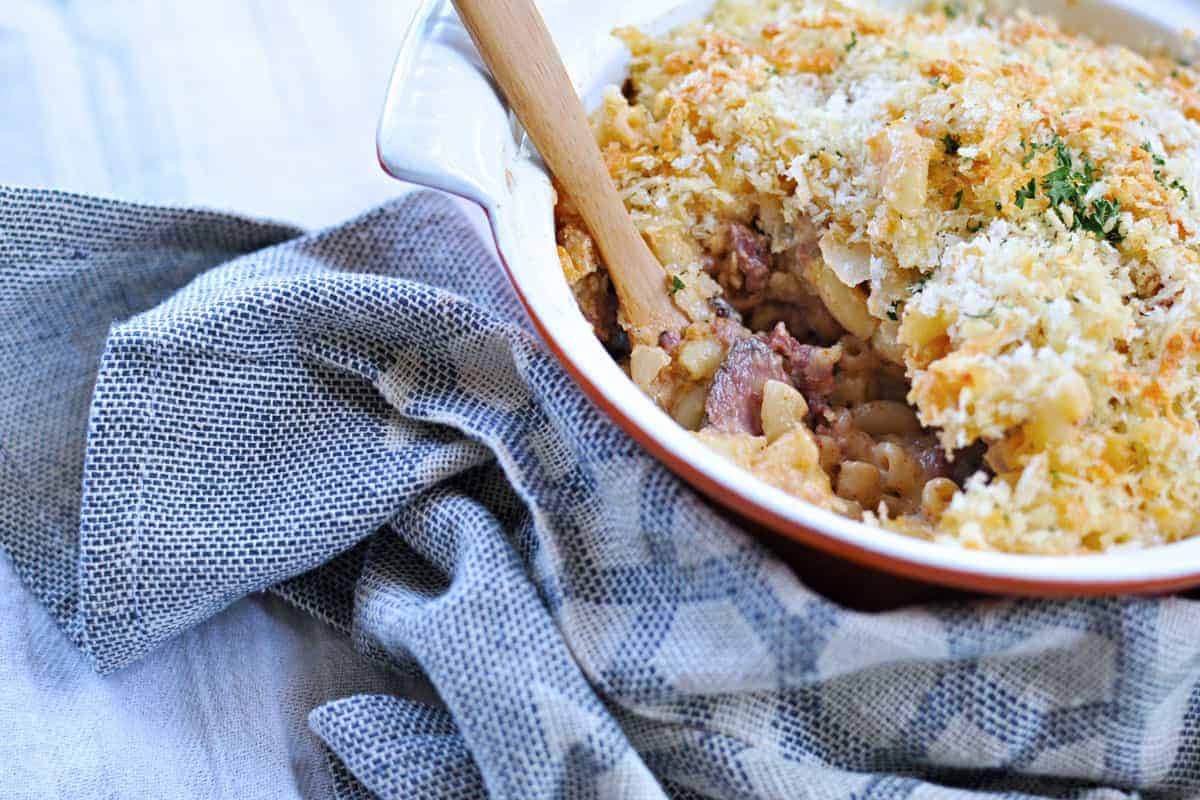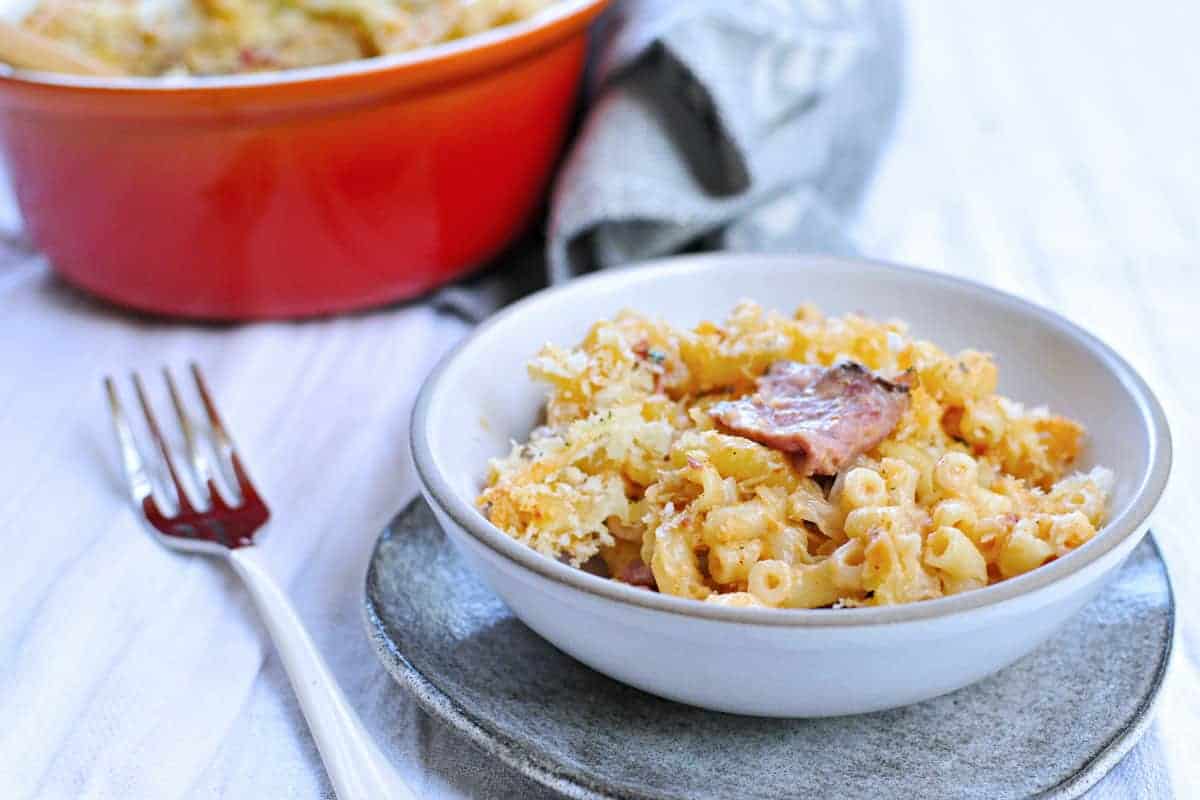 spicy pastrami reuben mac n' cheese
Ingredients
8 oz dry macaroni (or your fave smallish pasta)
2.5 T unsalted butter, plus more for greasing
3 T flour
2 cups whole milk
2 T ketchup
1 heaping T spicy, whole grain deli mustard (we've been on a major kick with Beaver brand)
½ T hot paprika
black pepper
2.5 cups grated cheese, divided (I used a mix of white cheddar and gruyere)
1 cup (about 4 oz) chopped pastrami
1 cup sauerkraut, well drained (if you don't make your own, I like this raw/fermented version from TJ's)
1 cup panko breadcrumbs
2 T olive oil
Instructions
Preheat oven to 400F.
Fill a large pot or Dutch oven with water and bring to a boil. Add macaroni and cook until al dente. Drain pasta and set aside.
In same pot, melt butter over medium heat. Add flour and whisk until incorporated and smooth; do not let brown. Add milk ½ cup at a time, whisking constantly, until all milk is incorporated and mixture is smooth. (It may begin a little lumpy - that's ok, just keep whisking.) Continue to cook, whisking occasionally, until sauce is smooth and thickened, about 5 mins.
Remove pan from heat. Stir in ketchup, mustard, paprika, and a few grinds black pepper, then add 2 cups cheese, whisking until melted into sauce. Add chopped pastrami, kraut and reserved pasta, tossing gently to combine.
Toss panko with remaining ½ cup cheese and olive oil to coat. Turn macaroni mixture into a buttered casserole dish and top evenly with panko (OR, if you're ok with rustic and your pot is oven-safe, just add the panko topping right over the mac and cheese in the same pot). Bake uncovered for 20 mins or until topping is golden. Serve hot. Enjoy!
Notes
Short on time? This is also SUPER delicious as a stovetop mac and cheese, so if you feel like skipping the topping/baking portion, no one would blame you! (Full disclosure: I ate at least a serving straight from the pot...)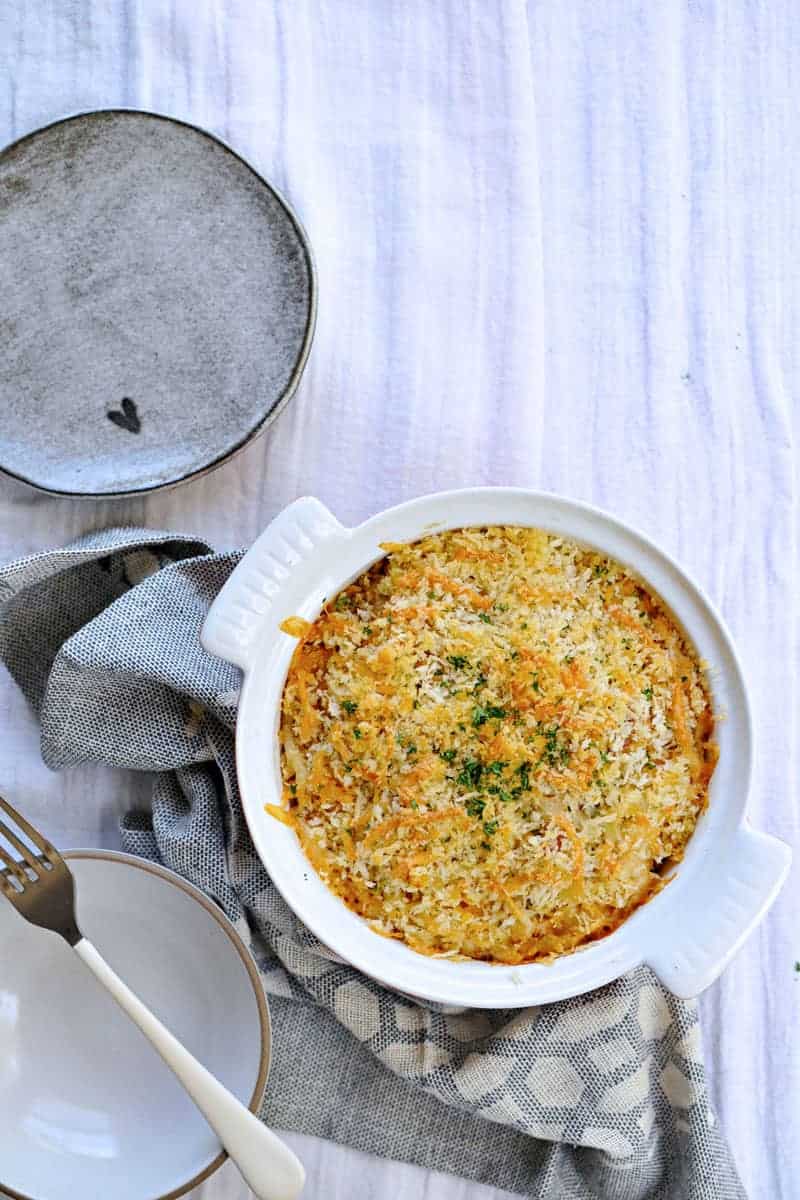 ————————————————–
OH! before you go…
Like whatcha see here — or have a question, feedback, or recipe hack to share? Join The Pig & Quill convo by commenting below (I love, luv, lurve comments) and hang out with me on Facebook, Twitter, Instagram and Pinterest. And don't forget to subscribe to P&Q emails or add me to your RSS reader with Feedly or Bloglovin' so you never miss a post. x's & o's!