spicy pastrami reuben mac n' cheese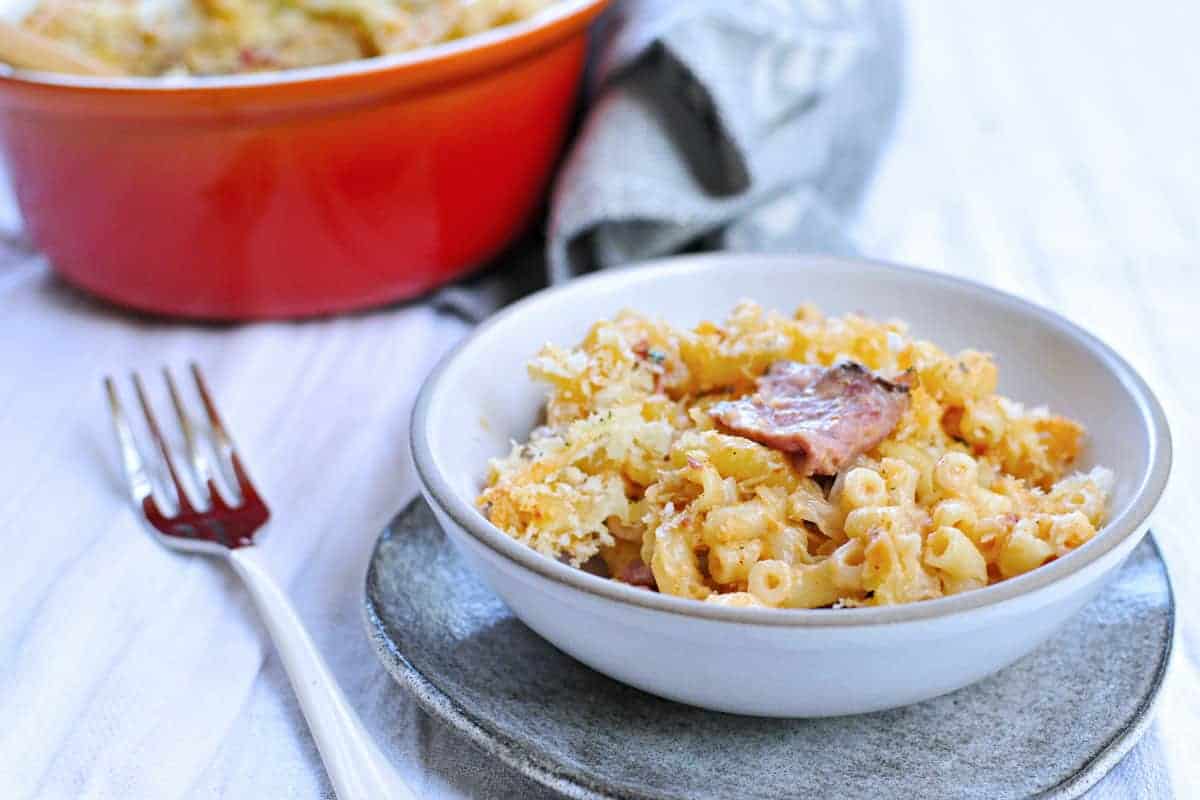 8 oz dry macaroni (or your fave smallish pasta)
2.5 T unsalted butter, plus more for greasing
3 T flour
2 cups whole milk
2 T ketchup
1 heaping T spicy, whole grain deli mustard (we've been on a major kick with Beaver brand)
½ T hot paprika
black pepper
2.5 cups grated cheese, divided (I used a mix of white cheddar and gruyere)
1 cup (about 4 oz) chopped pastrami
1 cup sauerkraut, well drained (if you don't make your own, I like this raw/fermented version from TJ's)
1 cup panko breadcrumbs
2 T olive oil
Preheat oven to 400F.
Fill a large pot or Dutch oven with water and bring to a boil. Add macaroni and cook until al dente. Drain pasta and set aside.
In same pot, melt butter over medium heat. Add flour and whisk until incorporated and smooth; do not let brown. Add milk ½ cup at a time, whisking constantly, until all milk is incorporated and mixture is smooth. (It may begin a little lumpy - that's ok, just keep whisking.) Continue to cook, whisking occasionally, until sauce is smooth and thickened, about 5 mins.
Remove pan from heat. Stir in ketchup, mustard, paprika, and a few grinds black pepper, then add 2 cups cheese, whisking until melted into sauce. Add chopped pastrami, kraut and reserved pasta, tossing gently to combine.
Toss panko with remaining ½ cup cheese and olive oil to coat. Turn macaroni mixture into a buttered casserole dish and top evenly with panko (OR, if you're ok with rustic and your pot is oven-safe, just add the panko topping right over the mac and cheese in the same pot). Bake uncovered for 20 mins or until topping is golden. Serve hot. Enjoy!
Short on time? This is also SUPER delicious as a stovetop mac and cheese, so if you feel like skipping the topping/baking portion, no one would blame you! (Full disclosure: I ate at least a serving straight from the pot...)
Recipe by
the pig & quill
at https://thepigandquill.com/spicy-pastrami-reuben-mac-n-cheese/