UPDATE: This contest is now closed. Thanks to all who voted for The Pig & Quill! Two days left! Have you voted for the Pig & Quill in Cook Taste Eat's Facebook contest yet? The recipe with the most votes earns the winner an opportunity to cook and film with celeb-chef and restauranteur Michael Mina, which is pretty much the stuff that Pig & Quill dreams are made of. Please vote and Share on Facebook! Thanks!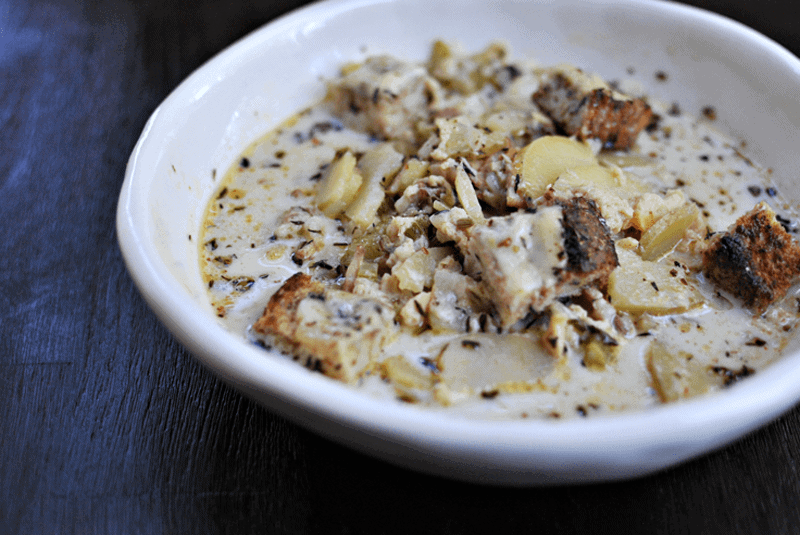 Here's a fun topic for Thursday: Things That I'm on the Fence About. Let's see…
Coconut water. Something to do with my mom's comment, "hmm, that doesn't strike you as sweaty-tasting?" Well no, actually, it hadn't struck me, Mom. But now it has. Totally less refreshing when likened to glandular excretion. Oh geez. Blejch.
The current season of Idol. What the heck is going on? Who's this turtle fan guy? When did people start emerging from the stage? And seriously, what happens if Seacrest needs a sick day? Who do they have on deck for that gig? I'll tell you who it's not: that other guy who co-hosted with Ryan the very first season. How bummed do you think that guy is feeling right now? Imunna go with Very.
Ok, back to the fence thing. Here's the big one: thick n' creamy chowder. Wow, I am choosing some winning phrases these days. But really, I love a good clam chowder. The briny quality of the broth. The glistening droplets of pork fat swimming around tender potatoes. The clams, duh. Weighing it down a with bland blanket of unnecessarily heavy cream or starchy thickeners is so not my bag. (Chowder from the Splash Cafe in San Luis Obispo is the one exception and only because theirs is full of mermaid songs and teddy bear hugs and crack.)
So I'll make very few apologies for this chowder being on the lighter side. It's simple and accessible for dinner any day of the week. It reheats well. And honestly, without a heavy chowder base, the flavors end up super pure and distinct. It's clam chowder with a true emphasis on the clams.
Oh, and the bacon, of course.
Because, while I may be on the fence about a few things, when it comes to bacon, I'm definitely off the wagon.
Gee, that didn't take long.
Spicy Clam Chowder with Gouda Croutons

By Emily Stoffel
Cook time: 40 mins | Serves: 4-5
Note: I like using a sweet, mild (read: not too fishy) clam for this dish. If you can go the fresh route, do it. For canned, I've had great luck with the Sea Watch brand, available at Costco. It's ultra handy that one 51oz can contains enough clam meat and juice for two recipes. Just use half now and freeze half in a small zip-top storage bag for later. Or double the recipe for a crowd. Super easy either way.
Ingredients:
4 oz (about 4 thick slices) good quality bacon, thinly sliced crosswise
3 ribs celery, diced
1/2 yellow onion, diced
1-2 generous pinches red chile flakes
1/2 tsp sea salt
1/2 tsp dried thyme
1/2 tsp dried fennel seed
3 medium Yukon gold potatoes, thinly sliced
1.5 cups shucked clams, chopped
2 cups clam juice
3 cups reduced fat (2%) milk
4-5 pieces good, seeded wheat bread
3 oz aged Gouda, such as Old Amsterdam, very thinly sliced
2 T butter, at room temperature
several dashes hot sauce, such as Cholula
cracked black pepper, for serving
Instructions
Add bacon to a cold soup pot or Dutch oven and set flame to medium. Render fat from bacon until it just begins to crisp on the edges. Add celery, onion and all spices and saute until vegetables are tender (do not let them brown), about 5-10 minutes. Add potatoes and clams and stir to combine. Saute another 2-3 minutes. Add clam juice and milk and reduce heat to low. Simmer just below boiling for 20 minutes or until potatoes are tender and flavors have melded.
Meanwhile, stir together softened butter with hot sauce until evenly combined. Lightly butter both sides of bread and place in a hot pan until golden brown and crisp. Flip bread and evenly distribute cheese over top of slices. Cover pan or tent with foil until cheese is melted and second side is toasted. Remove from pan, allow to cool slightly, and cut into bite-sizes cubes.
Serve hot soup in shallow bowls topped with gouda croutons and cracked pepper to taste.