Oh heyyo friendsies! Long time no chitchattle. Somehow those five days of Mexican bliss I referred to in my last post stretched out into more than a week of no bloggy blogging – and real talk, it was kind of splendid. Not that I don't love hanging 'round these parts talking about donuts and dranks, but it is just toooo nice to have someone else – yeah, like someone that's not me – do the making of the dranks and the delivering of the dranks while I do the lounging on the beach. Which, I've determined, I kick major ass at, BTW. I am a superb beacher-upper. Er. Play on, playa. Heh. Also, pirate ships. And THE BEST TACOS I've ever had, ever, ever. WhAt!
So I made these croquettes (can we call them 'quettes?) approximately forever ago with the intention of posting them up sometime before all that #soletspigout bidnit, and then. Well, life happened or something. And by life happened, I mean Keeping Up with the Kardashians. Because I'm like three seasons behind. And who needs sunshine.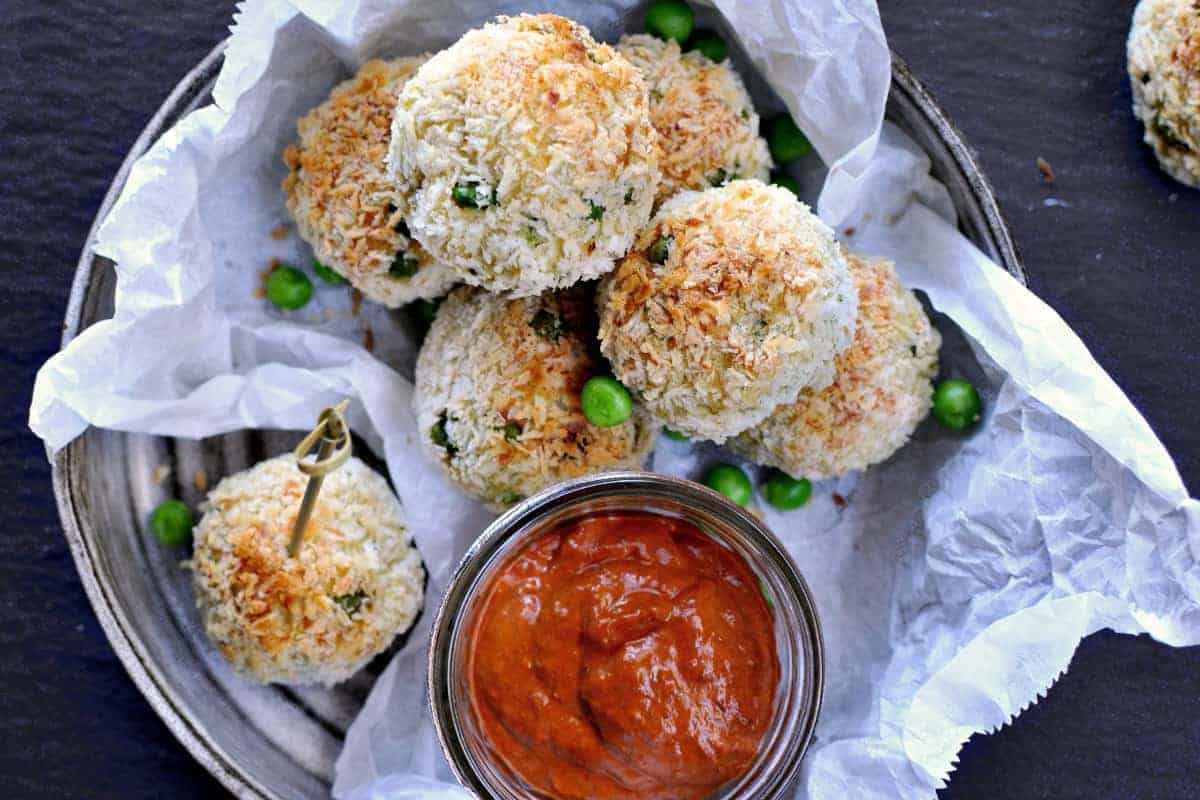 If you're even one-tenth as smitten with samosas as I am, you're gonna dig these croquettes 'quettes something fierce. They've got all the warm, savory fragrance of those triangular little pie pockets – taters! peas! curryish spiciness! – but they are ridic simp to make. And because they're baked, you can snarf up the whole tray and be like, it's diet food beeeeeaches! And by beeeeaches I mean playas. Should I say olé now? I feel like this post is getting confusing.
Let's also touch super briefly on the amazingness that is this harissa yogurt sauce. It turns these savory-sweet sumthin's into little balls of (tolerable) fire. I like mine substantially zippy, but you could easily halve the harissa or double the yogs if you want your sauce a whittle wimpier. No bigs.
Glad to be back in the webstiverse with you dope folks.
Gotta gotta 'quette up, 'quette down.
xo,
Em
Samosa Croquettes with Harissa Yogurt Sauce
Makes:
about 20 croquettes
Ingredients
1 lb red potatoes, peeled and cut into 1" chunks
1 cup frozen peas, thawed
1 egg, beaten
1 tsp maple syrup
½ tsp curry powder (we always use this Vindaloo)
½ tsp sea salt
dash white pepper
1 cup panko
Instructions
Preheat oven to 350F. Line a baking sheet with silpat or parchment.
Add potatoes to a large pot of cold water and boil until fork tender. Drain and set aside to cool slightly.
Lightly mash potatoes until mostly smooth. Stir through maple syrup, beaten egg, curry powder, sea salt and white pepper until well combined. Fold in peas.
Scatter panko into a shallow plate or baking tray. With wet hands, roll potato mixture into ping pong-sized balls, then roll lightly through panko, pressing crumbs to adhere if necessary. Arrange on prepared baking sheet.
Lightly drizzle croquettes with olive oil and bake in preheated oven for 20-25 mins or until crisp and golden brown. (You can enhance the color with a few mins under the broiler if you want a deeper brown.) Pssst, now's a good time to make the yogurt sauce.
Allow croquettes to cool slightly before serving with Harissa Yogurt Sauce.
Notes
These croquettes come together so quickly and are just plain fun to eat. They reheat well in the toaster oven, too, which is a big plus around here. For a gluten-free variation, use
gluten-free panko
. For a vegan variation, sub the egg for a chia egg (I talk about them a bit
here
) and ditch the yogurt in favor of vegan mayo.
Spicy Harissa Yogurt Sauce
Makes:
generous ½ cup sauce (plus extra harissa)
Ingredients
5 oz dried ancho chilies, stems and seeds removed
1 T Ras el Hanout spice blend, or similar (available online or at Trader Joe's)
6 cloves garlic, roughly chopped
¼ cup olive oil (plus more as needed)
sea salt
¼- ½ cup Greek yogurt
Instructions
Cover chilies with boiling water and let sit for 20 minutes to rehydrate. Meanwhile, add spices to a pan and toast over medium heat until fragrant and slightly nutty, about 2 mins.
Drain chilies. Add chilies, garlic, spices and olive oil to a large food processor and blend until smooth, adding a drizzle more oil if necessary to reach a smooth paste. Season with salt to taste.
Mix ¼ cup of harissa paste with Greek yogurt to taste, beginning with ¼ cup and increasing yogurt as needed for a cooler sauce. Enjoy!
Notes
Store ununsed harissa paste (that is, the paste NOT mixed with yogurt) in the fridge in a tightly sealed jar topped with a quarter inch of olive oil for up to three weeks. It's a tasty pre-grill marinade for chicken, lamb or tofu, too!
————————————————–
 Oh hey, before you go…
Like whatcha see here — or have a question, feedback, or recipe hack to share? Join The Pig & Quill convo by commenting below (I love, luv, 
lurve 
comments) and hang out with me on
Facebook, Twitter, Instagram
and
Pinterest
. And don't forget to
subscribe to P&Q emails
(see that nifty box up there in the sidebar?) or add me to your RSS reader with 
Feedly
 or 
Bloglovin'
so you never miss a post. x's & o's!