Disclosure: I participated in an Influencer Activation on behalf of Millennial Central for Budweiser. I received product samples to facilitate my review and a promotional item to thank me for participating. As always, I recommend only those items that I truly find to be a good fit in The Pig & Quill kitchen, and any opinions expressed across the site, be they negative or positive, are 100% my own.
————————————————–

Well howdy, friends. I hope everyone in these 'ere United States enjoyed a lovely Thanksgiving holiday. Knowing that there are people out there — family, friends and some wonderfully loyal, creative and funny folks that I've never met! — reading my jibberish is one of the most humbling feelings in the world, and it's such a special experience creating this space with all of your support. So if I've not said it before, this and every year, I'm SO THANKFUL for this, our little P&Q community. Love you guys. Now, on with the post!
Last year, Chris and I hosted a little Friendsgiving shindig before the holiday weekend — just a casual get-together for those dear friends we consider family but wouldn't be Giving Thanks with on the big day. And this year, we wanted to do something similar. Of course, between the daunting task of staying local for Thanksgiving and too many marathons of Breaking Bad, I Couldn't Be Bothered (that's CBB, for the hip folk) to get too elaborate, so we let the booze do the heavy lifting and did more of a Cheersgiving. Beers, small bites, and lots of excuses to toast our many, many blessings.
A couple of weeks prior, Budweiser sent me a nifty little tasting box featuring three of their newest Project 12 creations, which is Budweiser speak for fancy new special edition beers that are no doubt crafted to appeal to more uppity beer drinkers' discriminating palates. LUCKY FOR BUDWEISER, I've got some of the uppityest beer drinking friends around! And they were more than game to kickoff our holiday hijinks with a flight of tasty American suds.
Each named for the zipcode in which they were brewed, the three Project 12 special edition lagers that we tasted at our party included (as described by Budweiser):
Beechwood Bock – Batch 43229 (Columbus, Ohio) 
Brewed with chocolate and caramel malts for a rich auburn appearance, this deep amber lager has been finished on Beechwood chips for a crisp and clean taste.
North Pacific Lager – Batch 94534 (Fairfield, California)
Brewed with a unique blend of North Pacific hop varieties; this bold and hoppy lager has the distinct taste of the American Northwest.
Vanilla Bourbon Cask – Batch 23185 (Williamsburg, Virginia)
Aged on a bed of bourbon barrel staves and vanilla beans, this light lager indulges the sweet side.
Guided by Budweiser's tasting notes and trusty Google for pairing recommendations, we loosely built the rest of our "menu" (aka lazy-person's Trader Joe's shopping list) around each beer's individual characteristics:
Smoked Almonds (Beechwood Bock)
Chips & Best-Ever Tomato Salsa (Beechwood Bock)
Maple-Walnut Blondies (Vanilla Bourbon Cask)
Marzipan Horns (Vanilla Bourbon Cask)
Pumpernickel Pretzels with Warm Cheddar Queso (North Pacific-Style Lager)
Brie with Hot Pepper Jelly (North Pacific-Style Lager)
And the final verdicts?
Beechwood Bock – Batch 43229 (Columbus, Ohio) 
Super drinkable with a little flatter finish than we expected. Would have been nice if more of that signature, nutty, malt flavor that I associate with amber lagers came through, but even so, this was probably my favorite of the three. A nice balance to the bolder foods we paired it with.
North Pacific Lager – Batch 94534 (Fairfield, California)
This guy was the hands-down fave for the rest of the group, which has an overwhelming soft-spot for hoppy, California brews. For the guys who were really looking for a lot of hop on the palate, this seemed mild but easy-drinking. Personally, I liked the discernible but lighter hop flavor. And it was awesome with the brie and homemade hot pepper jelly that we hoarded from Parker & Lauren's wedding. (Edible favors rock.)
Vanilla Bourbon Cask – Batch 23185 (Williamsburg, Virginia)
The initial aroma is definitely on the sweet side with a cream soda-like, vanilla perfume that's prominent on the palate, as well. Definitely the most unique of the three Project 12 beers. Even with its light finish, I'd probably save this novelty beer for a very specific pairing rather than enjoying it as anytime session ale. A pleasant pairing with those nutty, maple blondies.
Of course, we all agreed that beer tastings are just downright fun…
So, wanna host a beer tasting of your own? While fairly obvious, it doesn't take much to pull together a fun event around which to build your next gathering.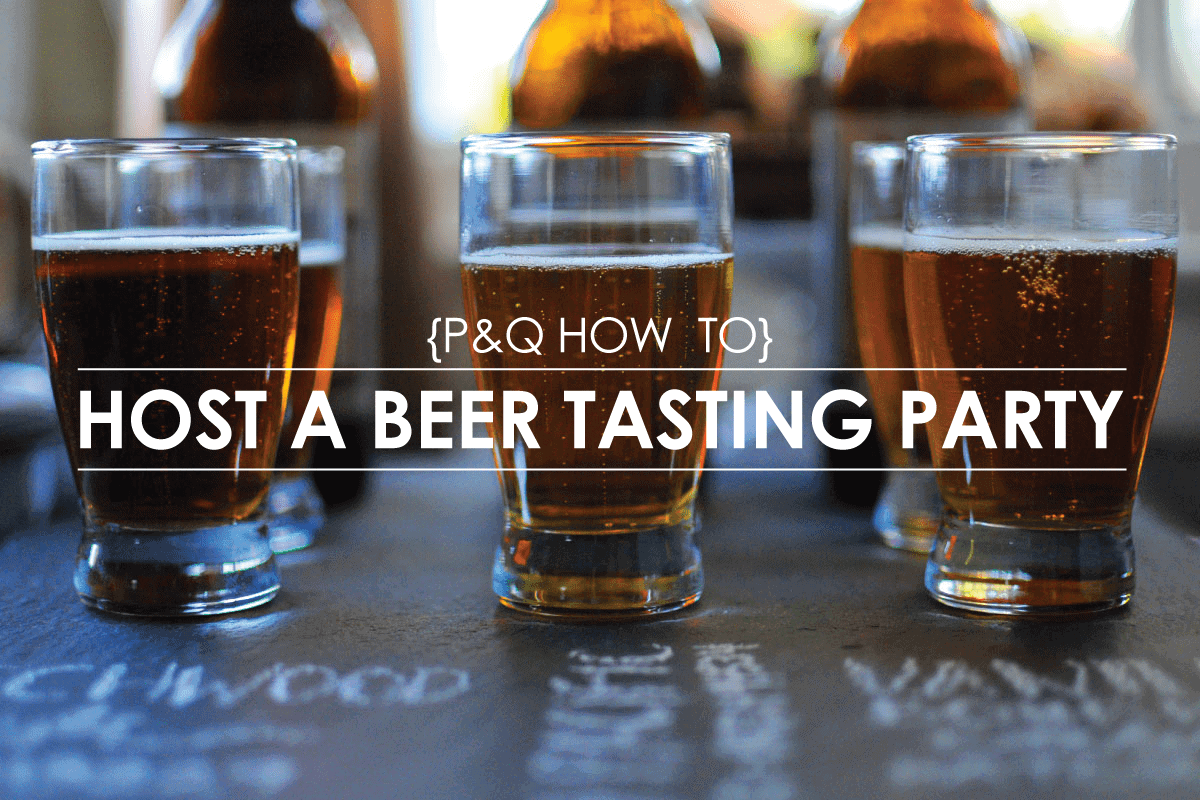 Eees so eeasy! You'll need:
Three to five different speciality or craft beers. They can be completely different in profile, like the three special edition beers we tasted, or variations on a favorite style of beer. I can tell ya that, in my group of friends, an IPA tasting would go over real big. And people would probably get real wrecked, real fast. So, uh, exercise caution.
Tasting glasses. These guys are super cute.
Serving slate, chalkboard, or other Pinterest-friendly signage to identify beers. Because the same people who appreciate craft or special edition beers probably also really dig a hip burlap table runner and some pubby chalk labels.
Beer-friendly bites. Pretzels and beer nuts are tried and true favorites, but get creative with foods that complement the nuances of each brew. This simple chart from Craft Beer probably just skims the tip of the iceberg, but it's a fun jumping off point.
Random copper pitcher of wheat. Though optional, I feel this element of decor is totally clutch for any serious beer hostess.
Designated driver(s). If you're planning for more than a few swigs per person. Because, duh.
Hope you guys have fun experimenting with a beer tasting of your own — this holiday season or any time of year. And again, MANY THANKS to all of you out there for reading, following and sharing my little spot on the web. So much love to you and yours this holiday season. Cheers!!!
————————————————–
Like whatcha see here — or have a question, feedback, or recipe hack to share? Join The Pig & Quill convo by commenting below (I love, luv, lurve comments) and hang out with me on Facebook, Twitter, Instagram and Pinterest. And don't forget to subscribe to P&Q emails (see that nifty box up there in the right sidebar?) so you never miss a post. x's & o's!