This week has been a whirlwind. I'd point out my lack of posting, but perhaps you've already noticed? We learned a few days ago that Chris will be starting a new job in two weeks (he's such a smartie!), we're toying with the idea of moving (locally, but is moving ever easy?) — and after months of anticipation research, we finally sealed the deal on some new wheels for this little lady. Which begs the question: where was this heated steering wheel thing when I was driving to work in Level 3 snow emergencies a few years ago? Or 4WD, for that matter? Doing things backwards is fun.
Happily, Thanksgiving weekend also marked the arrival of a snazzy 6′ Noble Fir, which is looking positively handsome in his Christmas skirt and wing-ed angel top hat. He's a classy dude. And he's totally rocking big, floppy plaid bows like it's 1991. And a few well-placed My Little Ponies, just to keep things kitschy. We've even got this grapevine twine garlandy thing going on in all its Pottery-Barn-meets-actual-barn glory. It's so freaking hip in here, you guys. I can't even.
And I don't know about you, but once the tree goes up, the holiday flood gates open right up. Yuletide, you say? Try Yuletsunami, beeyas. I've been jamming to Paul McCartney on repeat like it's nobody's business, online shopping for "presents" like it's actually my business and festively labeling darn near everything that's red or green Christmas Somethingorotherexclamatory! Which is going over really, really well.
Me: "Aw, nice, babe! Wearing your Christmas Jammy Pants!"
Chris: "I wear these all the time."
Chris: "Are you really having another glass of zin?"
Me: "I think you mean Christmas Wine!"
And my personal favorite:
Me: "Babe! Babe! Babe! Wake up! It's raining outside and I made Christmas Eggs!"
Chris: "……."
So here they are: Christmas Eggs! — so named not only because they are fancily flecked with purty chimichurri but because they're jazzy enough for holiday fare. And they're just really, stupidly simple . I love them with these homemade tortilla crisps, but they'd be great with slender rectangles of toasted, seedy bread or a slice of golden crostini. Your call.
Here's to busy weeks, big happenings and Christmas Eggs!, friends!!!!!!
(P.S. You have my blessing to make these year round. In which case Anytime Eggs! is the recommended exclamation. Enjoy!)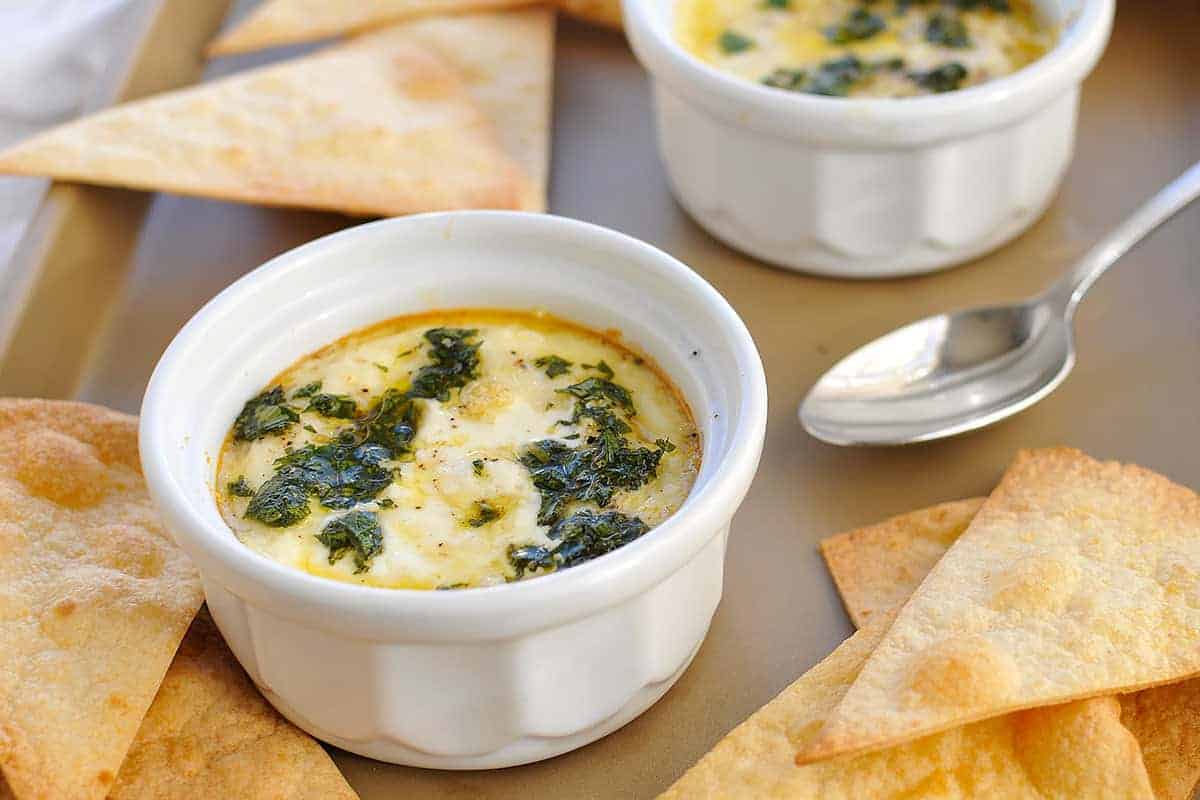 Creamy Baked Eggs with Chimichurri (Christmas Eggs!) 
Adapted from Food.com's recipe by SeriousMoms
Cook time: 30 mins | Serves: 2
Note: The original recipe I pulled this from was written for two, and it has worked just great for us — but I imagine it would scale very easily to feed a crowd. I'd still stick with the individual ramekins versus one large baking dish — and make sure you've got plenty of crisps for dipping! I'd estimate about one tortilla (gluteny or gluten-free, your choice) per person.
Ingredients:
 2 flour tortillas (white flour tortillas are a guilty pleasure, but feel free to use whole wheat, gluten-free, etc.)
olive oil
4 eggs
salt/pepper
1/4 cup finely grated parm
1/4 cup heavy cream
butter, for greasing the dishes
1 small bunch parsley, finely chopped
couple of good glugs (1/4 cup or so) extra virgin olive oil
zest of 1 lemon, plus juice of 1/2 lemon
1/4 to 1/2 tsp red chili flakes (to taste)
1 tsp maple syrup
salt/pepper
Instructions
Preheat oven to 400F. Brush tortillas with olive oil, stack 'em up, and cut them into 8 slices (or larger/smaller, if preferred). Arrange in a single layer on an ungreased cooking sheet and bake 8-10 mins or until golden brown. Allow to cool.
Lover oven to 325F.
Butter two 8 oz ramekins. Crack 2 eggs into each ramekin. Sprinkle each serving evenly with salt, pepper and 2 T parmesan cheese. Top with 2 T heavy cream. Place on a baking sheet and bake for 10-25 minutes, until desired doneness (in my oven, at 10 mins the whites are soft-set, 15 the yolks are still runny and at 20-25 they're nearly hard-cooked).
While eggs are cooking, stir together parsley, olive oil, zest, juice, chili flakes and maple syrup. Season to taste with salt & pepper.
Drizzle eggs with chimichurri (reserve extra to serve over grilled meats or veggies!) and serve with tortillas alongside for scooping.
Disclosure: This post was sponsored by Food.com. As always, any opinions expressed across the site, be they negative or positive, are 100% my own.
————————————————–
Like whatcha see here — or have a question, feedback, or recipe hack to share? Join The Pig & Quill convo by commenting below (I love, luv, lurve comments) and hang out with me on Facebook, Twitter, Instagram and Pinterest. And don't forget to subscribe to P&Q emails (see that nifty box up there in the right sidebar?) so you never miss a post. x's & o's!