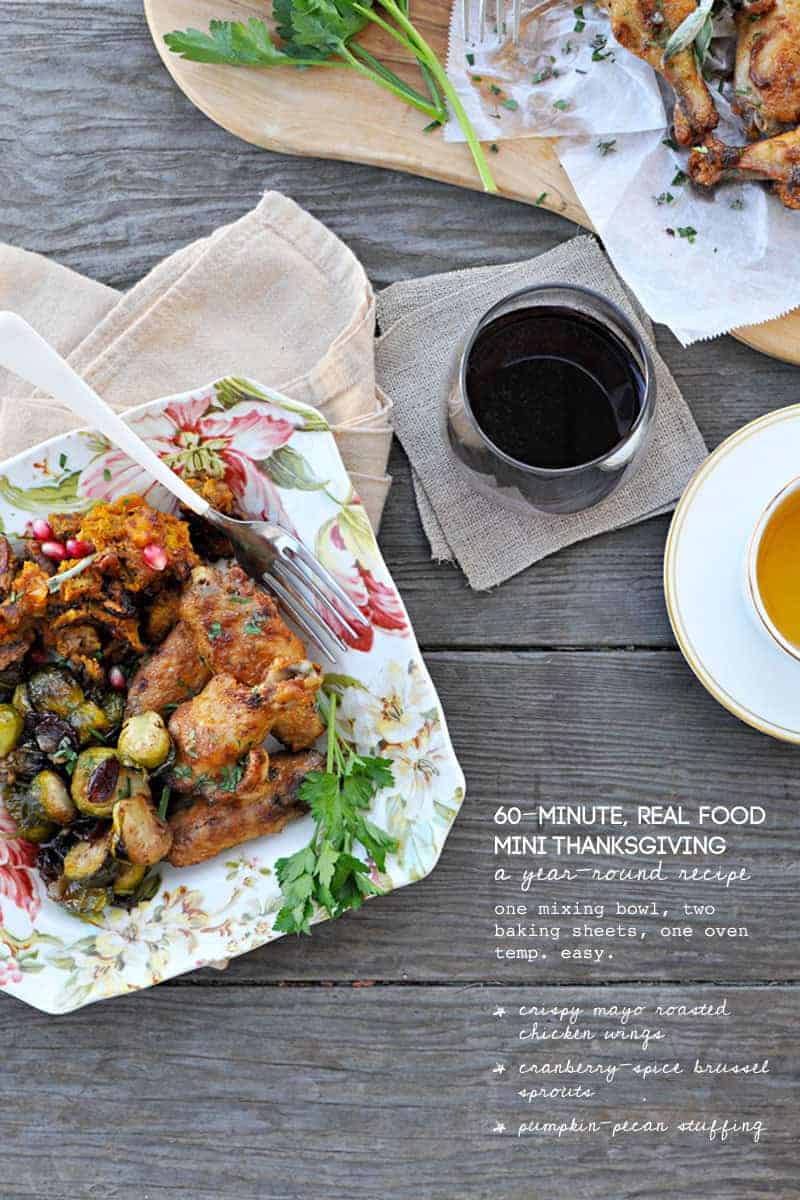 Holy freaking (American) Thanksgiving is in two weeks. I say that like I'm telling you something, I realize. Like you don't know that for yourself. But that's only because things like calendar events tend to get away from me, so I need subtle reminders — like Target swapping bins of Reese's ghosts for motorized Lazy Susans topped with shiny plastic trees — to shake me out of my "it's squash season but let's pretend it's still summer" daydream.
So just to be clear: I know you know it's almost Turkey Time. But I'm gonna go ahead and keep freaking out.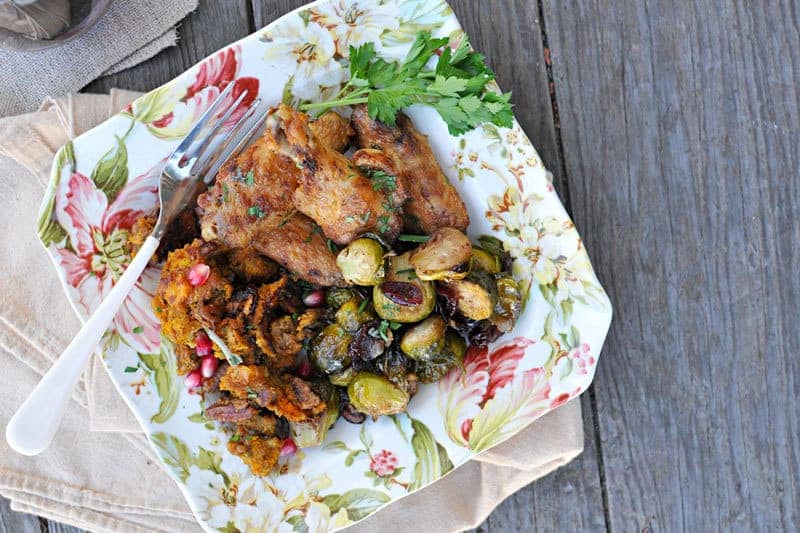 Fortunately — and here's where you're going to be really impressed by me — I anticipated the shit out of this freak out. I knew old T-Givvle (← that happened) would schneak up and bite me in the butt, and I totally beat it to the punch by whipping up this tiny feast before I even packed my bags for this year's mo-do trip (to Spain!).
Ok, maybe that doesn't say much because I am the world's WORST procrastinator when it comes to packing.
Also, Spain update: I ate like a kilo of salted piggy parts today, which *phew* is cool given the whole a-kilo-is-pretty-much-just-an-ounce conversion thing.
Wait, that's not right, is it?
WTF Metric System. Duped again.
You want me to shut up and talk turkey.
I can take a hint.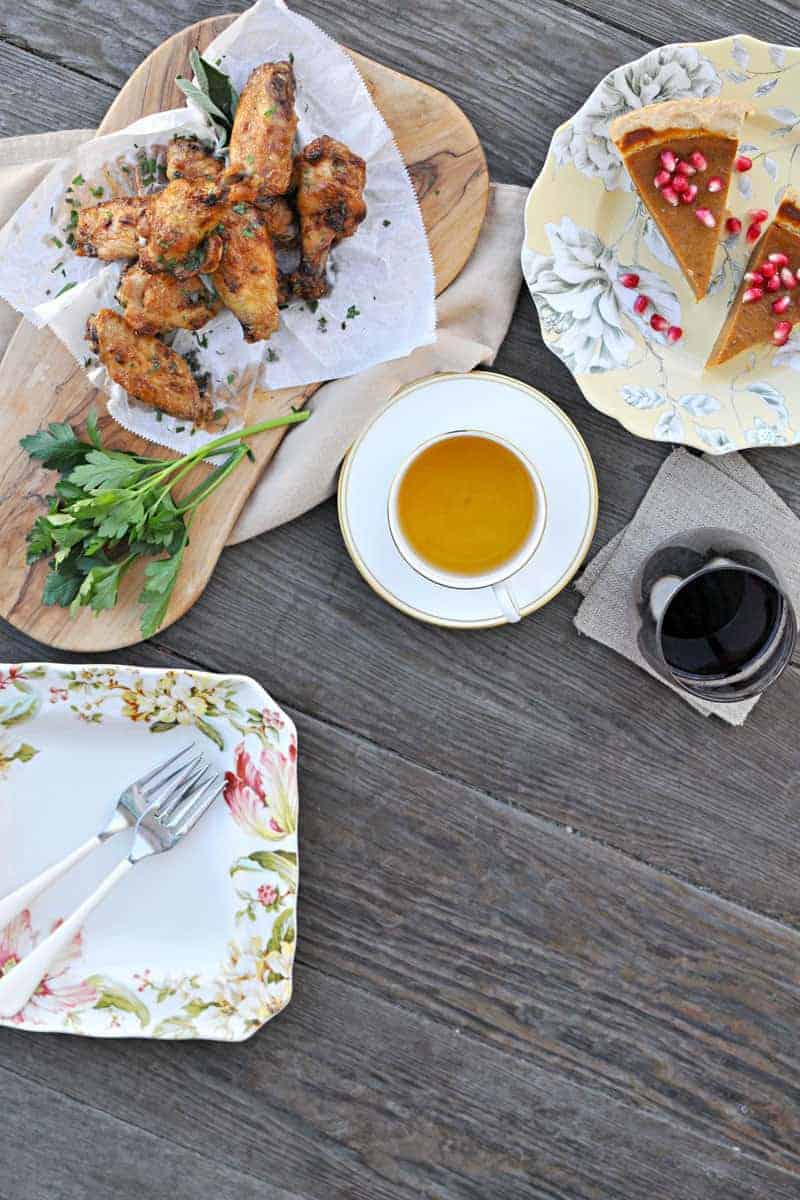 Ok, let's talk turkey chicken. Or, better yet: let's talk about a Thanksgiving-inspired meal that combines all the key flavors of Gluttonous Thursday into one simple, manageable meal that you can make in about the time it takes to watch an episode of Parenthood.
Not that I'd ever intentionally take you away from Parenthood, you guys. Because Joel and Julia in the elevator? Hello!!!! FIGHT FOR HER YOU GINGER-BEARDED HUNK OF A MAN.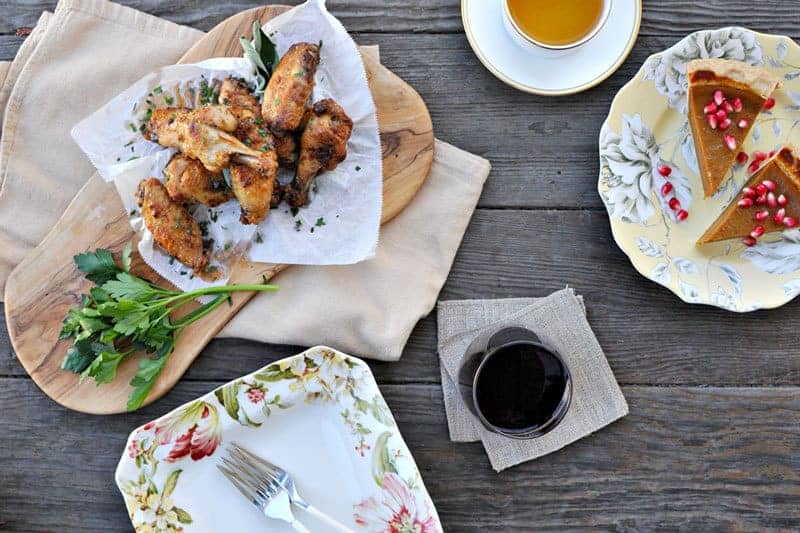 Geez, this is a distracted post. Is it TMI to tell you that my mom and I are watching Striptease in the hotel room right now because it is literally the only English program on our 197-channel TV? One glimpse of Burt Reynolds in head-to-toe Vaseline and I may never sleep again.
OH MY GOD, EMILY, FOCUS.
Ok.
Here's the gist:
One mixing bowl. Two sheet pans. One oven temperature.
THREE delightfully Thanksgiving-inspired dishes in about an hour.
It's the perfect menu for an intimate holiday meal — or a tasty supper evocative of all things Fall any time of year. The quantity of winning here, you guys? Is abundant. I know you're craving details.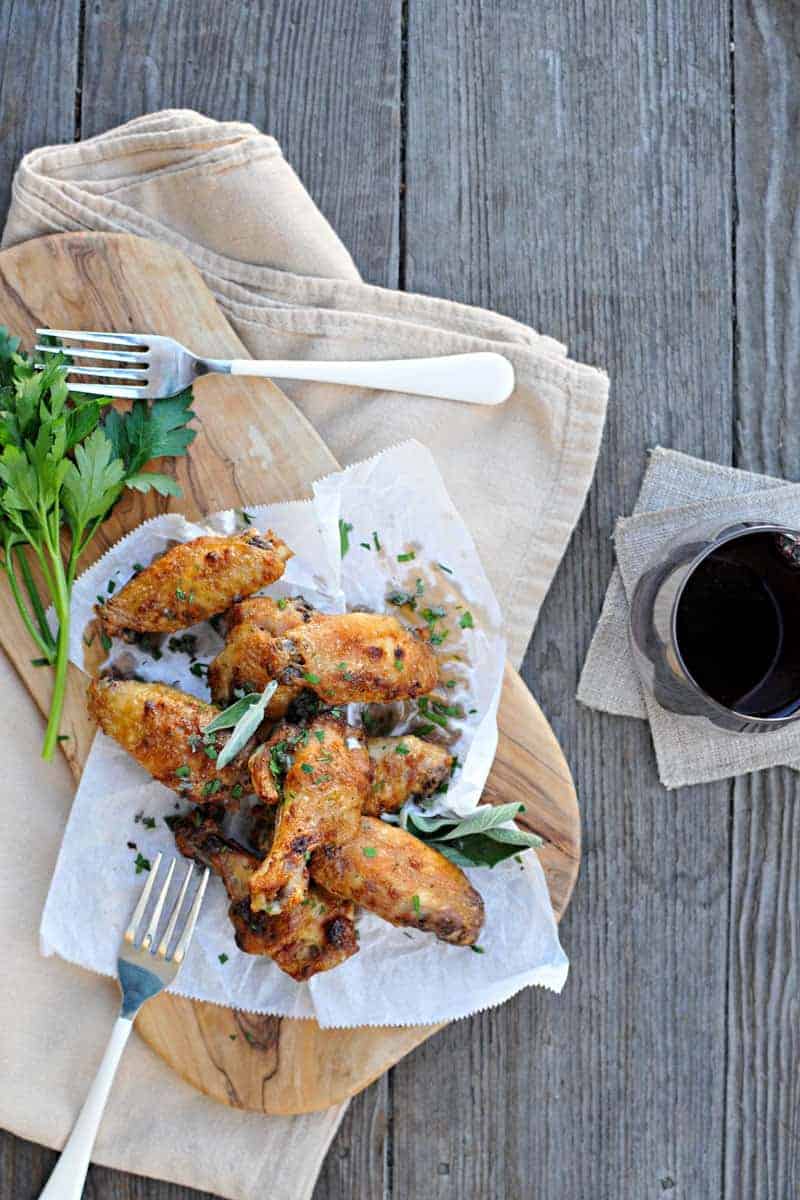 Mayo-Roasted Chicken Wings.
We've replaced that tedious old bird with the teensiest of crisply roasted chicken wings that boast all of turkey's most redeeming features — namely, the savory, distinctly indistinct flavors of garlic, sage and classic roasting spices aaaaand a crackly, browned skin. It's roast chicken that tastes, very simply, like roast chicken at its best. Feeling weird about the mayo? Those that roll with me here will be handsomely rewarded. In the baking world, mayo's primary components — oil and eggs — do wonders for crisping and browning, so using it to crisp the skin on these here wingy-wangs is just science. It melts into sing-song oblivion and makes for pan drippings that are out of this world should you feel inclined to make a gravy for drizzling or dipping.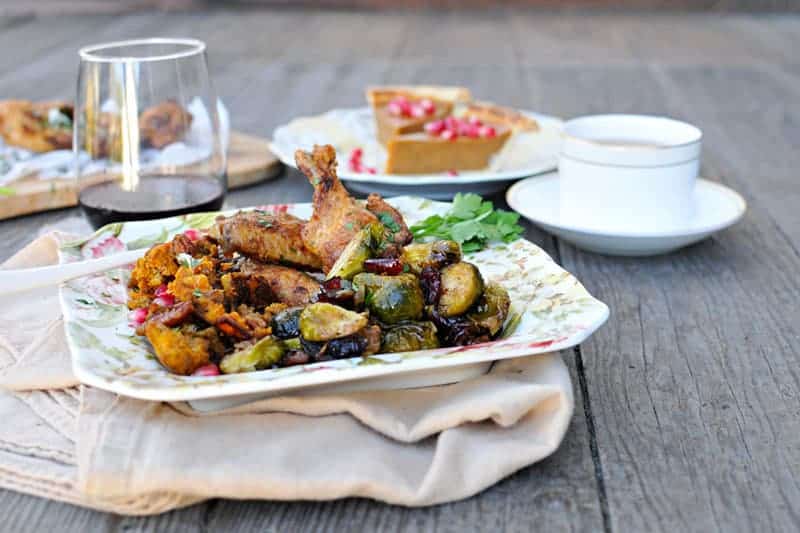 Cranberry + Spice Brussel Sprouts
A quintessential veggie side that marries nutty, roasted brussies with sweet-tart cranberries and warm, intoxicating garam masala. Speaking of booze, a shot of bourbon keeps things interesting and helps to keep those little crannies tender and toothsome in the oven.
Pumpkin-Pecan Stuffing with Cheddar + Thyme
Here's where we just take EVERY OTHER THING EVER associated with Thanksgiving and throw it into one dish. Just kidding. (Not really.) This is based on my step-momma's addictive recipe for pineapple stuffing, where most of the moisture in the simple, sandwich bread stuffing comes from drained, crushed pineapple. In this version, canned pumpkin and just enough maple syrup supply the moisture while pecans add crunch and interest. Tiny pockets of melting cheese — which brown into crisp, nutty bits on the pan (think grilled cheese sammich edges) — and dried thyme keep things from getting too sweet.
And did I mention? The stuffing cooks on the same tray as the brussies at the same time as the chicken.
BANG!!!POW!!!KABOOM!!!!KAZOO PARTY SOUNDS!!!
(That was me trying to avoid another confetti pop emoji reference. Points for effort?)
Round things out with a little/lottle wine, a bit of mulled tea or cider and your fave pun'kin pie (you know bakery or store-bought is always fine with me, although this decadent number from Joy's new book has me completely intrigued) and you're in fine shape, my friend.
AND — with nearly two weeks to spare, I might add. 😉
Cheers from the land of ham chips and Demi Moore's ridiculously toned thighs!
xo,
em
p.s. — there's plenty of Spain-citement happening over on my Instagram this week if you'd like to follow along.
p.p.s. — the new Holiday Feast edition of the Foodie app (featuring a couple of P&Q classics and 37 other blogger recipes!) is available now in the App Store! Get it for free here.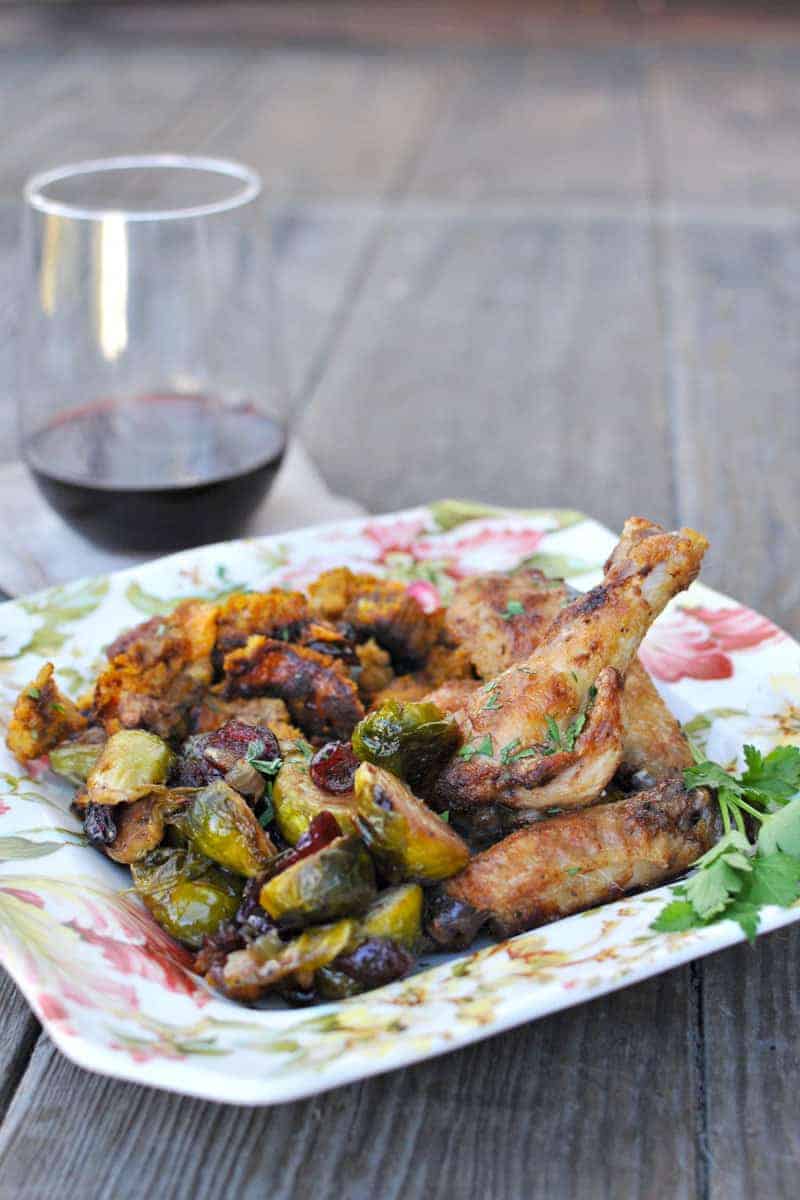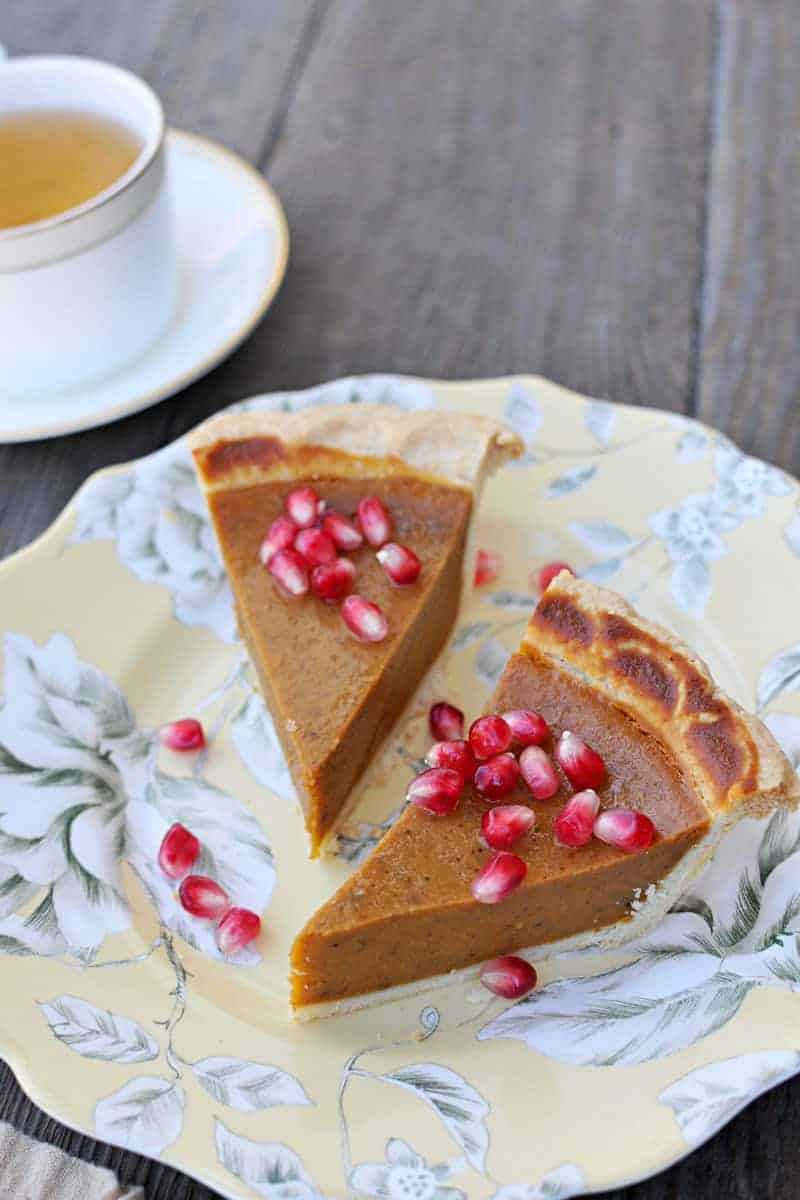 Um, yeah. That's a store bought pie + pomegranate seeds. Fancy grows on trees around here.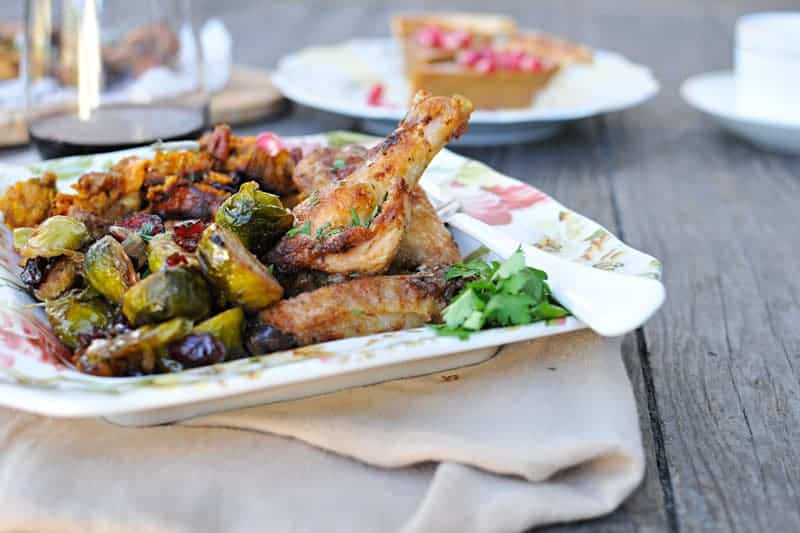 60-Minute (Mini) Thanksgiving:
Mayo-Roasted Chicken Wings, Cranberry and Spice Brussel Sprouts + Pumpkin-Pecan Stuffing
A quickie, Thanksgiving-inspired meal with all the flavors of the holiday in three quick dishes. The real beauty? Everything comes together in one mixing bowl (and a zip-top bag) and two sheets pans -- and cooks at one oven temp. And because the chicken gets a head start roasting while you prep the sides, the whole thing gets to the table in about 60 mins. Perfect for your own mini-Thanksgiving (it serves about 4 people) or a tasty, autumnal meal any time of year.
Ingredients
For the Mayo-Roasted Chicken Wings // GF
2.5 lbs chicken wings
¾ cup mayo
½ tsp dried ground sage
½ tsp garlic powder
½ tsp paprika
½ tsp salt
½ tsp pepper
For the Cranberry + Spice Brussel Sprouts // GF + Vegan
1 lb Brussel sprouts, halved
¼ cup melted coconut oil or avocado oil
¼ cup dried cranberries
1 ounce bourbon (or stock)
¼ diced white onion
1 T agave (or maple syrup)
1.5 tsp garam masala
½ tsp salt
For the Pumpkin-Pecan Stuffing with Cheddar + Thyme // Vegetarian
2 eggs
¼ cup melted coconut oil or avocado oil
¼ cup maple syrup
1 generous cup pumpkin puree
¼ tsp cinnamon
¼ tsp salt
generous ½ tsp dried thyme, lightly crushed
½ tsp paprika
½ cup diced cheddar cheese
½ cup chopped pecans
4 slices good, whole grain sandwich bread, cut into about ½" cubes
Optional Extras
fresh herbs (parsley, sage) for serving
pomegranate seeds, for serving
pie, for EATING (and, um, not home-making)
Instructions
Preheat oven to 400F. Position two oven racks in the center of your oven (or as close as possible).
For the chicken: combine mayo and spices in large zip-top bag. Add chicken and toss to thoroughly coat. Arrange mayo-coated wings on a large, ungreased rimmed baking sheet. Put into preheated oven on upper-center rack for 45-50 mins or until deep golden brown and crisp.
For the Brussel sprouts: While chicken roasts, grease a second large, rimmed baking sheet with coconut oil or baking spray. In a large bowl, toss together all Brussel sprouts ingredients. Turn out onto one half of the prepared baking sheet (leaving room for stuffing on the second half -- sneaky!!).
For the stuffing: In the same (now empty) large bowl, whisk together eggs, oil, maple syrup, pumpkin puree and spices until well combined. Fold in cheese, nuts and bread until moistened. Turn out onto second half of prepared baking sheet in loose clumps. Do not overpack stuffing mixture together.
When chicken has about 30 mins remaining, add second sheet tray of veggies and stuffing on lower rack and set timer for 40 mins. (The chicken will be done with about 10 mins left on the sides -- just enough time for it to rest a bit before serving.)
Salt and pepper veggies to taste, if needed, and garnish with optional extras.
Enjoy your mini Thanksgiving meal followed up with fat slices of store-bought (oh, ok, homemade, if you're a real sucker) pie! Yay!
Notes
Don't let the fact that these three recipes are tied together stop you from enjoying any one of them on their own. The chicken wings, in particular, are a real treat, even though the whole roasting in mayo thing seems kind of bonkers. There's something about that combo of oil and eggs that produces the juiciest, most flavorful, browned chicken you can imagine -- and the pan drippings!!!! -- oh my. Ambitious sorts may even want to make a quick sauce with those tasty morsels. Or you can just follow my lead and scrape those tasty brown bits off the back of a spatula like candy. 😉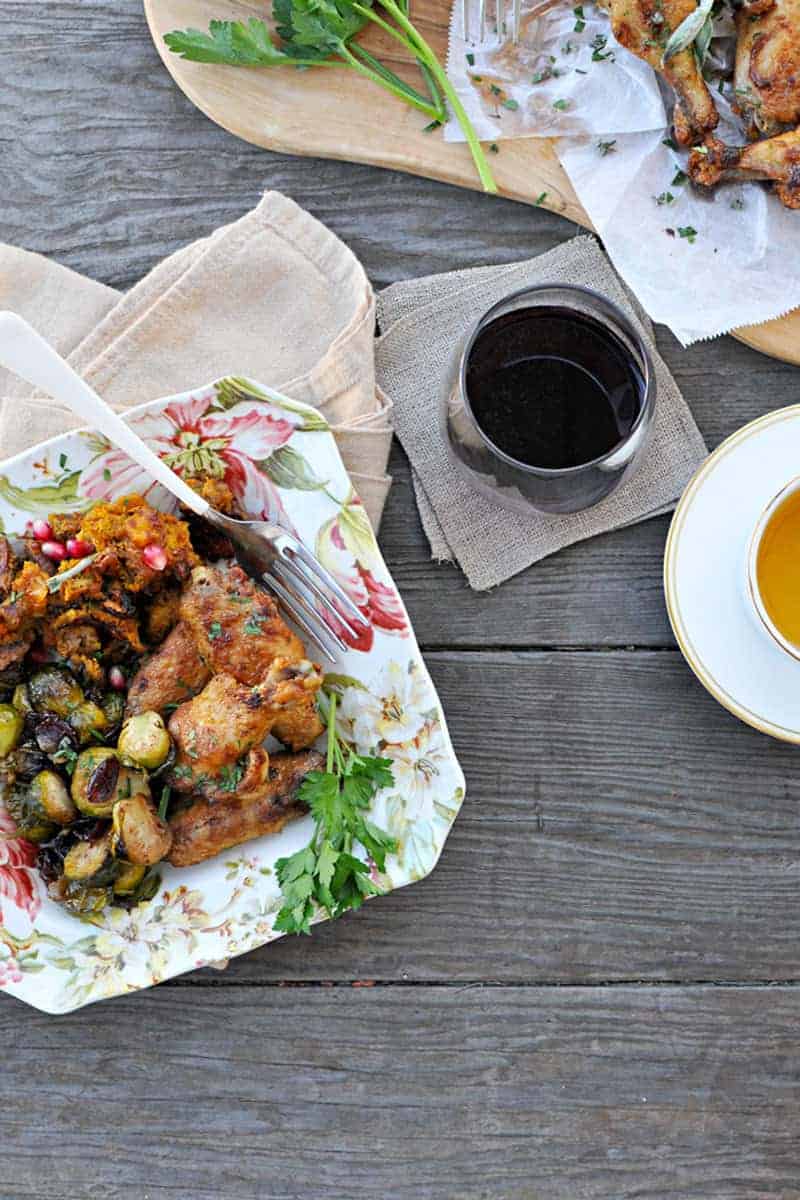 ————————————————–

 Oh hey, before you go…
Like whatcha see here — or have a question, feedback, or recipe hack to share? Join The Pig & Quill convo by commenting below (I love, luv, 
lurve 
comments) and hang out with me on
Facebook, Twitter, Instagram
and
Pinterest
. And don't forget to
subscribe to P&Q emails
 or add me to your RSS reader with 
Feedly
 or 
Bloglovin'
so you never miss a post. x's & o's!