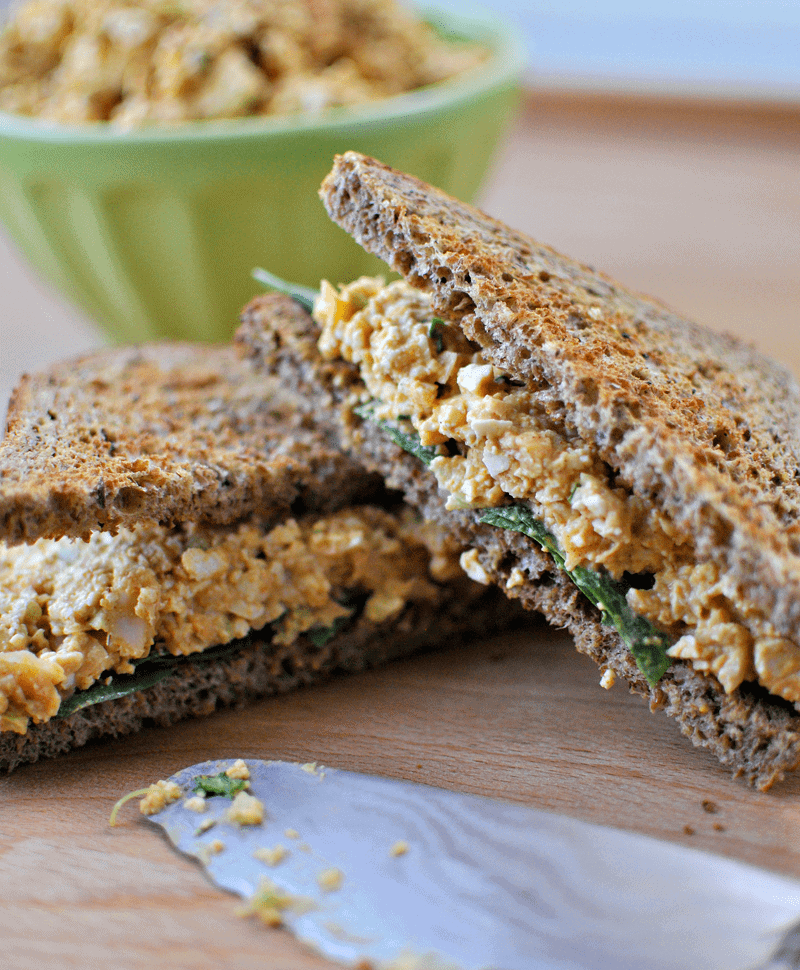 A few weeks ago Emily and I were standing around in the sun panting stretching post-run and taking a moment to postulate our diets.
"I'm thinking of cutting out fish," Em said. "Going real vegetarian for a while."
"Ohhhhkay," I began. "And does this have anything to do with watching Vegucated and hearing that girl talk about the fishies guts exploding as they're pulled from the sea?"
It's not like we don't know these things happen, but sometimes it takes a marathon of, like, 17 food culture documentaries for it to sink in.
"Well, sort of," she said, gamely. (She rolls with my Netflix fact-dropping pretty well…) And then, "But what will I eat instead of the tuna salad I love?"
"Easy!" I proclaimed. "Egg salad. You luuuuv luv luv luv luv egg salad."
"I do love egg salad," Em said in what was becoming a bit of a melancholy tone. "But I'm thinking about giving up eggs…"
Huh. How 'bout that.
And so began my challenge to create an eggless salad that would rival — nay, trump! — the egg salad that Emily had previously longed for. The trick, I had determined, was achieving the perfect balance of rich creaminess (usually played by the yolk) and bouncy texture (typically fulfilled by tender egg whites).
The solution: crumbled firm tofu folded into a smooth base of chickpeas whirled with vegan mayo and curry and spicy chili powder studded with just a hint of crisp green celery and ohmygaw-it's-freaking-awesome *breathe*…
For realio, it's a hit, folks. Em digs it. Lord knows I dig it. And it's even easier to whip up than a batch of the simplest egg salad. Ok, namely because there's not a single egg to peel, but still…
Nom.
Vegan Curried Tofu & Chickpea Salad
By Emily Stoffel
Cook time: 5 mins | Serves 3-4
Notes: I like this salad served on toasted sliced rye with baby spinach, but I bet it'd rock over a bed of spring greens lightly dressed with a mustardy vinaigrette. Or serve an elegant scoop on a pretty platter with whole grain crackers, olives and cornichons. Vegan-pleasing party app? Done.
Ingredients:
3/4 cup chickpeas, drained (about 1/2 a can)
1/4 cup vegan mayo
2 tsp curry powder
1 tsp chili powder
1 tsp salt (or more, to taste)
freshly cracked black pepper
1 stalk celery, finely chopped
1/2 brick (about 7 oz) firm tofu, well-drained and cut into large chunks
1/4 cup sliced almonds
Instructions
Combine chickpeas, mayo, salt, curry, chili & pepper in a small food processor and blend until well combined and nearly smooth, scraping down the sides as needed. Pour into bowl. Add chopped celery.
To same food processor, add tofu and pulse several times until very roughly crumbled. Do not over-blend.
Fold tofu into chickpea mixture. Add almonds and adjust salt to taste.