Today has been kind of ridiculous. To start, it's almost triple-digits here in the Bay Area. Which means, oh, I dunno, it's almost intolerably hot. I say almost, of course, because it's actually quite lovely when you take into account the perfect excuse it makes for a beach day. Think tanning, picnic, young adult novels galore and ice cream. Marianne's Ice Cream, just to be clear. Studded with toffee-coffee goodness and stacked doubly tall in not one but two crannied waffle cones.
Just try and tell me how wonderful a Saturday that does not make. Go ahead. You can't do it, right? Because it's basically the landing page for aich-tee-tee-pee://bomb-dot-com. I know. Gross. And also? Awesome.
On a day like today, I can barely even begin to think about cooking, which is why it's so phenomenal when I have something cool, refreshing, and just a bit indulgent to turn to in the fridge. Like this veggie-friendly, just-fancy-enough-for-company, plays-well-with-bacon little green pea number.
Oh peas, how I love thee. Let me count the ways:
1) With garlic noodles.
2) In a frittata.
3) Nestled under a (poorly photographed), just-so egg.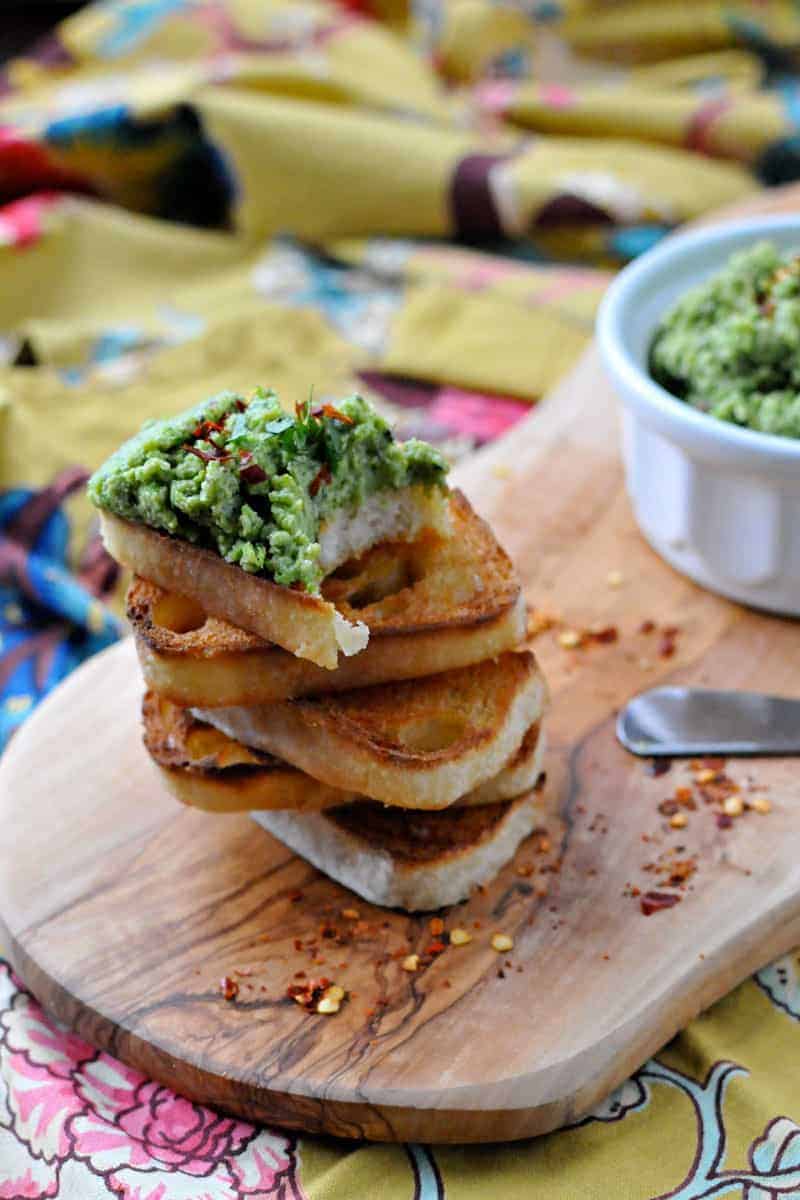 And showcased in complete simplicity with refreshing mint, creamy mascarpone and crisp, olive-oily bread. It's so good, you guys. So, sooooooo good. In fact, nothing in that sentence back there couldn't turn me away from a cheeseburger. (Heavy on the double negatives today, apologies.) I mean, why would anyone in their right mind elect to consume a clumsy patty of hot, greasy beef when you can instead partake in the cool elegance of the pea?
Answer: They wouldn't. (Ok, maybe they would.)
And do you know why? (Because patty food tastes good.)
Because it's just too cotdamn hot for a burger. (True 'dat.)
Make up some pea paté, peoples. Or, if my burger tangent has you all Cravey McCraverson, make up a bomb-snickity veggie burger and spread summa this all over that muther.
And then maybe tell me just how out of control I've gotten with the ridic lingo lately. Because it's probably time for a check. Pretty sure. Prets sur. Totes time. Fa-shay-shay. Probs bob. Mos def. MoDee.
Yeah.
Minted Spring Pea Paté on Crostini
By my best bud Kevin Wong (Adapted from the one and only GDL)
Cook time: 15 mins, plus chilling | Serves 4-6 as an appetizer
Note: If the thought of turning on your oven — or consuming gluten, or carbs — or both, is appalling, you can always sub the crostini for sliced cukes. Also, a topping of crumbled bacon wouldn't be a terrible idea. But I know you already know that.
Ingredients:
1 lb frozen sweet shelled peas
2 cups chicken or veggie stock
1/2 tsp crushed red chile flakes, plus extra for serving
8 oz mascarpone cheese, at room temperature
1 small bunch mint, stems removed (about 1/2 cup packed)
salt, to taste
sliced baguette (about 1/4″ – 1/2″ thick)
olive oil
Instructions
Preheat oven to 350F. Add stock and chile flakes to a medium saucepan and bring to boil. Meanwhile, turn mascarpone cheese into a large bowl and beat or whip until light and smooth. When water is boiling, add peas. Cook until just heated through. Drain.
To a food processor, add peas and mint. Pulse until finely blended. A scoop at a time, fold pea mixture into mascarpone (or vice versa, no matter). Salt to taste. Refrigerate until very well-chilled, about an hour.
Arrange sliced baguette on a baking sheet and drizzle liberally with olive oil. Bake in preheated oven until golden brown and crisp, about 5-10 mins, depending on your oven.
Spread minted pea paté on crostini. Top with additional chile flakes to taste. Share with others, if desired.