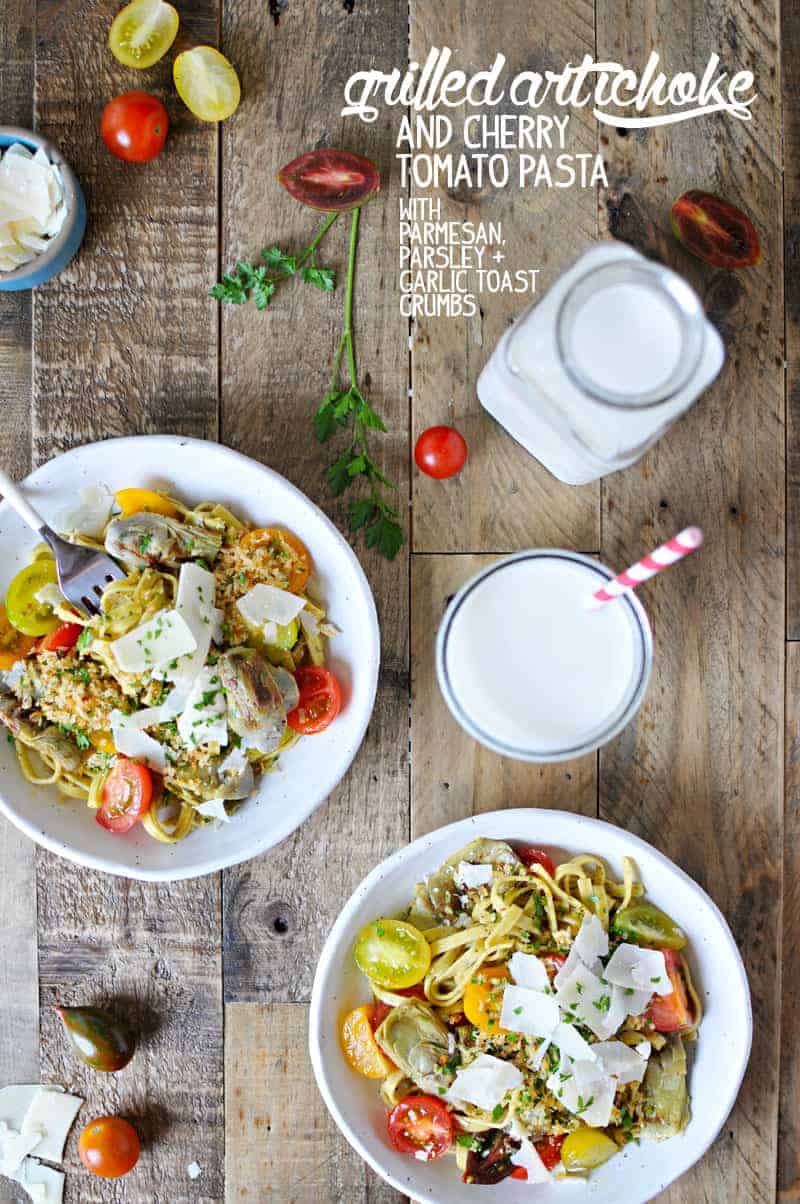 There are so many ways to start this post today, I almost don't know where to start.
It's (un)officially summer!
It's officially mah berfday month!
I'm eating dairy again!
BRUNCH PASTA!
I suppose if you needed to weave all of those items into a common tale, we could talk about how all I wanted for my birthday was to put milkstuff in my facehole again and this totally brunch-worthy pasta that sings of summer is making all those dreams come true. In fact, that's basically it. I should probably end the post here.
But you know meeeeeeeeee.
So first off: did you all have the loveliest holiday weekend, or what? Tell me about it. (Really, I wanna know!) We did a whole lot of nothing, which was — which always is — glorious. Lotsa walks to the park, takeout from our new fave Mediterranean spot (I think I ate there three times in the past two weeks?), the perfect Hello Summer barbecue hosted by lovely friends that began with Lana skipping her morning nap for the first time ever and ended with rosé, cake and everyone eating their weight in fish tacos. Perfection.
And as for the rest, well, it really can be rolled into one big, fat, mooooooooing celebration because, indeed, my birthday month is upon us, and, indeed, I am finally eating dairy again. And successfully. As in, no one (read: Lana) is exploding, erupting, etc. I'm taking it easy, of course. A little yogurt here. The tiniest scoop of ice cream there. I may have had a tiny breakdown this weekend that involved putting way too much brie on tiny slivers of baguette and making inappropriate Paula Deen eyes. Because CHEESE, you guys, CHEESE!!!!!!!!
itwaslikesogood.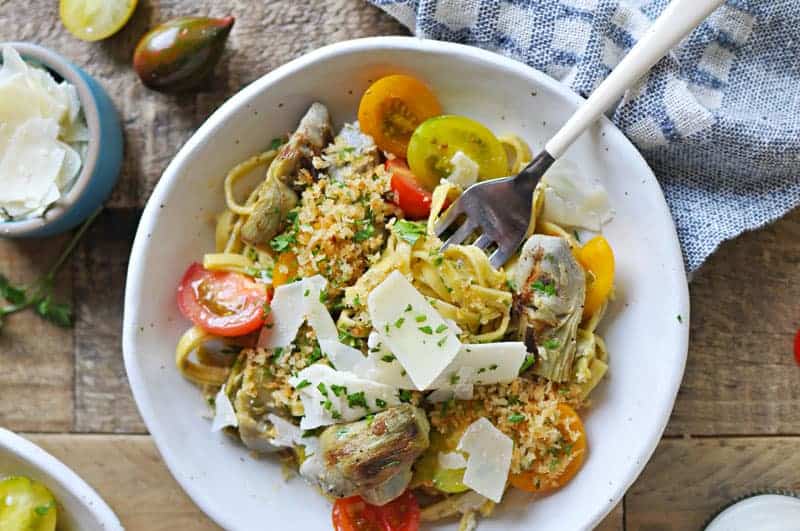 Which brings me to — you guessed it — this pasta. It's savory. It's seasonal. It's more or less served at room temperature, making it the perfect dish to bring to a summer brunch soirée or a late-morning picnic playdate at the park, which is a thing that happens in my life now. And it offers up all the elements you'd find in one of my favorite things ever, stuffed artichokes, with but a fraction of the labor. And with tomatoes. Lemme explain.
The traditional breadcrumbs-and-garlic combo you might find tediously packed 'twixt all.those.leaves is translated into this crazy crunchy panko topping that's basically garlic bread for Polly Pocket (and which I've been sprinkling on everything from salad to avocado toast). The parsley is still there, bright and almost citrusy and unapologetically verdant. And there's a good amount of cheese, too. Excellent parmesan, if you have it, or pecorino romano if you can tolerate a bit more tang. (I can.)
And then there are the arties, themselves. Shortcut of all shortcuts, in place of hand-trimmed artichoke hearts, I use frozen. I swear when they're grilled they're firm yet tender and smoky and fresh tasting as can be. (But you can totally turn your nose up at me and use fresh. I'll never know.) Tossed with linguine, bathed in a fresh sauce of sweet little summer tomatoes, olive oil and plenty of salt and blanketed with all that crispy panko and savory cheese, they're kinda magic.
Plus, there's that whole sciency artichokey thing going on that truly is somewhat magical. No really, have you ever noticed that artichokes have a tendency to make whatever you eat after them taste especially sweet? It's why they can be somewhat tricky for wine pairings — and why they are so very excellent with milk. 
Yeah, we're finally getting to that glass of milk in the photos.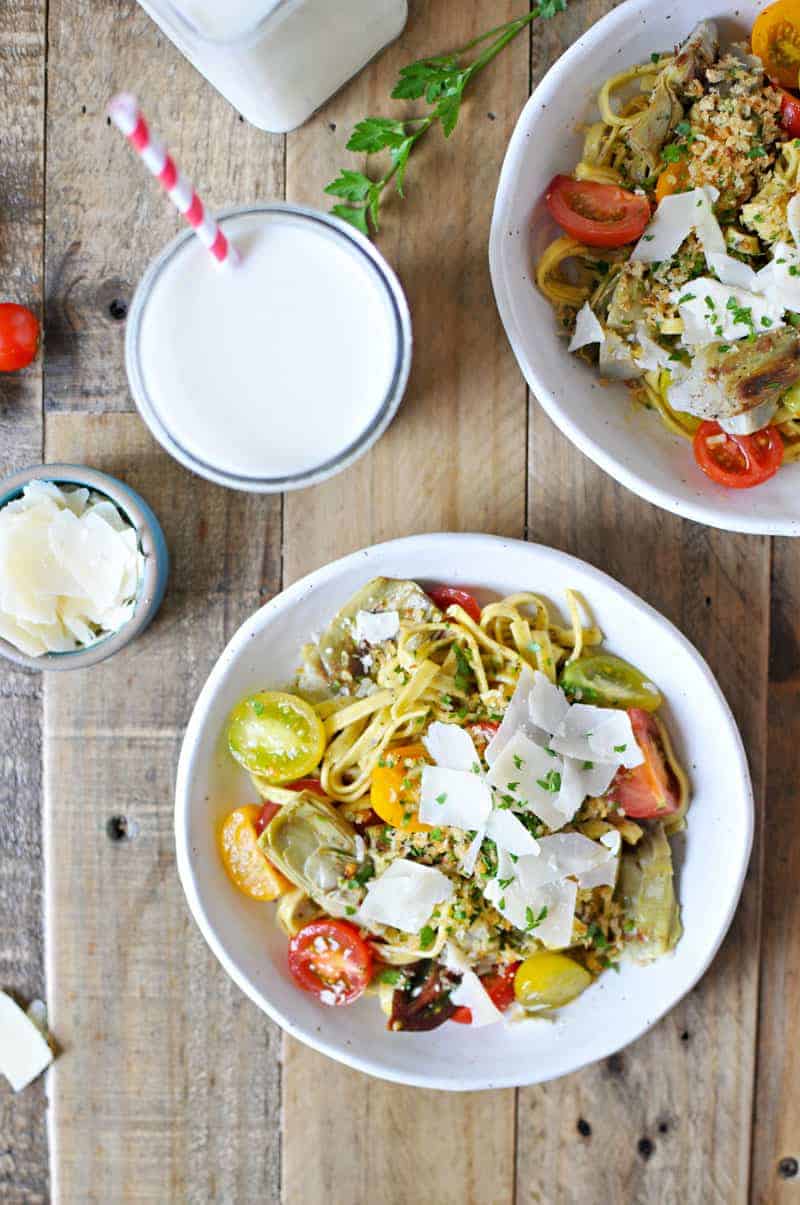 I mean, obviously pasta and milk are totally a match made in heaven, but take a bite of artichoke, then a sip of ice-cold milk, and you'll see what I mean. Your mouth is flooded with google-confirmed sweetness. It's crazy crazy, but it's also crazy delicious, and it tickles me to no end. (My mom can totally vouch for this. I dedicated a surprising portion of my childhood to artichoke eating, milk drinking and subsequent exclamations of joy.)
If you know what I'm talking about, you know how good this combo is gonna be. And if you don't know, well, this brunchy, summery pasta is as good an excuse as any. 😉
Happy summer, guys – enjoy!
xo,
Em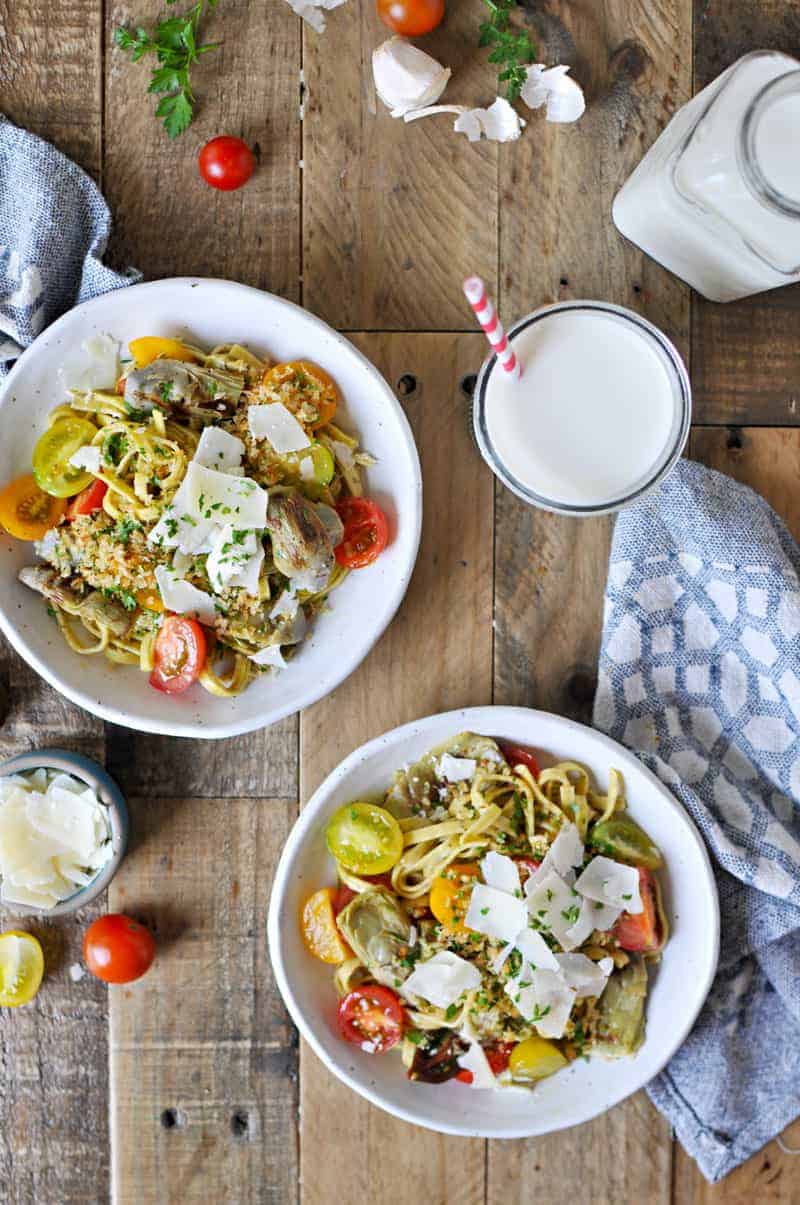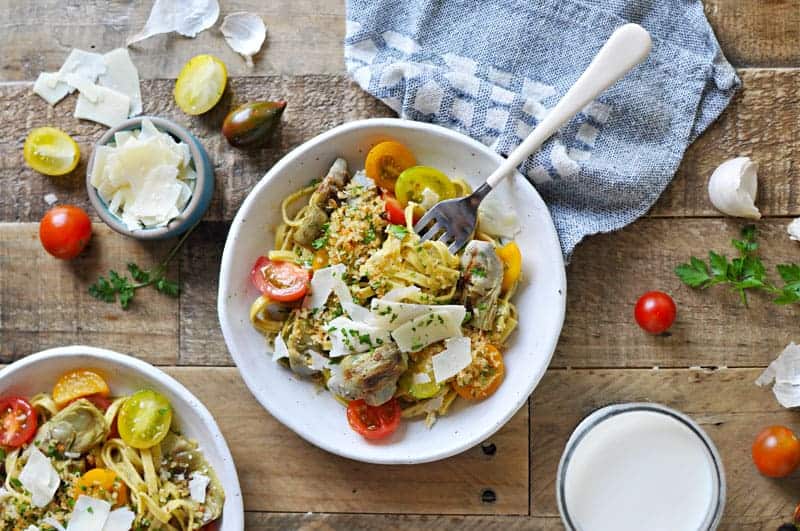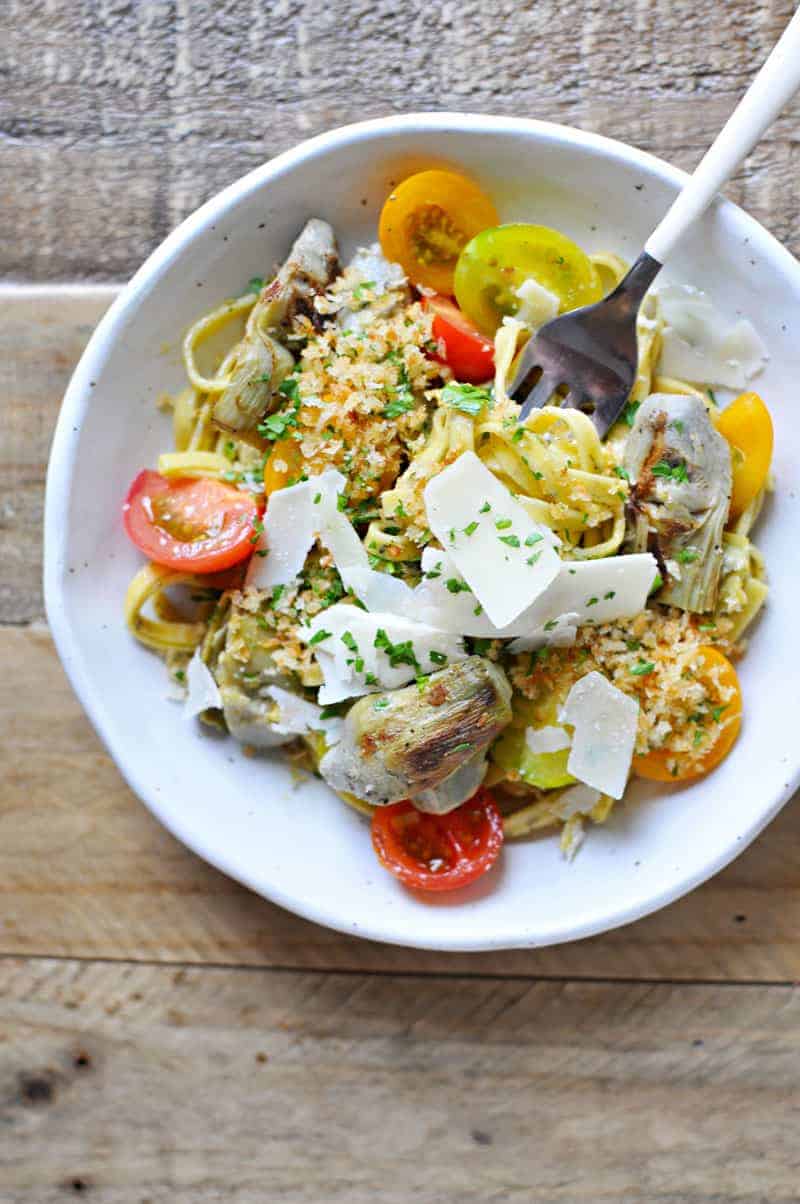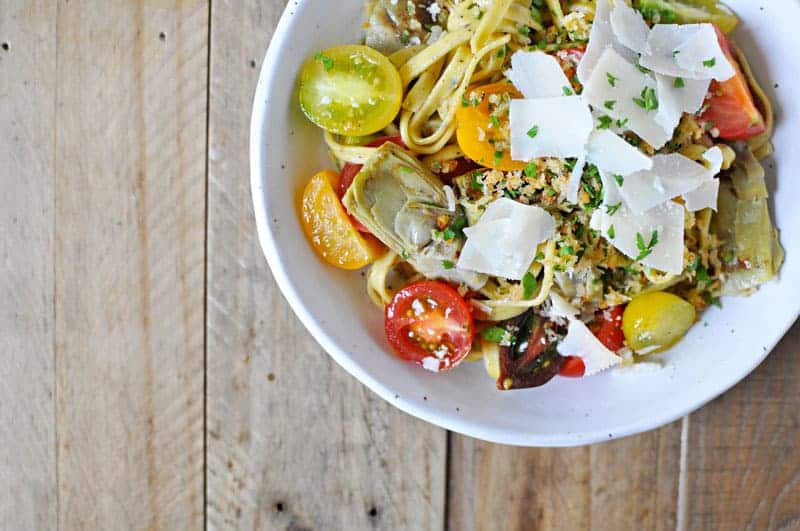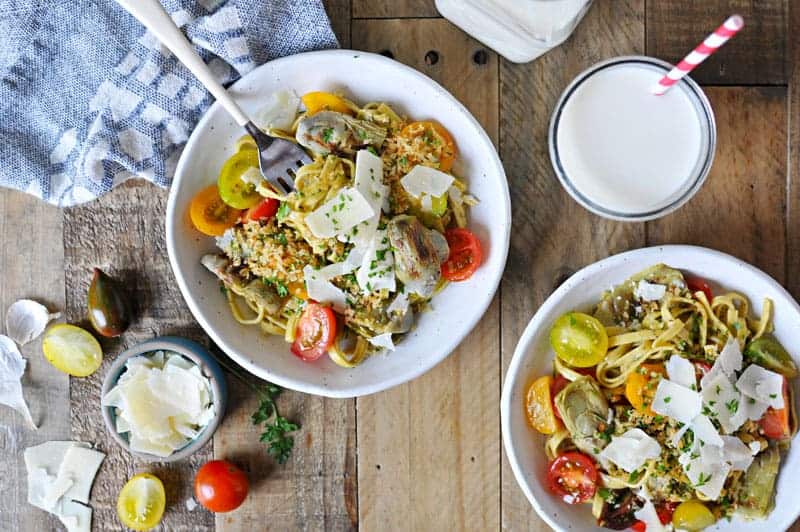 This post is sponsored by got milk? As always, I only support partners whose products and practices complement those employed in The Pig & Quill kitchen. Thanks for supporting the brands that help keep this piggy cooking!

grilled artichoke and cherry tomato pasta with parm, parsley + garlic toast crumbs
Everything there is to love about classic stuffed artichokes -- garlicky breadcrumbs, cheese and fresh herbs -- tossed in a fresh summer tomato sauce.
Ingredients
8 oz linguine (see note)
1 lb cherry or baby heirloom tomatoes, halved or quartered
½ cup + 2 T extra virgin olive oil, divided
12 oz frozen artichoke hearts, thawed, drained and lightly patted dry
4 cloves garlic, minced or crushed
1 cup panko bread crumbs
couple of large handfuls flat-leaf parsley leaves, finely chopped
lots of shaved parmesan or pecorino romano cheese
sea salt + freshly cracked black pepper
Instructions
Bring large pot of water to a boil and cook linguine until al dente, according to package instructions. Drain well.
Meanwhile, combine tomatoes, ½ tsp sea salt and ¼ cup olive oil in a large bowl and set aside.
Combine another ¼ cup oil and crushed garlic in a large saute pan and bring to heat over medium flame until garlic begins to sizzle. Add panko and stir to coat well with oil, then continue to saute until golden brown, stirring frequently, about 5 mins. Remove from heat and stir through most of the parsley. Set aside to cool slightly.
Bring an indoor grill pan to heat over medium-high flame. In a small bowl, toss patted dry artichoke hearts with 2 T olive oil, generous pinch of salt and lots of pepper. Arrange artichokes in a single layer on hot grill pan and cook until well marked and slightly charred in places, about 5 mins. Flip and grill another 3-5 mins until marked again.
Add hot pasta and grilled artichoke hearts to tomatoes, coating well with olive oil and tomato juices. Divide among bowls and top generously with garlic panko, shaved parmesan and reserved parsley. Enjoy!
Notes
Regarding the pasta, itself: the simple flavors here really shine with a fresh linguine, but a good, dried pasta totally works if that's what you've got. (Trader Joe's Garlic Basil linguine is what I used here.)

Regarding the cooking process: if you've got plenty of room on your stovetop, most of this recipe comes together in the time it takes to boil the water and cook the pasta -- but be mindful of multitasking while toasting the panko as it can burn quickly once it begins to develop color. Even if you cook the panko and the artichokes one after another, you'll still have a fine meal in about 30 minutes. And though there are a few more pans required for this recipe than I'd like to admit (two bowls, two pans and one pasta pot, to be exact), I promise you it's worth the extra 5 mins of cleanup. 🙂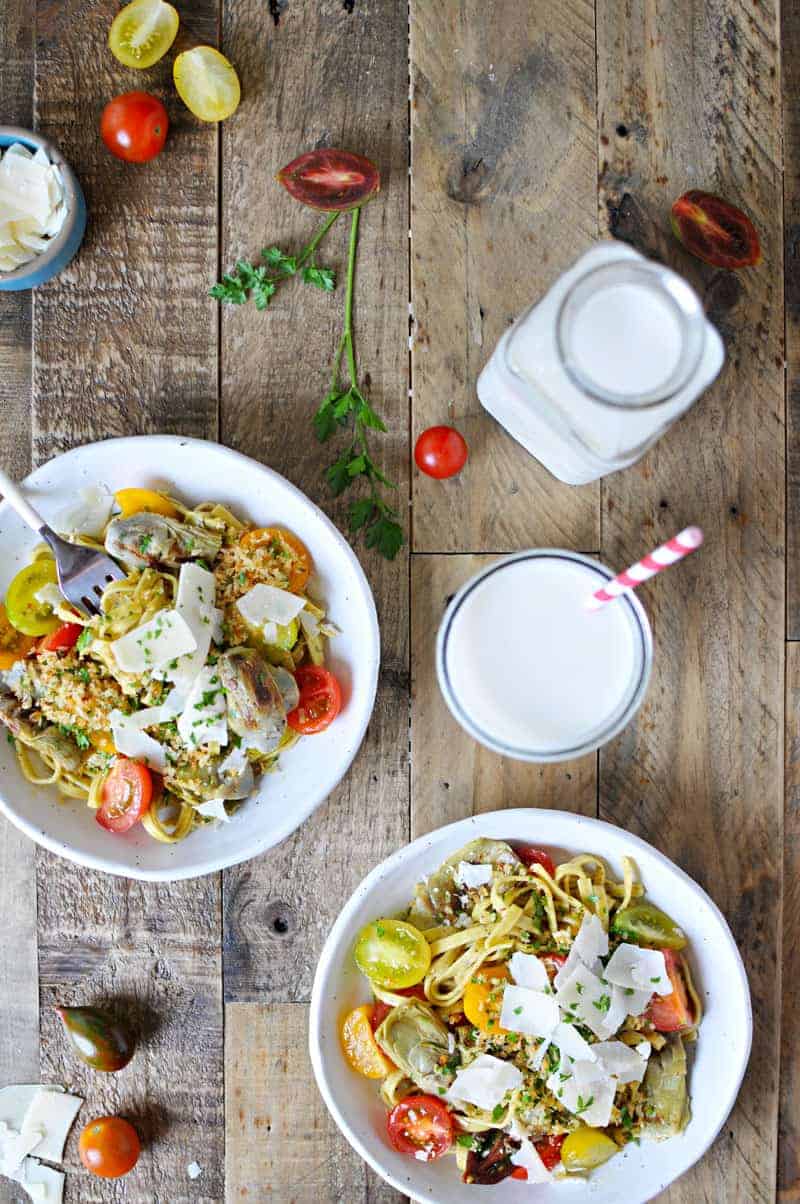 ————————————————–
OH! before you go…
Like whatcha see here — or have a question, feedback, or recipe hack to share? Join The Pig & Quill convo by commenting below (I love, luv, lurve comments) and hang out with me on Facebook, Twitter, Instagram and Pinterest. And don't forget to subscribe to P&Q emails or add me to your RSS reader with Feedly or Bloglovin' so you never miss a post. x's & o's!