As I'm sitting here writing this, Chris is in the back room cleaning out the file cabinet. It's a very New Yeary thing to do, and the kind of task that makes a wife's heart flutter. Maybe because he's the kind of man to sort through years upon years of receipts, healthcare statements and paystubs (didn't most companies go paperless with those in like, 2002?). Maybe because it means I don't have to. Either way, it's kinda hot — a man who cleans. Oh snap, and now he's vacuuming. 'Scuse me for a moment…
Meanwhile, I'm cramming my face with the last serving of this bananas French toast that, ironically, doesn't have any bananas at all. Dammit. Fail. Well, you know what I mean. It's got a whole bunch of other crap, and it's just good, you guys. Good enough that, instead of helping Chris purge my makeshift closet/office/crap-catchall of all my overcoats/paperwork/crap, I'm parked in front of the tube with a bottle of syrup in one hand and a fork in the other shoveling away. Happy New Year, indeed!
They key to the not-at-all bananas flavor in this totally bananas French toast is that it starts with a whole hefty loaf of dense, domed Panettone. Yes, the Italian holiday bread. (But I thought this was French toast??) The one that's probably on sale for like, 60% off at fancy food stores right this very minute. (I got mine at TJ's for the full price of $4.99 before the holiday, but I kid you not: World Market or Target probably has this stuff on sale for like $2.00 right nerrrrr.) Get it while it's around — or, if you're just not a Panettone person, well, 1) you are, you just don't know it yet — yes, Mom, I'm talking to you — and 2) you could always use brioche or challah or another rich, dense, eggy kinda bread that sops up custard nicely. Whatevs.
Next step: Custard!
I took a page from the "Big Mac Value Meal with a Diet Coke" crowd in this recipe and opted to use almond milk and greek yogurt as the base for this custard in place of the traditional whole milk and heavy cream. Because this is clearly diet food. And then I went ahead and added a good scoop of marmalade in place of white sugar, because someone once told me that fruit sugar actually burns calories (that's a joke, friends) and, more importantly, it complements the dried fruit in the Panettone in the best way imaginable. We used a homemade Meyer Lemon Marmalade that some friends gifted us with earlier in the year, but any good, rind-y marmalade will do. Whip that all up with a couple of eggs and some wintry cinnamon and you've got a custard that's both rich and light, sweet and tart and pretty much bonkers, as so many of my blogger friends (shhhh, they don't know I exist) are saying these days.
Easy right? We're almost done. Butter a skillet, slice up your bread and pour that lusciousness right on over the top. Smoosh, set, bake and eat! I sliced it up kinda classy-like for these photos, but please feel free to spoon it up into bowls bread pudding-style if it suits you. I won't ever know, and honestly, as long as plenty of butter, syrup and powdered sugar is involved, I couldn't care less.
French toast, Italian-style, no bananas.
(So many bananas.)
You got this, peeps.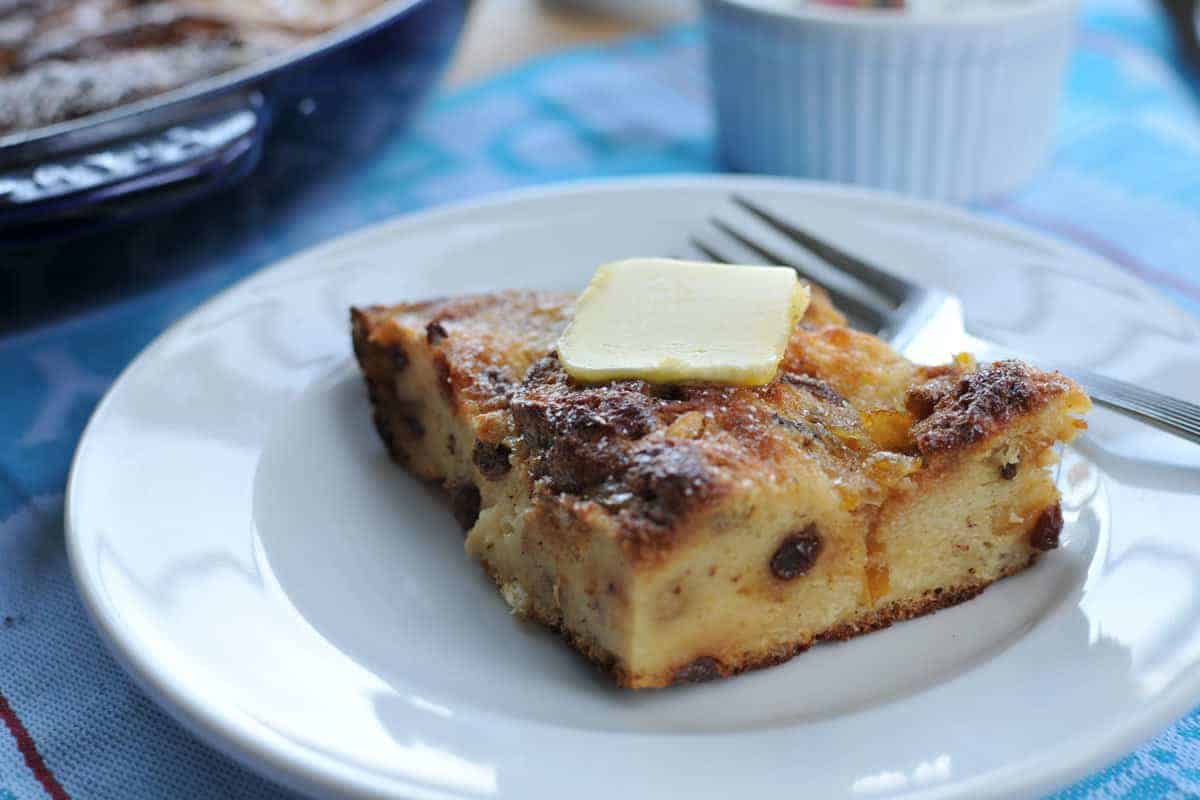 Baked Panettone French Toast (with Greek Yogurt & Marmalade Custard)
By Emily Stoffel
Cook time: 90 mins (w/ lotsa downtime!) | Serves 4-6
Note: To get the most of your Panettone, I recommend removing the paper and slicing the cake from the bottom up into 6 thick rounds. (Save the very top crust for munching.) Slice those rounds into 12 half-moons; then layer away!
Ingredients:
1 Panettone, paper wrapping removed, sliced into 12 half-moons (see note)
5 eggs
5 oz 0% Greek yogurt
1.5 cups unsweetened almond milk
1/4 cup good marmalade
1/2 tsp salt
1/2 tsp cinnamon
2 T sugar
butter, for greasing pan
Instructions
Preheat oven to 375F. Generously grease a large, ovenproof skillet with butter.
In a large bowl, whisk eggs with Greek yogurt, almond milk, marmalade, salt and cinnamon. Arrange Panettone in skillet, overlapping slices as necessary to fit in one even layer. In my pan, six rows of Panettone following the pattern (number of slices) 1-2-3-3-2-1 gets the job done. Pour over the custard, smooshing the bread down as necessary to submerge. Let sit for 20-60 minutes while custard absorbs. (Don't have 20 mins? It's not critical.)
Sprinkle soaked bread evenly with 2 T sugar. Cover skillet tightly with foil and bake for 25 minutes; then uncover and bake an additional 30-35 minutes until light golden-brown and puffed.
Allow to cool slightly before slicing or spooning onto plates and serving with butter, real maple syrup and powdered sugar. Enjoy!
————————————————–
Like whatcha see here — or have a question, feedback, or recipe hack to share? Join The Pig & Quill convo by commenting below (I love, luv, lurve comments) and hang out with me on Facebook, Twitter, Instagram and Pinterest. And don't forget to subscribe to P&Q emails (see that nifty box up there in the right sidebar?) so you never miss a post. x's & o's!