Baked Jalapeño Monte Cristo Sliders – everyone's favorite sweet and savory brunch sandwich made in a party-perfect size and spiced up with pepper jack cheese, green chiles and jalapeños.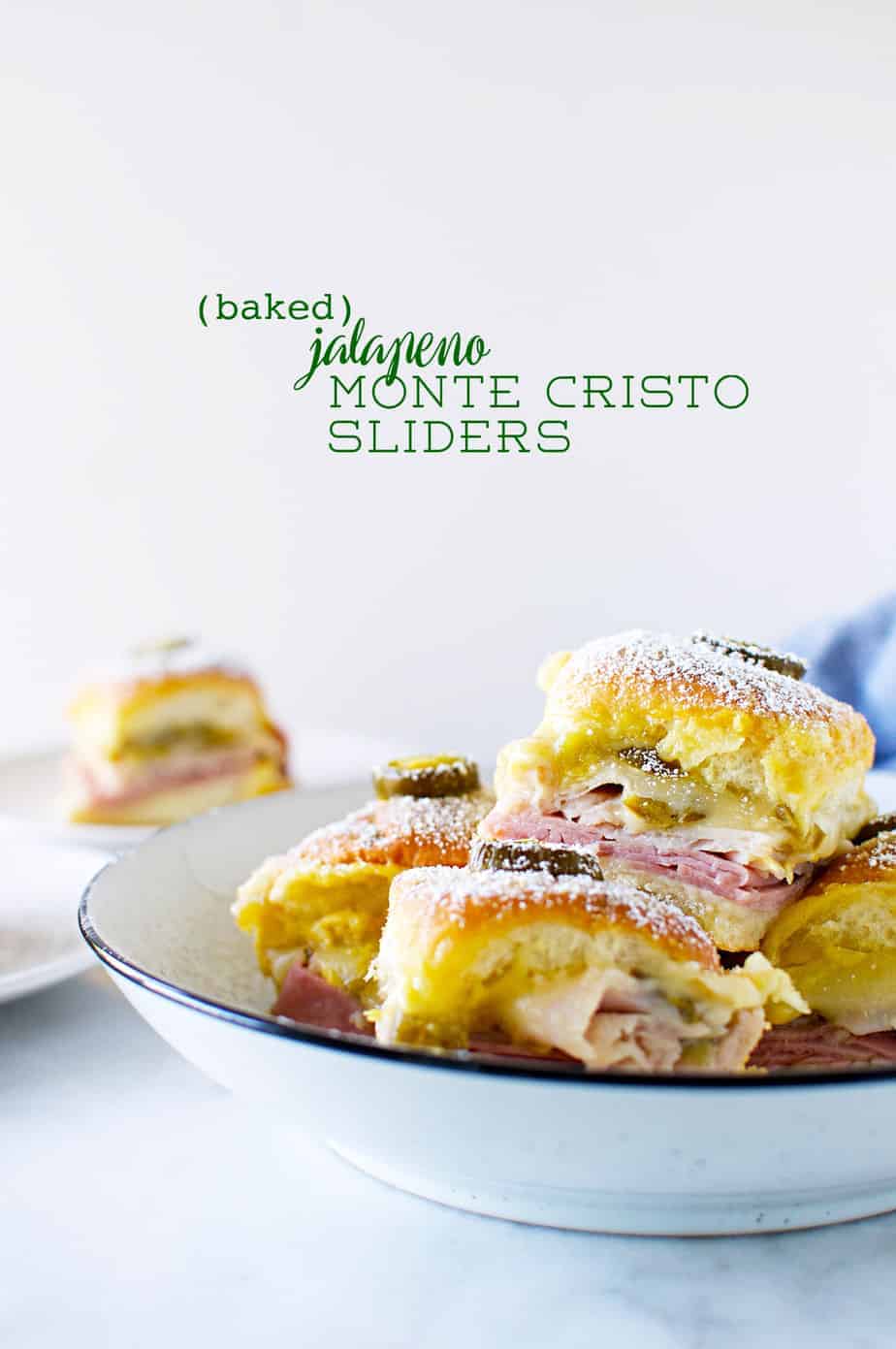 Thank you Rio Luna Organic Peppers for sponsoring this post. Rio Luna Organic Peppers are certified organic, non-GMO, fat free, cholesterol free, low calorie and Kosher. For flavorful and spicy recipe ideas, follow Rio Luna on Facebook and Instagram.
Jalapeño Monte Cristo Sliders, you guys. Just going to tell you right out of the gate: these babes are gonna steal the show. We serve a version of these spicy party sliders every year at Lana's birthday brunch, and every year I receive a flurry of text messages after the party asking for the recipe. (As such, these are now the unofficial food of the toddler birthday party circuit, and no one is complaining.) As for this time of year, they're ideal for putting to use Thanksgiving leftovers, should you have any — but they're also perfect if you're looking for a snackier alternative to a traditional Thanksgiving spread altogether. They're what everyone will remember from Christmas morning brunch, and they'll be the most-requested recipe at your New Year's Eve cocktail party. They're the little red dress of holiday entertaining. Versatile, spicy and sure to make you look like a bonafide rockstar.
Spicy Party Sliders
These spicy party sliders combine the very best elements of my three favorite sandwiches of all time: The California Turkey sandwich I used to order as often as possible from High Street Deli in San Luis Obispo, which is a mild, flavorful combo of turkey (and avocado) and a whole roasted green chile. The sweet and savory Monte Cristo with its deli sandwich-meets-French toast vibes (I will always fondly recall that this was my Paw Paw's favorite sandwich — and something to get truly excited about when found on a restaurant menu). And a classic Thanksgiving-inspired turkey sandwich, piled high with thinly sliced bird and smeared with cranberry sauce. They're sweet, savory, spicy. And so dang ready to party.
How to Make Jalapeño Monte Cristo Sliders
I'm gonna talk you through making these sliders, because when you hear how simple they are, you'll be adding the ingredients to your weekend grocery shop, STAT. Ready? Here we go.
Take a slab of Hawaiian rolls (already an awesome start) and slice 'em in half. Then layer them with generous slices of turkey and ham — deli-sliced or leftover from the holiday, either will do here — thick tiles of pepper jack cheese, and my favorite part: mild, flavorful green chiles and piquant jalapeños.
Let's detour for a moment here, because the Rio Luna Organic Peppers I used in this recipe are worth noting — and not just because they're sponsoring this post. The folks at Rio Luna put so much care into these peppers, you guys. I don't know about you, but for some reason, when it comes to canned products, my autopilot kicks in, and I don't always do the same homework I would for my fresh groceries. So here goes: in addition to being certified organic, non-GMO, fat free, cholesterol free, low calorie and Kosher, Rio Luna Organic Peppers are grown by partners who utilize key sustainability practices such as drip irrigation, recycling initiatives and crop rotation. Most importantly, they're tasty, with reliable flavor and heat. (In fact, when shopping for the diced jalapenos, keep an eye out for the new Non-GMO approved stamp and heat index meter. So. Freaking. Handy.) Visit the Rio Luna Organic Peppers site here for coupons to purchase Rio Luna products at Kroger or Whole Foods. Yay!
Ok. Now. Back to assembly.
Buns, turkey, ham, cheese, peppers — check. Now's the time to slap on the top buns, smother the whole thing in a melted-butter number and watch as your glorious grid of domed sandwich babies transform into tender, golden orbs of gooey goodness in the oven. For bonus points, pop a cute little nacho-sliced 'peño on the top of each slider before you bake them off. (You could call these garnish, but really, I just like to let people know what to expect.) Cranberry sauce on the side is my dipping preference, but raspberry preserves are traditional, too. And you'll want to sift lots of powdered sugar over the top, because spicy loves sweet and sweet loves savory.
Scientific fact: if your mouth isn't watering right now, you're dead. DEAD.
Add these little sliders to your short list of holiday recipes, and wait for the rave reviews to roll in. You'll be seriously glad you did.
Happy eating! (And if we don't talk here before the holiday, Happy Turkey Day, friends!)
xo,
Em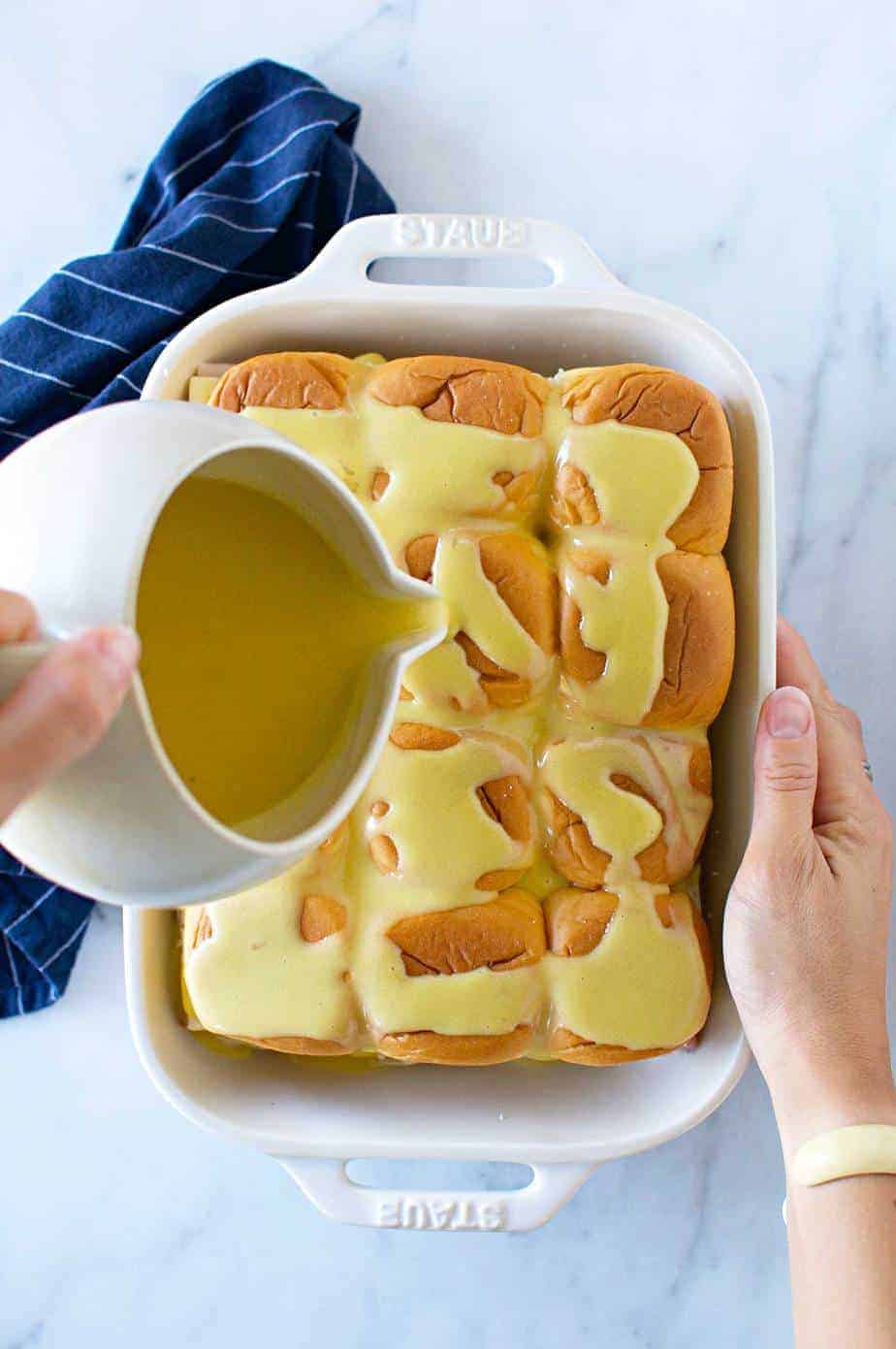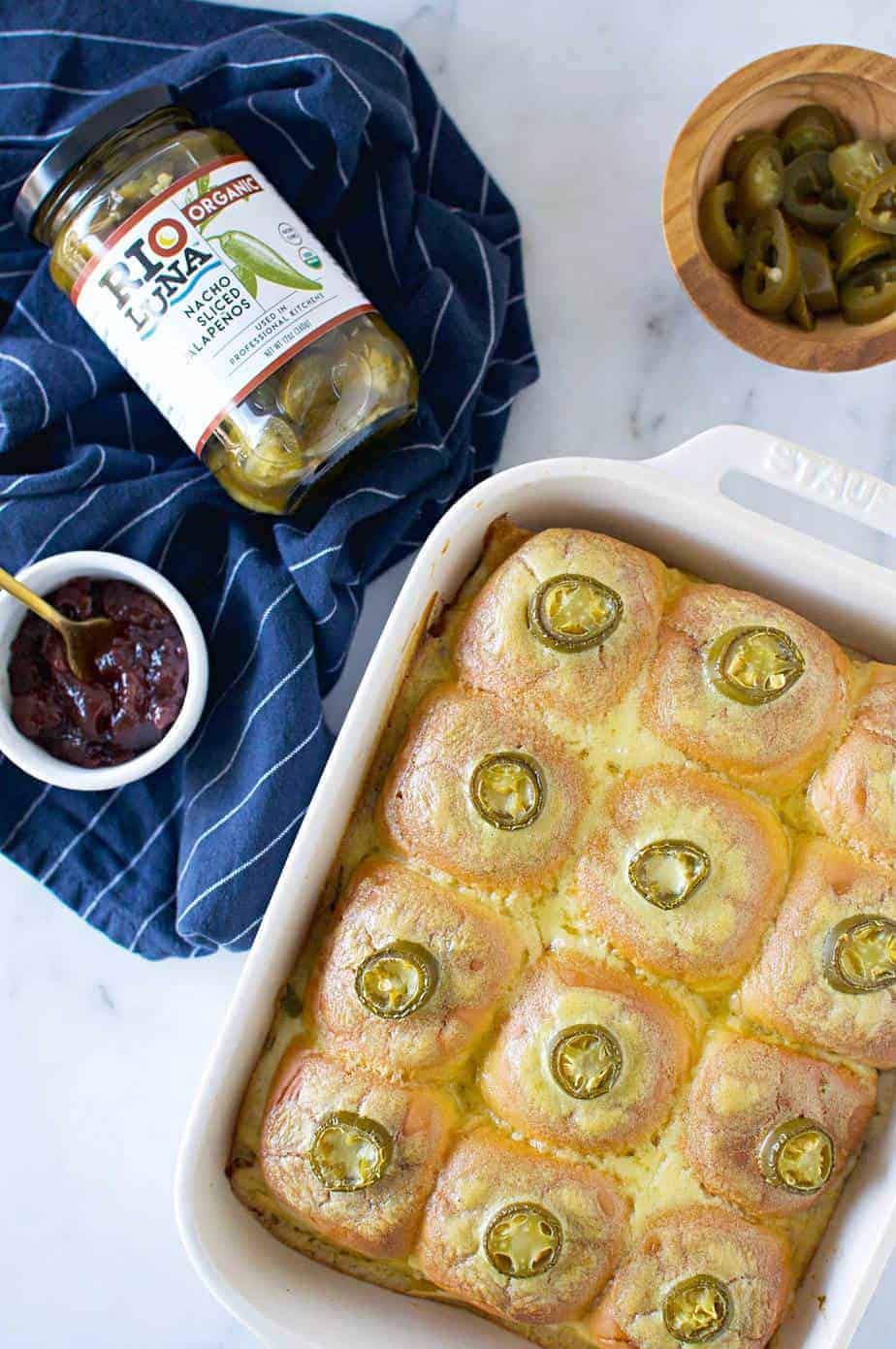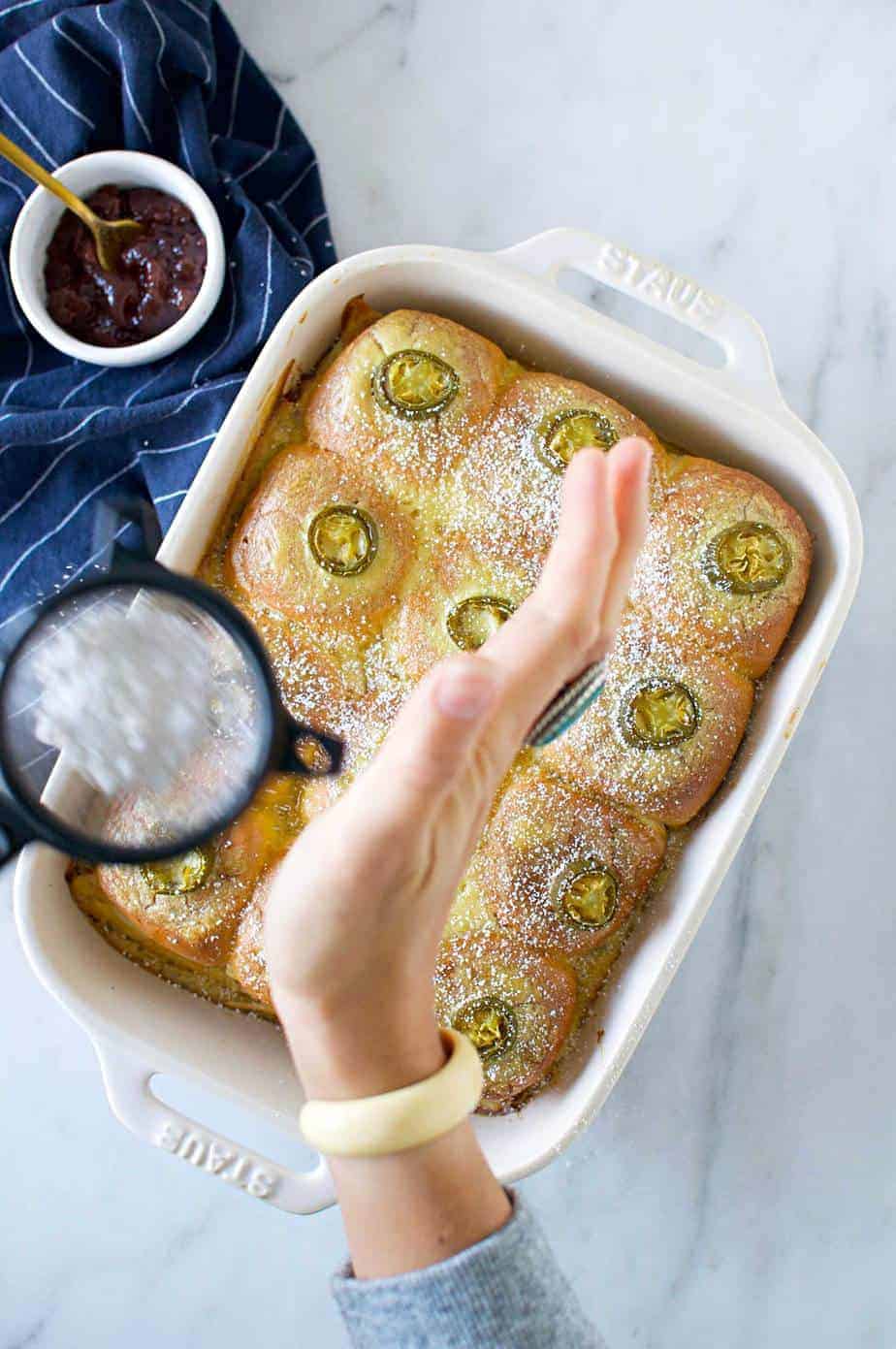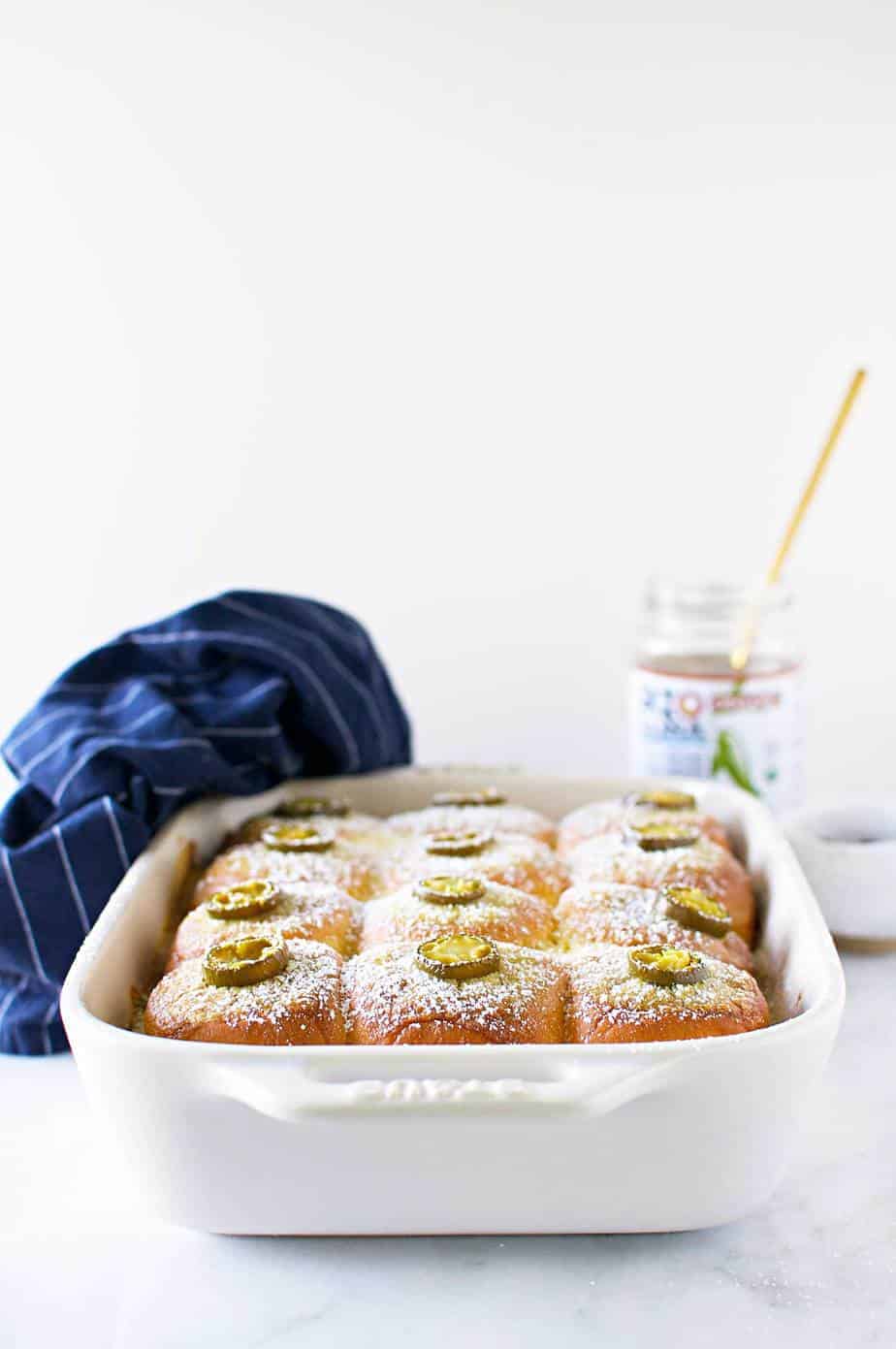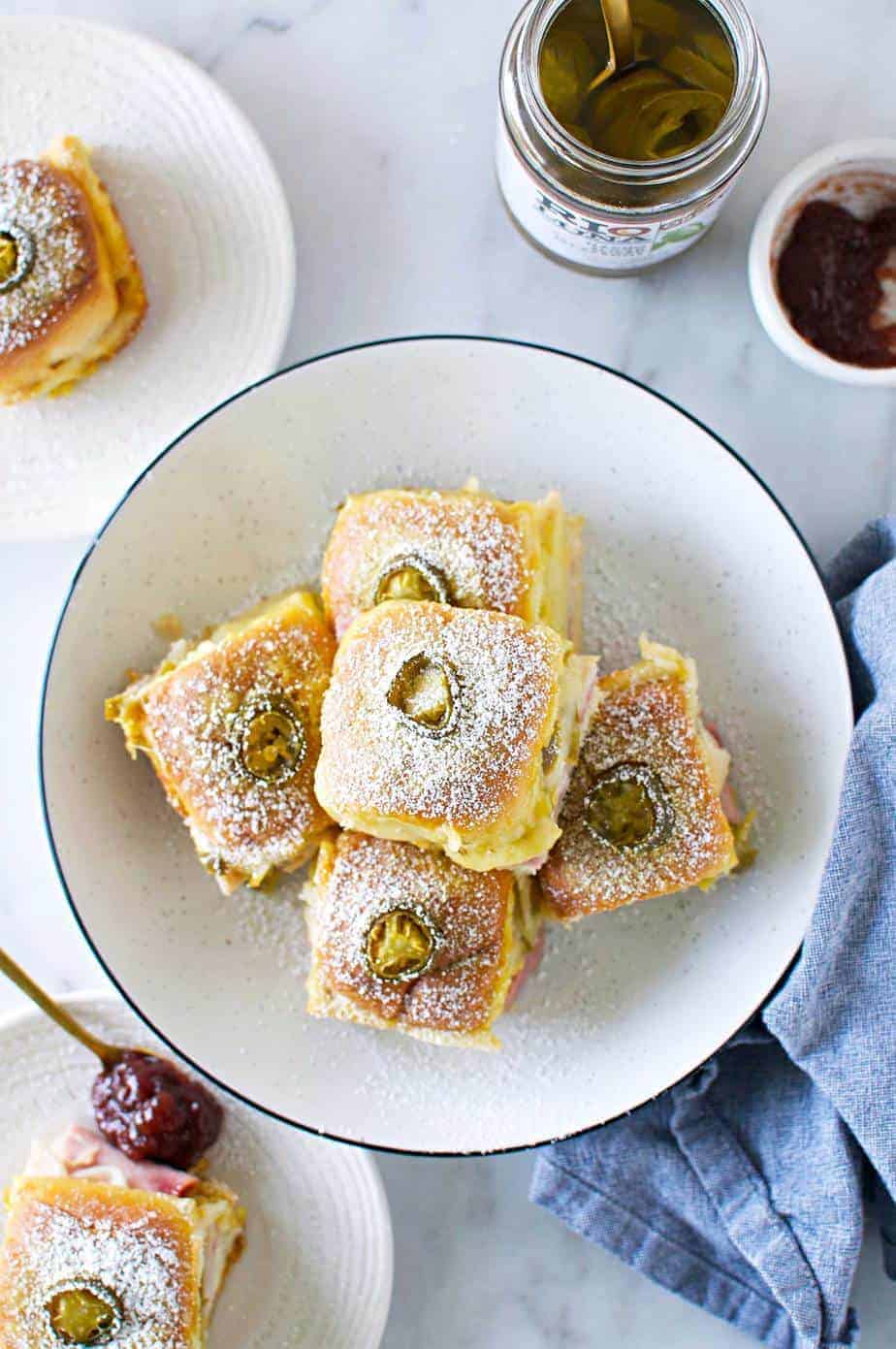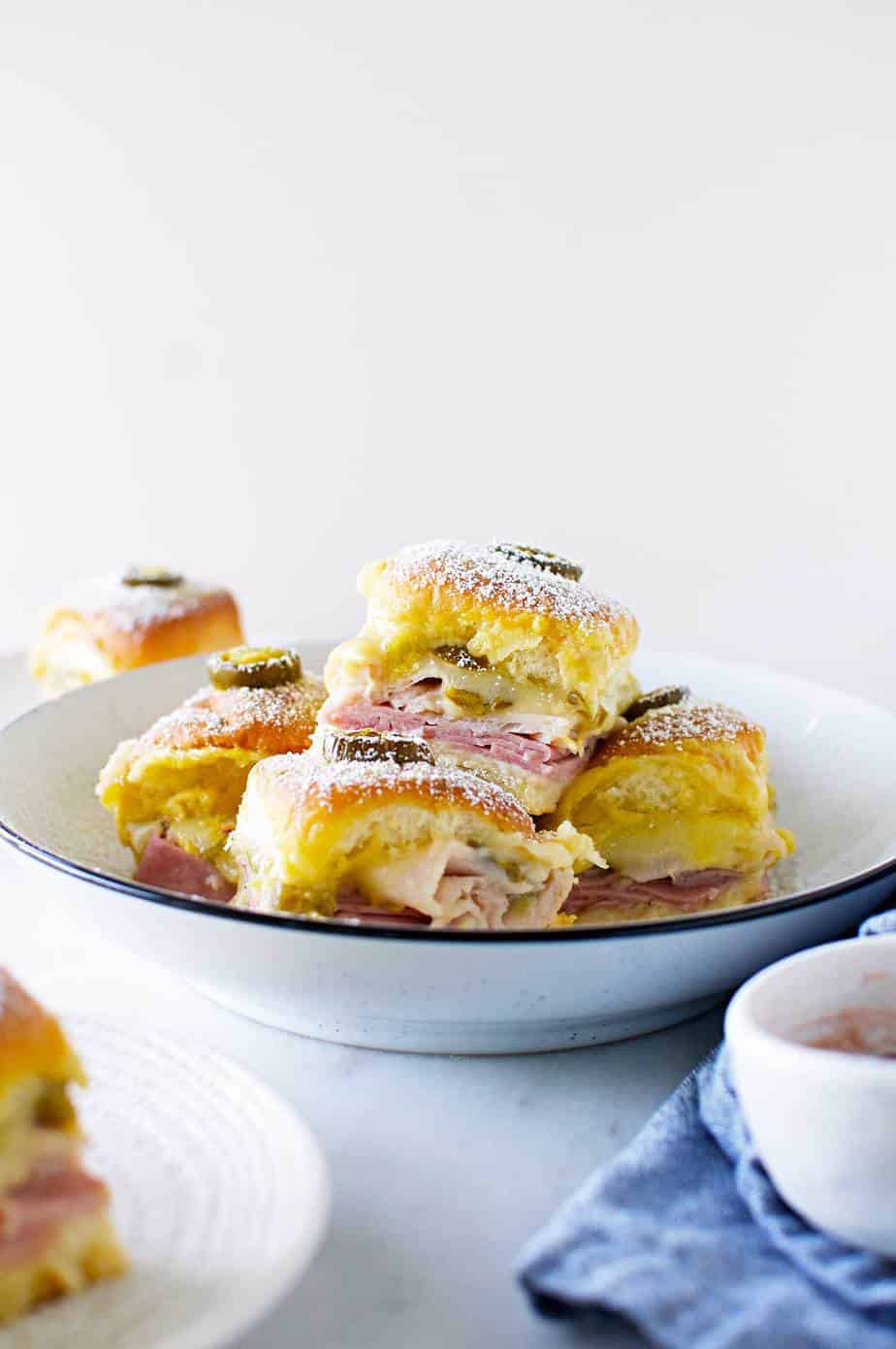 Baked Jalapeño Monte Cristo Sliders
Baked Jalapeño Monte Cristo Sliders - everyone's favorite sweet and savory brunch sandwich made in a party-perfect size and spiced up with pepper jack cheese, green chiles and jalapeños.
Ingredients
1 "sheet" of 12 Hawaiian rolls
12 slices ham
12 slices turkey
12 slices pepper jack cheese
1 4 oz can diced green chiles, drained
2 T canned diced jalapeños (or more, to taste), drained
8 T melted butter, slightly cooled
2 T dijon mustard
1 egg
12 "nacho sliced" jalapeños, patted dry
powdered sugar, for dusting
cranberry preserves or raspberry sauce
Instructions
Preheat oven to 350F. Grease or lightly spray a 9"x13" baking dish.
Split rolls with a serrated knife, keeping them intact. Place the bottom half of the rolls in the baking dish, and top with turkey, ham and sliced pepper jack cheese. Scatter diced green chiles and diced jalapeños evenly over the top. Place top half of rolls on top of sandwiches.
In a small bowl or large measuring cup, whisk together melted butter and dijon. Add egg and whisk until completely combined and smooth. Pour mixture evenly over assembled sandwiches. Top each sandwich with a sliced jalapeño.
Loosely tent baking dish with foil (it shouldn't be touching the sandwiches) and bake 20 mins. Remove foil and bake for an additional 15 mins.
Dust sandwiches evenly with powdered sugar. Serve hot, with a side of cranberry sauce (my personal fave!) or raspberry preserves, for dipping. Enjoy!
 I was selected for this opportunity as a member of CLEVER and the content and opinions expressed here are all my own.      
 ————————————————–
OH! before you go…
Like whatcha see here — or have a question, feedback, or recipe hack to share? Join The Pig & Quill convo by commenting below and hanging out with me on Facebook, Twitter, Instagram and Pinterest. And don't forget to subscribe to P&Q emails or add me to your RSS reader with Feedly or Bloglovin' so you never miss a post. x's & o's!