Remember that time it was 1:30 in the morning and your #SoLetsPigOut Day 3 joint post with Gina was supposed to go live in 6 hours? But then you spent a good 40 minutes googling The Bachelorette spoilers? And eating too many handfuls of Chicago mix popcorn? But really you just picked out all the caramel ones?
Hello. Welcome to my now.
We should totally be talking about salad.
When Gina and I were brainstorming the menu for #SoLetsPigOut, she was stuck in the midst of some Whole 30 BS and I was in the process of shoving circus animal cookies in my face. So when it came time to choose a main course of sorts, naturally we both honed right in on salad. Her because, um, grass and twigs and whole stuff. And me because salad later = more cookies now, and that's the kinda math I can get behind. I mean, it's right up there with
you! + me!
= us! Calculus!
…
…
…
To the three people that got that, we're officially BFFs. Let's braid hair and compare retainers. Mines blue with glitter! Squeal!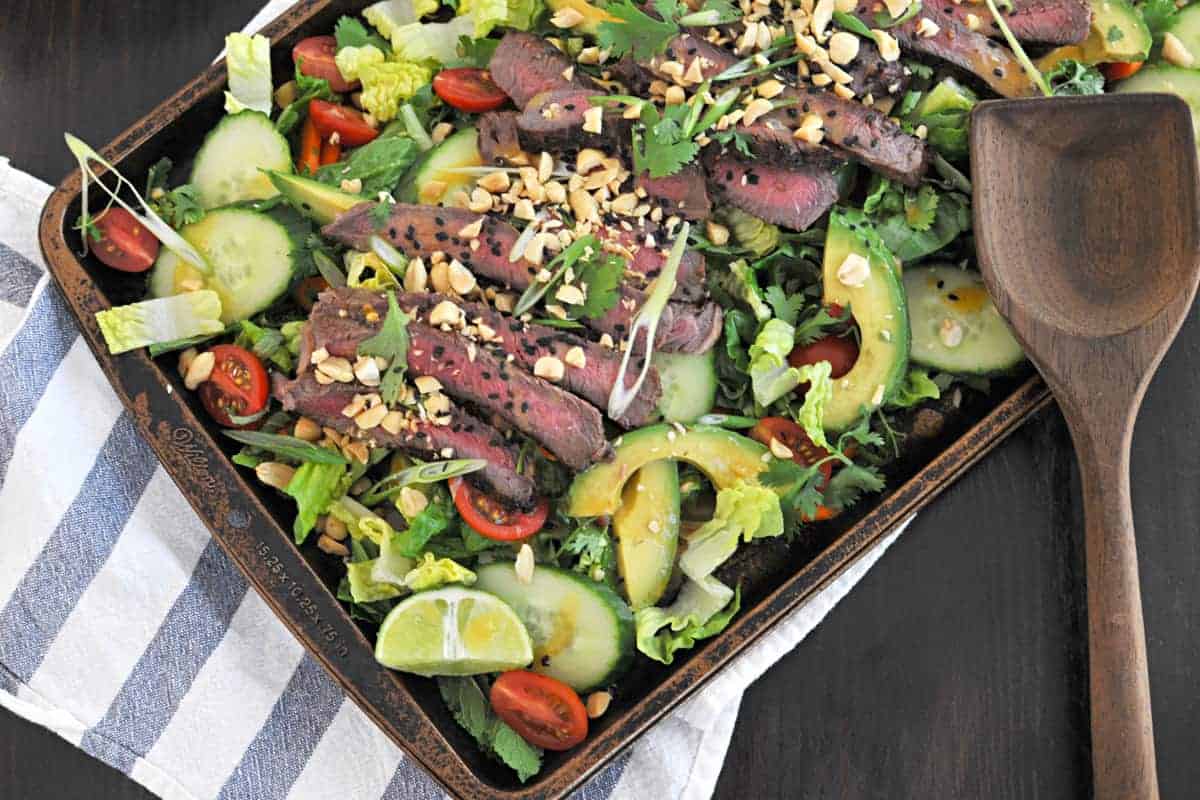 When it comes to salad, I like 'em on the hefty side. The husky boy's jeans of salads, in fact — and topped with an embarrassment of goodies that allow you to forget you're legit eating leaves for dinner. And this salad has that going on in spades. You could say it's the huskiest of the husky boy's jeans – but not at all in a bad way. Like, this salad could definitely grow up having to shop at the Big & Tall store. Or maybe it goes the custom suit route.
Maybe.
Most probably.
This salad is Don Draper.
I'm not going to explain every little element of this looker, because that old adage about a picture rings pretty true here (okok – garden veggies, avocados, tangy limes, bright Asian herbs, sesame seeds, crushed peanuts and mooooore). But I will comment that the good 24 ounces of tender, char-grilled beef on top basically tastes like Thai takeout is happening in your mouth. Happening in Don Draper's mouth?
Metaphors are confusing.
The Sesame-Lime Vinaigrette on this stud of a salad is pretty dern remarkable, too. So much so, in fact, that Gina gave it its very own post over on So…Let's Hang Out today, so be sure to click over there for the recipe. It's bright, citrusy and versatile enough that you'll be pouring it over salads well beyond summer. And just look at that color? Liquid gold!
Speaking of which…
Oh snap, the Transition Queen strikes again, because liquid gold is JUST what we have up for grabs today in our #SoLetsPigOut giveaway with California Olive Ranch!
I may be a bit biased, of course, being from the lovely State of Northern California, but I'm just totally crushing (olive oil pun!) on pretty much everything that Chico, CA-based California Olive Ranch produces — and I love their dedication to freshness (olives are pressed within hours of picking and the harvest date is displayed on every bottle!) and sustainable farming. And in today's giveaway, one reader will receive The Rancher's Gift Set, which includes $68 of award winning olive oils, for EFF-to-tha-REE, FREE.
You can ENTER HERE.
Enter by July 31, 2014 at 11:59pm EDT.
And just in case you're a couple days late joining us for this whole #SoLetsPigOut Summer Potluck thing, we've already talked about Sticky BBQ Korean Chicken Wings, a massive MightyNest giveaway for more than $225 in kitchenware, a sexy Herbed Pineapple Limeade drank and two (2) $50 Mini Shopping Sprees at iHerb.com that're up for grabs. I even interviewed Gina (and vice versa) so ya'll could meet my cohost for the week. Check it all out in the Day 1 and Day 2 posts.
Can't wait for all uh ya to see what Gina and I've got cooking up for the rest of the week!
Get after that olive oil, eh?
Don Draper hugs,
Em
P.S. It's official: salads on baking trays are the shit.
Grilled Thai Beef Salad with Sesame-Lime Vinaigrette (grain-free, paleoish)
By Em & Gina
Cook time: 30 mins | Serves 4-6
For the steak:
1/4 cup Bragg's Liquid Aminos
3 T rice vinegar
2 T sesame oil
1 T fish sauce
1 T sambal oelek
1 T finely chopped lemongrass
1 – 1.5 lbs sirloin steak
For the salad:
2 romaine hearts, roughly chopped into ribbons
1 large carrot, thinly sliced on an angle
1/2 english cucumber, thinly sliced on an angle
1 avocado, pitted and thinly sliced
1/2 pint cherry tomatoes, halved
handful each mint, basil and cilantro, roughly chopped
2 scallions, thinly sliced on an angle
unsalted peanuts, finely chopped
sesame seeds (optional)
Instructions
Combine all steak ingredients in a zip-top bag and marinate overnight in the fridge. Thirty mins before grilling, bring steak to room temperature.
Heat outdoor grill or indoor grill pan to high heat. Grill steak to desired doneness. (We used a rip-roaring charcoal grill and our 1+ lb steak took about 5 mins per side for medium rare.) Allow steak to rest at least 10 minutes before slicing thinly at an angle against the grain.
Meanwhile, arrange the romaine hearts, carrots, cucumbers, avocado and tomatoes on a large platter or serving dish. Scatter herbs over top. Arrange sliced steak over salad and finish with dressing, scallions, crushed peanuts and sesame seeds. Enjoy!
————————————————– Like whatcha see here — or have a question, feedback, or recipe hack to share? Join The Pig & Quill convo by commenting below (I love, luv, lurve comments) and hang out with me on Facebook, Twitter, Instagram and Pinterest. And don't forget to subscribe to P&Q emails (see that nifty box up there in the sidebar?) so you never miss a post. x's & o's!