**Update: the Cook Taste Eat recipe competition is now closed. Thanks to all who voted! **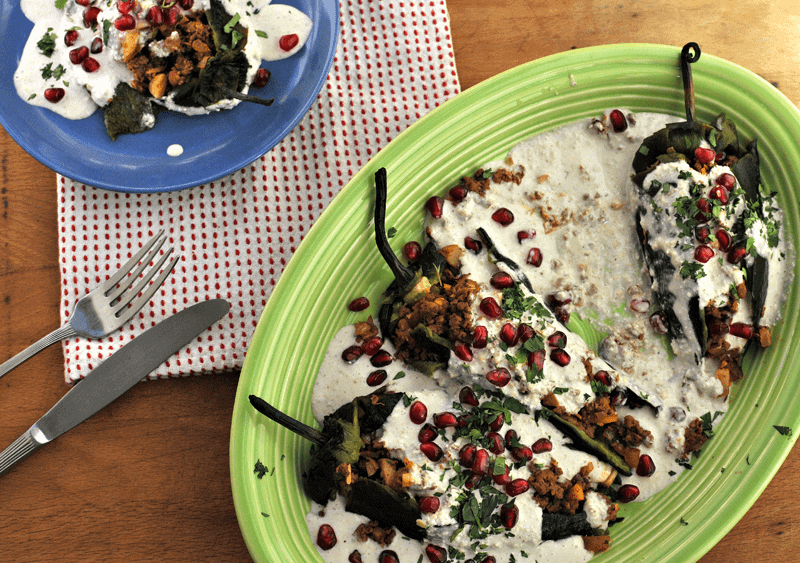 Remember in college, when that Facebook thing came along and it asked you about your favorite movies? Your favorite quotes? Your favorite books? And you had a mild panic attack over whether or not it would be social suicide to list Harold & Kumar alongside When Harry Met Sally, so you threw in Memento for good measure?
Yeah, me neither.
I've never been awesome with the whole favorites thing. There's too much pressure. You can so easily go too Indie. Too hipster. Too run-of-the-mill ordinary and be thoroughly judged for the rest of your online existence. Yeah, I liked the Dixie Chicks. Powerful women singing about Tennessee ham and sweet, sweet justice? Who wouldn't.
And yet, there are a few faves of mine that are absolute mainstays. I will unwaveringly proclaim them my bread and butter for all the days of my gluttonous life.
One is Like Water for Chocolate.
The book, of course, although I didn't hate the film.
Maybe it resonated with you, maybe it didn't. I personally have a soft spot for magical realism, so when it's coupled with Laura Esquivel's sensual food-as-love poetry — as it is in LWFC — it's kiiiiiind of a literary home run. The recipes, alone, are a masterful reminder of the power of Mexican cuisine. Hard rolls stuffed with a filling of spicy chorizo and sardines.  Quail with rose sauce, floral and fragrant. Fluffy cream fritters dusted with cinnamon.
And, of course, Chiles en Nogada (Chiles in Walnut Sauce) — smoky roasted poblanos stuffed with a sweet and savory blend of ground meats and fresh and dried fruits topped with a silky sauce of cheese, cream and walnuts. Boasting the national colors of Mexico, it's traditionally served as an entree on September 16th — Mexican Independence Day. Doesn't it seem, then, that (a tailored portion of) this dish would be equally ideal as an appetizer or first course for a celebratory Cinco De Mayo meal?
Yup, thought so.
So here's the deal. I know, it's taken a long time to get here, but bear with me.
Whole Foods and Cook Taste Eat have asked moi food bloggers to create a Cinco De Mayo appetizer that features 365 Everyday Value Coconut Milk. You wanna know what's on the line? This, the opportunity to shoot a Cook Taste Eat segment with Michael Mina. Yup, the celebranteur. In short, it's for, like, all the marbles.*
And this dish is a winner, you guys. I can feel it. There's a history here that makes it inherently strong. On top of the whole Like Water for Chocolate thing, did I mention it's the dish I made the first time we hosted my in-laws for Christmas? Or that it singlehandedly convinced Chris that cream sauces are tolerable? Cuz it was. And it did.
It's everything you'd want in a traditional Chiles en Nogada recipe subtly enhanced with fruity, floral coconut both inside and out. Fresh, light and utterly devourable, it's also one of those dishes you can serve hot, cold or room temperature. Top with a poached egg and call breakfast. Or wrap into a warmed tort for a portable lunch.
So, yeah, I feel absolutely zero shame in proclaiming this little appetizer my hands-down favorite.
In fact, I'd say it's right up there with Fight Club, Armageddon and Dashboard Confessional.
Chiles en Nogada con Coco (Chiles in Walnut Sauce with Coconut)
By Emily Stoffel
Prep/Cook time: 50 mins | Serves 8 as an app
A great number of recipes for Chiles en Nogada call for ground or shredded pork, candied citron and plenty of fruits, from raisins and dried currants to fresh peach, pear and apple. In this version, flavorful, lean grassfed beef is sauteed with a bit of Mexican chorizo (or soyrizo, if you're so inclined) for an extra layer of savory warmth. I've also swapped the candied citron for dried pineapple; accessible year-round, it packs the same sugary tartness and is a natural match for the coconut we've snuck into both the filling and the sauce. Crisp-tender fruits keep the dish feeling fresh and light enough to earn its appetizer status. Making this dish ahead? Prep and refrigerate the chiles, filling and toppings at your leisure. Then gently heat the filling in a large skillet or Dutch oven before stuffing the chiles and topping with room-temp sauce. Tita would be so proud.
For the chiles:
8 fresh small-to-medium poblano peppers, washed & dried
1 T olive oil
1/2 onion, diced
1 large clove garlic, minced
1 lb ground beef (organic grassfed, such as Panorama, if possible)
3 oz Mexican chorizo, casing removed
1/4 cup raw almonds, chopped
1 oz dried, sweetened pineapple, finely diced
1/4 cup shredded, sweetened coconut
1/2 apple, diced
1/2 pear, diced
1 tsp cumin
1 tsp dried Mexican oregano
1/2 tsp ground cinnamon
1/2 tsp sea salt
1/4 tsp freshly cracked black pepper
For the sauce:
3/4 cup walnuts
1 1/4 cups 365 Everyday Value Coconut Milk, available at Whole Foods
4 oz queso fresco or feta cheese
For the garnish
1/2 cup (or more) pomegranate seeds
large handful cilantro, finely chopped
Preheat broiler to high. Ensure poblanos are thoroughly washed and dried, then broil until charred on all sides, about 8-10 minutes total. Place roasted peppers in a paper sack or sealed heatproof container for 20 minutes; then carefully peel and seed peppers leaving the fruit as whole as possible for filling. I find that one slice down the middle and across the top (envision a "T" down the pepper) opens it up nicely for seeding and stuffing.
While peppers are resting, heat olive oil over a medium-high flame in a large Dutch oven or skillet. Add onion and garlic and saute until onion is translucent and just beginning to brown, about 5 minutes. Add chorizo and fry a minute longer, then add ground beef, spices, almonds, coconut and pineapple, using a wooden spoon to crumble beef and scraping any browned bits from the pan as juices release. When beef is nearly cooked through — about 8 minutes, stirring ocassionally — add apple and pear. Cook another 3-5 minutes or until beef is completely cooked and fresh fruit is just tender.
Arrange seeded peppers on a large serving platter or individual plates and stuff with filling. These are app portions, so overstuffing, while tempting, isn't necessary. (You'll relish that extra filling scrambled into some eggs tomorrow, so if you've got it, don't feel too pressured to use it now.)
Combine walnuts, coconut milk and queso in a food processor or blender and pulse repeatedly until nuts are thoroughly incorporated and sauce is nearly smooth.
Generously top stuffed chiles with walnut sauce. Scatter pomegranate seeds and cilantro over top. Sit back and admire your purty handiwork. Enjoy.
——————————————————————————————————
*NOTE: In exchange for writing this blog and tweeting a link to this blog, I received an entry into the Food Blogger to Media Star Promotion. For the Official Rules, click here.