Rosemary Olive Oil Cake with Meyer Lemon Glaze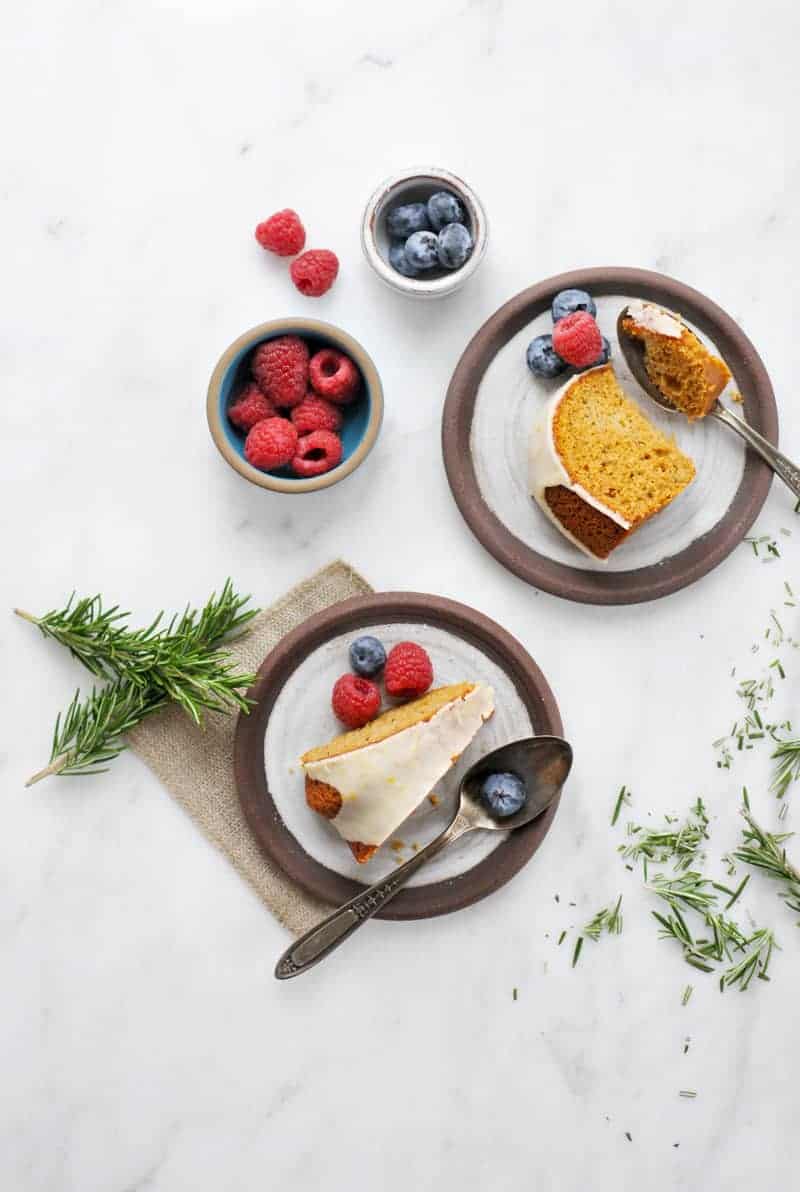 For Cake
2 cups gluten-free all-purpose flour
2 tsp baking powder
½ tsp sea salt
1 ripe banana
¾ cup extra-virgin olive oil
½ cup unsweetened almond milk
1 tsp vanilla
3 eggs
¾ cup coconut sugar
2 T fresh rosemary, finely minced
1 T meyer lemon zest
For the Glaze
1.5 cups powdered sugar
3 T meyer lemon juice
1 T meyer lemon zest
Preheat oven to 350F. Spray a bundt pan with coconut or olive oil cooking spray.
In a large mixing bowl, combine the flour, baking powder, and sea salt. Stir to combine.
In a small mixing bowl, mash the banana. Stir in the olive oil, almond milk and vanilla.
In another small bowl, combine the eggs and coconut sugar. Using a hand mixer, mix for 2-3 mins on medium-high speed. Then, pour egg mixture into banana mixture and stir thoroughly to combine. Stir in rosemary and lemon zest.
Add wet ingredients to dry ingredients and stir until just combined -- do not overmix. Pour the batter into prepared bundt pan and bake for 45 mins or until the cake is golden brown and a knife inserted comes out clean. Remove from the oven and let cool for at least 15 mins. Flip pan onto a parchment-lined cake plate or cookie cooling rack set inside a rimmed baking sheet. Let cool completely.
When cake is cool, stir together glaze ingredients until smooth.
Spoon glaze generously over cooled cake. Allow glaze to set, about 2 hours, before cutting and serving. Enjoy!
To make the cake as written in Superfood Weeknight Meals: omit the rosemary + lemon zest from the cake recipe and top the cake as follows:

In a small saucepan, melt together ¾ cup dark chocolate chips, 3 T chocolate almond milk + 1.5 tsp coconut oil. Stir continually until melted. Drizzle melted chocolate over cooled cake. Top with ¼ cup chopped walnuts.
Recipe by
the pig & quill
at https://thepigandquill.com/rosemary-olive-oil-cake-with-meyer-lemon-glaze-gf/