Nectarine + Prosciutto Galettes with Gorgonzola + Thyme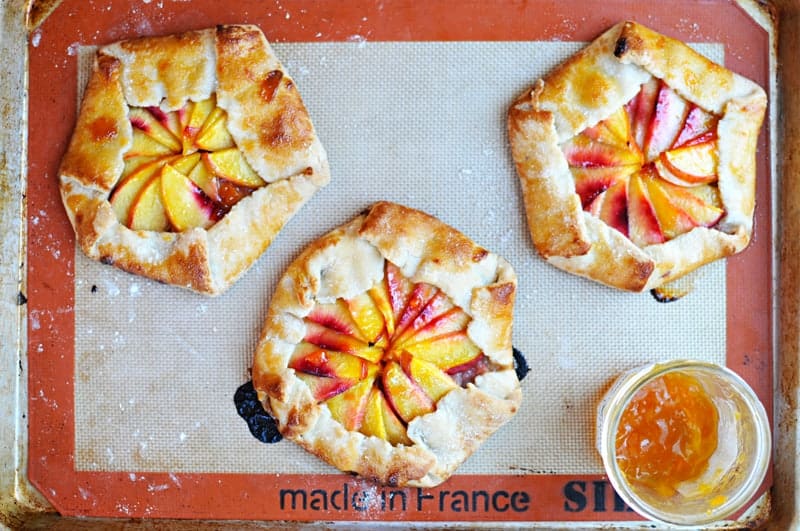 ½ recipe prepared pie crust (I've used Ina's recipe with much success)
4 oz thinly sliced prosciutto
2-3 nectarines, thinly sliced (the extra-ripe late-season ones will work just fine!)
¼ cup apricot jam
sugar, for sprinkling
½ tsp dried or 1 tsp fresh thyme
crumbled gorgonzola
Preheat oven to 400F. Line a baking sheet with parchment or silpat. Divide dough into 3 pieces and roll each out to approximately 8 inches in diameter.
Arrange a thin layer of prosciutto evenly over the top of each round of dough, leaving about a 1.5" border; top with sliced nectarines, fanning them out evenly if your patience allows. Using your hands, a spatula or a pastry cutter, fold the excess dough up over the edges of the prosciutto and the fruit. (Don't aim for perfection here - rustic is a-ok!) Brush jam evenly over the top of each galette -- both the crust and the exposed fruit -- and sprinkle crust generously with sugar. Carefully transfer galettes to prepared baking sheet.
Bake galettes for 30-35 mins or until crust is deeply golden-brown. Allow to cool slightly.
Serve warm topped with gorgonzola and thyme. Enjoy!
Recipe by
the pig & quill
at https://thepigandquill.com/nectarine-prosciutto-galettes-with-gorgonzola-thyme/