Gazpacho Andaluz with Smoked Paprika-Glazed Almonds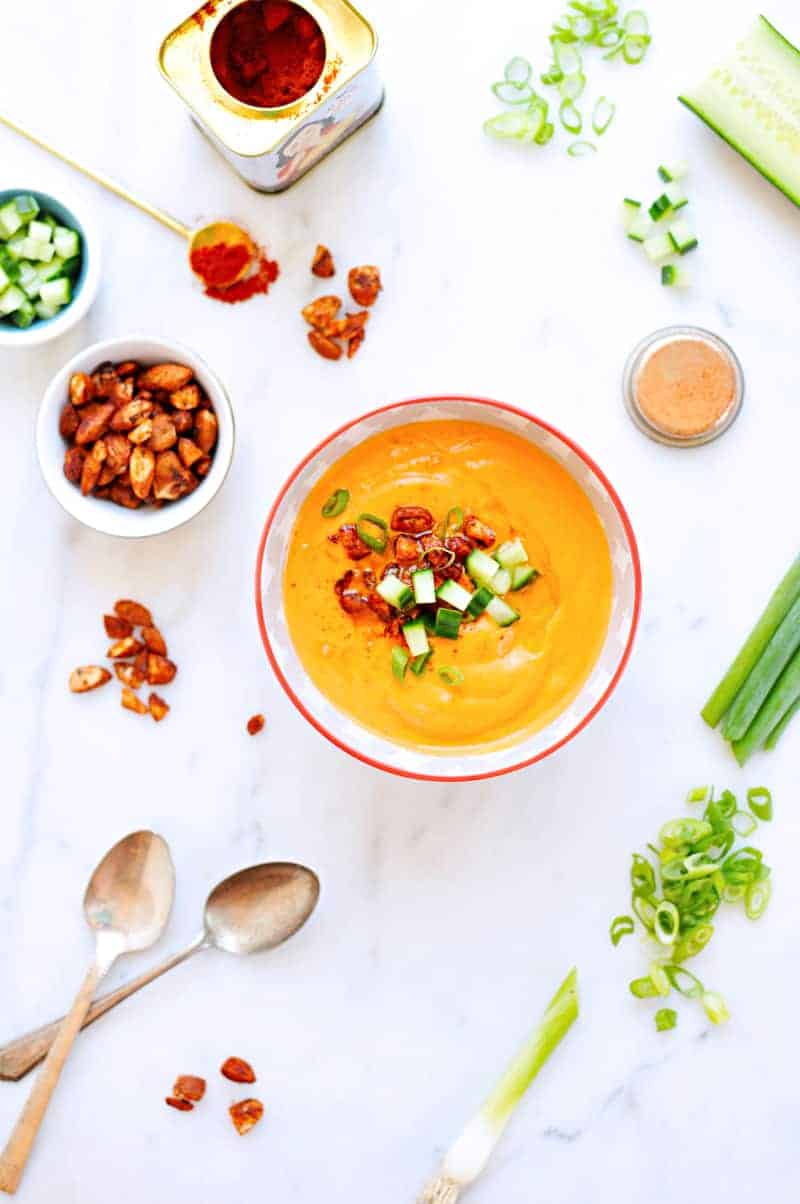 By:
Emily Stoffel (adapted from Saveur)
For the Gazpacho
2-3 slices day-old, slender baguette or hearth bread (about 3 oz), cut into about 1" pieces
1 cup extra virgin olive oil
2 lb. very ripe tomatoes, seeded and coarsely chopped
1 english cucumber, peeled, seeded, and chopped, plus extra for serving
1 clove garlic, peeled and chopped
2 T apple cider vinegar
½-1 tsp salt
1 cup unsweetened almond milk
For serving:
smoked paprika almonds (see recipe, below)
chopped cucumbers
olive oil
sliced scallions
sea salt
Combine bread cubes and olive oil in a small bowl, using a spoon to submerge cubes. Allow to soak 2 hours or up to overnight (covered, unrefrigerated).
Add tomatoes, cucumber, garlic, vinegar, ½ tsp sea salt, soaked bread with oil, and almond milk in a high-powered blender. Blend until very smooth, about 30-60 secs. Add more salt to taste, if needed. If a thinner consistency is desired, add a splash more almond milk.
Refrigerate soup until well-chilled, at least 2 hours. Serve topped smoked paprika almonds, reserved chopped cucumbers, scallions, a drizzle of olive oil and sea salt. Enjoy!
Prep time doesn't account for soaking the bread. But if your blender is fab and your bread still on the soft(ish) side, you can probbbbbbably get away with skipping this step. ;)
Recipe by
the pig & quill
at https://thepigandquill.com/gazpacho-andaluz-with-smoked-paprika-glazed-almonds/