mini chili cheese dog pot pies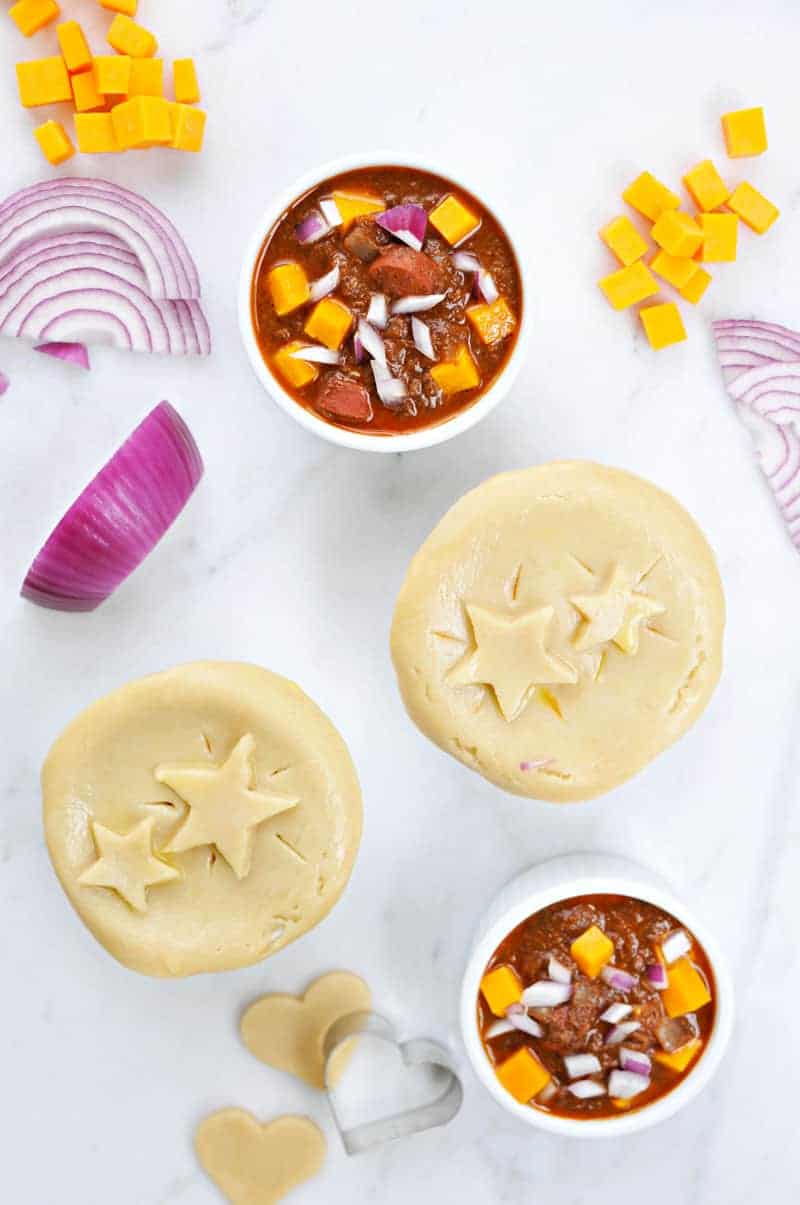 5 good quality, organic hot dogs (such as Applegate), sliced
½ red onion, diced, plus extra for assembling
1 can chili (we used original Skyline Chili)
½ to 1 cup sharp cheddar cheese, cubed
½ recipe pie crust, homemade or storebought
sprinkling of flour, as needed (see note)
1 egg beaten with a little water
Preheat oven to 400F. Combine hot dogs, chili and diced red onion in a medium saucepan and simmer until hot dogs have plumped and onion is tender, about 10 mins. If chili is on the thin side, whisk flour into simmering mixture, just a half teaspoon at a time, to thicken slightly.
While mixture simmers, flour a large surface and roll pie crust out to about ⅛" thickness. Using a small bowl or plate as a template, cut four circles from dough. (Now's the time to use leftover dough, of which you should have plenty, to cut out cutesie shapes and stuff!)
Divide hot dog mixture evenly between four ramekins, layering cubes of cheese between and on top to taste. Scatter with a little more red onion. Top each ramekin with a circle of crust, pressing firmly to adhere. Brush tops with egg wash (use the egg wash as glue if affixing shapes) and slash several holes in the crust to vent steam.
Arrange pot pies on a rimmed baking sheet and bake 20-25 mins or until golden brown. Allow to cool slightly before serving. Enjoy!
We used Skyline chili in this recipe, which is on the thinner side. Because of this, I quickly whisked a sprinkling of flour into the simmering mixture to thicken the sauce a little just before taking the filling off the heat. A thicker or heartier chili will probably be fine as-is.
Recipe by
the pig & quill
at https://thepigandquill.com/mini-chili-cheese-dog-pot-pies/