fennel spiced tofu bolognese // fauxlognese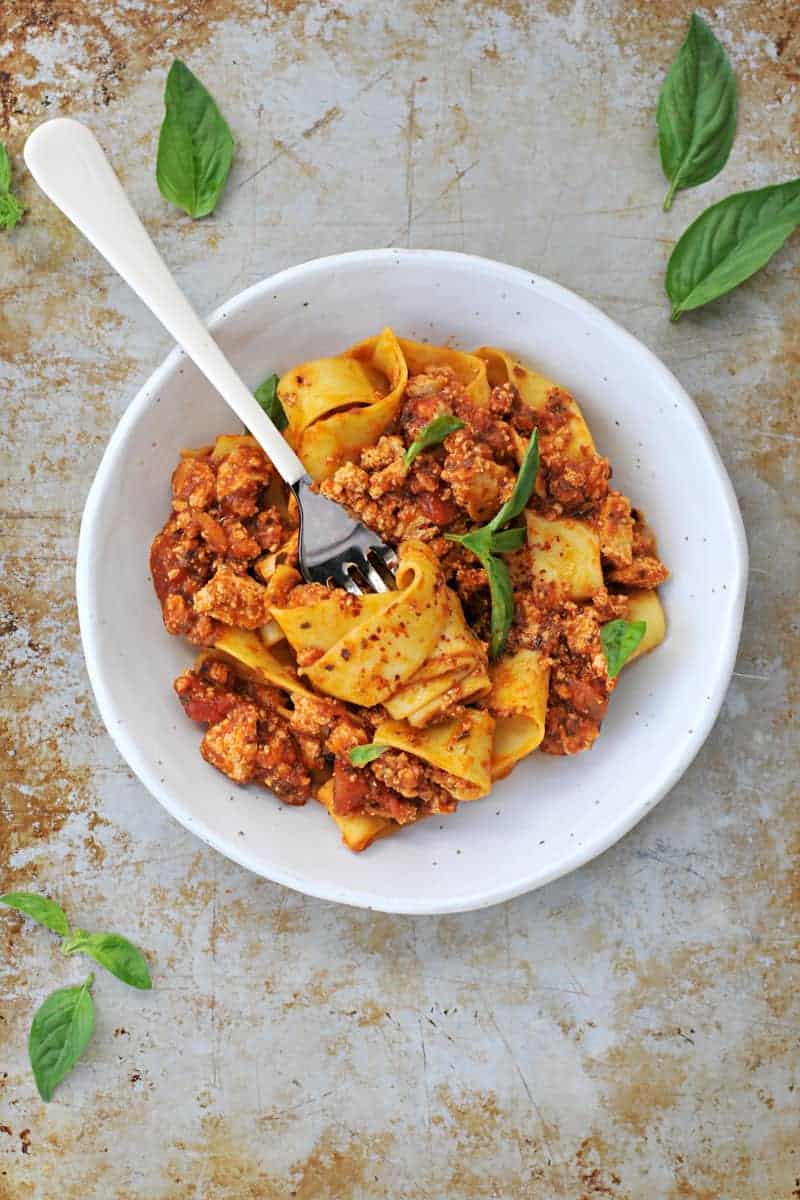 1 14 oz package tofu, frozen solid and thawed completely (see note)
3 T olive oil, plus extra for serving
1 tsp ground fennel seed
1 tsp garlic powder
½ tsp salt
pinch of crushed aleppo pepper or other red chile pepper flakes
freshly cracked black pepper
1 jar marinara sauce (or equivalent homemade)
handful fresh basil leaves
hot pasta for serving (about ½ a pound or so, I like papardelle or orechiette)
Slice frozen and thawed tofu into four large slabs and press each slab between two plates to extract as much liquid as possible. Crumble drained tofu.
In a large skillet or dutch oven, heat oil over med-high flame. Add crumbled tofu, fennel, garlic powder, salt, red pepper flakes and plenty of cracked black pepper and sauté, stirring frequently, until tofu is browned in places, about 5 mins.
Add marinara and cook until warmed through. Serve over hot pasta with a generous drizzle of olive oil, fresh basil and more crushed red pepper over the top. Enjoy!
I love this meal for weeknights, in particular, since the sauce comes together in about the time it takes to boil a pot of pasta -- so long as you've frozen and thawed the tofu in advance. Doing so changes the texture of the tofu completely and allows you to extract an extraordinary amount of liquid before browning it for the sauce.

Also, if you're looking to make this a fully vegan meal, I like orechiette pasta in place of the eggy papardelle! :)
Recipe by
the pig & quill
at https://thepigandquill.com/fennel-spiced-tofu-bolognese-15-min-fauxlognese/