mochiko chicken tacos with tangy umeboshi mayo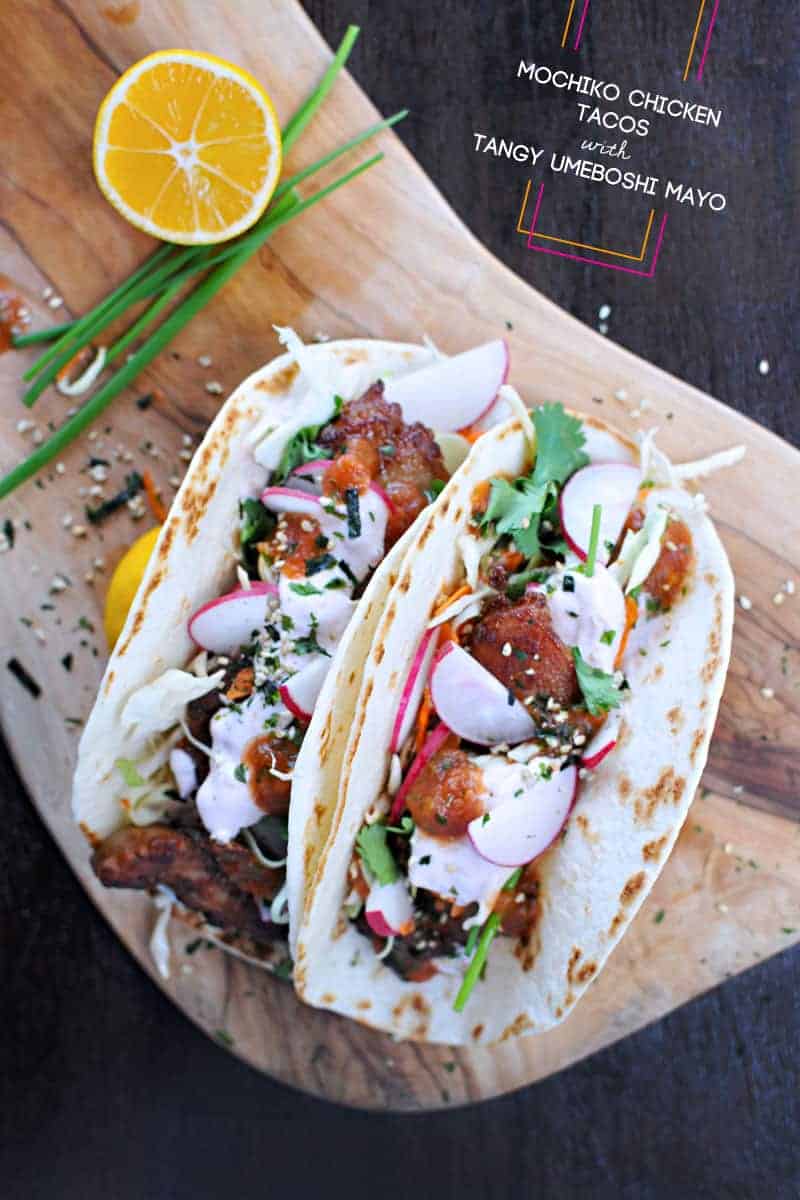 For the Mochiko Chicken (adapted from Fix Feast Flair)
1 lb boneless skinless chicken thighs, cut into bite-sized pieces
2 T mochiko flour
2 T tapioca starch
2 T sugar
2 T soy sauce
1 T sherry wine
¼ tsp salt
1 egg
2 T green onion, chopped
2 cloves garlic, minced
neutral oil for frying, such as avocado
For the Umeboshi Mayo
¼ cup sour cream
¼ cup mayo
1 tablespoon lemon juice
4-5 pickled umeboshi plums, pits removed
For Serving
about 6 small flour tortillas, warmed
shredded carrots/cabbage
thinly sliced radishes
cilantro
chives or scallions
extra lemon
salsa (it's no surprise we use this one)
furikake
In a medium bowl, whisk together flours, sugar, soy sauce, sherry wine, salt, egg, scallions and garlic until well combined. Add chicken and marinate in the fridge, covered, several hours or overnight.
(Once chicken has marinated) Prepare a cooling rack set over paper towels on a baking sheet.
To shallow fry chicken, heat about ¼" of oil in the bottom of a large, deep sided skillet over med to med-high heat until shimmering. Add chicken pieces in batches (chopsticks work lovely for this task) -- being careful not to crowd the pan -- and fry until deep golden brown and crisp on the edges, about 3-4 mins per side. Remove to cooling rack to drain. Repeat with remaining batches. Allow chicken to cool.
While chicken cools, combine mayo, sour cream, lemon juice and umeboshi in a small food processor and blend until smooth.
To serve tacos, layer warm tortillas with umeboshi mayo, warm chicken, veggies, cilantro and chives. Top with salsa, furikake, a squeeze of lemon and more umeboshi mayo. Enjoy!
Cooking time does not include the suggested marinating period in the fridge (either several hours or overnight, depending on how much time you've got). But trust me -- it's worth it! Any leftover chicken is also delicious served hot or cold with rice, furikake and more umeboshi pickles the next day. Yum!
Recipe by
the pig & quill
at https://thepigandquill.com/mochiko-chicken-tacos-with-tangy-umeboshi-mayo/