Chorizo + Scallion Sour Cream Biscuit + Egg Sandwiches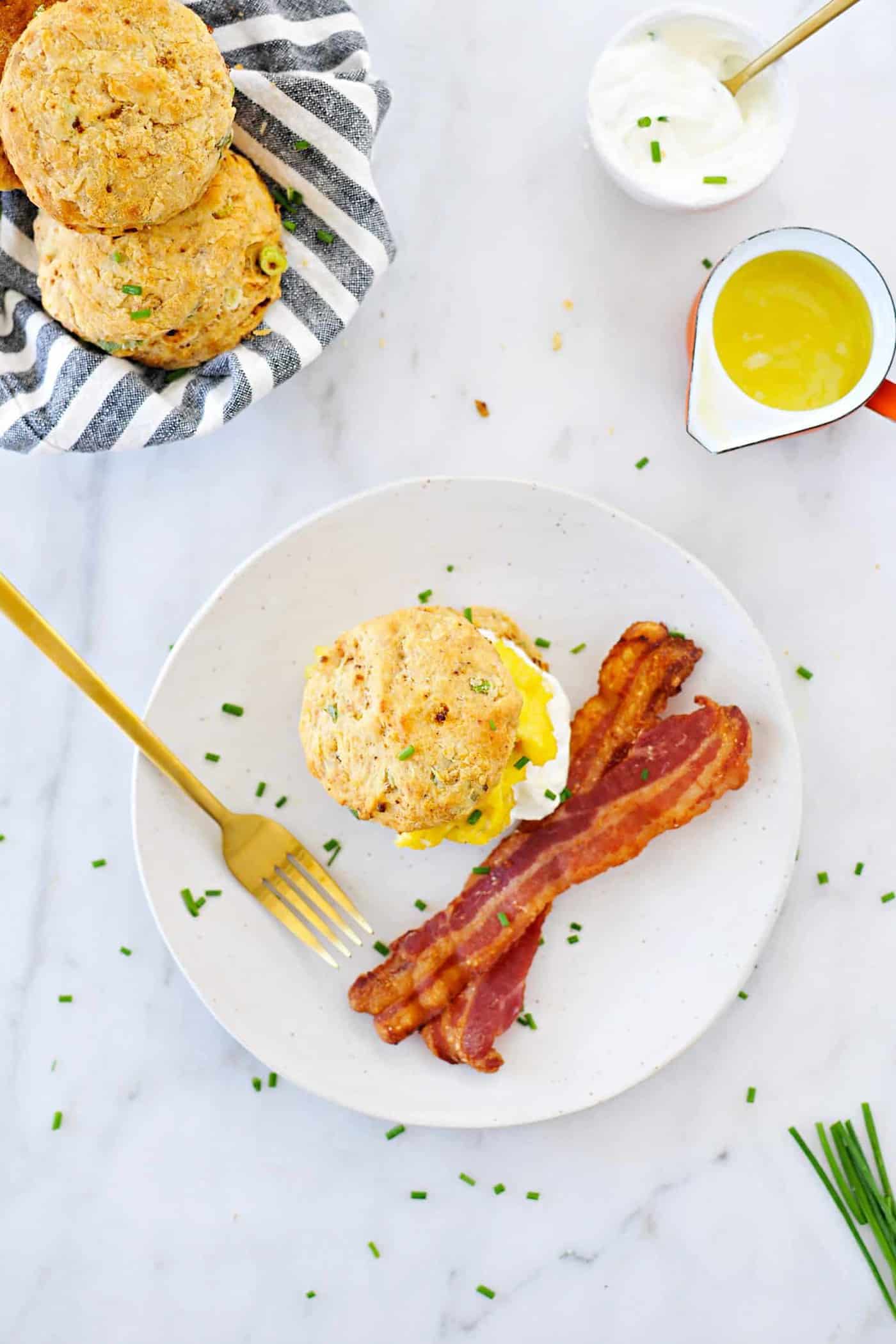 3-4 oz fresh chorizo or soy chorizo
2-3 scallions (green onions) , thinly sliced
2 cups all-purpose flour
1 T baking powder
½ teaspoon baking soda
½ teaspoon salt
¾ cup sour cream
5 T water
2 T salted butter, melted
8 eggs, scrambled to desired doneness (if serving as sandwiches)
Preheat oven to 450F. Line a baking sheet with parchment paper.
In a small frying pan over med-high heat, brown chorizo in a little cooking oil until cooked through and crispy in places, about 5 mins. Allow to cool slightly.
Meanwhile, whisk together flour, baking powder, baking soda and salt in a large bowl.
Add sour cream, water, chorizo and scallions and mix thoroughly until no dry patches remain. Turn dough out onto a well-floured surface and pat into a ¾-inch thick disc. (If dough is too sticky, knead in a little more flour.) Using a 3-inch biscuit cutter or similarly sized drinking glass dipped in a little flour, punch out biscuits. Re-roll and shape dough as necessary until all biscuits are formed (we're aiming for 8 here).
Arrange biscuits on prepared baking sheet. Brush with melted butter. Bake 12-14 mins or until golden-brown.
If making into sandwiches, top with eggs and your choice of toppings (we like hot sauce). Enjoy!
The original recipe for these biscuits employed the use of baking mix and yielded about half the quantity (4ish biscuits). If you enjoyed that recipe, saute the chorizo or soy chorizo as outlined above. Fold the chorizo and scallions into 1 cup of baking mix mixed with ⅓ cup milk. Drop biscuits onto prepared baking sheet and bake at 425F for 10-12 minutes or until golden-brown. Enjoy!
Recipe by
the pig & quill
at https://thepigandquill.com/soyrizo-biscuit-egg-sammies/