Fresh Lobster Spring Rolls with Easy Peanut Dipping Sauce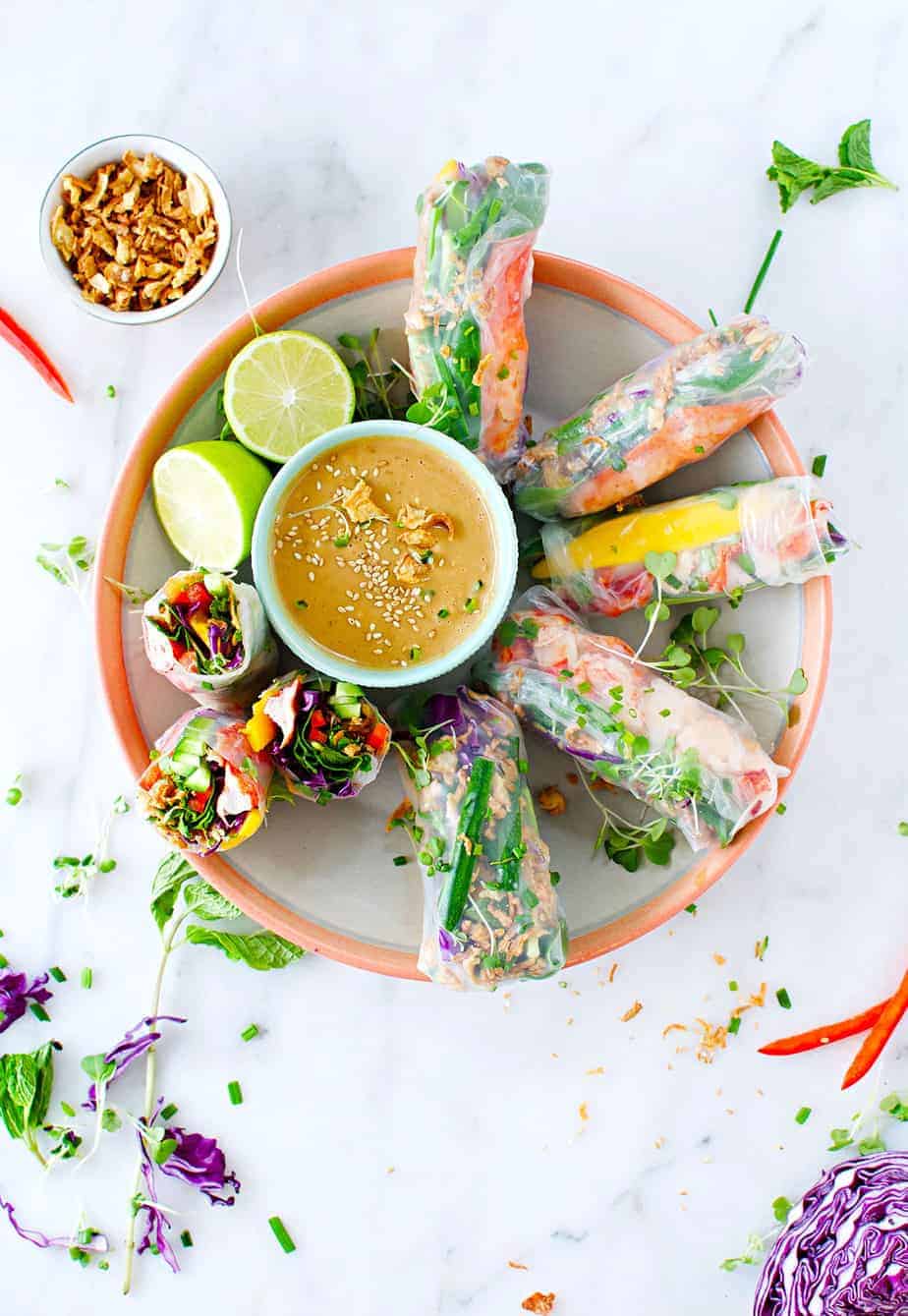 For the Fresh Lobster Spring Rolls
7 oz cooked lobster meat (thawed from frozen)
1 red pepper, seeded and thinly sliced
1 large mango, peeled, cut from the pit and thinly sliced
½ English cucumber, julienned
¼ head purple cabbage, very thinly sliced
large handful baby spinach
large handful microgreens (we used micro mizuna)
fresh chives, mint and/or basil
crispy fried onions (yes, the kind you put on casseroles)
sliced limes, for serving
For the Easy Peanut Dipping Sauce
¼ cup peanut butter
¼ cup water
1½ T lite soy sauce
1 T maple syrup
juice of ½ lime
Prep all veggies. Fill a large bowl with warm water.
Whisk together all Easy Peanut Dipping Sauce ingredients in a small bowl and set aside.
Working one at a time, dip a rice paper wrap in warm water until it becomes just pliable, about 10 seconds. (You don't want the wrapper to fully soften while you're soaking it; it should still have structure when you pull it from the water and will continue to soften while you apply fillings.)
Lay wrapper flat on a large clean surface and arrange a small amount of each topping in the center of the bottom-third, beginning with lobster and striving to keep the pokier ingredients (peppers, cucumbers, cabbage, onions) last, where they will be more protected within the roll.
Gently bring the bottom of the wrapper up over the ingredients, completing at least one full roll before folding in the left and right sides; continue to roll until fully wrapped. (Roll should be somewhat snug -- and yes, it takes a couple of tries to get it right.) Set aside and repeat until all fillings have been used.
Serve rolls whole or sliced in half (for presentation purposes only) with Easy Peanut Dipping Sauce on the side. Enjoy!
Gluten-Free Variation: omit the crispy fried onions (or crisp your own thinly sliced onions or shallots over medium heat in shallow oil until light brown; drain on paper towls and salt generously) and opt for a gluten-free soy sauce in the Easy Peanut Dipping Sauce.

This recipe serves 2 generously as a meal or up to 4 as an appetizer.
Recipe by
the pig & quill
at https://thepigandquill.com/fresh-lobster-spring-rolls-with-easy-peanut-dipping-sauce/